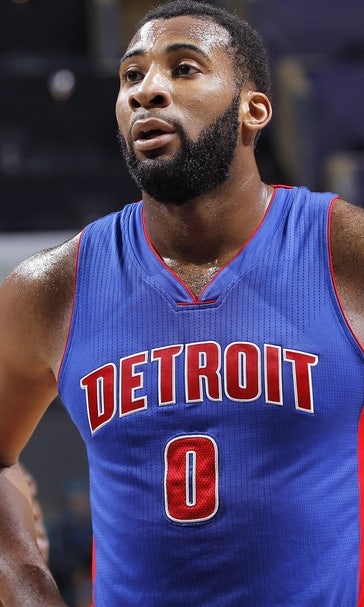 Spotlight on Drummond as Pistons move on without Monroe
BY foxsports • September 28, 2015
AUBURN HILLS, Mich. (AP) -- By the time Greg Monroe left the Detroit Pistons via free agency, his departure felt inevitable.
Now, his former team must deal with it.
"We wish him the best -- just not better than us," guard Reggie Jackson said.
The Pistons held media day Monday amid the usual sense of optimism every team shows before the season. Detroit certainly made its share of moves designed to improve a team that hasn't reached the playoffs since 2009, but it's fair to wonder if the loss of Monroe is being underestimated.
The Pistons will have to find some way to replace the 6-foot-11 forward who averaged between 15-16 points per game each of the past four years.
Monroe was drafted by Detroit in the first round in 2010, and although he never became a star capable of carrying the Pistons to the postseason, his consistent production was something the team could count on. He signed with Milwaukee this offseason.
Detroit had some idea Monroe might leave. The Pistons had already traded for Bucks power forward Ersan Ilyasova, who at 6-10 can give Detroit one thing Monroe couldn't -- a big man who can step outside and shoot 3-pointers.
"We're going to have to do this collectively, but I think we're going to be more four-out, one-in," Jackson said. "It's going to open up more driving lanes and more space for us to all play."
As solid as Monroe was, the Pistons occasionally looked lopsided on the court, especially when they had Monroe, center Andre Drummond and forward Josh Smith all on the roster. Smith was traded last season, and now Monroe's departure leaves Drummond as the post player Detroit is unquestionably building around.
The addition of Jackson in a trade last season gave the Pistons a point guard-center combination they hope can cause opposing teams problems. Detroit also traded for forward Marcus Morris in the offseason and drafted forward Stanley Johnson.
"Greg did things for this team that can't really be filled, but we brought in some great players," Drummond said. "Greg will be missed, but that's the way of the business. We've all got to move forward."
Drummond was drafted in 2012, and he has become one of the league's best rebounders, an athletic force at both ends of the court. But Monroe was the more polished, consistent offensive player.
Last season, Drummond was held under 10 points in 19 of his 82 games. That only happened to Monroe eight times in 69 games.
There's still time for Drummond to diversify his offensive game, and perhaps improve his free throw shooting, which has been around 40 percent throughout his career. The Pistons figure to rely on him more than in the past for scoring in the low post.
"I thought that we stepped it up in terms of how many times we gave Andre the ball in the low post last year. I thought we had good development there," coach Stan Van Gundy said. "We want him to be great offensively, and we've got to get him the ball in the post, and we think he can handle that."
NOTES: G Brandon Jennings, who is still recovering from a ruptured left Achilles tendon, had an amusing response when asked what the toughest part about his offseason was. "Watching everybody get paid was the low point," Jennings said, drawing a laugh.
---
---