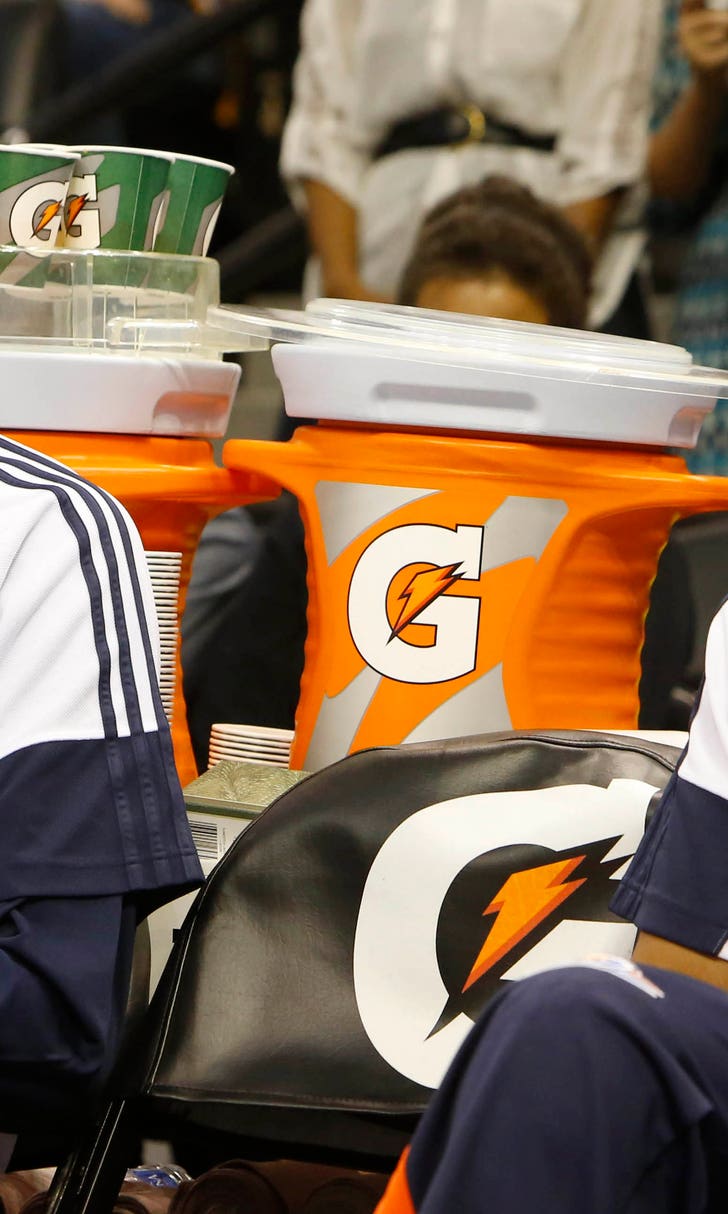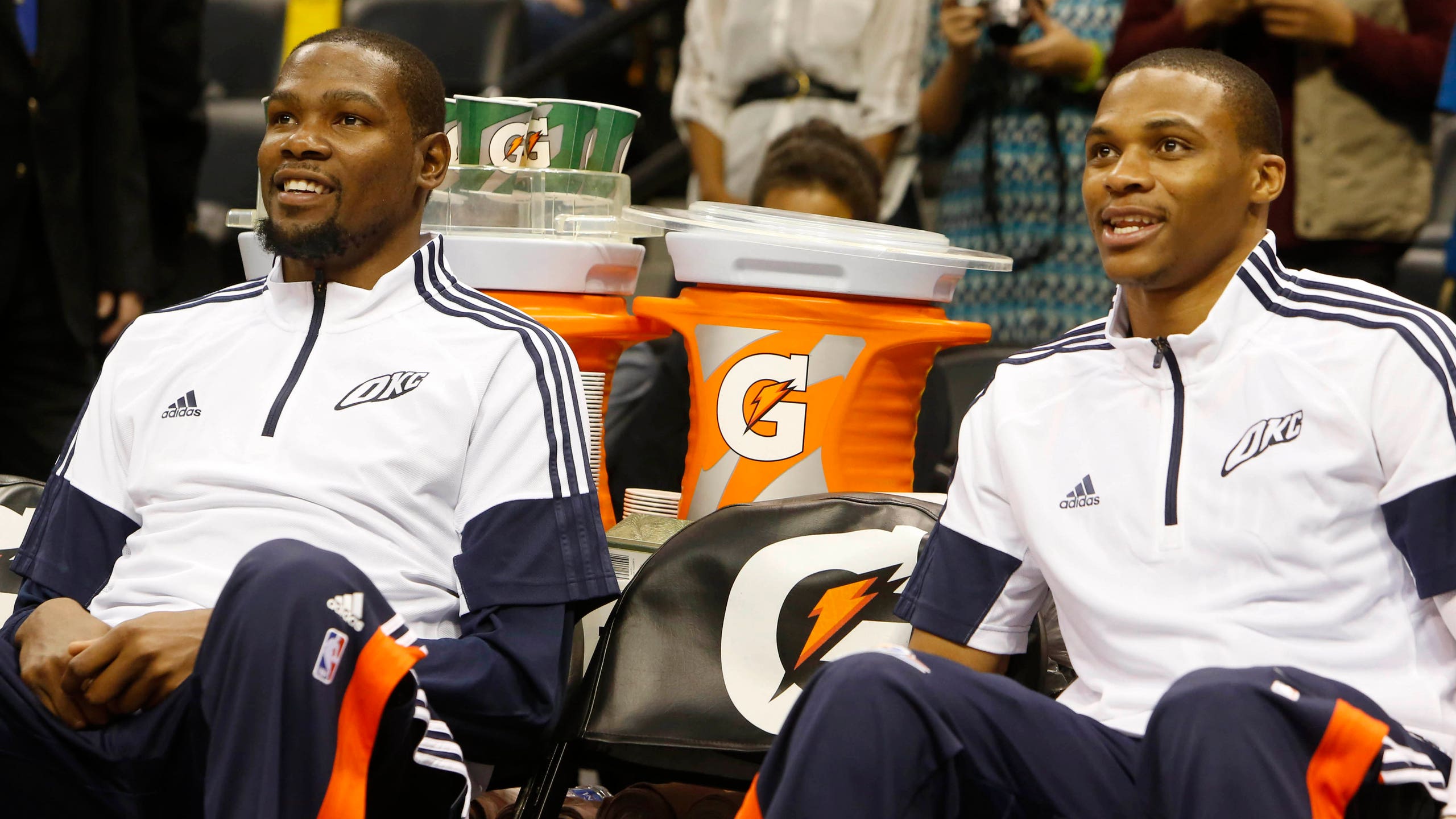 (Some of) Your burning Oklahoma City Thunder questions answered
BY foxsports • October 22, 2014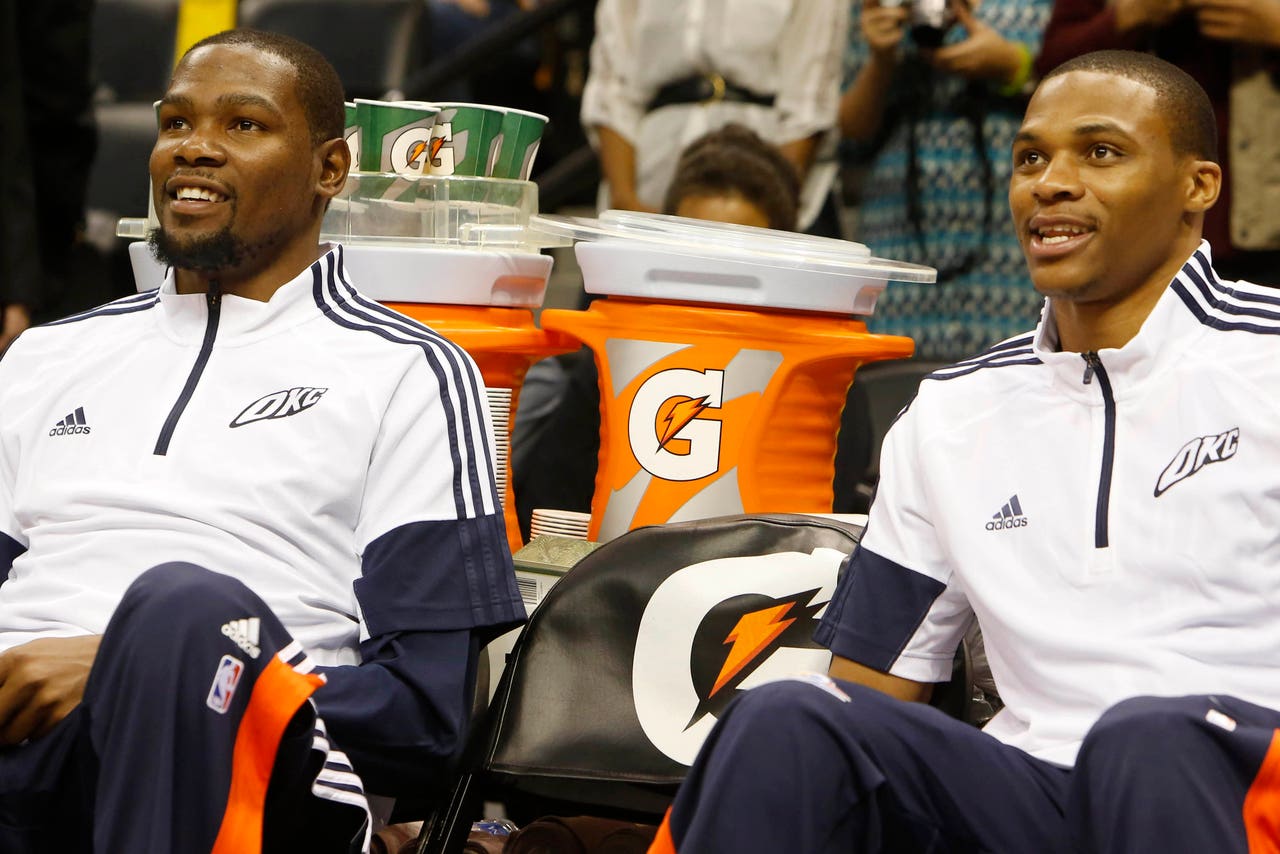 A week from now no one is going to be worrying about whether Russell Westbrook shoots too much.
And everyone will be worrying about when Kevin Durant is coming back. 
Those things are guarantees. Past that, no one knows who will start, who will sit, who will come off the bench and if the Thunder will have the kind of team good enough to get back to the NBA Finals.
Lots of questions, but here are some answers for you as the Thunder approach their season opener Oct. 29 at Portland
Most-important player: Russell Westbrook, and everyone knows why, but Westbrook would have been the answer even if Durant wasn't hurt. 
Durant is steady and reliable, Westbrook is streaky and harder to figure. If he can figure out a way to lead this team, keep his head and still attack and play with confidence, the Thunder won't have any trouble winning 50-plus games. And keep in mind, he's coming off of his own injury. Westbrook's health is as important as his game. 
Best home game
The home opener on Nov. 1 will be great and when the Spurs come to town in April, that will be good, too, but the best game of the year will be on Dec. 11 when Cleveland and LeBron James face Oklahoma City.
There's a chance it could be one of Durant's first games back from his fractured foot. Then again, there's a chance Durant wouldn't play at a lli in that game.
Player with the best upside
Steven Adams has the ability to show something from the center position we haven't seen in OKC in a long time – offense.
Adams is already a fan-favorite thanks to his physical style of play. He's an aggressive rebounder and fun to watch, but Adams could be something special if he and Westbrook can get together in the pick-and-roll game.
Best moustache:
Steven Adams sported it on media day and has since shaved it off.
It may never come back, but you know Adams has the ability. That's good enough.
Best hair
Jeremy Lamb's is out there, Anthony Morrow's is up there, but in OKC no one does hair like Nick Collison does hair.
Side-part, no part, extra-gel, styled – Collison has it all. Just glorious.
Even when he's bleeding like he is here, Collison's hair still looks perfect. How's he do that?
Best towel-waver
Gotta be Durant. At least for the first part of the season. Durant was always the first to congratulate teammates and cheer them on when he was on the bench, albeit for limited minutes, last season, so expect a lot of the same this year. 
If he could be MVP of bench-warmers Durant would win that this season.
Best dressed
No, it's not Russell Westbrook, although he would tell you differently. It was Derek Fisher, until he left playing and took up coaching. Fisher is a classic. Great suits, professional, clean and crispy. 
And it's not Steven Adams, who wears sweatpants on the regular. For now, the answer is unanswerable. Nobody stands out, unless you're talking about Westbrook's patterned shirts.
Best quote
No one tells it like Kendrick Perkins tells it. The veteran center is honest, forthright and funny. There are so many bland quotes and lifeless cliches offered, but Perkins is refreshing, even if his shot isn't.
Worst quote
Scott Brooks. Sorry, coach, you're a nice guy with fancy glasses, but when it comes to saying a lot without really saying anything, you're the coach of the year.
Best accent
It's good to know the Thunder replaced Royal Ivey with Sebastian Telfair. This team wouldn't be the same without a hard-core New York accent.
Telfair is from Coney Island in Brooklyn. He can talk about a Nathan's hotdog with the same gusto is he can talk about a no-look pass and it sounds unfuhgettable.
Best rebounder
Makes sense to say Serge Ibaka, as he'll finish the season with the best average on the team, but Andre Roberson is your best bet. Roberson has a knack for the ball, is extremely athletic and has the incentive of urgency. 
He averaged just 2.4 rebounds per game a season ago and his offensive  abilities are limited, but Roberson is going to play harder than anyone this season to really utilize his minutes. Expect him to get more minutes and more rebounds because of it.
Most to prove 
You have to expect Jeremy Lamb is going to get lots of opportunities this season, but this may be his last real chance to prove himself.
Lamb is in the mix for the starting No. 2 guard, but went just 4-of-28 on 3-pointers this exhibition season.
Who knows if Lamb is already pressing too much. He's a career 42.4 percent shooter and just a 35 percent shooter on 3-pointers. He'll have to improve on those numbers this year as well as his habit of taking too many bad shots.
Even with a healthy Durant, Lamb would have had a lot of eyes on him this season. Now, the third-year player has even more reason to try and impress.
The player most likely to get a technical foul: Westbrook
The player most likely to get away with committing a technical foul: Adams
The player who will receiver the loudest ovation on opening night: Durant
The player you'll be most-frustrated with: Westbrook
The player you'll be the most-wowed by: Westbrook
The player who should play more minutes, but won't: Jackson
The player who should play fewer minutes: Lamb
The player who should be better: Perry Jones
The player who you can't believe is so good: Ibaka.
The player who will take the last-second shot: Westbrook
The player who should take the last-second shot: Morrow
You'll really like: 
1. Jackson's season.
2.  Westbrook's numbers.
3. Ibaka's corner 3-pointers.
4. Morrow's shooting percentage.
You'll really dislike
1. Durant's right foot.
2. Lamb's shot selection
3. McGary's injury.
4. The talk about Jackson's  free agency.
The season's best-case scenario
Westbrook leads and plays like an MVP until Durant returns and Durant and Westbrook then lead Oklahoma City to a top one or two seed in the Western Conference.
A healthy Durant and Westbrook, along with an improved Ibaka and the shooting of Anthony Morrow means the Thunder could easily win 55-plus games.
If that happens, the Thunder will be back in the NBA Finals.
The season's worst-case scenario
The team doesn't respond well to Westbrook as its leader and Durant's injury takes longer than expected.
The Thunder don't get any help from Morrow or Mitch McGary and are distracted by Reggie Jackson's impending free agency. Ultimately the team makes the playoffs, but as a No. 6-seed and loses in the first round.
The season's most likely scenario
The Thunder get off to a slow start and play just above .500 until Durant returns in mid-December. Durant will also get off to a slow start and play limited minutes, but OKC's talent is good enough to win a lot of regular-season games. 
OKC gets back to the Western Conference Finals, but comes up short once again, losing to the Clippers.
Follow Andrew Gilman on Twitter: @andrewgilmanOK
MORE FROM FOX SPORTS SOUTHWEST: 
- Ranking NFL quarterback salaries
- Best college football traditions
- Greatest NBA players without a championship ring
---
---