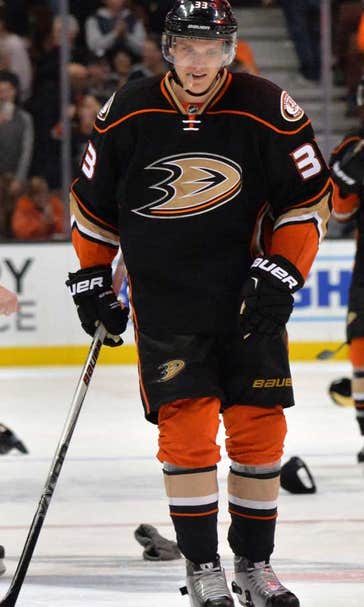 Silfverberg's hat trick leads Ducks in rout of Devils
March 15, 2016

ANAHEIM, Calif. (AP) -- The trio of Jakob Silfverberg, Andrew Cogliano and Ryan Kesler is basically used as a checking line by the Anaheim Ducks. They provided plenty of offense Monday night, though.
Silfverberg scored three goals for his first NHL hat trick and also had an assist in the Ducks' 7-1 rout of the New Jersey Devils.
Cogliano and Kesler each had a goal and two assists, giving the threesome a combined 10 points while playing their usual tough defense against New Jersey's line of Travis Zajac, Reid Boucher and former Duck Kyle Palmieri.
"It's nice, obviously, for the confidence of our line," Kesler said. "Usually every night we're trying to shut down the other team's top line, but this time we kind of went on the attack. I thought we had a couple of offensive-zone faceoffs that were huge, and we generated goals off of that."
Lost in the shuffle of the Ducks' highest-scoring game this season and Kesler's goal and two assists was his work on the draw. He won his first nine faceoffs, 15 of 16 through the first two periods and 19 of 23 altogether.
"I just kind of figured out what they were doing," Kesler said. "Some of it's luck, some of it's just kind of messing with the other centerman's mind."
Corey Perry scored his team-high 29th goal and Nick Ritchie had his first in 25 NHL games to help Anaheim beat the Devils for the fifth straight time.
The Ducks remained two points behind the Pacific Division-leading Los Angeles Kings, who won 5-0 at Chicago.
Former Anaheim forward Devante Smith-Pelly scored for the Devils, unable to complete a sweep of their three-game California trip after a 3-0 win over San Jose and a 2-1 overtime decision against Los Angeles.
This was the 12th time the Devils have played all three California teams on the same trip. The only time they pulled of a sweep was in November 2000, when they beat Anaheim 5-2, Los Angeles 6-1 and San Jose 3-2. Martin Brodeur stopped 71 of 76 shots in those games.
"We would have been happy to win two out of three, but to finish it like this leaves a bad taste in your mouth," defenseman Andy Greene said. "We have to step back and realize that we did take two out of three."
Kesler put the Ducks ahead 2-1 at 3:44 of the second with his 15th goal, using defenseman David Schlemko as a screen and beating Keith Kinkaid to the stick side with a one-timer from 30 feet out.
Kinkaid was making his fourth straight start in place of injured Cory Schneider.
"It doesn't matter how badly you lose or how little you lose by. A loss is a loss," Kinkaid said. "They have some big bodies and they had great net presence."
Silfverberg got his first goal of the night at the 5 1/2-minute mark, jumping on a loose puck in the slot and whipping it past Kinkaid's stick after Josh Manson's shot was blocked by Schlemko.
"The way they played, they deserve a reward like that," coach Bruce Boudreau said of his checking line. "They make it tough on any line they play against. To see them get rewarded and get some goals and finally get rewarded rather than just checking, checking, checking, it's a really good sign."
Devils coach John Hynes used his only timeout after Silfverberg's first goal to try to slow down the Ducks' momentum. But it was no use. Silfverberg made it 4-1 at 9:56 of the period, converting a perfect setup by Kesler from behind the net.
Silfverberg completed his hat trick with 12:47 remaining.
"I think we're a great checking line, but we have the skill to score goals, too," Silfverberg said. "It was a fun night. Every time something is a first, it's special. And getting a hat trick is obviously something special. So I'm excited about it."
Cogliano opened the scoring 32 seconds after the first intermission, converting a rebound of Silfverberg's slap shot from the top of the right circle. The Ducks' lead lasted 37 seconds, as Tyler Kennedy carried the puck behind the net and set up Smith-Pelly in front for his 10th goal.
NOTES: The Ducks scored one more goal than they did in their previous four games combined. ... The Devils are one of three teams that does not have a hat trick, along with Florida and St. Louis. . Kevin Bieksa, the only defenseman to play in each of the Ducks' first 67 games, sat out because of a lower-body injury. D Sami Vatanen missed his second straight game because of an upper-body injury. ... Palmieri, who spent his first five NHL seasons with Anaheim before he was traded to New Jersey on June 27, leads the Devils with 25 goals and 45 points -- both career highs.
---
---