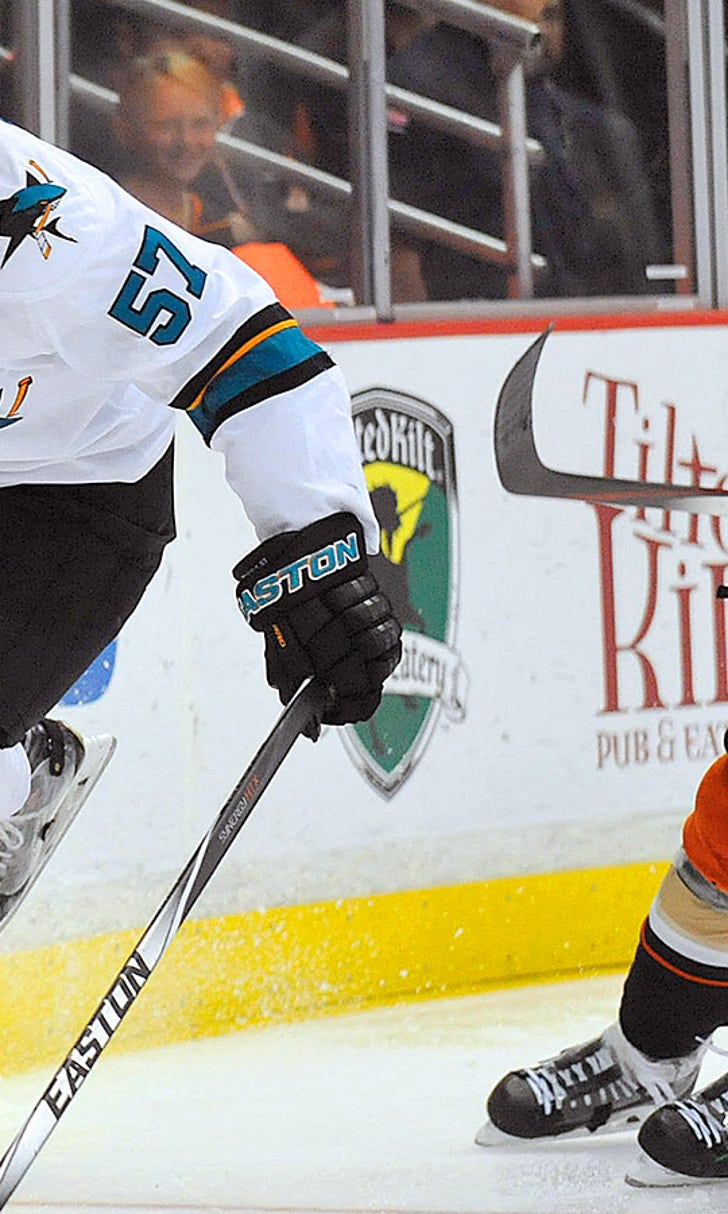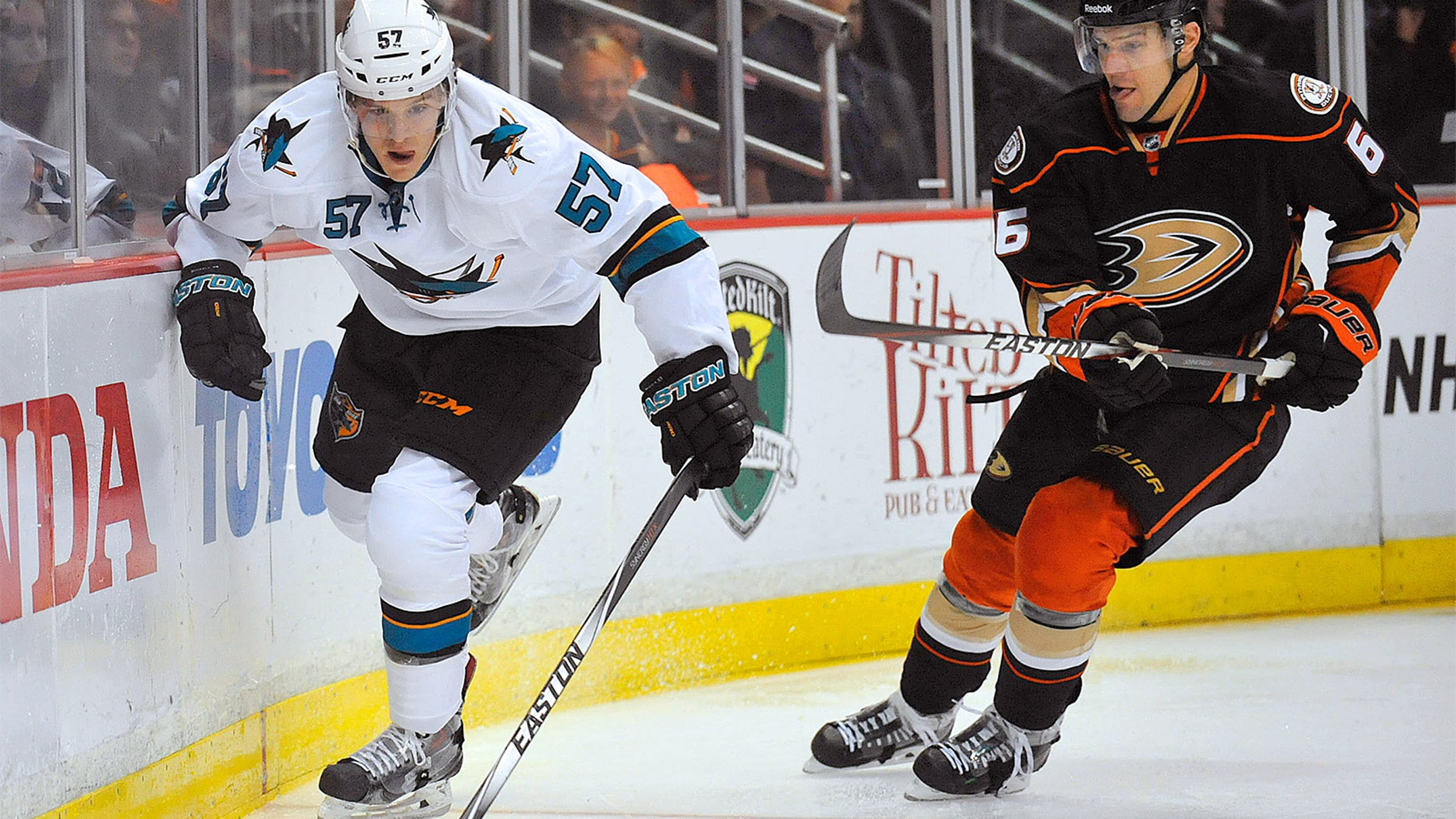 Sharks end skid in fight-filled 4-1 win over Ducks
BY foxsports • October 27, 2014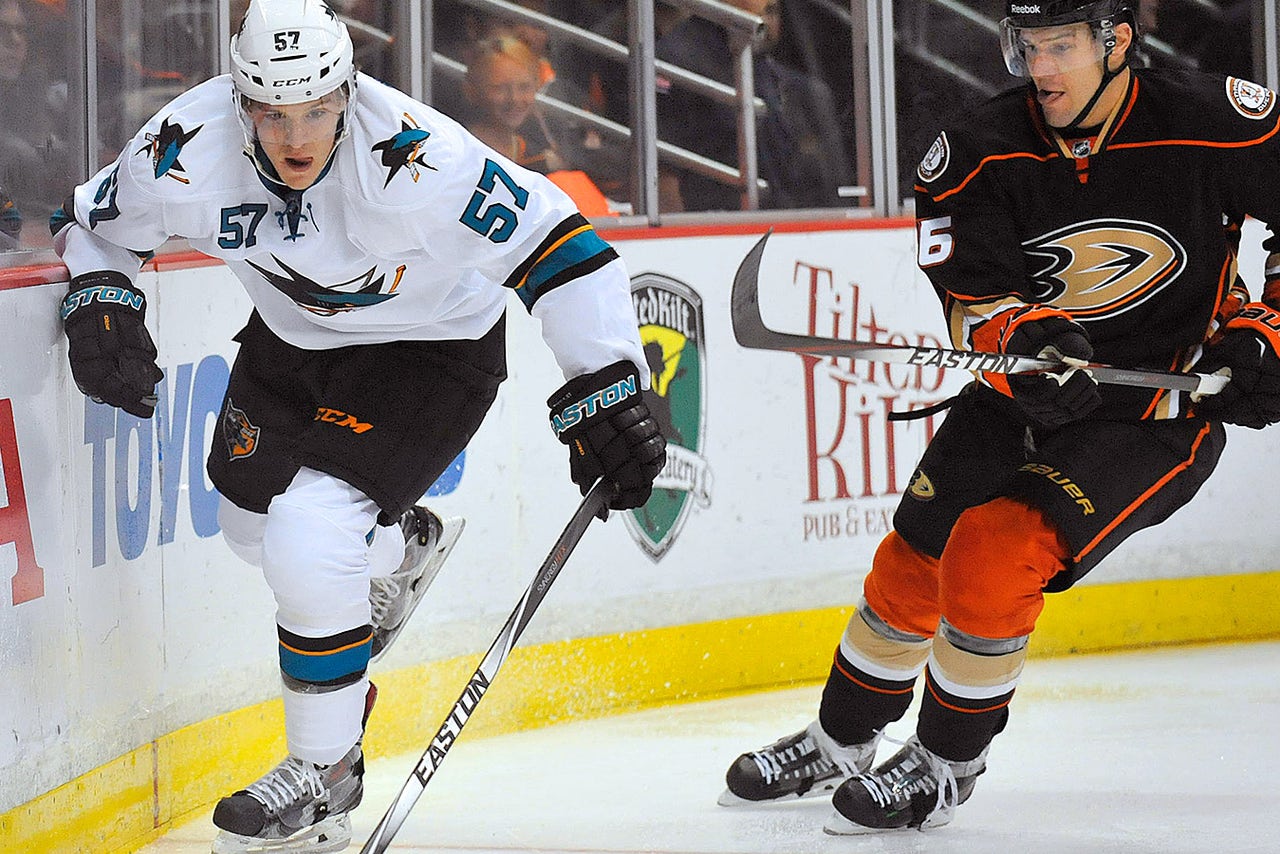 ANAHEIM, Calif. (AP) -- After two weeks of mediocre play, the San Jose Sharks unleashed their frustration on the Anaheim Ducks, filling the net and the penalty box during a fight-filled rout that just might put them back on track.
The Ducks responded with plenty of punches, but not nearly enough solid play to keep up with their unfriendly Pacific Division rivals.
Joe Pavelski and Tommy Wingels scored power-play goals, and the Sharks emphatically snapped a four-game losing streak with a 4-1 victory Sunday night.
Brent Burns and Marc-Edouard Vlasic also scored for the Sharks, who ended Anaheim's seven-game winning streak with just their second victory in seven games. They also traded punches with the Ducks in several fights and numerous scrums, leading to 165 combined penalty minutes and the team togetherness that still seems to result from old-time hockey fisticuffs.
"It's nice to see guys step up for one another," Vlasic said. "Guys love it. Doesn't matter who it is when guys step up and get in somebody's face and fight."
Antti Niemi made 33 saves as San Jose rebounded aggressively from an embarrassing home loss to lowly Buffalo on Saturday, taking a 3-0 lead after two dominant periods. The third turned into a prolonged brawl featuring 127 penalty minutes and ending with Ryan Getzlaf and Corey Perry in the Ducks' dressing room.
"That's hockey, I guess," said San Jose's Adam Burish, who got a misconduct penalty for scrapping with Nate Thompson with 6:04 to play. "It's a rivalry. It's two good teams that don't like each other, two elite teams, and those things can happen."
Patrick Marleau and Logan Couture had two assists apiece for the Sharks.
Niemi believes a bruising victory can bring a team together: "I think for sure. I hope that's what it does. I think that's what it should do."
Matt Beleskey scored for the Western Conference-leading Ducks, who hadn't lost since opening night on Oct. 9.
Frederik Andersen stopped 33 shots, but his 10-start winning streak ended as Anaheim wrapped up a five-game homestand in unimpressive fashion.
"The whole game was pretty deflating for us," said Getzlaf, who got sent off after fighting James Sheppard with 3:06 to play. "We've been playing pretty good hockey as of late, and you're going to play one of these kinds of games once in a while. It just (stinks) that it has to be against these guys."
Although the Ducks are off to another strong start, they couldn't match last October. Anaheim won its first eight home games last season and went 20-0-2 before its first regulation defeat in late January.
Andersen also wasn't exceptional in his first loss since March 29 last season, yielding two first-period goals and failing to stop Vlasic's unassuming backhand in the second. The Danish netminder had been 6-0 this season with a 1.32 goals-against average, becoming the first goalie in NHL history to win 26 of his first 31 decisions.
"We weren't ready from the beginning," Andersen said. "They lost last night, so they came out strong, and we weren't ready for that. That's just not good enough. We got the two points the last seven games, but I think we started thinking it was probably a little bit too easy."
Shortly after Perry and Justin Braun left with misconducts in the third period, a multiplayer brawl broke out in the corner. The officials ruled that San Jose's John Scott left the bench to engage, possibly earning a suspension in a fight that ended with Andersen pulling players off the pile.
"I don't know how they came up with that, but that was a mistake," San Jose Coach Todd McLellan said, asserting Scott was on the ice legally.
Beleskey ended Niemi's shutout bid with 5:07 to play.
NOTES: Before the game, Anaheim reassigned forward Chris Wagner to its AHL affiliate in Norfolk. He made his NHL debut on Oct. 17. ... Sami Vatanen got a penalty for embellishment after Scott Hannan's stick hit him in the face during the second period. The ruling incensed Getzlaf, who nearly fought Sharks rookie Mirco Mueller on the ensuing faceoff. ... D Bryan Allen (lower body), F Kyle Palmieri (sprained ankle) and F Dany Heatley (groin strain) still haven't played for Anaheim this season.
---
---