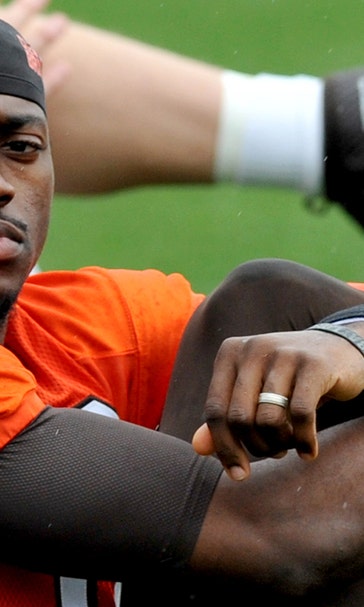 RG3 poses as mannequin, surprises high school team
May 4, 2016

CLEVELAND (AP) -- Talk about a quarterback sneak.
Browns quarterback Robert Griffin III posed as a mannequin before surprising a high school team during a presentation. Griffin stood silently on stage in a helmet and full uniform before lunging at two unsuspecting players from North Ridgeville High School.
Griffin's teammate, offensive lineman Cam Erving, helped him pull off the "trick play" on Tuesday.
The Browns are donating $25,000 in new helmets to the school's football team.
Griffin is expected to start next season for the Browns, who have spent nearly two decades looking for a franchise quarterback. Cleveland selected Southern California quarterback Cody Kessler in the third round of last weekend's draft to give Griffin some competition.
Griffin knows he has to earn his job, saying, "I've never been handed anything in my life, so this will be no different."
---
---