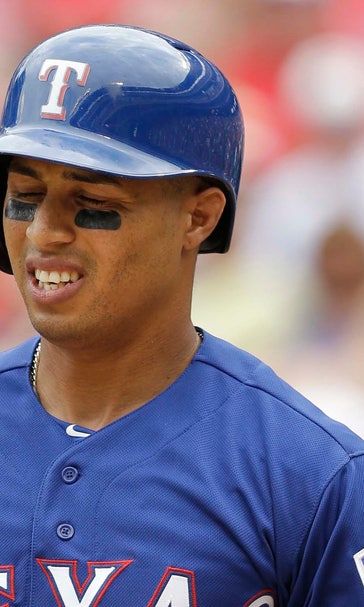 Rangers miss chance to end week on high note
April 12, 2015

ARLINGTON, Texas – The Texas Rangers may have a 3-4 record after the first week of play but they certainly have had opportunities to be better than that.
Sunday they had plenty in a 6-4 14-inning loss to the Houston Astros.
The Rangers stranded 15 baserunners, including leaving the bases loaded in the 10th inning and again in the 14th. Both times the Rangers hit the ball hard with two outs but both times Houston outfielder George Springer made the play. First he robbed Leonys Martin of a game-winning hit with a leaping catch at the wall. Then he ended the game by running down a sinking liner hit by Rougned Odor.
The week has included two blowout losses, two starters lost to the disabled list and a Jekyll and Hyde offense. But it hasn't included any feelings liked the Rangers are in trouble.
"We're good," Odor said. "It's been one week. We're good. We're doing a lot of good things."
That was the case Sunday for starter Colby Lewis. He had a dreadful second inning in which Houston hit a pair of homers and scored four runs to take a 4-0 lead. But Lewis didn't allow another run before coming out with one out in the eighth inning.
By that time the Rangers had cut the deficit in half against Houston ace Dallas Keuchel.
They were able to tie the game in the eighth inning with just one hit as Rougned Odor drew a bases-loaded walk and Carlos Corporan delivered a sacrifice fly.
The walkoff chances came in the 10th. Martin, who drove in two by snapping an 0 for 18 slump with a two-run single in the seventh, just missed a walkoff grand slam as Springer went up against the wall to save the game.
It was a tough play for Martin to watch.
"For me, that's going to be the best catch anybody makes in my life," Martin said. "Especially the first grand slam of my career, a walk-off.  I can't believe he made that play, I can't believe it. But that's part of the game, you know."
A Texas bullpen that was able to string together 5 2/3 scoreless innings finally cracked in the 14th when Hang Conger tagged a two-run homer off rookie Logan Verrett. He was the third rookie pitcher out of the Rangers bullpen.
The Rangers still had a chance though by loading the bases on a single, a walk and a hit batter for Odor. He got the full-count pitch he wanted off Samuel Deduno but Springer made the play.
The Rangers have been shut out twice in the first week and scored one run in another game. But manager Jeff Banister thought Sunday was more evidence of his team's never-ever quit mentality.
"We're not going to give up," Banister said. "There's no give in that clubhouse. They believe in that. We left 15 on base. We didn't get the hit we needed. They battled their behinds off all day long."
It started Sunday with Lewis' pitching. He said he got mad at himself after the second inning and focused on staying ahead of hitters. It was a plan that worked for the veteran.
"I felt like the most disappointing thing was I kind of got away from myself in the second inning and fell behind guys and they took advantage of it and put up the four spot in the second," he said. "What we play 14 innings? We had our opportunities but I'm disappointed I gave up those four runs in the second, especially with three coming with two outs. I feel like we had our opportunities and we battled back, especially right there in the 14th. Guys taking pitches, Peggy (Carlos Peguero) getting on. Mitch (Moreland) taking one off the foot. We still had opportunities to even things up."
The Rangers have had those opportunities despite an offense that's in anything but high gear. Shin-Soo Choo didn't start Sunday because of back spasms. Adrian Beltre is off to a slow start (.188). So are Martin (.125), Elvis Andrus (.161) and Odor (.136). But they should eventually start hitting and start taking advantage of the chances they had like Sunday.
After all, it's only been one week.
MORE FROM FOX SPORTS SOUTHWEST: 
- Ranking NFL quarterback salaries
- Oldest player on every NBA team
- College football's highest paid coaches in 2014
- Highest paid player on every MLB roster
---