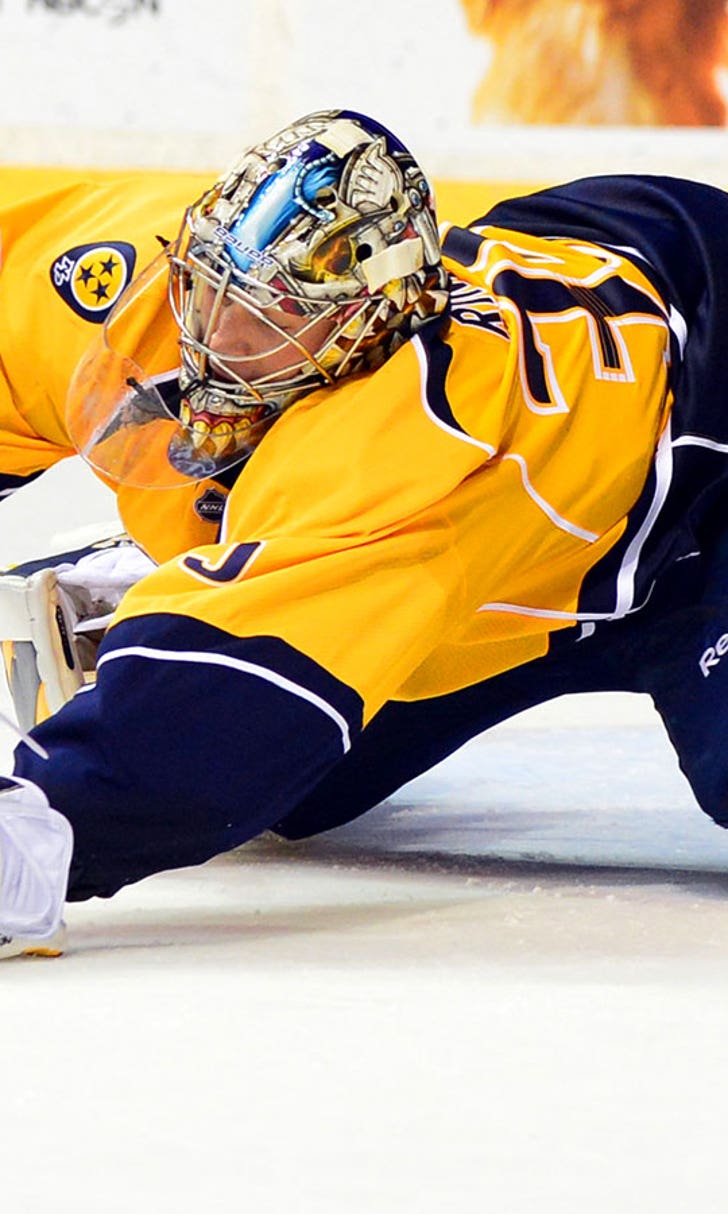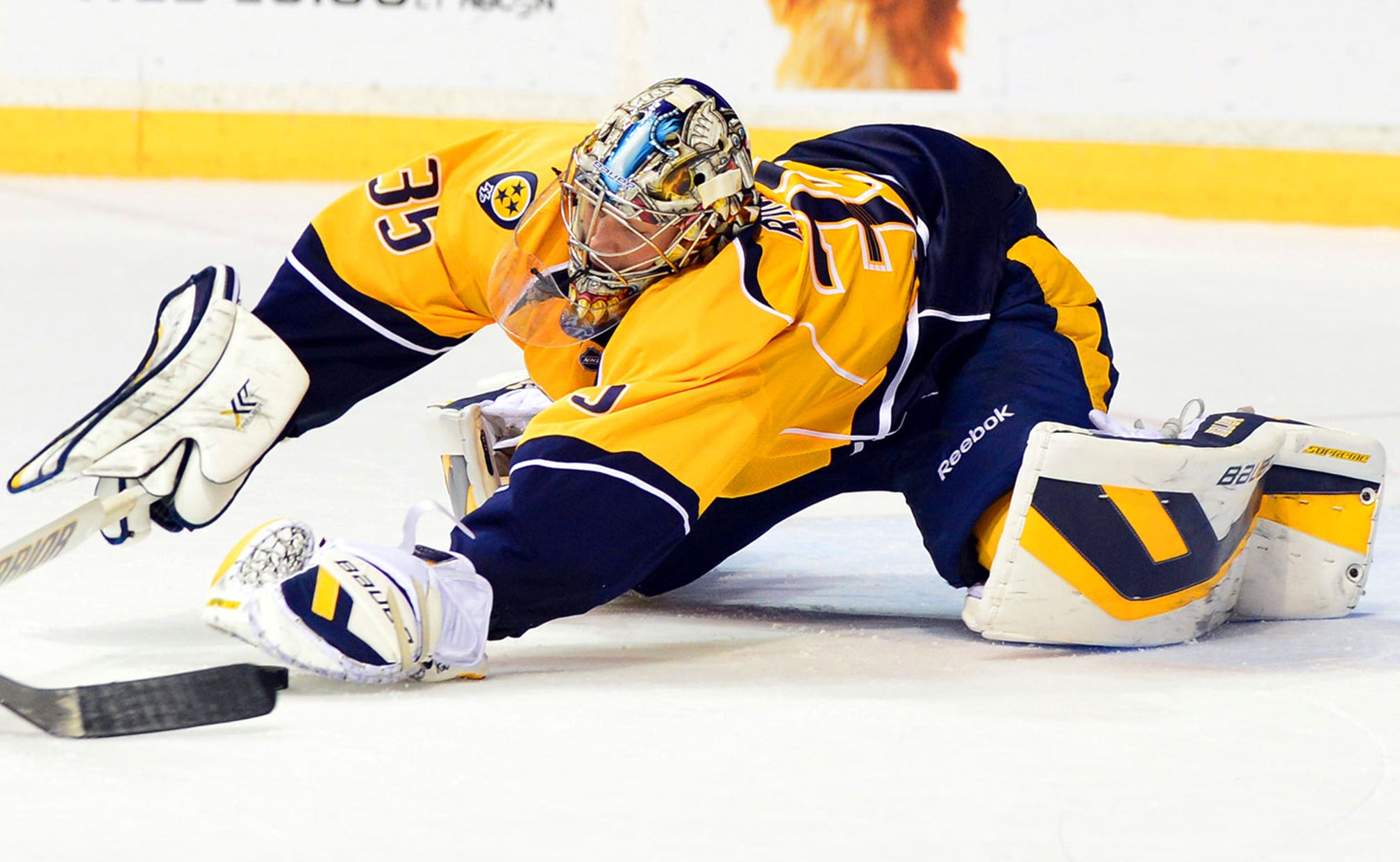 Preds goalie Rinne feeling great after long season on the shelf
BY foxsports • October 2, 2014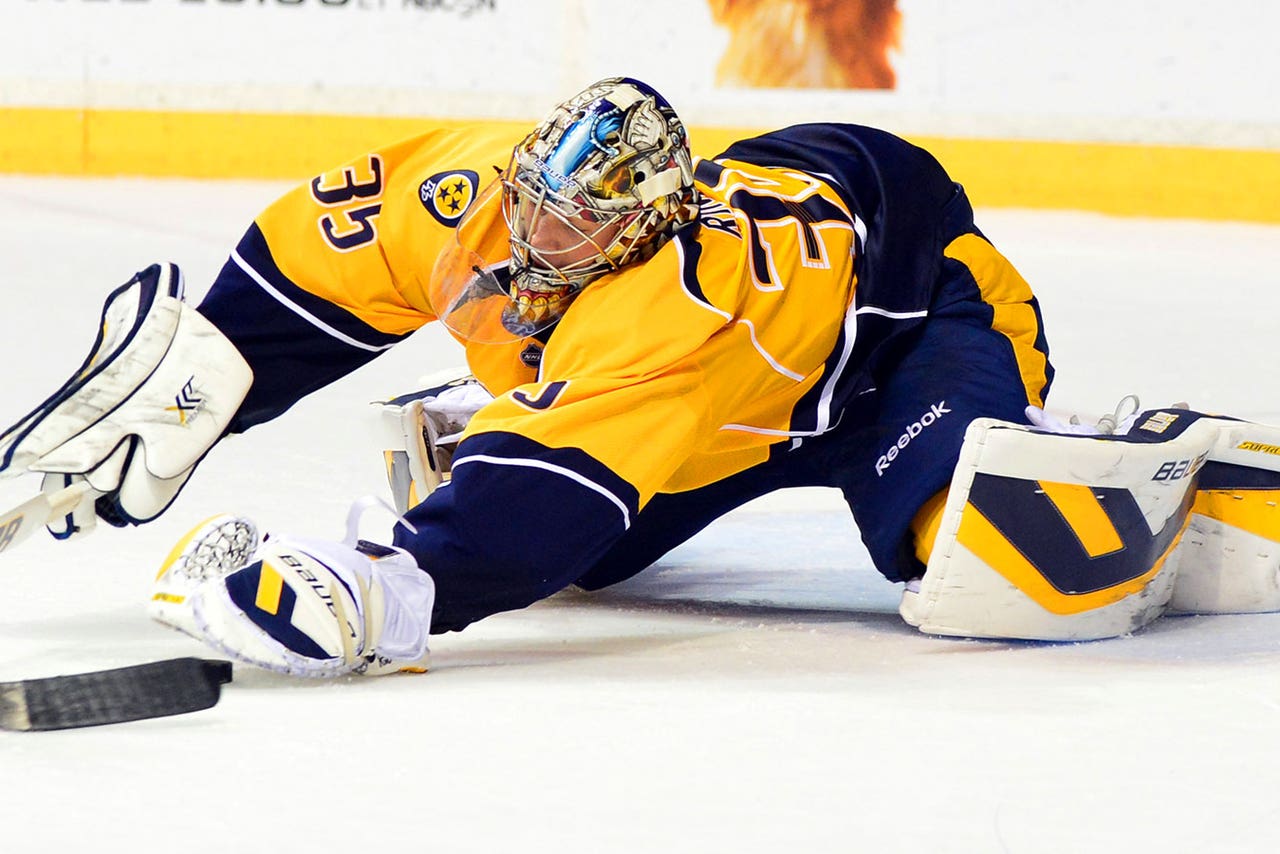 NASHVILLE, Tenn. -- Pekka Rinne knew he was back months before returning to Predators training camp a few weeks ago.
After playing in only 24 games last season because of an infection in his surgically repaired hip, the standout goaltender's absence was a key reason why the Predators didn't make the playoffs for a second straight season -- after going seven times in eight years.
"It was the toughest season in my career, for sure," said Rinne, a two-time Vezina Trophy finalist as the NHL's top goaltender. "Unfortunately, injuries happen and things like that; but when it happens to you, I learned a lot about how to handle things. But it was pretty frustrating.
"It was a long year, a lot of just watching hockey and wishing you could be out there."
Rinne finally got to be "out there" and completely healthy in May, while leading native Finland to a silver medal in the World Championships in Belarus. Rinne was named the tournament's Most Valuable Player, serving notice that he was back to his old self.
"The biggest thing was just the confidence," Rinne said after a 1.88 goals against average and .928 save percentage at the Worlds. That compared to 2.77 and .902 -- his lowest since 2009-10 -- last season for the Predators.
"The way last season was," he added. "I came back for the last 15 games or something like that at the end of the season, and I was struggling a little bit. It was tough to come back. Even though I was feeling pretty good, I could tell that I had missed a lot of hockey."
But as soon as last season ended, Rinne set his eyes on the Worlds, especially after being unable to play for Finland in the Olympic Winter Games last February (Russia).
The initial hip surgery of May 2013, and the eventual bacterial infection that caused him to miss from Oct. 24 through March 1 last season, had become things of the past.
"To have that World Championships, it was great for my confidence," said the 31-year-old Rinne. "After that tournament, I started training almost right away back in Finland. I was really hungry. I knew that if I got myself back in shape physically, my game is there.
"I can play like my old self. Just proving to myself was the biggest thing. It meant a lot to me, the world championships."
When Rinne and teammates started Predators training camp this time around, though, they did so for the first time in franchisehistory without head coach Barry Trotz, now the Capitals coach who was fired after last season.
Enter Peter Laviolette, a veteran coach with three teams -- Islanders (2001-03), Hurricanes (2003-09, including winning the Stanley Cup in 2006) and Flyers (2009-14) -- over parts of 12 seasons.
"It was a wake-up call for all of us," Rinne said of the firing of the popular Trotz. "I don't know, maybe we got a little comfortable here. And now that it's a new start, I really like our team. But that's the bottom line, we've got to get back to the playoffs.
"The way the last two seasons have gone, it's not acceptable. We have to keep the high standards in this organization and keep the winning ways."
A notable change for Rinne and backup goaltender Carter Hutton, who went 20-11-4 last season when elevated to the lead role, is that Trotz took popular longtime Predators goaltenders coach Mitch Korn with him to Washington.
Promoted from top assistant goaltenders coach was Ben Vanderklok, who has experience working with Rinne and Hutton during five years in the system, especially at the top minor-league affiliate in Milwaukee.
"Pekka is a great person, first and foremost," said Vanderklok, 32. "So, in terms of how we work together, he is an easy guy to work with that way. Like all guys, they want to invest, and he wants to get better and continue to improve.
"The biggest thing is just be yourself and be true to yourself. I've got my beliefs with what we want to do to have success, and I've brought that to him, and he's been open to everything we have discussed so far."
Rinne acknowledged that familiarity with Vanderklok as Korn's top assistant is making for a smooth transition.
"It has been going good," Rinne said. "I like Bennie. I got to know him these past few training camps. He is a young guy, but he kind of uses the same methods as Mitch, the same guidelines. He has a different kind of personality, but we get along really well. It's a new set of eyes on the ice."
Certainly, Vanderklok knows that in Rinne he is coaching one of the best goaltenders in the world, not to mention one of the tallest at 6-foot-5.
As for the Predators, Rinne is the all-time leader in wins (163), shutouts (32), save percentage (.918) and goals against average (2.39). Three seasons ago, he set a franchise record while leading the NHL in wins (40) and saves (1,987).
"Obviously, (Rinne's) a great goaltender, one of the best," said defenseman Roman Josi. "That's really important for defensemen. It's great that he's healthy."
Like most who watch Rinne play, Josi marvels at some of the saves made by the lanky goaltender, although he doesn't havetime to take it all in while playing.
"Even in practice, sometimes you go, 'What did he just do?'" Josi said. "He's like a tiger in there sometimes, jumping around and making saves you don't think he can make. It's awesome to watch. He's a great goaltender, and we're glad to have him back."
Despite turning 32 on Nov. 3, Rinne said he feels as invigorated now as he has in years. And he certainly still knows how to make that large frame work for him in net.
"I feel like it works to my advantage," Rinne said. "Obviously for a taller guy, you have to be able to move well. That's one of the areas I have always kept working. I'm still quick. I don't necessarily play like a big goalie.
"I still like to challenge the shooters. I like to play an athletic game and trust my size and cover up the net. Absolutely, the size works to my advantage."
---
---