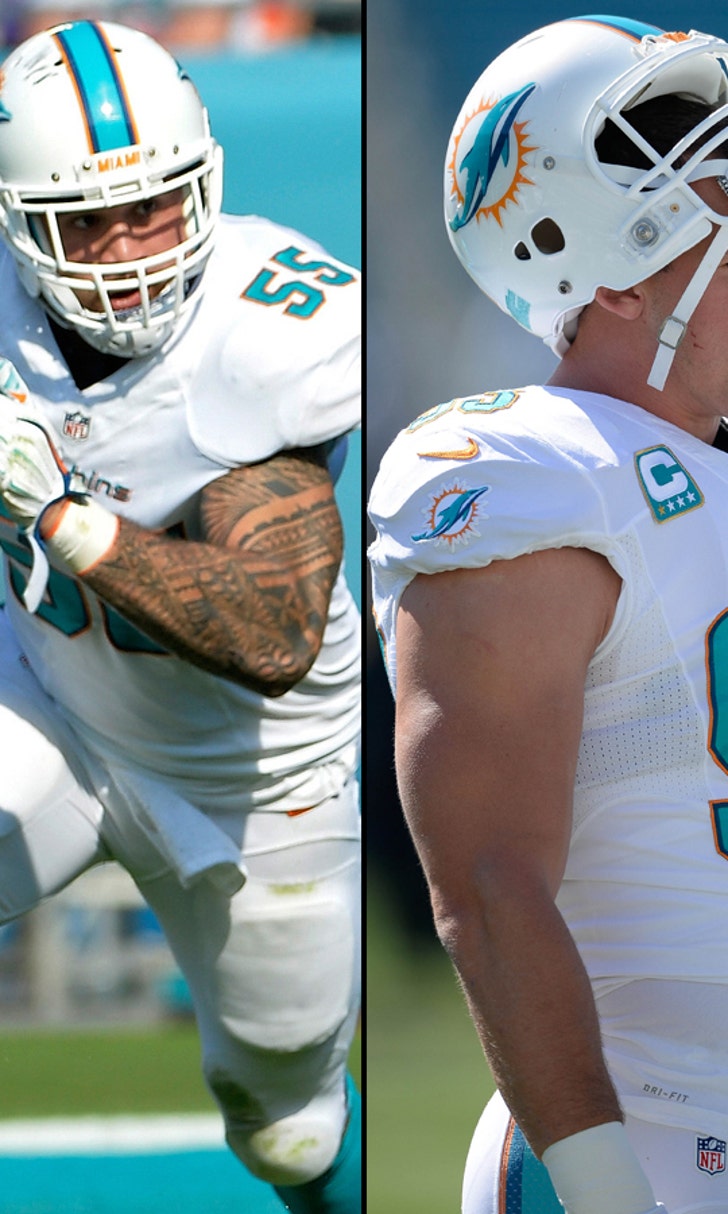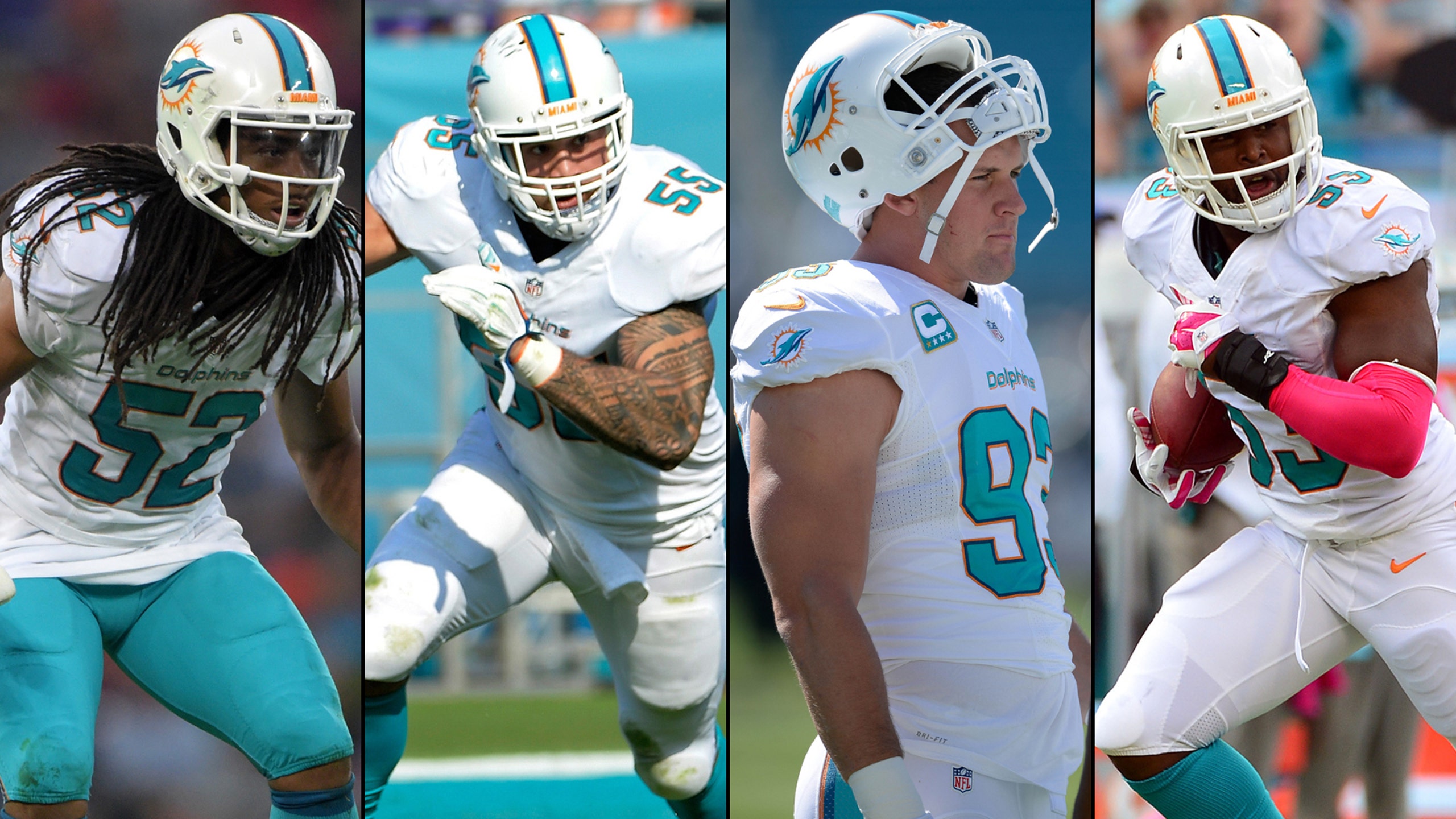 Position review: Dolphins linebacker play proved a mixed bag in 2014
BY foxsports • February 11, 2015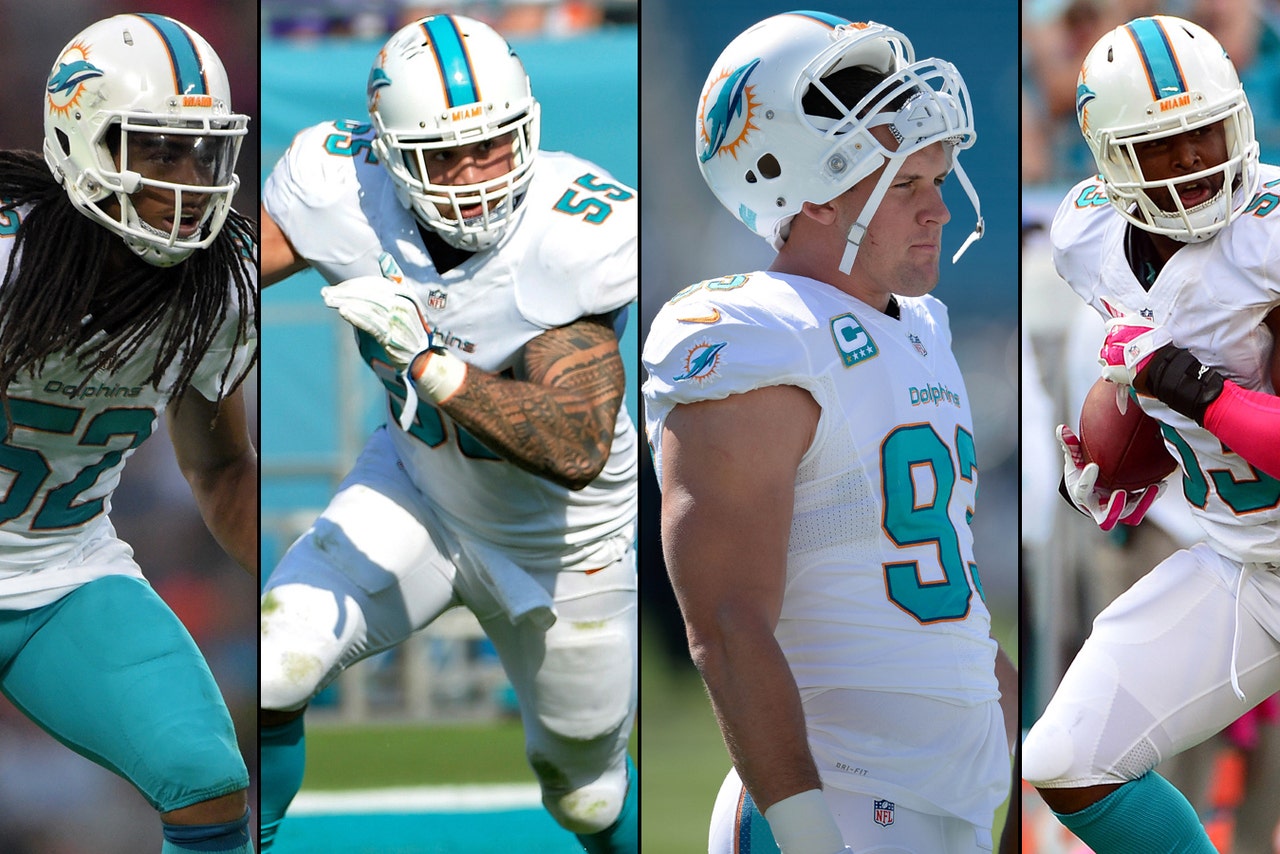 At the start of the 2014 season, the Miami Dolphins linebackers were widely considered the weak link in their defense despite the stability from largely retaining the same core from the previous year. That was before starters Koa Misi and Dannell Ellerbe went down with injuries in their season opener against the New England Patriots, which forced the coaching staff to continue shuffling their lineup around.
Misi had already been moved to the middle position in training camp, with Ellerbe switched to the outside to take his place. But with their sudden injuries, it was second-year player Jelani Jenkins who took full advantage and became one of the bright spots for the team as he solidified his starting role. His play rescued a linebacker corps that faced plenty of questions even if they had remained relatively healthy in 2014.
When asked of his assessment of the decision to move Misi to the inside, head coach Joe Philbin didn't mince words.
"Not as well as I would have liked it to work," he said. "Part of it was, unfortunately, and I don't have it in front of me how many games he missed, but it was an ordeal. It was a little bit tough. When you move to a new position and you are missing reps, it makes it a little more challenging. I still believe in him. I love the way he plays the game. He's one of our more physical, toughest guys that we have on the football team. For whatever reason, the injury bug seemed to grab him a couple of times this year."
There's also the development of DE Dion Jordan to consider as well and whether or not he's more suited as a linebacker. With so many questions and so many moving parts, let's take a complete look at the position as well as who's out there that could help.
STARTERS
Koa Misi: It was a rough season for Misi as he battled through continuous ankle and back injuries while trying to acclimate himself from the outside to inside. Signed through the 2017 season after inking a four-year, $17 million contract extension in 2013, Misi must prove to the team that he can stay healthy or the team may look elsewhere for an upgrade at the inside linebacker position.
"I like what (Koa) Misi has done," Philbin said. "Like I have said on a number of different occasions, I like the way he plays the game. I think he is decisive. He's physical. I think he tackles well. I think he plays with a lot of effort. He's a good all-around football player."
There may be something to whether Misi is really suited for the position if he couldn't stay healthy in 2014. Still, there's no denying he had his moments despite his setbacks.
Jelani Jenkins: He had a breakout year as the team's anchor at linebacker. The fourth-round pick in the 2013 draft showed improvement in all facets of his game along with consistency in his second pro year and proved he could hold down his starting job -- which he won in the second week and didn't relinquish after recording 29 tackles in his first two starts -- for years to come.
"I think I just learned how to play comfortable," said Jenkins of his second year. "I learned how to relax, not worry so much about making a mistake, just play fast, play aggressive, play decisive. I think that's one of the biggest things I've learned."
He racked up a team-leading 110 tackles (83 of which solo) and totaled 3.5 sacks for the year. Pretty good numbers for a player thrust into his role only after injuries to Philip Wheeler, Misi and Ellerbe forced the team's hand.
Philip Wheeler: Wheeler had difficulty adapting from weak side to strong side in 2014 and gave the team middling production for a lot of money ($4.4 million cap hit in 2015) entering the third year of his contract. The Dolphins will likely try to fill his position with cheaper and younger talent.
"(He) sometimes doesn't get as many snaps based on where we are in a game, what personnel grouping we are featuring that week, but he's done a solid job when he's been in there," said Philbin of Wheeler.
Dannell Ellerbe: One of the team's highest paid players after joining the Dolphins after four successful years with the Baltimore Ravens, he lasted only 19 snaps before he injured his hip against the Patriots. The biggest question at the moment is what can be expected of him this season as he looks to solidify his spot on the team.
He has vowed to be healthy by the start of the 2015 season as he recuperates from a torn hip flexor, but it will be wishful thinking he'll be ready in time for spring OTAs. Jenkins' emergence complicates matters as well, since Ellerbe counts $9.9 million against the 2015 salary cap if he's on the team but represents several million dollars in cap savings if he's not. Needless to say, his future with the team is cloudy.
BACKUPS
Jordan Tripp: Although reinforcements at the position were needed last year, Miami's first linebacker in the draft wasn't chosen until the fifth round but Tripp showed promise when called upon to action. Most of his best moments last season came by playing with the special teams unit however. Tripp arguably has the potential to start, but injuries slowed down a promising rookie campaign.
"Jordan is another guy who has battled through (injuries) from back in training camp where he got sick there, had the surgery and then came back," said defensive coordinator Kevin Coyle. "We like his skill set. We like his athleticism. We like his ability to run and to cover. We just haven't been able to get him into the mix of things this year other than some exposure on special teams. We like his skill set, and I think he is going to continue to develop for us as well."
Jonathan Freeny: Has shown ability the past three seasons, but mostly as a role player with the special teams unit. He was already on the bubble by the end of training camp last year and 2015 appears to be no different. His spot may be snapped up as he is a restricted free agent.
Chris McCain: He showed promise as an undrafted rookie looking to make a name for himself on the team. There are still questions as to whether he's a true linebacker that can be counted on each week or if he's ultimately more suited in a defensive end role or even a situational player with special teams. He showed excellent skills as a pass rusher and made several dazzling plays early in the season, including sacking Patriots quarterback Tom Brady in Week 1. As he continues to develop, his role on the team should become more clear.
Jason Trusnik: The team's most reliable backup linebacker, Trusnik played multiple positions not just with the linebackers but also on special teams. His versatility was greatly needed with so many injuries but he is an unrestricted free agent and could be considered by the front office to be replaceable.
POSSIBLE FREE-AGENT TARGETS
There is no shortage of quality linebackers for the Dolphins to consider, all the more reason to seek out upgrades out on the open market for a few key spots. Realistic targets include Rolando McClain (Dallas Cowboys), Rey Maualuga (Cincinnati Bengals), Brian Orakpo (Washington Redskins), David Harris (New York Jets), Nate Irving (Denver Broncos), D.J. Williams (Chicago Bears), Jason Worilds (Pittsburgh Steelers), Akeem Ayers (New England Patriots), and Brandon Marshall (Broncos).
BEST DRAFT OPTIONS
University of Miami fans know what Denzel Perryman brought to their team and he could be a star in the making at the inside linebacker position in the NFL. Provided he's available, the Dolphins would be wise to snatch him up. If he quickly develops, then Ellerbe could move back to his preferred spot outside. Other options at the inside include Eric Kendricks (UCLA), Stephone Anthony (Clemson) and Terrance Plummer (Central Florida). If they're looking to upgrade at the outside position, they should take a look at Shane Ray (MIssouri), Dante Fowler Jr. (Florida) and Eli Harold (Virginia).
FINAL THOUGHT
Moving forward, linebacker remains a position of concern and one in which the Dolphins must address by picking up a quality player or two via draft or free agency to solidify some depth. While individually there is talent and a decent foundation to build upon, there's no denying there was up-and-down production last year in addition to the injury concerns.
You can follow Surya Fernandez on Twitter @SuryaHeatNBA or email him at SuryaFoxSports@gmail.com.
---