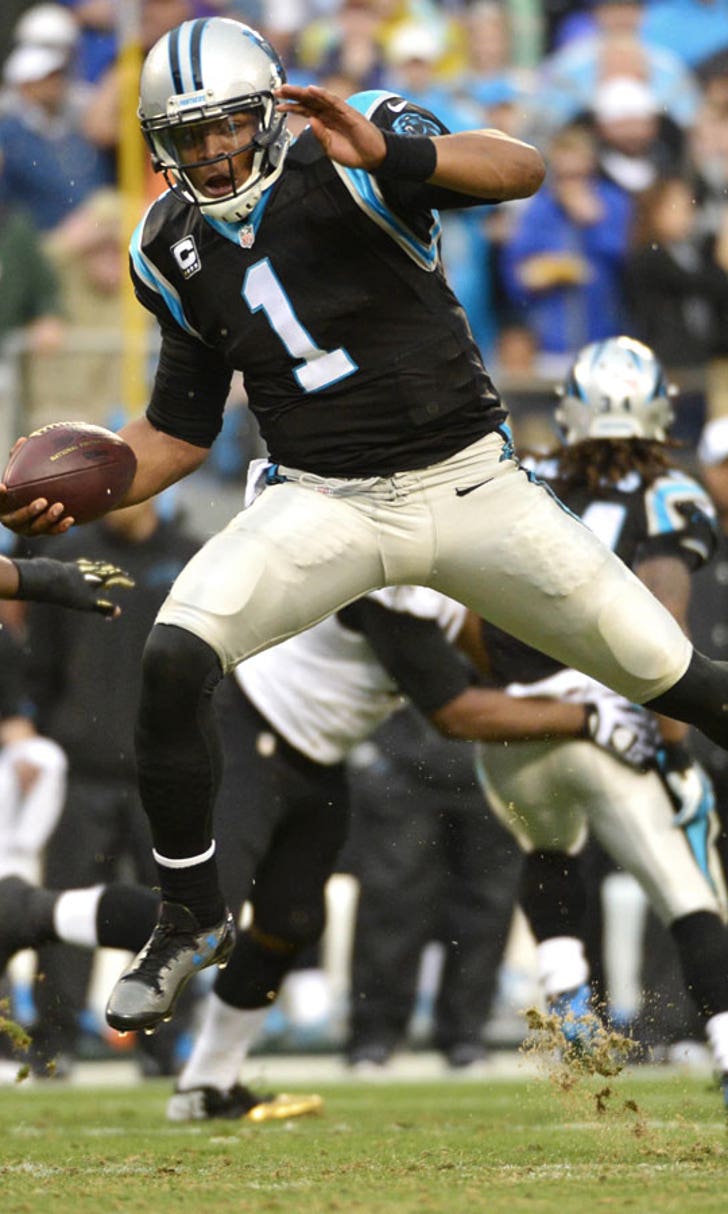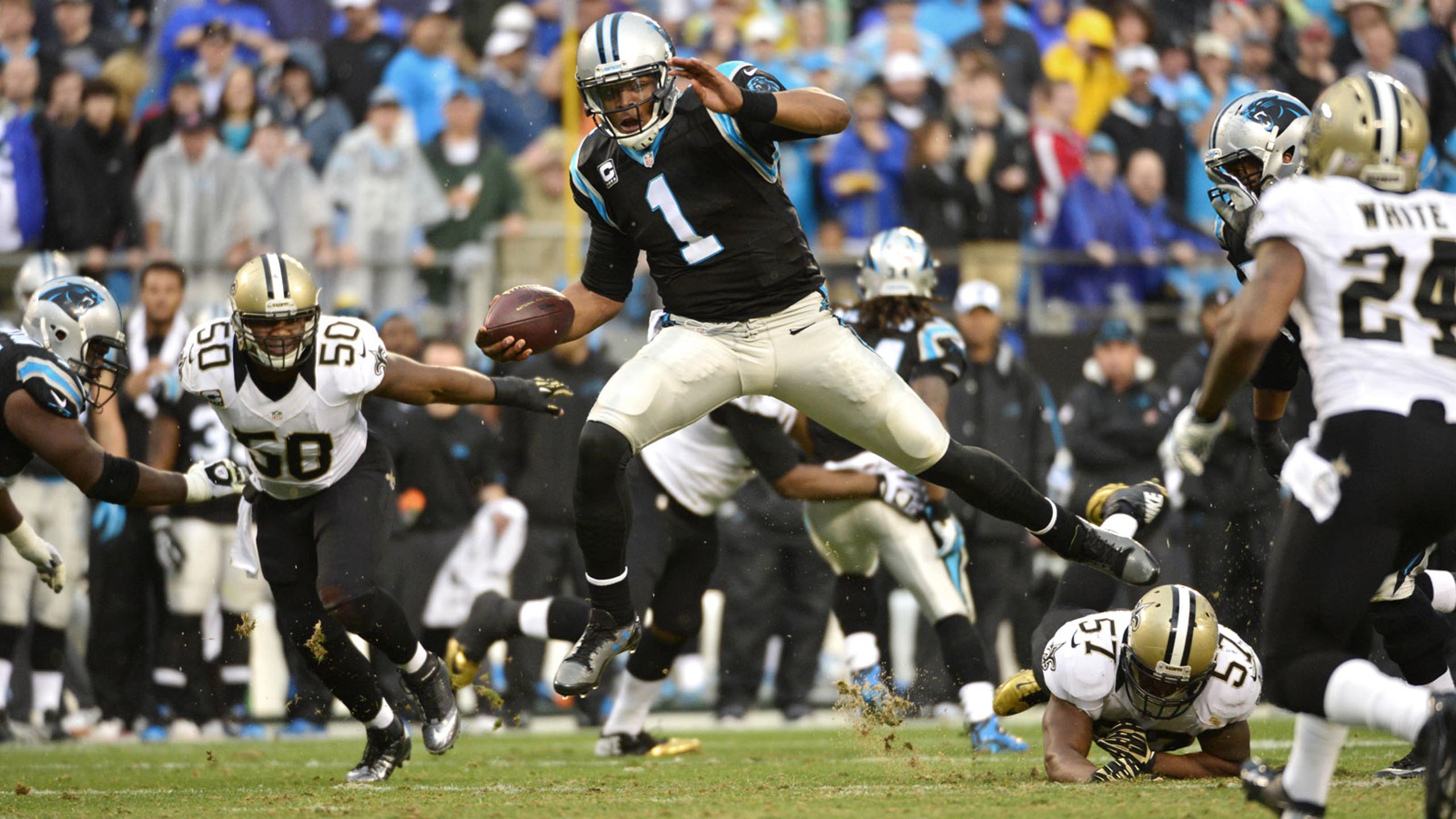 Playoff-bound Panthers clear hurdle with win over Saints
BY foxsports • December 22, 2013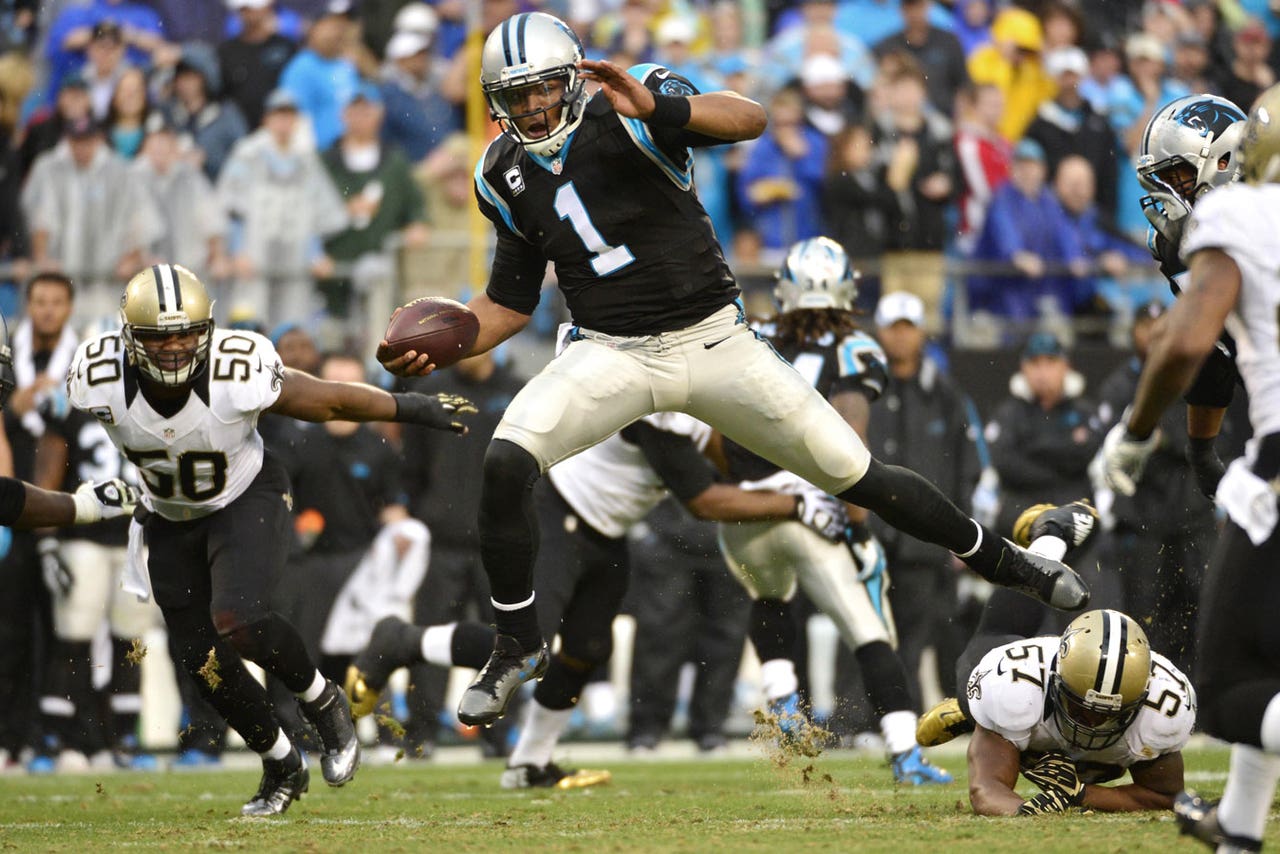 CHARLOTTE, N.C. -- The Panthers (11-4) are officially in the playoffs after a five-year hiatus.
In previous years, they lost in every conceivable way. Now, it seems they cannot lose at the end.
And each comeback seems to top the previous one.
Here are four observations from the Panthers' 17-13 win over the Saints (10-5), putting Carolina just one victory from an NFC South title and first-round playoff bye.
1. Cam Newton saved his best for last ... again
Down three points and only 55 seconds on the clock (no timeouts), and with his best weapon in the locker room with an injury (Steve Smith), Newton still rose to the challenge of leading the Panthers to their first postseason berth in five seasons.
On the game-winning drive, Newton sat in the pocket for what seemed like forever, holding, holding, waiting for someone, anyone, to get open as the pocket collapsed around him. Then, flashed Ted Ginn on a dig right in a hole in the zone, with Newton unleashing a missile for 37 yards, putting Carolina at the New Orleans 28.
"They were playing very soft coverage, especially with the conditions -- just keeping us honest trying to get us to check the ball down," Newton said. "But with great protection, had time to sit in there and let the route come open."
The thinking changed after that play. A drive hoping for three and overtime evolved into pursuing a touchdown in regulation play.
What's more, once Newton found tight end Greg Olsen for 14 yards, setting up the play that sent Carolina to the playoffs and will live on as one of the biggest plays in Panthers franchise history.
With just 14 yards separating the Panthers from a monumental victory, the Saints brought the blitz. Newton shrugged off a grab from a pass rusher and fired a rifle to the corner of the end zone to the seldom-used Domenik Hixon, setting off a celebration that left the press box shaking.
Hixon only had three catches before Sunday's game, but with Smith on the sidelines, he ran his corner route, dove, cradled it and hoped the video board would show confirmation of a catch he was "99 percent sure" he made.
"Cam, he hung in there tough. I'm pretty sure he took a good shot at the end and just tried to throw the ball and give me an opportunity," Hixon said. "A great ball where only I could catch it."
The 65-yard drive took just 32 seconds over five plays. It was the type of drive the Panthers have come up with repeatedly this season when they needed it -- but this one takes honors. Until that point, the Panthers offense had struggled to produce anything and were 0 for 9 on third downs.
"We knew our season was on the line," Ginn said. "We knew our championship was on the line."
Prior to that season-defining drive, the worry was Carolina's offense wouldn't get a chance to rally.
The fans even booed when head coach Ron Rivera's gambling ways came to a halt, questioning the sanity of a coach willing to punt it to Drew Brees, with the Panthers facing a 4th and 7 with more than two minutes left.
Rivera could have gone for it and tried to reinvent the Panthers' comeback in Miami (last month). Instead, he punted away to Brees, hoping a stout defense and two timeouts would be enough to get Carolina's offense back on the field.
"What I was hoping was we would get the punt off before and get it down with about two seconds left. They would run a play, then the two minute, and then I could use my last two timeouts," Rivera said. "Unfortunately, we didn't get the operation in times and that's disappointing."
Luckily, they didn't end up needing the time it would have saved and Rivera came off looking like a genius after the defense forced a quick three-and-out.
"It wasn't very hard [the decision]. I had a lot of confidence in the defense with the way they played," Rivera said. "It kind of worked out the way I hoped it would. I thought about it and thought about it, and felt if we got a really good punt, got them backed up, go three and out, we'd have a chance to drive to get a field goal to tie the game."
"We've earned our trust back from ourselves and from the fans," left tackle Jordan Gross said. "I think that's what's so special, is that we're a legitimate team and we're a good team."
That starts with Newton (13 of 22, 181 yards, one touchdown, one interception). Even on a day where he didn't have his A-game, he took charge when it mattered most.
"He didn't play the way he's capable of and he knows it," Rivera said. "But when he had to come through in the clutch, he did. That's the kind of football player he's becoming."
2. The Panthers' front seven always gives this club a chance to win
The stat line is absurd, even for the guy who led the NFL in tackles as a rookie. Luke Kuechly, perhaps the best linebacker in the game, had 24 tackles, one tackle-for-loss and an interception.
Has he ever had that many in a game?
"It kind of gave us a situation of a little momentum coming into the second half that defensively we can get them stopped when we needed to," Rivera said.
The Panthers' front seven was the difference. They recorded five first half sacks, and Greg Hardy boosted the value of his next contract negotiation, netting three sacks against rookie left tackle Terron Armstead. On the day, New Orleans recorded 365 yards but only put up 13 points.
"We were going to lose it our way. The first game we felt like we played it a little too passive and tried to get too cute with some things, and I think our coaching staff did a fantastic job to come around and put their trust in us," safety Mike Mitchell said. "The back four and the front seven wanted to play Panther defense."
3. Steve Smith's knee injury could be a major problem for the Panthers going forward
Smith ran a post route in the middle of the first quarter on a third down and tried to go up for a ball that led him too much. On the landing, he felt his left knee "pop."
The dreaded pop that everyone talks about after a knee injury but the Panthers aren't sure of the severity yet. He has been diagnosed with a sprained knee but will have an MRI Monday to see if there's anything else there.
He tried to make it back out, going through drills on the sidelines to see if he could give it a go later but couldn't and went back to the locker room to ice it and watch the rest of the game. "When I went back out there and tried to go, I couldn't. The severity and seriousness of it kind of weighs on you a bit," Smith said.
Smith hasn't had knee problems before like this and said he's never felt it pop before, prior to Sunday. While the rest of the guys in the locker room were in great moods after, Smith said he was happy but it was hard to show it while grimacing in pain.
The loss of Smith for even next week would be brutal for an offense devoid of playmakers at wide receiver. Smith had established himself early in the game with a 44-yard catch on the opening drive ... before the injury.
"We're just trying to make do with the conditions," Newton said. "We all know how much Steve Smith has meant to not only this team, but this franchise. We know he's a warrior. He's going to battle back and bounce back and help this team in any way possible."
4. Brad Nortman's punting was absolutely essential to Carolina's Sunday success
It's not often the punter finds his locker crowded with reporters after but that's the type of day Nortman had on a difficult day for punting with a swirling wind and driving monsoon-like rain for much of the third quarter.
He frequently swung the field position game back in favor of the Panthers throughout. Four Nortman punts in the first half averaged 56 yards a kick and he frequently bailed the Panthers out after three and outs.
He was even better in the second half.
In the third quarter Nortman dropped a beauty in that the Panthers corralled at the Saints' 2. Then again, early in the fourth quarter, Nortman kicked a 57-yard bomb that dropped down and stopped at the Saints 3-yard line.
"That second half he at least put every put inside the 25 yard line," Ginn said. "That was our quarterback for a time. My hat goes off to him. I tell him every game if it wasn't for you, there's no us."
"That was probably the biggest thing was that it's tough to go 90 plus yards and score touchdowns," Rivera said. "And that was probably one of the best things that happened, Brad Nortman punted very, very well."
Nortman said the wet conditions helped his cause as far as getting the ball to die, but pinning the Saints back deep was crucial for a defense that had frustrated the Saints for much of the day and an offense that had struggled to move the ball with only 222 total yards on the day.
"Naturally when the field gets so wet and damp, it tends to catch better. It's not going to take a strong bounce, so once the ball hits the ground, it's up to god where it goes," he said. "Kicked it where I wanted to and it landed and killed it, and so luckily both of those died right there. They were kicked in such a way that there was a high likelihood of sticking."
His coach wanted a little better punt on his final punt, but the Panthers were trying to rush it to get it in before the two-minute warning, so Nortman wasn't upset with the 38-yard net.
"Tried to angle it left, caught it a little bit inside, but keeping it out of [Darren] Sproles hands is never a bad thing," he said.
---