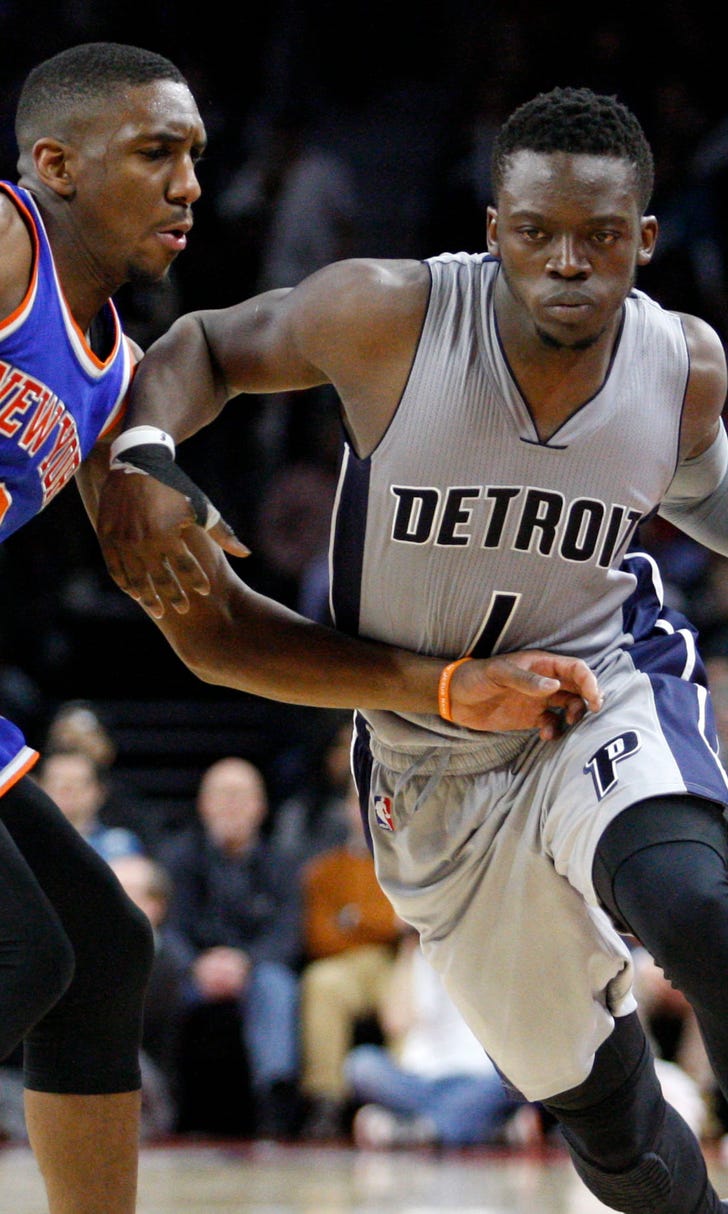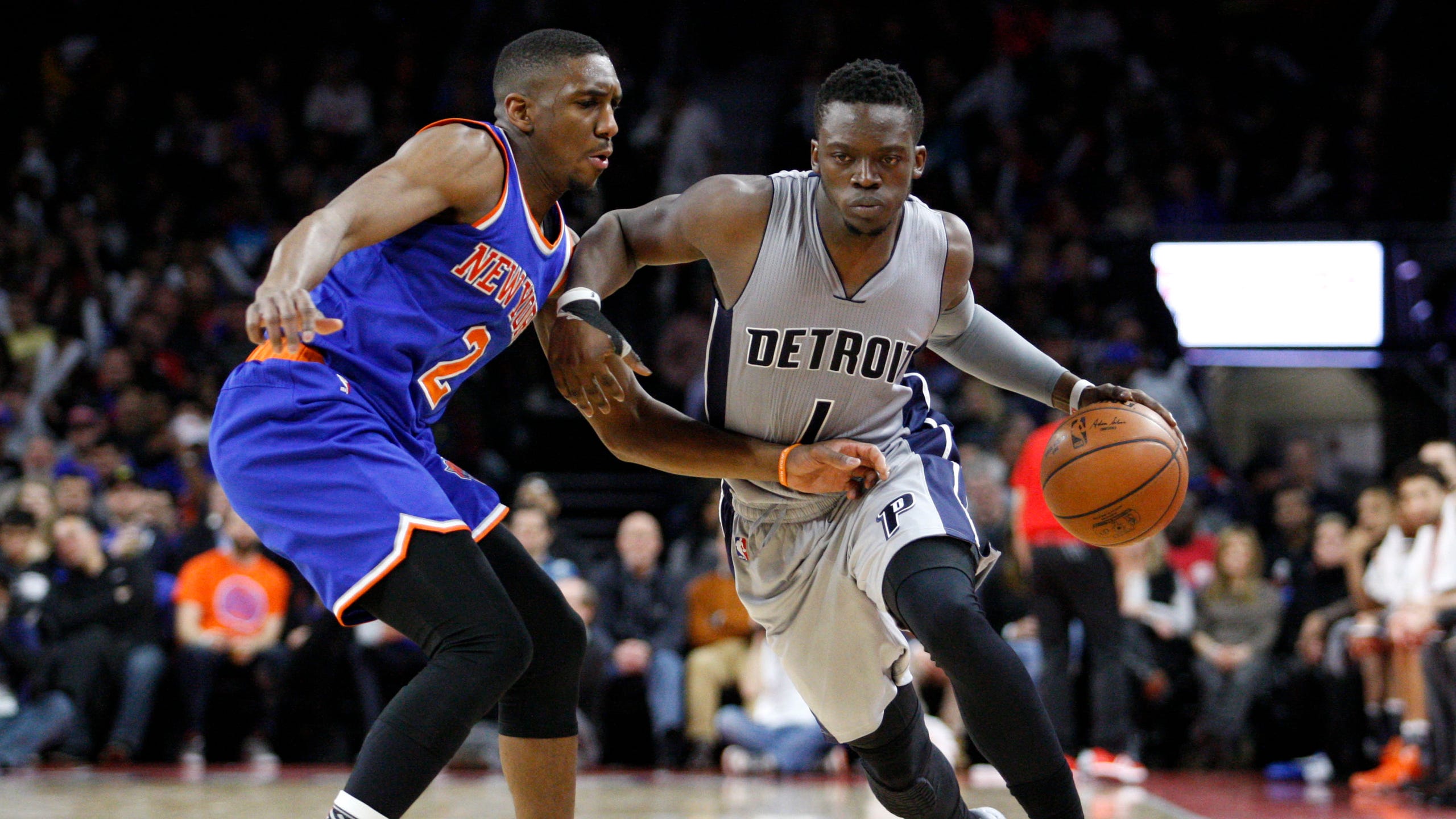 Pistons blow 27-point lead, recover to beat Knicks 111-105
BY foxsports • February 4, 2016
AUBURN HILLS, Mich. (AP) -- Anthony Tolliver's only shot of the game helped the Detroit Pistons avoid a colossal collapse.
Tolliver's 3-pointer with 1:47 remaining put the Pistons ahead again after they'd blown a 27-point lead, and Detroit went on to beat the New York Knicks 111-105 on Thursday night. Reggie Jackson added two more big shots from beyond the arc in the final 90 seconds.
"I knew that obviously I hadn't really touched the ball much," Tolliver said. "At the end of the day, it's about the big shots, and I took one and made one."
The Knicks went ahead 97-95 on a layup by Robin Lopez, but Tolliver answered with his 3-pointer, and Jackson added another to make it 101-97.
After a dunk by Lopez cut the margin back to two, Jackson made another 3-pointer, and the Pistons were able to hold on.
Jackson finished with 21 points, and Stanley Johnson added 22 and nine rebounds. Andre Drummond had 17 points and 13 rebounds for Detroit.
Lopez had 26 points and 16 rebounds, and Carmelo Anthony scored 19 points for New York, which lost for the seventh time in eight games.
The Knicks started the game 1 of 10 from the field and trailed 12-2 -- with Detroit's first 12 points all coming from 3-point range. The Pistons led by 12 after one and began the second quarter with a 21-6 run, taking a 48-21 lead on a dunk by Aron Baynes.
"There's no explanation for that," Knicks coach Derek Fisher said. "Our guys just didn't come to play in the first half, and we dug ourselves the kind of hole where everything has to go right for you to have a chance."
New York's terrible half came to a fitting conclusion after Anthony made a free throw with 4 seconds left. The Knicks let Brandon Jennings get free behind the defense for a long pass, and his layup made it 60-36.
New York outscored the Pistons 35-18 in the third. Arron Afflalo finished with 24 points for the Knicks, who looked poised to come away with a remarkable victory before Tolliver's shot turned the game back in Detroit's favor.
"None of them will admit it, but there was more than one guy in there who thought the game was over at the half," Pistons coach Stan Van Gundy said. "We brought nothing to start the third quarter, so if you don't play hard in the NBA, that kind of stuff can happen, and luckily we got out of there with a win."
FOR FLINT
While on the bench, the Pistons wore red shirts that said "FLINTNOW" as part of a relief effort launched by owner Tom Gores. A Flint native, Gores has pledged to raise $10 million to address the water crisis there.
The team announced earlier this week that players and executives will commit $500,000 to the effort. Mateen Cleaves, Morris Peterson and Antonio Smith -- three former Michigan State players who are from Flint -- took part in the ceremonial game ball presentation before the game.
Flint is about 40 miles from the Palace.
"It's obviously right around the corner, right down the street from us," Tolliver said. "That could be my kid drinking lead water, or any of our kids exposed to that type of thing, because it's so close. It kind of hit home with me personally, but I think it hit home with all of us."
OPPORTUNITY
Johnson, Detroit's first-round draft pick last year, made his second start of the season because Kentavious Caldwell-Pope was out with a core muscle strain. Caldwell-Pope is out at least until the All-Star break.
Johnson shot 7 of 12 from the field and had five assists in 44 minutes.
"I thought he was tremendous," Van Gundy said. "Fearless, getting better all the time, not afraid to make plays."
INEFFECTIVE
New York's standout rookie, Kristaps Porzingis, scored only five points on 2-of-9 shooting. Guard Jose Calderon (sore right groin) played for the first time since Jan. 26, but he went scoreless in limited action.
TIP-INS
Knicks: Afflalo scored 19 points in the second half, and Langston Galloway had 12 in the fourth quarter.
Pistons: Caldwell-Pope's consecutive games streak -- the second-longest active one in the league -- ended at 208. ... Drummond landed hard after being fouled by Lance Thomas near the basket in the fourth. Thomas was given a flagrant foul. Drummond was able to keep playing.
UP NEXT
Knicks: Host Memphis on Friday night.
Pistons: Play at Indiana on Saturday night. 
---
---