Russell Westbrook
Russell Westbrook
Patrick Beverley's foul was a 'dirty play' says Skip Bayless
Published
Oct. 31, 2018 7:02 p.m. ET
What was fun, exciting basketball quickly escalated to a dangerous and heated confrontation during the Los Angeles Clippers-Oklahoma City Thunder game.

To truly understand what occurred Tuesday between Clips guard Patrick Beverley and former MVP Russell Westbrook, one must travel back to the 2013 playoffs (yes, five years ago). During Game 2 of the first round series between the Houston Rockets (where Beverley was playing at the time) and the Thunder, Beverley lunged for a steal after Westbrook called a timeout. While in the motion, Beverley hit Westbrook's knee, tearing his meniscus and ending his season.

https://twitter.com/FoxSportsWest/status/1057446129040687104

Fast forward 2,016 days and the bad blood was still held onto.

After exchanging a series of mocking gestures during the first half (both players followed up scores by staring at the other and imitating rocking a baby), events escalated in the 4th.




Beverley dove for a loose ball that Westbrook had already collected, again crashing into Westbrook's knees just before a whistle blew. Despite OKC calling a timeout, Westbrook lingered by the Clippers' bench and ended up exchanging words with Beverley. The two had to be separated, and double technical fouls were handed out. Beverley was handed a flagrant 1 after a review. Police even had to come onto the court to keep peace between the two teams.

https://twitter.com/jovanbuha/status/1057456141305896960

While some could argue it was Beverley simply demonstrating his customary non-stop competitiveness, Skip Bayless is having none of that. On Undisputed Wednesday, Bayless-- who defended Beverley after the 2013 incident-- called him out this time for a "dirty play and a cheap shot."

https://twitter.com/SuaveFrancisco_/status/1057466865570770947

Beverley defended his play after the game, saying: "I went for a loose ball... Two competitors, no ones going to back down. No one did. We received two technicals, continued playing."

While there is room for debate over what occurred during the play, one thing is for sure: if chippiness carried over from 2013, it will surely still be there when the Clippers and Thunder square off again in OKC December 15.
---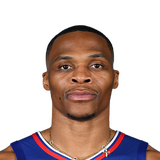 Get more from Russell Westbrook
Follow your favorites to get information about games, news and more
---