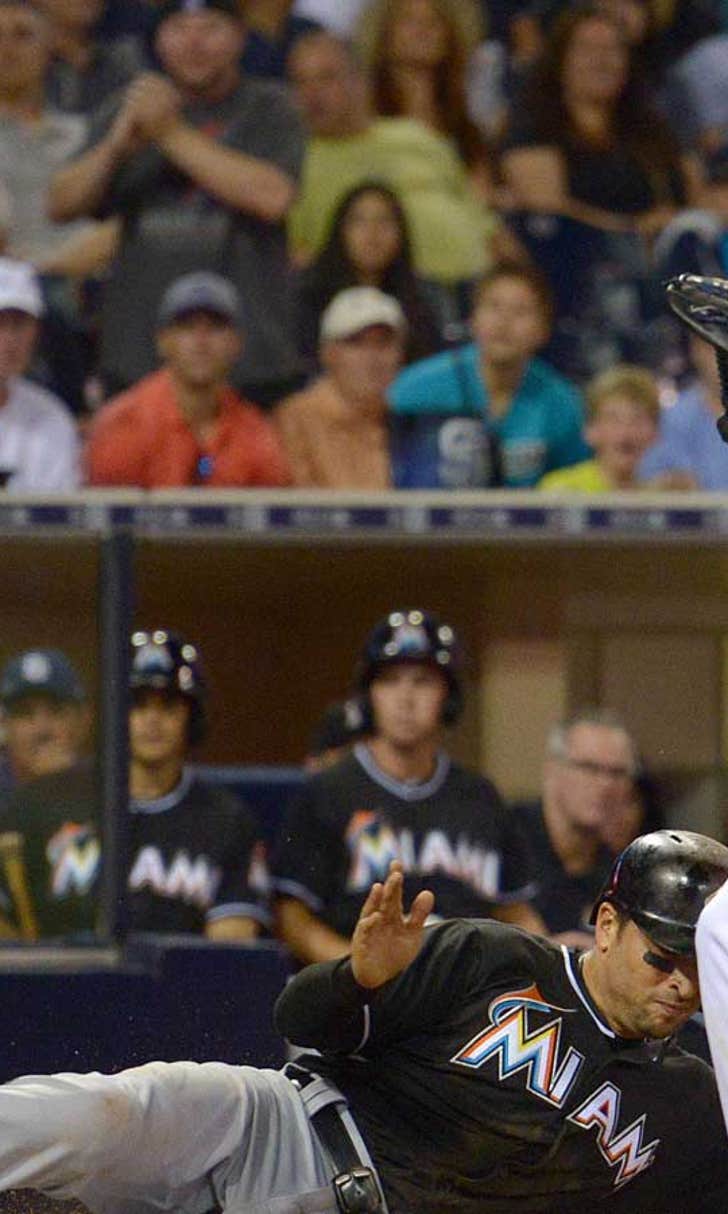 Padres blanked by Koehler, Marlins 4-0
BY foxsports • July 24, 2015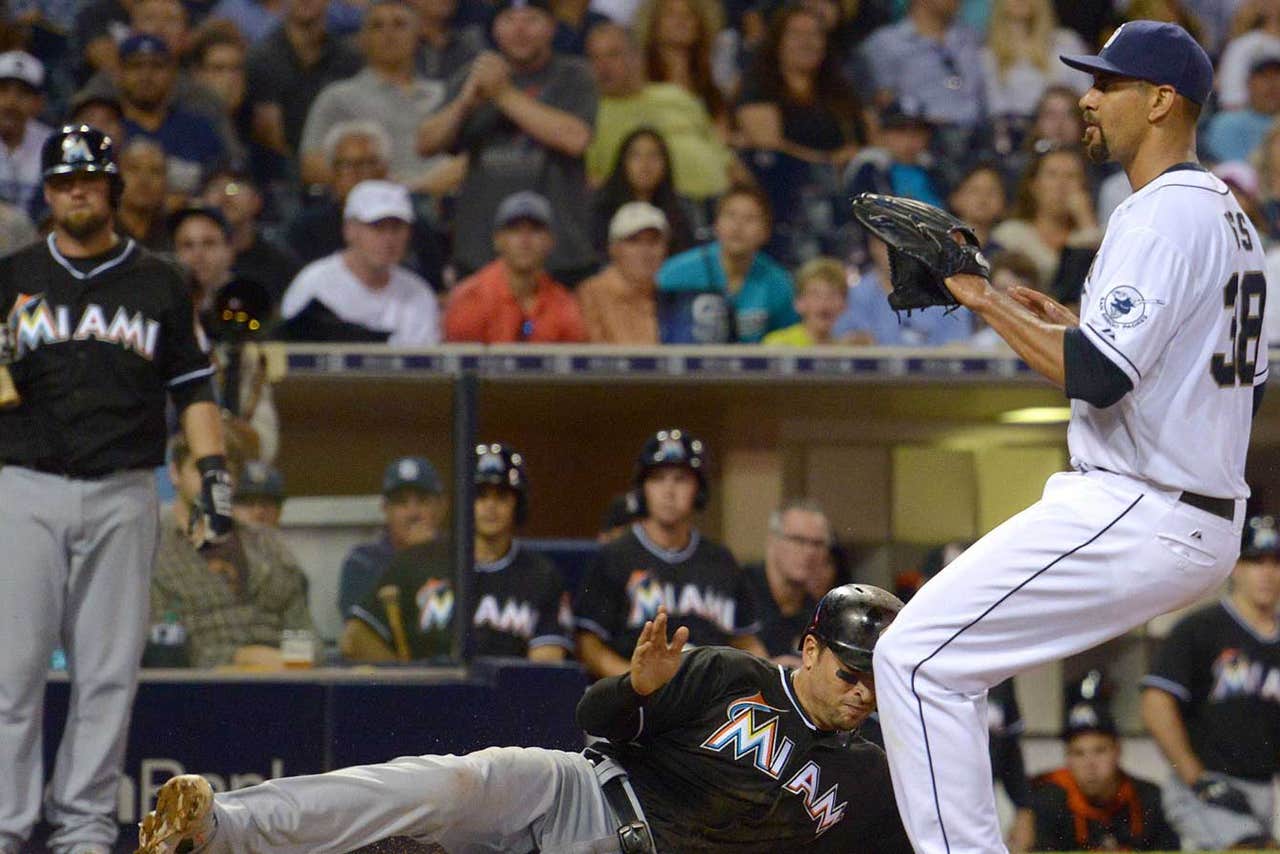 SAN DIEGO (AP) -- Tyson Ross couldn't have pitched much better for five innings. But suddenly, the bottom fell out for the Padres pitcher.
Ross came undone during a four-run sixth inning and was outpitched by Miami's Tom Koehler as the Marlins took a 4-0 victory over San Diego on Thursday night.
Ross (6-8) had given up just three infield singles, struck out seven and allowed just one ball to be hit out of the infield through five innings. Then with two outs in the sixth, it all blew apart. The Marlins used five consecutive singles, along with a wild pitch and two errors on the same play, to score four runs in the inning to break a scoreless tie.
"It's the third time through the lineup," Ross said. "Their hitters made a good adjustment. They were laying off some of the pitches down and out of the zone. Five basehits with two outs is a tough way to lose."
Padres interim manager Pat Murphy thought the wild pitch Ross threw allowing the first run to score was the turning point.
"The wild pitch threw him for a loop and he beats himself up over that," Murphy said. "When you are a pitcher and you're throwing that well and you throw a wild pitch, it's pretty unusual. You lose your focus for a second."
Said Ross: "It's a 0-0 ballgame and when you bounce one to the backstop like that, it's a little frustrating."
Given a cushion, Koehler (8-6) did the rest. Although he walked four and hit a batter, the right-hander limited the Padres to three singles and successfully worked out of the only jam he faced.
"I would like to go more (innings)," Koehler said. "If I don't have four walks, cut down on those, I can continue to go deeper in games."
Koehler, Steve Cishek and Mike Dunn handed San Diego its major league-high 14th shutout.
Miami won its third straight on the road for the first time this season.
Ross allowed four runs - three earned - and eight hits over 5 2/3 innings with eight strikeouts.
Martin Prado got the Marlins started in the sixth with a two-out single and went to third on a single by Christian Yelich. Ross then threw a wild pitch to Justin Bour, allowing Prado to score and Yelich to take second.
Bour lined an RBI single to left for a 2-0 lead and took second on Casey McGehee's single before he scored on J.T. Realmuto's single. When Realmuto stole second base one batter later, a throwing error by catcher Austin Hedges allowed McGehee to score.
Koehler was the recipient of two outstanding defensive plays. Left fielder Yelich made a sliding catch in foul territory down the left-field line in the third, and third baseman McGehee caught a foul popup right near the stands as he was falling down to end a bases-loaded jam in the fifth.
San Diego loaded the bases with one out in the fifth before Koehler got Ross to ground into a force play at the plate. McGehee followed with his catch on Abraham Almonte's foul popup.
HOMERLESS DROUGHT CONTINUES
Ross has not allowed a home run in 16 consecutive starts, a Padres franchise best and the longest such streak in the majors since Sid Fernandez of the Mets in 1992. Ross, who has given up only three homers all season, has gone 99 innings without allowing a long ball.
TWO OF A KIND
When Marlins RF Ichiro Suzuki shook hands with Fred Lynn in the Miami dugout before the game, it was the first meeting between the only two major leaguers to win the Most Valuable Player and the Rookie of the Year awards in the same season. Suzuki took the honors in 2001 with Seattle and Lynn was the first player to achieve the feat with Boston in 1975.
TRAINER'S ROOM
Marlins: RF Giancarlo Stanton (left wrist fracture) continues to swing a bat, but has not faced pitching yet. ... 2B Dee Gordon (dislocated left thumb) is expected to take batting practice this weekend at the team's training camp facility at Jupiter, Florida. ... RHP Henderson Alvarez (right shoulder inflammation) suffered a setback after his last rehab start and will be re-examined.
Padres: LF Justin Upton (strained side muscle) was out of the starting lineup for the fourth straight game, but he did pinch hit in the ninth inning and struck out swinging to end the game. ... RHP Brandon Morrow (right shoulder inflammation) will throw a rehab start for Triple-A El Paso on Saturday. ... OF Wil Myers (left wrist tendinitis) will be examined Friday and if it goes well, he will likely to start swinging a light bat.
UP NEXT
Marlins: It could be the final start for RHP Dan Haren (7-5, 3.46 ERA), the subject of much trade discussion leading up to next Friday's trade deadline.
Padres: RHP Andrew Cashner (3-10, 4.10) has struggled for much of the season. Since May 27, Cashner has won once in eight starts.
---
---