National Basketball Association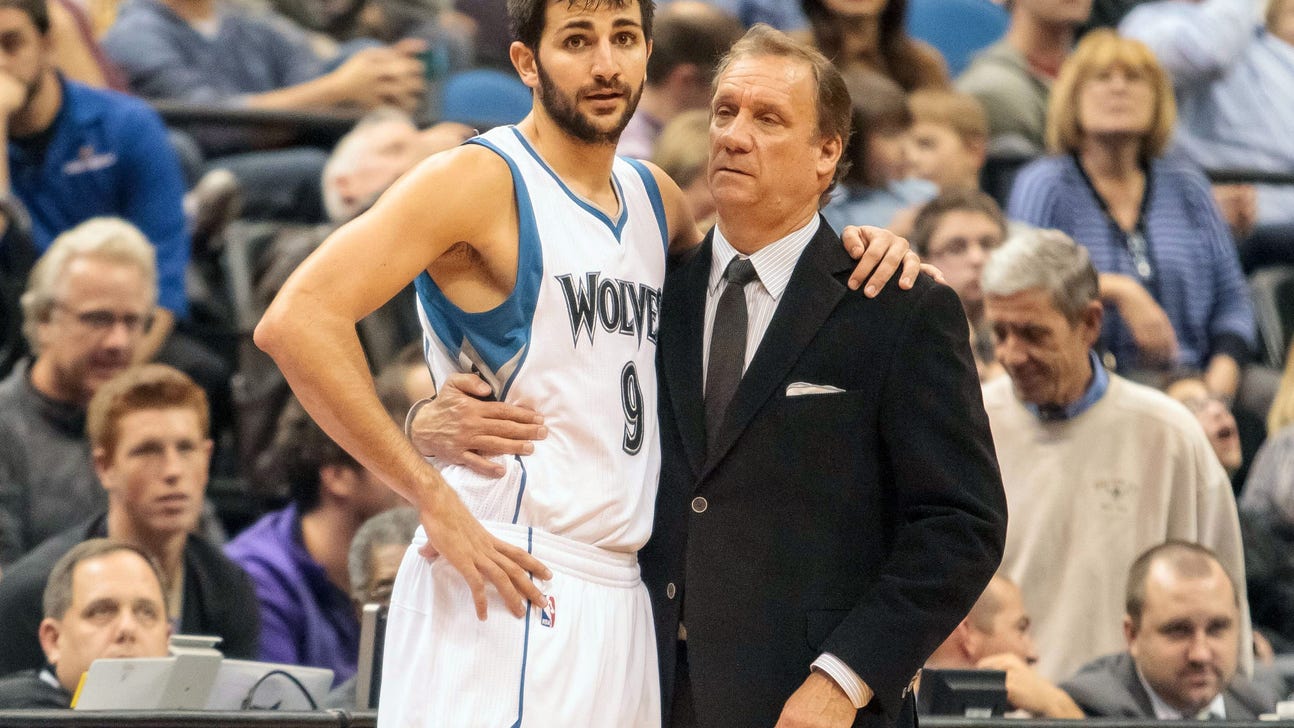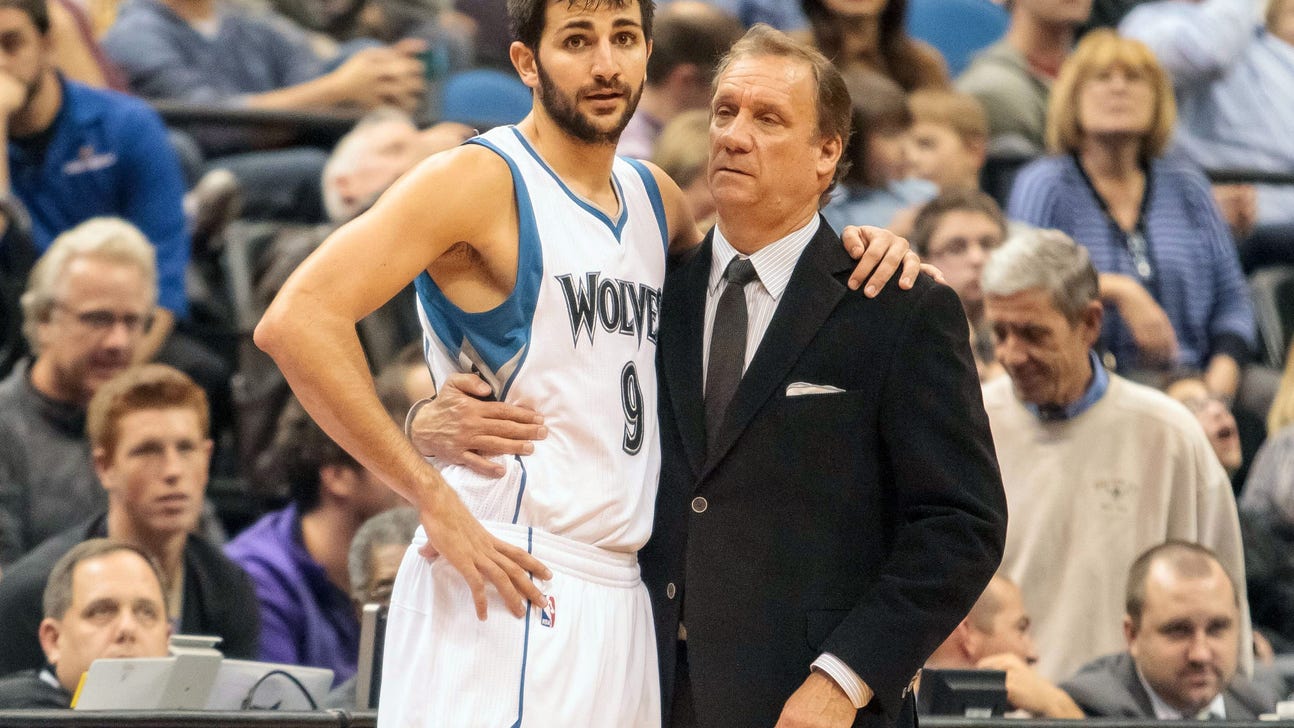 National Basketball Association
No bull: Wolves are Rubio's team now, but will he get big contract?
Published
Oct. 28, 2014 11:20 a.m. ET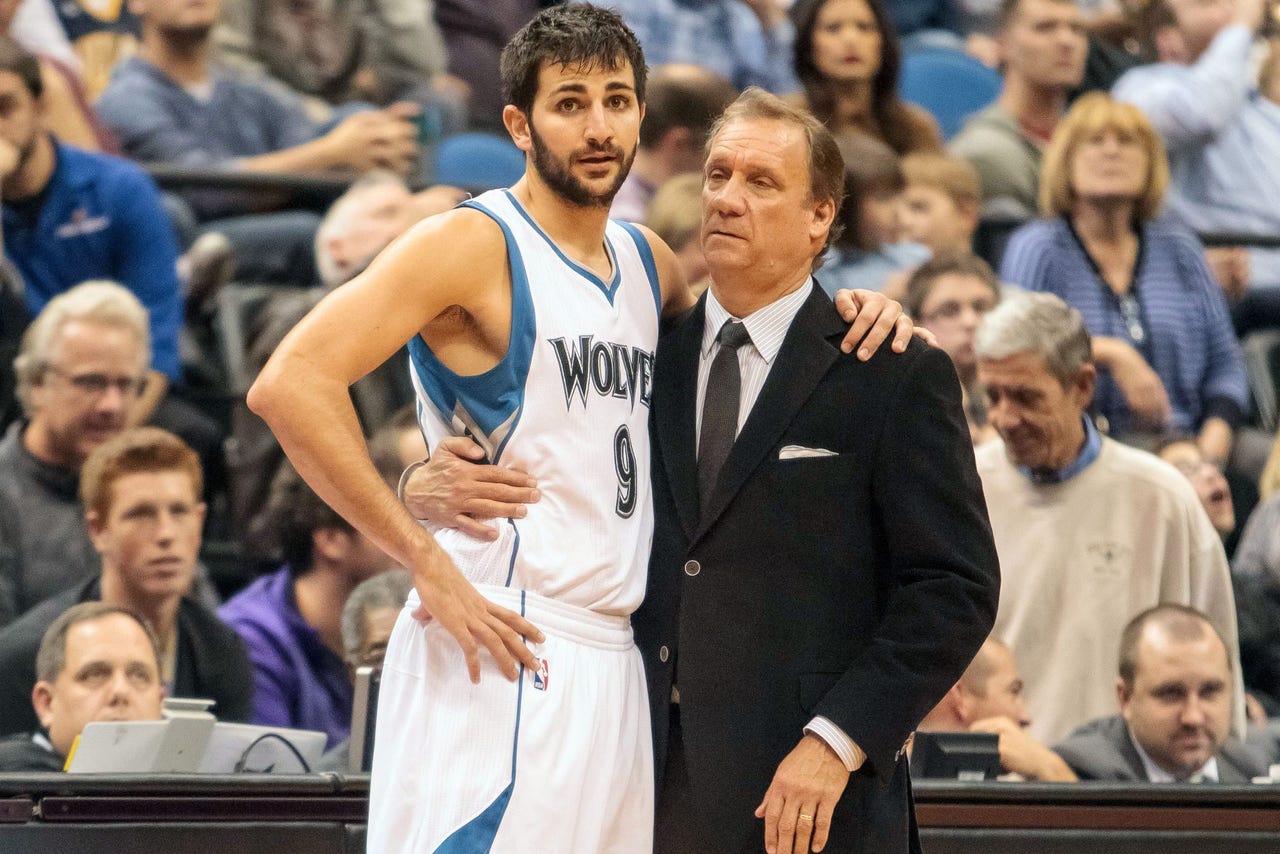 MINNEAPOLIS -- Up until Ricky Rubio's rookie NBA season, bullfighting served as a cultural staple in his home city of Barcelona. For centuries, matadors gracefully danced their way around raging bovines, stenciling themselves into the local lore of northwestern Spain.
Avoiding the thunderous advances of a 1,700-pound animal requires grace. Finesse. Elusiveness.
The last legal bullfight in Catalonia, the autonomous Spanish community Rubio calls home, took place in Barcelona in September 2011. Progressives and animal rights activists in the region swayed the local parliament to outlaw a sport that dates back to the prehistoric tribes of Mesopotamia.
That same year, Rubio came to America. The steed-centric sport of choice here is bull riding, where instead of avoiding the fearsome farm creature, riders don a hockey helmet and chaps, jump on his back and see how long they can hang on.
Three years into his NBA career, Ricky Rubio is a matador. But the Minnesota Timberwolves -- and Rubio's future -- call for a wrangler.
A week ago, Rubio spoke with his family back in Spain, marveling that he's approaching the 10-year anniversary of his professional debut -- Oct. 15, 2005 in the Spanish ACB League.
Rubio was 14 then. He turned 24 last Tuesday.
"I feel that it went quick, but I'm happy," said with the same, subtle boyish grin he sported back then but through a full beard atop a muscular, 6-foot-4, 190-pound frame. "I'm happy how it has gone, and I expect at least 10 more."
It's been a near-decade of merriment and marvel-inducing plays -- the kind that make game ops producers giddy and land a club that hasn't made the playoffs in 10 years on FOX Sports Live's top plays of the evening. Ten years of no-look passes, cashed-in defensive gambles that lead to perfectly-placed alley-oops and high school girls swooning in hallways outside professional gyms around the world as Rubio pauses with them so they can snap a selfie.
A modern-day matador.
But this year is different. Rubio's favorite finisher at the end of those deft helpers, Kevin Love, is wearing No. 0 for Cleveland and spacing the floor for LeBron James. Following the All-Star power forward's forced departure, Rubio becomes the de facto face of the Minnesota franchise -- at least until rookie Andrew Wiggins, the lynchpin of the Love trade, germinates.
For the first time in his career -- his life, really -- Rubio is being looked to as a primary leader. Someone who can steer the bull when it starts bucking out of control.
From an overarching perspective, there's relatively little pressure this season. Not much is expected of a young, rebuilding group that appears destined for an 11th straight draft lottery. 
More urgency marks Rubio's own, isolated basketball existence. His agent, Dan Fegan, and president of basketball operations Flip Saunders have four days to agree on a contract extension, lest Rubio become a restricted free agent next summer.
The Wolves reportedly have offered four years and $48 million. Fegan, though, wants a five-year max deal worth at least $85 million.
In the NBA, that's bull rider -- not fighter -- money.
When Rubio became the youngest player to ever suit up in Spain's top professional basketball league, knock-down jump shooting was hardly the highlight of his acumen. As he traversed the Spanish pro and international ranks -- first joining his country's Under-16 team in 2005 and three years later becoming the youngest gold-medal game hoops player in Olympic history -- Rubio excelled as a distributor, ballhandler and defender but never a volume scorer; he averaged double figures (10.2 points per game in 2007-08) just once in his six Spanish professional seasons.
It was always enough. On Spain's national team, there were NBA-level shooters aplenty. And former Wolves president of basketball operations David Kahn, long a sucker for enticing international talent, figured Rubio's sheer athleticism would bring him around at some point.
But today, five years since Kahn drafted Rubio and three since he played in his first NBA game, it hasn't.
Heading into this season, 190 NBA point guards have made more than 500 field-goal attempts all-time. Rubio's 36.8-percent career shooting clip ranks dead last among them.
It's easily the biggest hang-up in determining Rubio's worth as his extension deadline looms. His value moving forward, whether to the Wolves or another organization, depends on his development as an all-around offensive player, too. Today's NBA, its rules and athletes coming up the pipeline have created a league where the threat of a point guard driving and scoring or knocking down outside shots makes an offense go. Rubio ranked fourth in assists (8.6 per game) and second in steals (2.3 per game) last season and had the league's fourth-best assist-to-turnover ratio (3.19) among point guards.
But he ranked 37th at his position with a measly 9.5 points per game -- one spot behind Greivis Vasquez and one ahead of Brian Roberts.
It's not that Rubio can't shoot. It's that he doesn't have his mind wrapped around the prospect of doing so. And he's much more wont to delegate.
If basketball is the bull, Rubio skirts around it with his auxiliary skills. The next step in his development requires jumping on its back and becoming more of an attacker.
His biggest obstacle, currently, is confidence, Wolves shooting coach Mike Penberthy said.
"You read all the time that you're not a good shooter, you start to believe it," said Penberthy, the last addition to Saunders' staff assembled this offseason. "No matter how strong you are as a player, you start to doubt yourself. There's a fear of failure. It's more psychological than anything."
So Penberthy worked with Rubio for a week this summer and continues to tutor him and the rest of the roster in the art and science of consistent shooting. There will be more shots available for Rubio this season with Love out of the fold, but that's only if he's assertive enough to take them.
And able to traverse whatever mental blocks are keeping him from making them. Once a bull rider and his steed are out of the chute, he doesn't have time to analyze. Just react.
"When the ball doesn't go in, even if it's a good shot, sometimes I get too frustrated," Rubio said. "I just have to be focused on the next play. Sometimes, I think too much."
The most experienced returning player on Minnesota's roster, Kevin Martin sat next to Rubio in the team's meeting room on media day and made it plain who's in charge now that Love is a Cavalier.
"It's this guy's team right here," Martin said, nodding toward the point guard who keeps his locker straight across from the 10-year veteran shooting guard.
The Wolves have formed a sort of leadership committee this preseason. Martin's taken it upon himself to mentor Wiggins and fellow first-round pick Zach LaVine. Offseason get Mo Williams has come in and embraced his role as a dressing-roomer elder players can go to for advice. Thaddeus Young, Nikola Pekovic, Corey Brewer and the rest of the vets all have a responsibility to push and encourage the younger guys.
But none of them are plastered all over the Target Center skyway or dribbling up the floor for the Wolves' first-team offense this week as the season commences.
"Big guy (Love) is not on the team anymore, so somebody else has to step up," Rubio said. "I don't think it's only one player, but of course, I've got to step up my game, and I'm working hard. I'm working hard to do it and improving. All I want to do is win."
And Minnesota won't unless Rubio progresses from pass-first, viewer-friendly role player to aggressive, take-charge, NBA floor general.
"I'm hard on point guards," said Saunders, who named himself the Wolves' coach after Rick Adelman retired following last season. "As I tell them, if there's a mistake on the floor, I'm usually going to blame it on the point guard. So what happens by doing that the players on the team know he's running the show and if they make a mistake, he's the one who's going to take the brunt of it a lot of times, either to get them in the right situation or all those types of things to put everything in perspective."
A FOXSportsNorth.com reporter asked Saunders before Minnesota's Oct. 21 preseason game if there was any sense of urgency to get Rubio signed to an extension by Halloween.
"Next question," Saunders said flatly.
Rubio's mum on the subject, too.
"I don't think (about it) at all," Rubio said. "It's something that my agent is dealing, and I don't want to talk about it."
If it doesn't get done, Rubio will play out the season and make $5.2 million. With a $6.3 million qualifying offer in place for next year, he'd have the opportunity to entertain offer sheets from other teams, but the Wolves would have a chance to match.
They're not in any hurry.
"We're going to look at the situation the same way we did with (Love)," who had a player option after this season, general manager Milt Newton said. "We're going to do the best thing for the organization, and if we can get something done sooner, great. If not, we're not necessarily in a rush."
Even if Fegan, Rubio's agent, and Saunders were to strike an accord at the 11th hour, it'd do nothing to diminish what a pivotal season 2014-15 is for Rubio.
It's either a contract year or a start-earning-your-keep year.
For his own part, there seems to be a reluctant acceptance from Rubio that his game, his habits and his mindset require alteration.
He got a glimpse of it last year when injuries absolutely forced him to step outside his comfort zone. In games Love and/or Martin missed due to injury, Rubio scored 13.8 points per contest -- 3.7 better than his career average of 10.1. In four of five games Love sat out, Rubio scored at least 16 points.
But when one of the Wolves' top two scorers -- Love and Martin -- were absent, Rubio still shot less than 40 percent from the field (39.9).
"I'm a point guard who has to make his teammates better," Rubio said. "That's why I'm looking for a pass all the time. Maybe like I did last year when Kevin (Martin) or Kevin Love was out, I'm looking more for my shot. Maybe I'm going to do that. Maybe Wiggins is going to come in and take all Kevin's shots and I won't have to take more shots."
But he's willing to put the work in, Saunders and Penberthy both said repeatedly during camp.
"He gets here (from Spain last month), he landed, and an hour and a half later he's down here in the gym lifting weights," Saunders said at media day. "I do believe he has that commitment."
Said Rubio: "I'm just trying to win, so I'm going to take whatever it takes to win."
If that's the case, Ricky, here's a saddle and a handle. Hold on tight.
Follow Phil Ervin on Twitter
---
---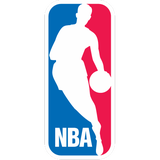 Get more from National Basketball Association
Follow your favorites to get information about games, news and more
---