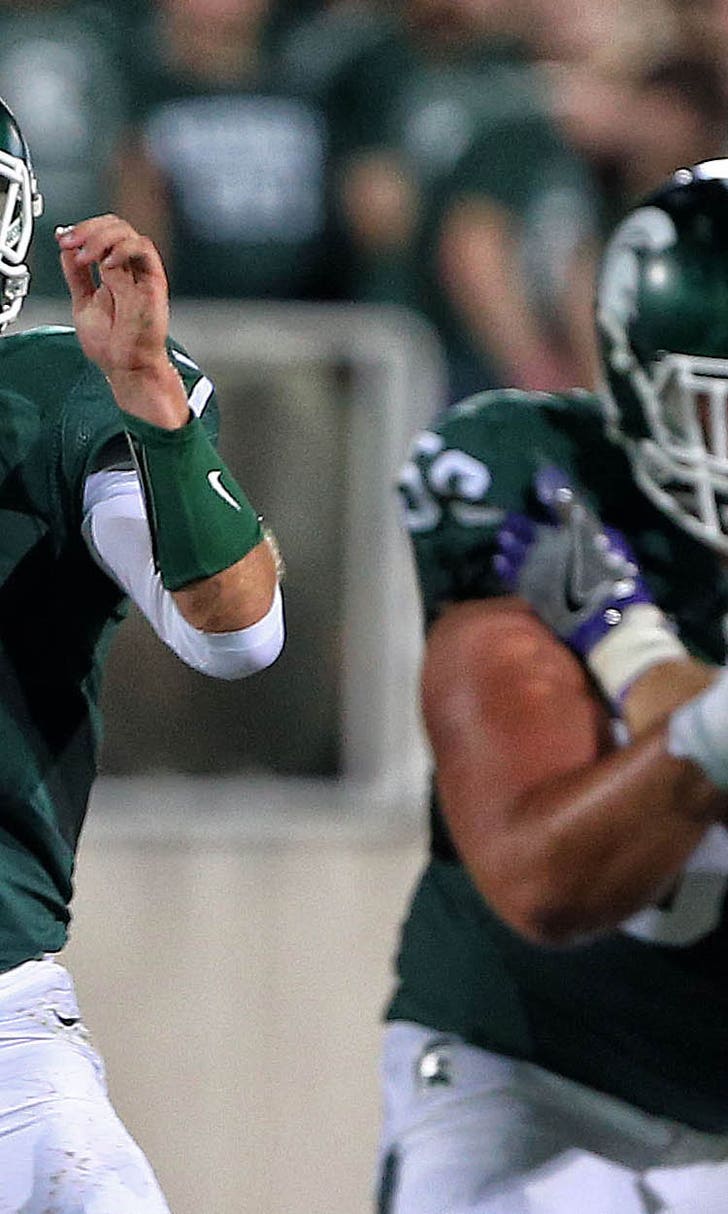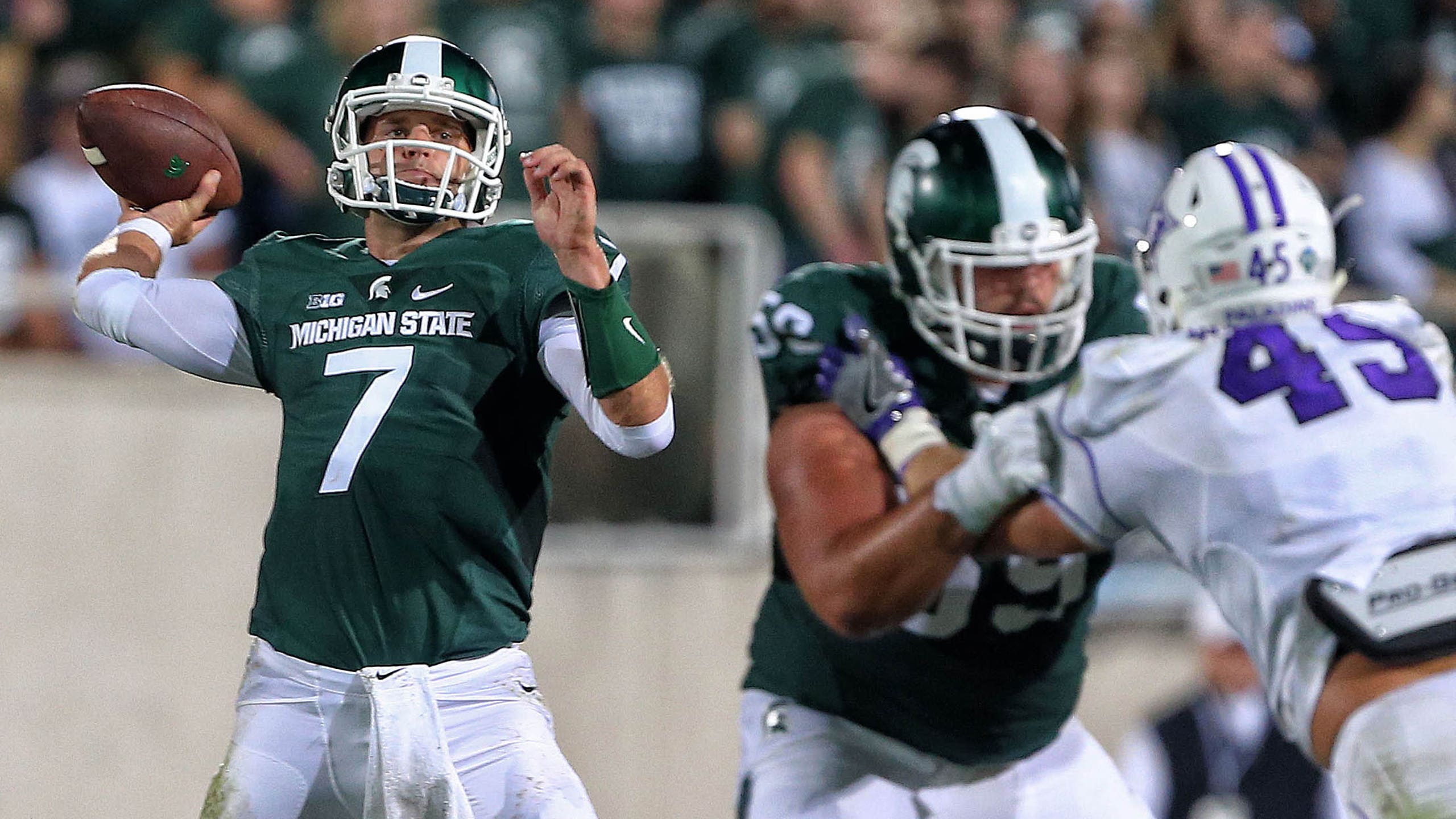 No. 12 Michigan State good enough in 28-13 win over Furman
BY foxsports • September 3, 2016
EAST LANSING, Mich. (AP) -- Tyler O'Connor's stats were fine, and Michigan State won.
The night still could have been a lot better.
O'Connor threw for 190 yards and three touchdowns, and the 12th-ranked Spartans held off upset-minded Furman 28-13 on Friday. O'Connor went 13 of 18 with an interception in his second career start, but Michigan State let the Paladins hang around for a while in the opener for both teams.
"I try to do things 100 percent right all the time, and I don't think I did that today," O'Connor said. "A win's a win, we're OK with it, but we have a lot of things we have to fix up. We stopped ourselves more than they stopped us, we think."
O'Connor, a fifth-year senior, is taking over as Michigan State's No. 1 quarterback after spending the past three seasons backing up Connor Cook.
Michigan State was merely serviceable on offense for most of the night, and that was good enough against Furman. LJ Scott ran for 105 yards and a touchdown.
Down 21-13, Furman took over at the Michigan State 44 with 11:49 remaining after O'Connor's pass was intercepted. But P.J. Blazejowski's pass was picked off on the very next play -- linebacker Andrew Dowell made a diving, one-handed grab to give the Spartans the ball back.
O'Connor threw a 12-yard touchdown pass to Jamal Lyles with 4:55 remaining to make it 28-13.
"We're down by eight points and we've got the ball at midfield," Furman coach Bruce Fowler said. "That's a pretty good spot for us to be in against a Big Ten opponent. We'll see if we build on it."
The Spartans have won 18 home openers in a row.
THE TAKEAWAY
Furman: Blazejowski and Reese Hannon were listed together atop the depth chart at QB, but it was Blazejowski who got the call, with Fowler going with the junior over his fifth-year senior. Blazejowski went 15 of 30 for 123 yards with an interception, and the Paladins looked better offensively as the game progressed.
"P.J. did a good job. He got some experience but he was pretty good with the football," Fowler said. "The guy made a heck of a play on the interception."
Michigan State: The Spartans were underwhelming after scoring a touchdown on their opening drive. Michigan State split carries fairly evenly between LJ Scott, Madre London and Gerald Holmes last season, but on Friday it was Scott who did most of the work. London had only five carries and Holmes didn't have any.
Michigan State had 10 penalties for 120 yards, which was part of the reason the Spartans had trouble putting the game away earlier.
"I think the key to anything is how you handle disappointment or how you handle some things that don't go right for you," Michigan State coach Mark Dantonio said. "We're not going to lose our mind over there. We're going to keep coaching and coach for the next play."
CONNECTION
O'Connor's top target was fifth-year senior Monty Madaris, who caught five passes for 85 yards. Madaris had only seven catches in his career prior to this game.
KEY NUMBERS
Furman: The Paladins had 15 yards of offense in the first quarter and 211 after that. They finished with 18 first downs, only one fewer than Michigan State. Furman had the ball for 11:47 in the third quarter.
Michigan State: The Spartans held Furman to field goals on two of its three trips to the red zone.
POLL IMPLICATIONS
MICHIGAN STATE : This wasn't a particularly stylish win for the Spartans, but a few teams above them have tough openers, so Michigan State could move in the ranking if there's any upheaval in the top 10.
UP NEXT
Furman: The Paladins can be pleased with their effort against the defending Big Ten champions. They play at The Citadel next weekend.
Michigan State: The Spartans have an open date -- and a lot to work on -- before playing at Notre Dame on Sept. 17.
"We've got two weeks to fix any problems we have and get ready for Notre Dame," Dantonio said. "I'm sure it'll be quite the challenge down there."
---
---