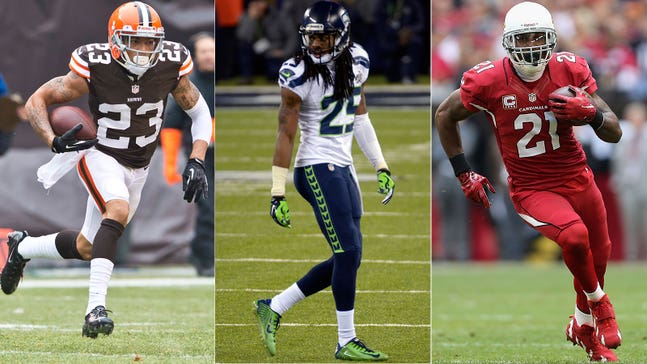 NFL cornerbacks trying to top each other with contracts, trash talk
Published
May. 13, 2014 1:35 p.m. ET

Cornerbacks are making money and trash talking at a rapid rate these days.
Joe Haden and the Browns agreed to a major contract extension on Tuesday.
Cardinals cornerback Patrick Peterson, who is in the middle of negotiations with Arizona, had a very simple, yet telling response to the Haden news.
Peterson had a lot more to say about the $57.4 million extension ($40 million guaranteed) Richard Sherman signed with Seattle last week.
When asked by ESPN.com if he thinks he's worth more than Sherman, Peterson said, "We'll see. Got to ask the Cardinals. I mean, I think I am but at the end of the day both sides have to agree to terms and we'll see what those terms are and hopefully sooner than later."
Of course Sherman, who never misses the chance to get some publicity, responded to Peterson on Twitter.
---
---