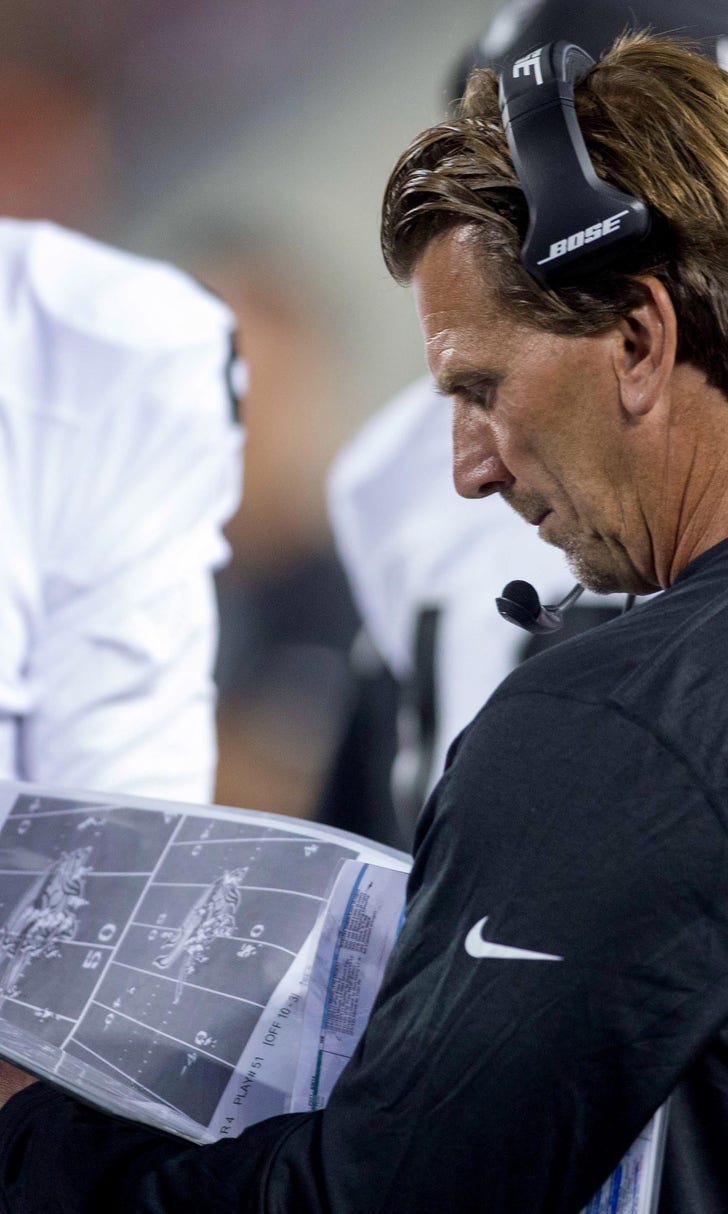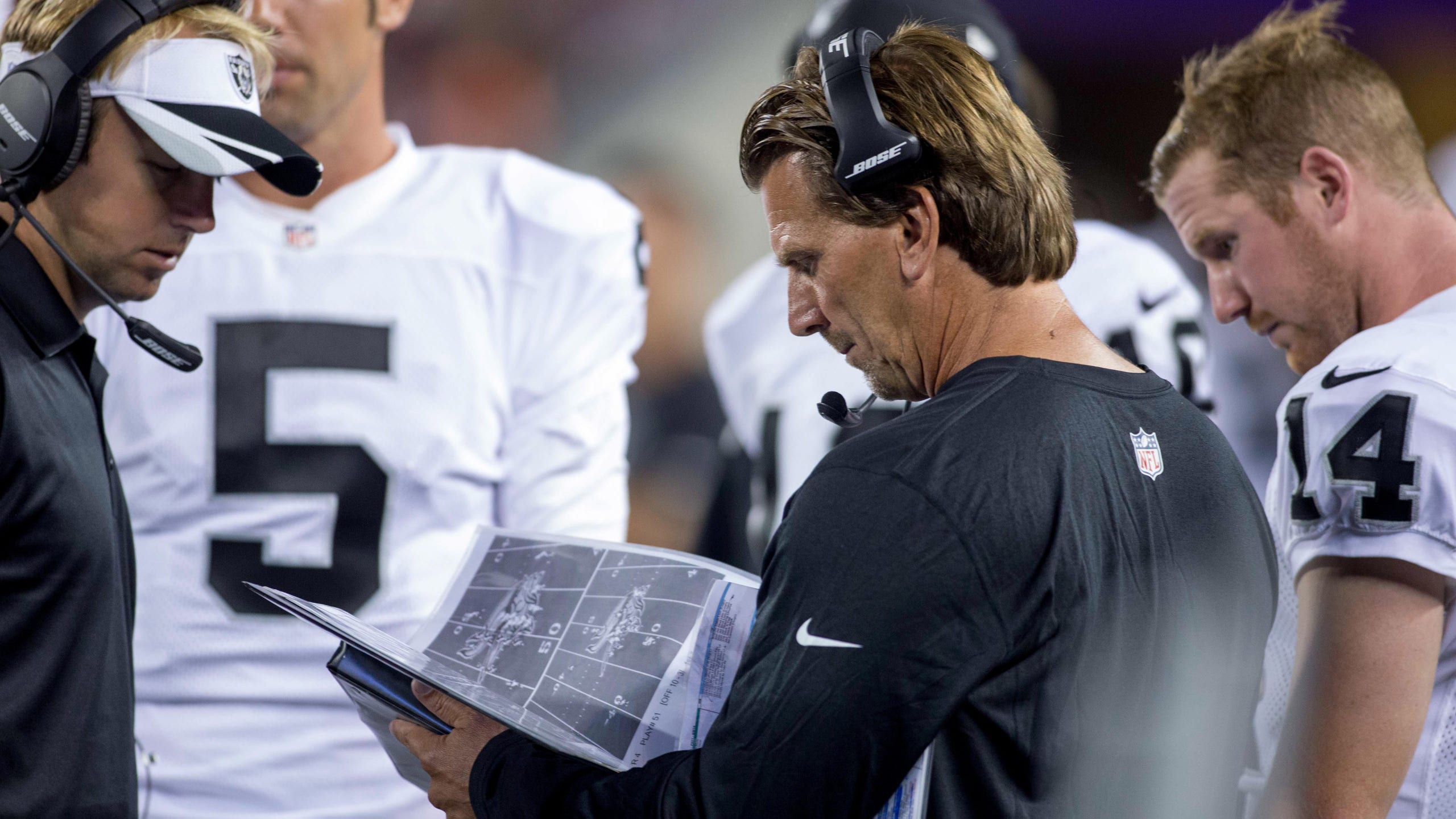 New Jags offensive coordinator Olson focused on developing Bortles
BY foxsports • February 11, 2015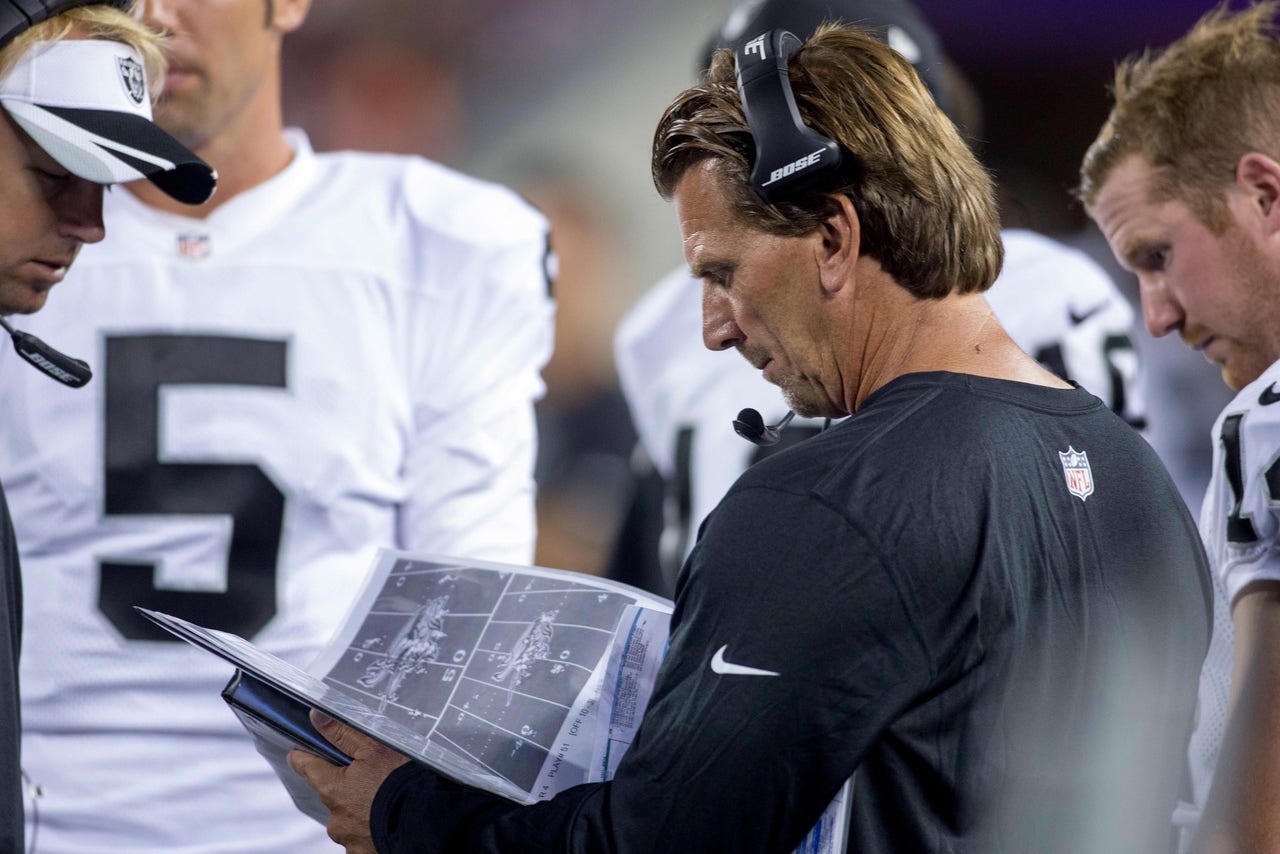 JACKSONVILLE, Fla. – When the Jacksonville Jaguars hired Greg Olson to replace Jedd Fisch as their offensive coordinator, it struck some people as strange on a couple of levels.
A quarterbacks coach and assistant coach for the Jaguars when they went 2-14 in 2012, Olson was not retained by Gus Bradley as part of a staff where Fisch assumed a prominent role. Two years later, Olson returns to Jacksonville after two seasons as offensive coordinator of the Oakland Raiders, who ranked last in the NFL in both total offense and rushing offense in 2014.
But for a team trying to build its offense around Blake Bortles, the Jaguars had to be impressed -- if not downright envious -- of what Olson was able to accomplish with another rookie, Derek Carr. Not only did Carr pass for more yards and touchdowns than Bortles, the first quarterback taken in last year's draft, but he was sacked only half as often despite the Raiders' anemic running game.
Even someone as big and a strong as Bortles can withstand the pounding of being sacked 55 times in 14 games only so long. While Fisch was able to get Bortles to cut down on his interceptions over the final six games of the Jaguars' 3-13 season, the offense was stuck in too many third-and-long situations because of the faulty pass protection.
"If everything we do is not with Blake Bortles' development in mind, then we're selling the franchise short and we're selling the team short," Olson said last week at his introductory question-and-answer session with the media. "First and foremost, it will start around Blake."
Under Fisch, the Jaguars finished 31st out of 32 teams in total offense each of the last two seasons and were 31st in passing offense in a year where Bortles took over for Chad Henne at halftime of their third game. Bortles threw for 2,908 yards and 11 touchdowns with 17 interceptions and finished with a lower rating than Carr, a second-round pick who had 3,270 yards and 21 touchdowns with 12 interceptions.
"Certainly the win-loss record wasn't what we wanted it to be in Oakland," Olson said. "But I'll promise you that was important in his development. And when the franchise looks back, they'll say, 'That was a really important year for that quarterback,' so we're going to look at the same things with Blake."
Bortles, wide receivers Allen Hurns, Allen Robinson and Marqise Lee, guard Brandon Linder and center Luke Bowanko were among the 10 different rookies that the Jaguars started during a season where they scored only 24 offensive touchdowns. The 71 sacks allowed were a franchise record, although Olson echoed the earlier observations of Bradley and general manager Dave Caldwell that those weren't largely the result of Bortles holding on to the ball too long.
"There's a lot of things that go into that," he said. "It's not just all on the quarterback."
In Olson's previous season with the Jaguars, Blaine Gabbert -- another first-round pick of theirs -- and Henne combined for 20 touchdowns and 17 interceptions while being sacked 50 times. When Bradley was hired to replace Mike Mularkey, he admitted he "pretty much had my mind made up" to bring in Fisch, who he was familiar with from their one season together as assistants with the Seattle Seahawks in 2010.
"I didn't hold anything against Gus for that," Olson said. "He decided to go in a different direction. I don't know, had he offered it, if I would've stayed with the other opportunity in Oakland."
The Raiders were the sixth different team for which he had worked since 2001. After 14 years as an assistant at the college level, where he got to work with Drew Brees at Purdue and Jon Kitna at Central Washington, Olson came to the San Francisco 49ers as a quarterbacks coach under Steve Mariucci. His stops included three years as the offensive coordinator with the Tampa Bay Buccaneers, where Josh Freeman threw for 25 scores with only six interceptions in 2010.
Four years earlier while Olson was with the St. Louis Rams, they became the fourth team in league history to produce a 4,000-yard passer (Marc Bulger), a 1,500-yard rusher (Steven Jackson) and two 1,000-yard receivers (Torry Holt and Isaac Bruce). The Jaguars had a total of 4,634 yards last season with no one rushing for as much as 600 yards or with as many as 700 yards in receptions.
"I understand how difficult of a situation sometimes you may feel like you're walking into," he said. "But that's part of choosing this profession to be a National Football League coach. There is some innate pressure there that you're facing, and I've always tried to embrace those types of challenges all the time. I know it's a young football team. I know what the record has been the last two years (7-25). But I just think it presents a tremendous challenge and I like challenges. I'm excited about it and I'm fortunate to be in the position and I'm fortunate to be in the position."
Defensive tackle Roy Miller and linebacker Geno Hayes are two Jaguars who Olson said he knew from their time together with the Bucs. Now he needs to familiarize himself with a lot of players, especially Bortles, who weren't in Jacksonville two years ago or even when the Jaguars lost 19-9 at Oakland in Week 2 of the 2013 season.
"Let's make sure that we keep his growth process in mind," he said. "Regardless of the score, let's make sure that we're developing these young players."
You can follow Ken Hornack on Twitter @HornackFSFla or email him at khornack32176@gmail.com.
---
---