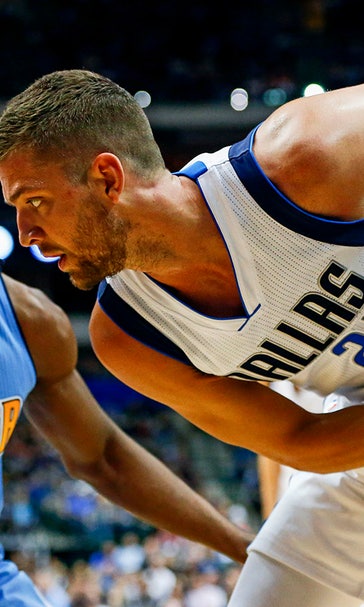 Mavericks rally to beat Nuggets in overtime
BY foxsports • February 26, 2016
DALLAS (AP) -- Raymond Felton tied the score late in regulation and then had eight of his 16 points in overtime as the Dallas Mavericks rallied from 23 points down to beat the Denver Nuggets 122-116 on Friday night.
Chandler Parsons led the Mavericks with 27 points, including 15 in the third quarter when Dallas took a 67-66 lead with 5:15 to play -- coming all the way back from a 55-32 deficit late in the second quarter.
Dirk Nowitzki had 20 points and 13 rebounds for the Mavericks. David Lee, playing his second game for Dallas, had 14 points and 14 rebounds in 26 minutes.
Will Barton led the Nuggets with 22 points. Kenneth Faried had 20 points and 12 rebounds, and D.J. Augustin also scored 20 points.
Felton's jumper tied the score at 108-all with 10.2 seconds left in the fourth, capping Dallas' 8-0 run over the last 1:50 of the quarter.
On Denver's final possession of regulation, Barton's jumper at the buzzer bounced off the front rim.
Wes Matthews' 3-pointer gave Dallas the lead for good at 115-114 with 3:03 left in overtime. Felton followed with the third of his four field goals during the extra period.
Parsons primarily played power forward during the second half instead of small forward as Dallas went to a smaller lineup with Nowitzki at center instead of Zaza Pachulia. Pachulia, Dallas' leading rebounder averaging 10.8 per game, played only eight first-half minutes, getting one rebound and not taking a shot.
Denver's Danilo Gallinari injured his right ankle in the closing minutes of the third quarter and didn't return. He had 12 points and seven rebounds in 28 minutes.
Dallas went 0 for 10 behind the arc during the first half and 11 for 19 afterward.
TIP-INS
Nuggets: Jameer Nelson (wrist) missed his 10th straight game though he has been active for the last three. ... In Denver's 92-81 loss at Dallas on Nov. 28, the Nuggets were outscored 25-5 in the third quarter. ... The Nuggets are 1-2 in overtime.
Mavericks: Dallas improved to 12-20 in games it has been outscored during the first quarter. ... The Mavericks are 7-3 in overtime.
UP NEXT
Nuggets: Host Memphis on Monday.
Mavericks: Host Minnesota on Sunday.
---
---