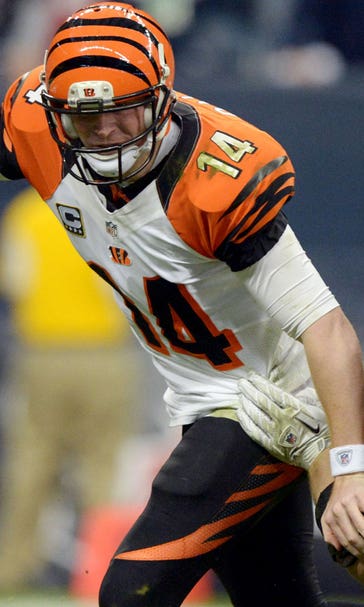 Major question for Bengals: What to do about Watt?
BY foxsports • November 20, 2014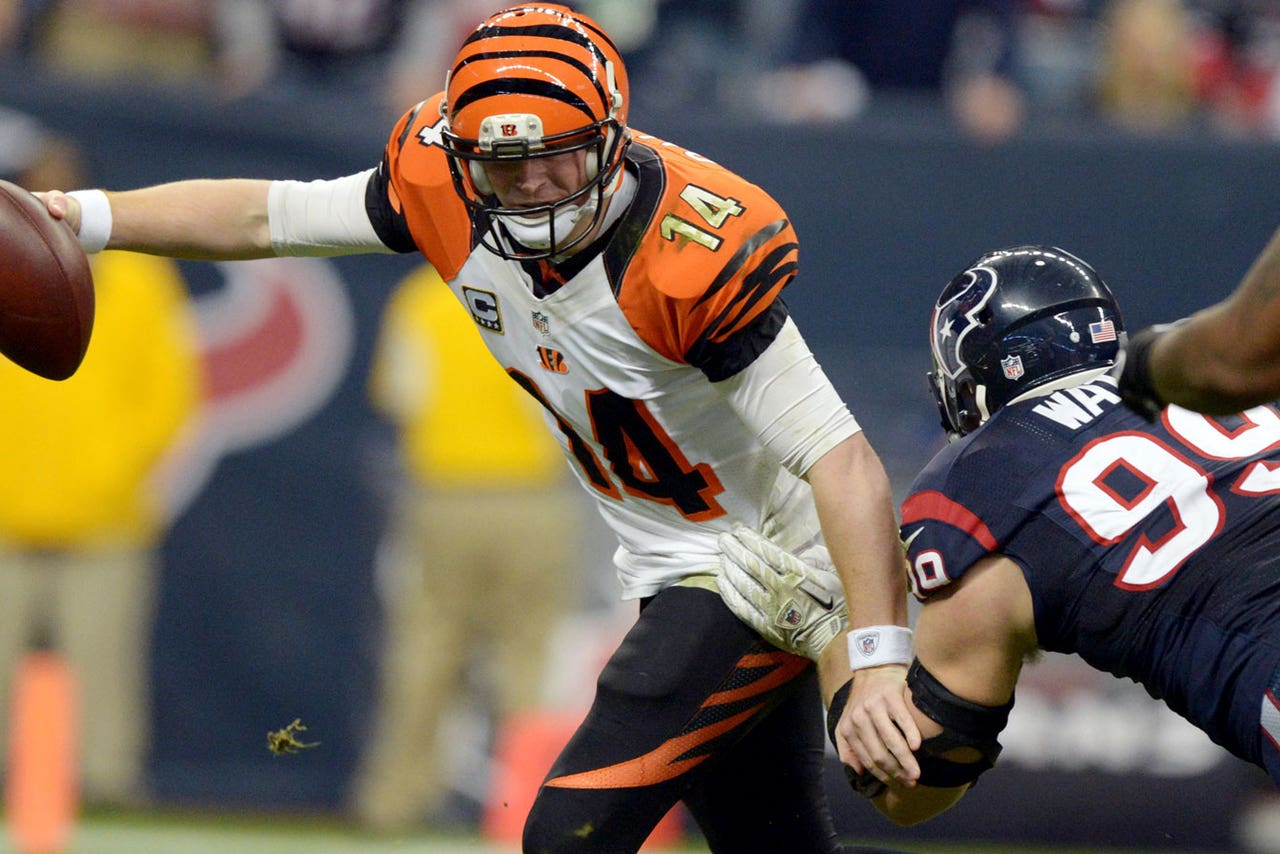 CINCINNATI -- The image of Houston Texans defensive end J.J. Watt jumping up at the line of scrimmage, extending his arms to the sky to either bat away or intercept a pass has become a familiar one to NFL viewers the last four years. His first time is a haunting memory for the Bengals.
It was a signature play in Houston's 31-10 AFC Wild Card playoff win over the Bengals on Jan. 7, 2012. The game was tied, 10-10, as halftime neared but Watt stole an Andy Dalton pass out of the air and returned it 29 yards for what proved to be the decisive points in the game. It's a play from which the Bengals never recovered. It's a play that Watt has never stopped building upon.
Now he's being talked about as a NFL MVP candidate, talk that isn't hyperbole.
The Browns found out firsthand last Sunday when Watt had five tackles, three for loss, one sack, one forced fumble, one fumble recovery and caught a 1-yard touchdown pass in Houston's 23-7 win at FirstEnergy Stadium. Watt makes the extraordinary commonplace.
"He's as good as advertised," said Dalton. "Everything he's done. He's big, he's physical. Always finds a way to get a hand on the ball and certain things. So you've got to know where he's at."
Knowing where Watt is and keeping him out of the action are two different things.
"You watch him do some amazing things on defense and you see him at the wide receiver position, split out and make a spectacular catch," said Houston cornerback Johnathan Joseph, a former Bengal who has been Watt's teammate the past four seasons. "Each and every week it seems to be something different, but overall, his makeup as an individual person and player seems to catch me the most. He's a guy who is strictly about football and business at all times."
Watt will flip around the defensive line as the Texans seek to utilize the best matchup possible, but he's often times found attacking from the offense's right side. Bengals right tackle Andre Smith has missed the last two games with an ankle injury suffered against Cleveland. Smith practiced Wednesday and is hopeful of being able to play Sunday but whether it's him and/or Marshall Newhouse on that side, the Bengals will be paying attention for Watt.
"J.J.'s a phenomenal football player. He does a lot of good things but at the end of the day we're pros and we have to go out there and compete against each other," said Smith. "You have to make sure you handle your business and not worry about what he is doing against another teammate. When he's going up against me I just have to worry about handling him right then and there."
Houston is ranked 30th in the league defensively, allowing 389.5 yards a game but the Texans are No. 8 in points allowed (20.4) and are tied for fifth in the NFL with a plus-8 turnover margin. Houston's defense isn't just J.J. Watt but it does start with and center around him. He's got 9½ sacks, 14 tackles for loss, been credited with 29 quarterback hits, has one interception that he returned 80 yards for a touchdown, broken up a total of seven passes, forced two fumbles and recovered four.
Bengals right guard Kevin Zeitler was a college teammate of Watt's at Wisconsin. They still train together in the offseason.
"He never stops. If you think you got him, you're not [done] yet. Until that ball is down field in the receiver's hands, you can never stop," said Zeitler. "It just comes down to finishing. You think you're done, but you're not. You've got to find a way to finish, but sometimes he's just so good at reading the ball and he's got the appropriate skills to do it, he can do it."
Dalton has yet to throw an interception on the road this season. His two previous experiences playing in his hometown of Houston, however, have been ones to forget. In the two playoff losses to the Texans in 2011 and 2012, Dalton completed 41 of 72 passes (56.9 percent) for 384 yards, no touchdowns and four interceptions for a passer rating of 48.6.
Dalton is coming off a career-best rating of 143.9 in last Sunday's 27-10 win at New Orleans but still isn't far removed from his career-worst game of 2.0 against Cleveland on Nov. 6.
"Obviously when you go home you want to play well, you want to get a win and all that kind of stuff," said Dalton. "You know, losing in the playoffs a couple times there, it still does sit with you. So we're going to come out and play well this week and do whatever we can to get a win."
That will start with finding J.J. Watt figuring out how to handle him.
---
---