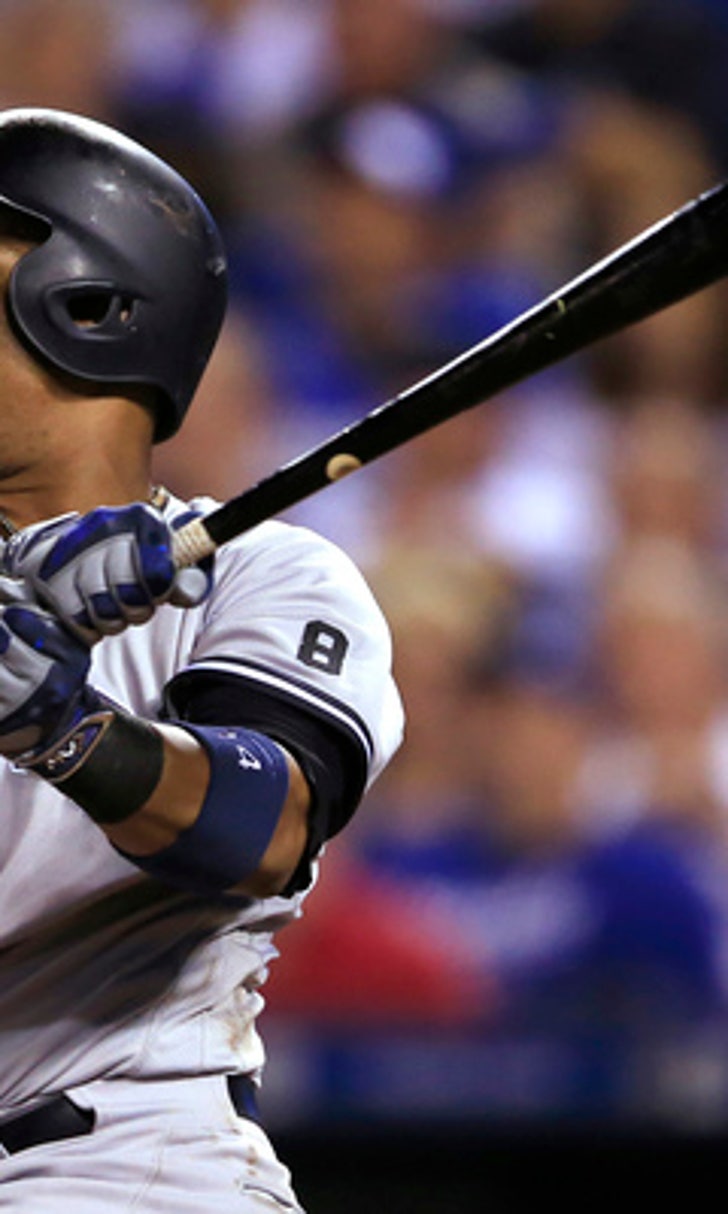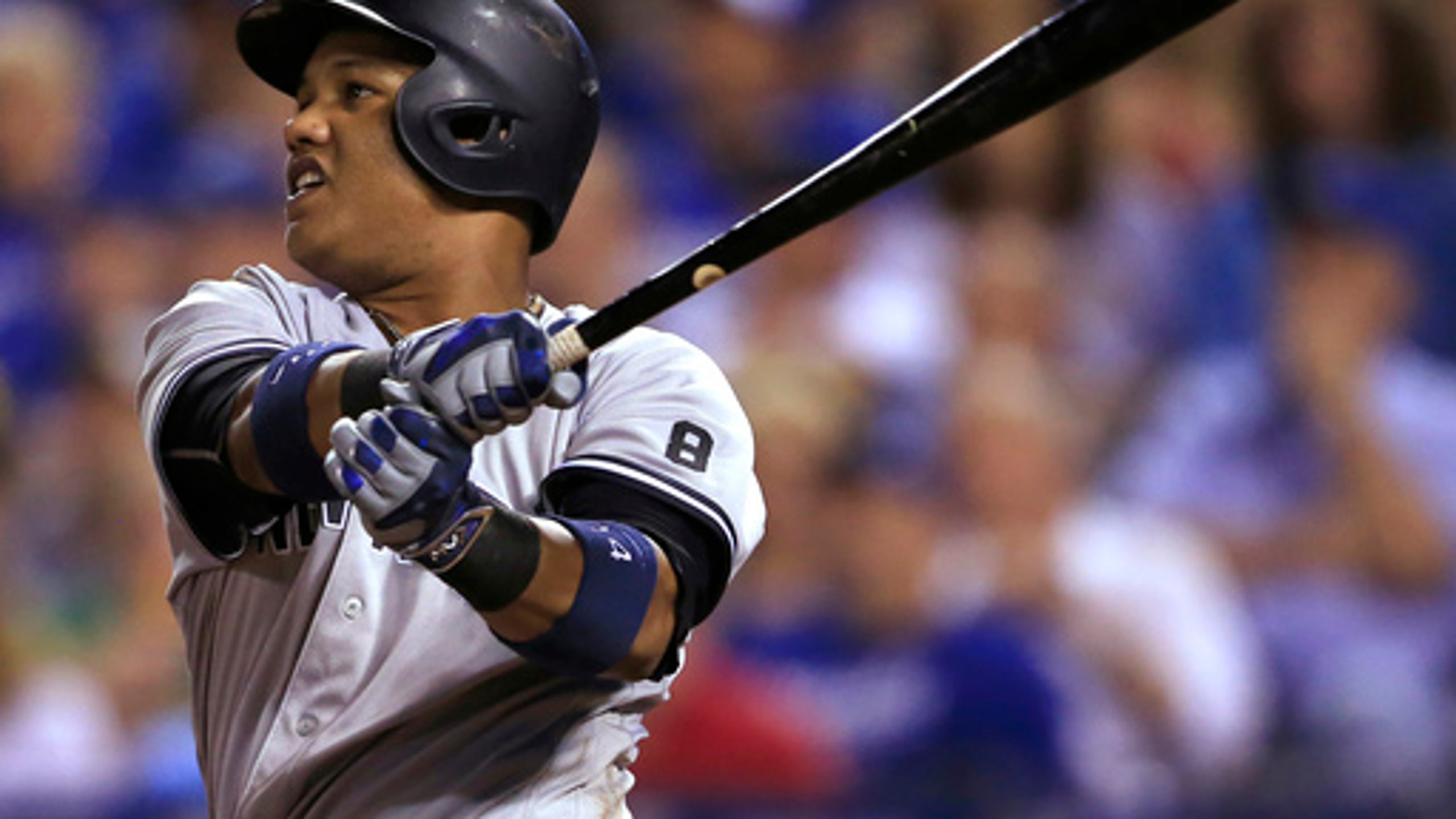 Looking ahead to 2017 fantasy baseball draft strategy, ADP and best buys
BY foxsports • September 1, 2016
It's never too early to talk about next season. In fact, it's probably wise to step back and take a snapshot of the current landscape, production-wise. Mostly so that we can formulate our own opinions about the player pool and not get sucked into early 2017 ADP this winter.
Power is plentiful this season. Major league hitters are on pace to combine for more than 5,600 homers for the first time since the middle of the steroid era in 2000. Looking at the HR leaderboard, 16 major leaguers have swatted at least 30 home runs this season, and that's with 5 weeks left in the season. Compare that to last year when there were 20 who hit at least 30 when the season ended. Moreover, four players (Nolan Arenado, Edwin Encarnacion, David Ortiz, Albert Pujols) already have have hit the 100-RBI mark and a couple (Kris Bryant, Josh Donaldson) could have 130 runs for the first time since 2011 when Curtis Granderson scored 136 for the Yanks.
Back-end 2016 first rounder Mookie Betts is having quite the season. He hit his 30th home run Monday and has already scored 100 runs. With Bryce Harper having a relatively disappointing season and Mike Trout tied for just 25th among home run leaders despite the uptick in stolen bases, it appears that Betts is making a strong case to be fantasy baseball's No. 1 pick next season.
Omitting the pitchers who could potentially reach first-round status, let's look at what the first round of a 12-team draft would look like for 2017 if we drafted today. Just for fun.
| | | | | | |
| --- | --- | --- | --- | --- | --- |
| 2017 ADP | PLAYER | POS | TEAM | AGE in 2017 | 2016 ADP |
| 1 | Mookie Betts | OF | BOS | 24 | 16.7 |
| 2 | Mike Trout | OF | LAA | 25 | 1.6 |
| 3 | Jose Altuve | 2B | HOU | 27 | 11.7 |
| 4 | Kris Bryant | 3B | CHC | 24 | 12.8 |
| 5 | Nolan Arenado | 3B | COL | 26 | 7.9 |
| 6 | Josh Donaldson | 3B | TOR | 30 | 5.8 |
| 7 | Paul Goldschmidt | 1B | ARI | 29 | 2.3 |
| 8 | Edwin Encarnacion | 1B | TOR | 34 | 24.7 |
| 9 | Manny Machado | 3B | BAL | 24 | 8 |
| 10 | Bryce Harper | OF | WAS | 24 | 2.8 |
| 11 | Anthony Rizzo | 1B | CHC | 27 | 9.9 |
| 12 | Miguel Cabrera | 1B | DET | 34 | 13.2 |
Bryant will be fun to track in September. His contributions in SB are minor (8 for 13), but he is on pace for 42 HR, 110 RBI in addition to potentially joining the 130 runs scored club. It wouldn't be shocking to see him ahead of Trout or even Betts at No. 1 overall when early ADP reports come out in a few months.
Most will expect Altuve to regress in home runs, but you can't deny that he is a top-5 pick next season and deserves consideration at first overall. He leads the majors with a .355 batting average.
I give the slight edge to Arenado over Donaldson because of age. Their home parks are incredibly conducive to power, but I'd put my money on Arenado beating the man known as Dongaldson in every standard category besides steals next season.
Goldschmidt is a bit lighter in power this season (just 20 HR), but he just recently matched his career-high 21 SB from last year, which places him just outside of the top 10 in the majors. He's a career .300 hitter who is bound to have one of those .340 Miggy Cabrera type seasons. There's nothing wrong with drawing a middle first-round pick and starting your draft off with him.
Encarnacion is an absolute beast. Power, home park, surrounding lineup, you name it. He fell to the second/third-round turn this season because of a minor oblique scare in spring training. Ency ranks second in the majors in HR and RBI. Despite getting up there in age, he's a tough call over Machado, who inexplicably stopped running (no stolen bases) after gobbling up 20 on 28 attempts last season. Encarnacion is on that David Ortiz "go out with a bang" path.
Bryce Harper will be the clear faller as the least productive of this group (namely a .254 BA), but could easily bounce back and put up top-3 overall numbers in 2017. Rizzo is another safe backend first-rounder, as is Cabrera, who saw his power spike from last season. He is on pace for 33 homers after hitting 18 last season.
A few second-rounders might creep into the late first-round discussion -- Corey Seager, Charlie Blackmon and Starling Marte, to name a few. Carlos Correa is technically the "first-round bust" but is still putting up numbers that would earn him third-round value. I'm impressed by many of my colleagues who avoided him in the first round, assuming that the price was just a tad too high.
Finally, there's George Springer, who didn't quite have the monster breakout some expected, but is on pace to surpass 30 HR and should hit the triple-digit mark in runs scored sometime this week. He hasn't progressed on the base paths like some hoped (eight SB on 17 attempts) and doesn't profile like a guy who will ever hit .300 outside of an outlier season. One of these upcoming seasons, Springer will earn first-round value.
Just remember next spring that the top hitters' 2016 performances are just one factor to consider in our evaluations. After all, we're looking to project next season's numbers, not just add a few batting average points here and take away a few steals there. Team context, hitting environment, teammates, batting order, age and, most important, their underlying metrics all are a part of the equation.
RISERS
Starlin Castro (2B, NYY)
Castro has always been somewhat of an underachiever. He was a big prospect with the Cubs, launching straight from Double-A, exhibiting much promise in 125 games as a rookie. He followed that up with a 22 SB, 91 run season in 2012. In 2013, Castro flashed power upside, hitting 14 HR to go with 25 SB. Skipping to 2015, Castro ended up as a big disappointment. He was drafted as a top-10 middle infielder typically scooped up within the first 100 overall picks. He struggled for most of the season and stopped running altogether (4 SB). Then proceeded to reward fantasy owners who picked him up for the stretch run, hitting .426 with a 1.202 OPS. His first season in the American League with the Bronx Bombers has had its share of ups and downs. Castro has maintained a spot in the middle of the lineup, though he's moved down a spot recently with the ascension of the Ruthian Gary Sanchez. Castro's 18 home runs through 21 weeks is his career high, though he has continued his undisciplined ways at the plate. His 4.3 percent walk rate hovers around his career average (4.9 percent) and a 19.3 percent strikeout rate is the worst of his career. Castro is in the midst of a hot streak reminiscent of last September. He hit .370 last week with three homers, six runs scored and six runs batted in. The power surge is not shocking considering his size (6-foot-2, 230) and age-26 season, but his lack of plate discipline continues to be concerning. With 2016 clearly being the Year of the Middle Infielder, it's hard to consider Castro for much in 2017 drafts other than a middling bench MI. For those who own him, hopefully Castro continue some of his magic from last week over these final few weeks.
Joe Panik (2B, SF)
The 2016 season has been disappointing for Panik, though his momentum was stunted in late June. Panik was hit in the head by a pitch, hit the disabled list with a concussion and ended up missing almost a month of the season. Panik was an afterthought draft pick in spring, taken at an ADP of 267 as the 24th second baseman off the board right behind Mets' Neil Walker. Some considered him a bargain at that price given his 2015 performance and the understanding that Panik would hit second in the Giants' lineup ahead of Buster Posey. Plenty of opportunity for runs scored, right? Heading into Week 22, Panik's 2016 plate appearances and standard 5x5 numbers are nearly identical to last season, minus the batting average. Panik hit .312 last season and is hitting just .251 season. Panik has struggled since returning in late July, collecting just 21 hits in 106 PA, but flexed a bit of muscle against the Braves on Sunday, hitting two home runs with four RBI. Panik is a disciplined hitter. He has struck out at a rate of less than 10 percent the last two seasons and has taken a free pass in 10.4 percent of his plate appearances this season. The 2011 first-rounder is a name to keep in mind for drafts next season when searching for late-round MI values. Panik can contribute a bit across the board, with batting average and runs scored being his most contributable categories. He has a bit of pop (10 HR this year is his career high) and can throw in a few stolen bases, as well. Those in need of a MI could help out in batting average and runs should snag Panik if he is still available.
Jose Ramirez (3B/MI/OF, CLE)
JoRam was essentially undrafted in 12-team leagues, and I'm still kicking myself for missing out via FAAB earlier this season. I did draft Ramirez in the NFBC Main Event (15-teamer) for the second season in a row, but that squad isn't competitive like most of my 12-teamers. He has been an all-around contributor this season in what we can easily call a breakout performance. Through 120 games, Ramirez has 70 runs scored, 10 homers and 20 stolen bases. His slash is an extremely healthy .310/.362/.459. Ramirez is handling lefties (.351 wOBA) and righties (.354 wOBA) equally well and his respectable 11 percent walk-rate matches his 2015 rate dead-on (in 97 games). He's picked up the pace on the basepaths, stealing nearly half (nine) of his bags in August. It's helped him rank among the top 10 hitters in August as has his .355 BA this month to go with a .589 SLG. Ramirez is the Indians' primary third baseman but will be eligible at both OF and 3B next season, likely losing his 2B and SS eligibility. Ramirez hits well from both sides of the plate and is just turning 24 next month. There is much to love heading into next season. We shouldn't be shocked to see an uptick in power and to have to spend a fifth-round pick in 12-teamers to earn Ramirez's services for our fantasy teams in 2017.
Kevin Gausman (SP, BAL)
Gausman has yet to "fully arrive," but if his last couple starts are any indication, he is well on his way. Gausman pitched 13 innings of scoreless ball last week. Last Tuesday was an impressive home start against the Nationals, allowing six hits and two walks over six innings. Sunday was even more fruitful – 7 IP, 7 H, 0 BB, 9 K against the Yankees on the road. Gausman's year-to-date ratios (3.73 ERA, 1.31 WHIP) are unimpressive, but he's slowly working them back to respectability. He has also drawn some nights with poor run support as his 6-10 record attests, though Gausman was the winning pitcher in each of his last three starts. He is a power pitcher who relies primarily on a 94.8 mph fastball and is averaging nearly a strikeout per inning. His home-run rate is a bit on the high side (1.56 HR/9), but he's done better lately, allowing just four bombs over six August starts. Having to face powerhouse American League East teams in such a high percentage of one's outings is a handicap, but if you take out his four starts against the Red Sox and Blue Jays, Gausman's ERA is a sterling 3.05 ERA. And that works for Gausman owners as most know to bench him for those tough starts, so long as they don't fall on a two-start week. It will be interesting to see how Gausman performs over his final few starts of the season as it will have a significant impact on his ADP next season.
Carlos Rodon (SP, CHW)
Rodon joins a laundry list of disappointing young upside starters this season. He was drafted as an 11th-rounder in 12-teamers among the top-40 starting pitchers following an inconsistent yet promising rookie season. The 23-year old flamethrower had huge issues with control, ending the year with a 1.44 WHIP in 139.1 innings. Although he was better in that regard down the stretch, walking just 10 batters over 26.2 September innings, going 3-1 with a 2.03 ERA. Fast-forwarding to the beginning of the 2016 season, Rodon had a solid season debut against the A's (7 IP, 1 BB, 6 K) but followed that with a six-walk outing against the Twins in his second start and five earned runs against the Angels, failing to get out of the first inning. The next 2.5 months were as inconsistent as they come until a freak accident July 5. Rodon sprained his wrist after slipping on the dugout steps and spent 22 days on the disabled list. After another rough outing against the Twins upon his return (5 ER), Rodon has been lights-out in August. In four starts (24.2 IP), Rodon has allowed just four earned runs (1.46 ERA) with a 20:6 K:BB ratio. Rodon was throwing at a higher velocity (average 95.5 mph FB) in his latest outing against the Phillies. He continues to mix in his devastating slider – a pitch that batters that continue to baffle opposing hitters (.152 oBA in 145 PA). Rodon gets those pesky Twins again next week followed by a date with the Royals the following week. No matter how strong Rodon finishes the season, don't expect much movement next spring from last spring's ADP. He's more likely to out-earn that ADP next season with a couple seasons of major league experience under his belt. One of these seasons, Rodon will be a borderline SP1/2.
Honorable Mentions: Scott Schebler (OF, CIN), Ryan Schimpf (2B, SD), Brian Dozier (2B, MIN), Kevin Herrera (RP, KC), Ivan Nova (SP, PIT), Derek Holland (SP, TEX)
FALLERS
Tyler Naquin, Rajai Davis (OF's, CLE)
Naquin and Davis are at opposite ends of their careers yet appear to be on similar production schedules this season. The 35-year-old Davis joined the Indians in spring, his sixth big-league club in 11 seasons. The spring time concern was that Michael Brantley's return would be delayed, so they welcomed the veteran speedster with open arms. Davis had a productive "first half" of the season, stealing 24 bases and scoring 46 runs while slugging .433 in his games prior to the All-Star break. He also flashed some pop, knocking nine homers out of the park. Naquin the rookie appeared on deep-league drafters' fantasy radars by having a great spring training and an expectation that he would start the year in the majors. Naquin hit .341 in April but with very little contribution to the counting categories before getting shipped down to Triple-A for a brief stint in May. He was incredibly productive in June and July, hitting .343 with a .424 on-base percentage, cranking out 12 homers and driving in 30. Naquin has cooled considerably this month (.193/.238/.351), taking a seat on the bench for four of the Indians' last six games. With three southpaws on tap for an early week series, Naquin likely will get some more rest before getting back into the lineup for the weekend series. Meanwhile, Davis has cooled this month as well, outside of some contributions on the base paths (eight stolen bases this month). But most of those steals came in the first half of the month and Davis is hitless in his last four games (0 for 17). Despite Rajai's recent fade, he's still provided much value to those of us who scooped him up off FAAB in April. His 33 SB rank fifth in the majors. Davis may not be back with the team next season, and as he sails away into the sunset of his major league career, he leaves Naquin alone as the Indians' centerfielder of the future. Thus far, Naquin is being treated like the Mets are treating Michael Conforto, and perhaps how the Dodgers should treat Josh Reddick – a platoon-hitting left-handed batter who probably should receive an opportunity to hit against southpaws. Regardless of the current situation, Naquin crushes righties and appears to have a bright future in the big leagues. He has a bit of power, can hit for contact (help batting average) and can throw in a few bags here and there. If you own Naquin this year, definitely be mindful of upcoming schedules to make sure he's on the bench on a week when the Indians are facing a good chunk of left-handed pitchers. As for Davis, leave him in against lefties, and if you're looking to gain in the SB category.
Josh Reddick (OF, LAD)
The struggle is real. Since coming to the Dodgers at the trade deadline, Reddick is hitting .202 (11 for 78) with six RBI and no home runs. He started the season strong with the A's, hitting four homers in April and following that with a .414 May before fracturing his thumb May 19. He returned five weeks later and was mediocre for a month before getting shipped to Los Angeles along with Rich Hill. Reddick has transformed his game since his big 32-homer season in 2012, trading power for better contact. His strikeout rate continued to drop every season since 2012, stepping down from 23.2% that season down to 19.5, 15.9 and 11.2 percent over the next three seasons. Unfortunately, the batting average didn't follow the same path and it's part of the reason Reddick was available for so cheap at February and March drafts (214 ADP). Upon arriving to the NL West, Reddick was instantly inserted into the pivotal three-slot in the Dodgers' lineup and has not been able to carry his weight. Most recently, he has been treated as more of a platoon player as he continues to struggle against left-handed pitching (.161/.223/.161). It's been three months since the thumb injury, so it would be hard to blame his struggles on injury. As a Dodgers fan, I'd love to see Reddick get in the groove soon but in the meantime, he's a serious liability in 12-teamers, and those who had him on their bench last week can't be blamed. That said, the Dodgers head to Denver for a series at Coors Field. Here's hoping it's the elixir that sets his stretch run on the right track.
Hunter Pence (OF, SF)
For shame that one of baseball's healthiest and most consistent has appeared in just 124 games the last two seasons. Prior to that, Pence had seven straight seasons of at least 150 games played. Coming off last year's shortened season, Pence was reasonably priced with an ADP of 104 in NFBC leagues as your "help-across-the-board" OF3. Pence was cruising through the first two months of the season (36 RBI, .298 BA) before a torn hamstring caused him to miss the next two months. The hamstring has flared up again causing him to miss the entire series with the Braves over the weekend. Pence has been able to do some running, and hopes to return Tuesday. Meanwhile, Pence has stopped contributing in the stolen-base department, but that dates back pre-hamstring injury as he has yet to even attempt a stolen base this season. It's a valuable category removed from Pence's value. That, along with the last two seasons of injuries, devalues Pence heading into next season. Pence will be 34 next season, and it's quite likely his skills have already begun to deteriorate. Pence's 21.8 percent K rate is a career high and a .149 ISO is by far a career low. With the Giants looking to catch the Dodgers, or at the very least, secure a wild card, their subpar offense will need a healthy and productive Pence for the stretch run. He certainly still has something left in the tank, so fantasy owners will have to hope that he can recover from the most recent hamstring injury quickly and produce when his team (and your fantasy team) needs him most.
Marco Estrada (SP, TOR)
It's easy to forget that Estrada is no spring chicken. He's 33, drafted by the Nationals in 2006, only earning a couple brief relief stints before getting traded to the Brewers prior to the 2010 season. After spending most of the 2011 season in the Brewers' bullpen, he was stretched out and converted to a starter in 2012 where he finished with a 5-7 record in 23 starts. His ratios (3.64 ERA, 1.14 WHIP) were solid that season, but what was most impressive was a 26.4 percent strikeout rate. Estrada's numbers took a dip the following year and he was traded to the Blue Jays that offseason. He started 2015 in the pen, but latched on to the rotation in mid-May and ended the year with sparkling ratios (3.13 ERA, 1.04 WHIP) despite a significant drop in strikeouts (18.1 percent). This season, Estrada has continued to walk a fine line with his flyball ways (48.5 percent FB rate) in a home run park (Rogers Centre), but has kept his HR/9 at a reasonable (for him) 1.31. What really helped fantasy owners was a pre-ASB 2.93 ERA as Estrada held opposing hitters to a .173 batting average. Unfortunately, it's been quite the fall from grace since the All-Star Game. Hitters are batting .279 against him over those six starts and his ERA has ballooned to 3.47. He's had some extremely bad luck in the run support department, going 7-6 for a team leading its division with 74 wins. Worst of all, the Jays may employ a six-man rotation partially to keep Aaron Sanchez fresh for the playoffs, which means Estrada likely won't have a two-start week in the next few. It makes it tougher to make a decision on whether to throw him out for a single start. He pitched a one-run, seven-inning gem Monday at the Orioles, but it's hard to count on him for another one of those in his next start at the Yankees.
Honorable Mentions: Derek Norris (C, SD), Javier Baez (MI/CI, CHC), Marcell Ozuna (OF, MIA), James Shields (SP, CHW), Taijuan Walker (SP, SEA), Tyler Skaggs (SP, LAA)
Sedler is a veteran NFBC player and CDM Hall of Famer.
Follow @rotogut on Twitter.
Get a FREE RotoWire 10-day trial (no credit card required) at RotoWire.com
---
---