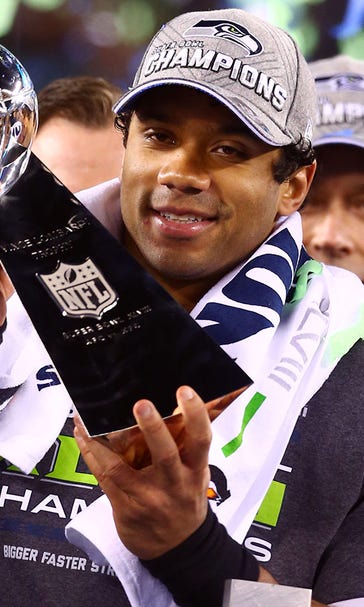 Long Reign Seattle: Why The Seahawks Are Built To Be Loved
September 4, 2014

Well, it's finally here.  The NFL season is back.  We did the best we could finding other activities to hold us over.  We stalked LeBron for a little while.  Then we moved on to the people that might want to play with him.  (For God's sake Ray, can you make up your mind already?)  We took time to watch some golf, maybe a little tennis, and to make sure we had stocked up on all the necessary Derek Jeter retirement paraphernalia.  (One question I still need answered... when a man wears his own commemorative patch, is it anything like what happened when John Malkovich entered his own portal?)
But we can finally sweep that all aside, because tonight, football returns!  And, as is tradition, we welcome back the most 'Merican game of all with a game featuring the defending Super Bowl champions.  And it's a good thing too, because at a time when there's plenty to lament about the state of the National Football League, from concussions to drug suspensions to that team with the name that can't be spoken in polite company, the Seahawks are a breath of fresh air.  There's a reason why Seattle's best birds can be embraced so easily, (provided you're not from the Bay Area.)  In fact, there are a few reasons.
1.       Because they defy expectations. 
As a sports fan, there's nothing better than a team that consistently turns conventional wisdom on its ear.  That's why it's so much fun to watch the Seahawks shatter so many of the old guard's sports stereotypes.  We're taught that the most successful players are humble, quiet types who speak when they're spoken to.  Then along comes the Legion of Boom to back up every word they say.  We're conditioned to think that quarterbacks need to tower over mere mortals.  But here's Russell Wilson, standing on our level, but playing on an entirely different one.  And years of watching spectacular coaching failures have taught us that once someone flames out on the big stage, they're never going to recover.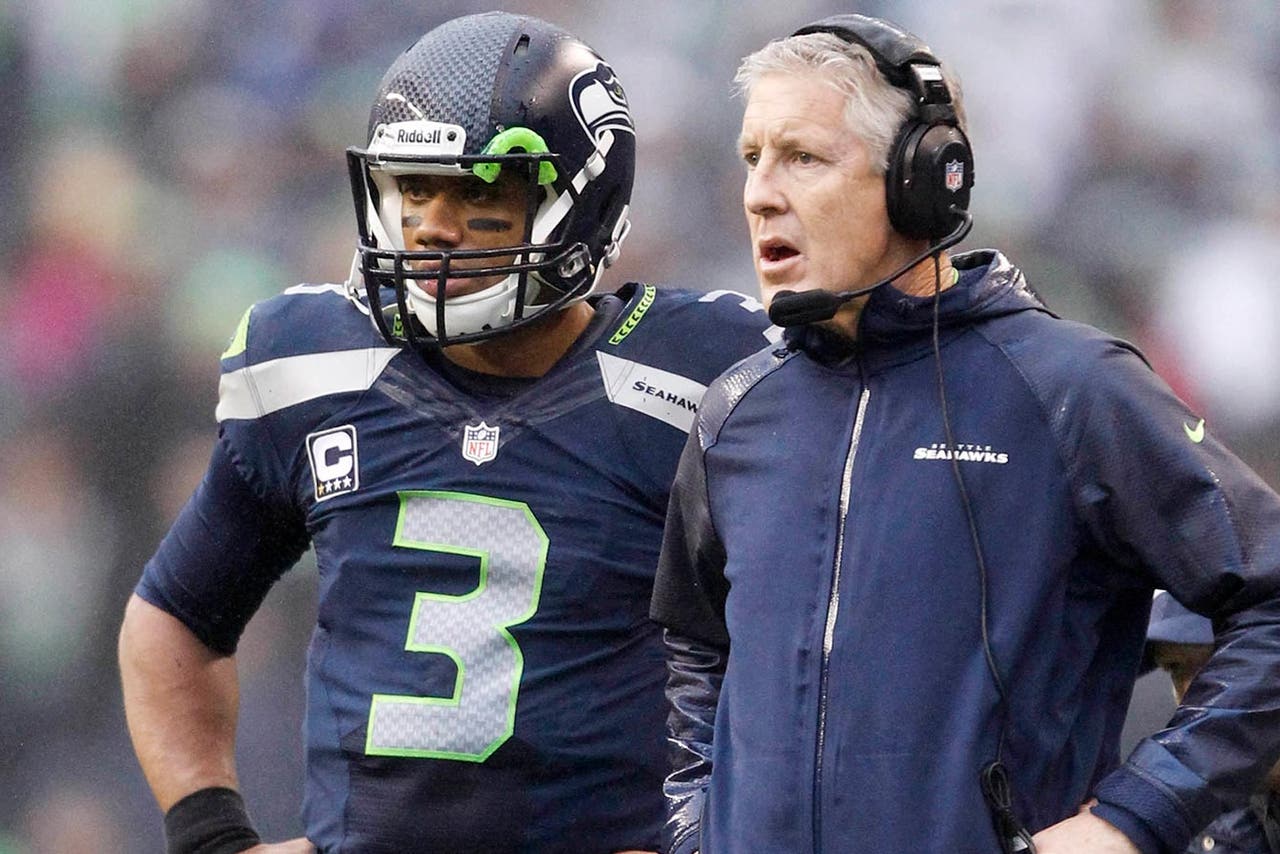 Dec 22, 2013; Seattle, WA, USA; Seattle Seahawks head coach Pete Carroll and Seattle Seahawks quarterback Russell Wilson (3) watch a field goal attempt against the Arizona Cardinals during the second quarter at CenturyLink Field. Mandatory Credit: Joe Nicholson-USA TODAY Sports
Does everyone remember early Pete Carroll? AFC East Pete Carroll?  The man was a laughingstock, muddling through mediocre stints with the Patriots and Jets that had everyone believing he was simply out of his depth.  Even after resurrecting the USC Trojans, many believed (and I'll include myself in this group), that a return to the pros was simply going to expose Carroll as a hell of a recruiter, and a lousy tactician.  Instead, he helped build one of the youngest, toughest, hungriest teams in the game, and he has consistently managed to push every right button, so much so that the Seahawks look like a potential dynasty, and Carroll is cocky enough to be the subject of GIFs like this.
It's the Carroll story that really is the most special, because it's real life vindication of the "If at first you don't succeed..." mantra.  Carroll failed, definitively, unequivocally, like the vast majority of professional coaches do.  (You know, hired to be fired and all that.)  But he kept at it, found new opportunities, grew as a coach, and now he's one of the select few to lift a Lombardi Trophy.  Who knows? Maybe there's still hope for Rich Kotite.  (Note to NFL executives: Please do not hire Rich Kotite.)
2.       Because their fans are larger than life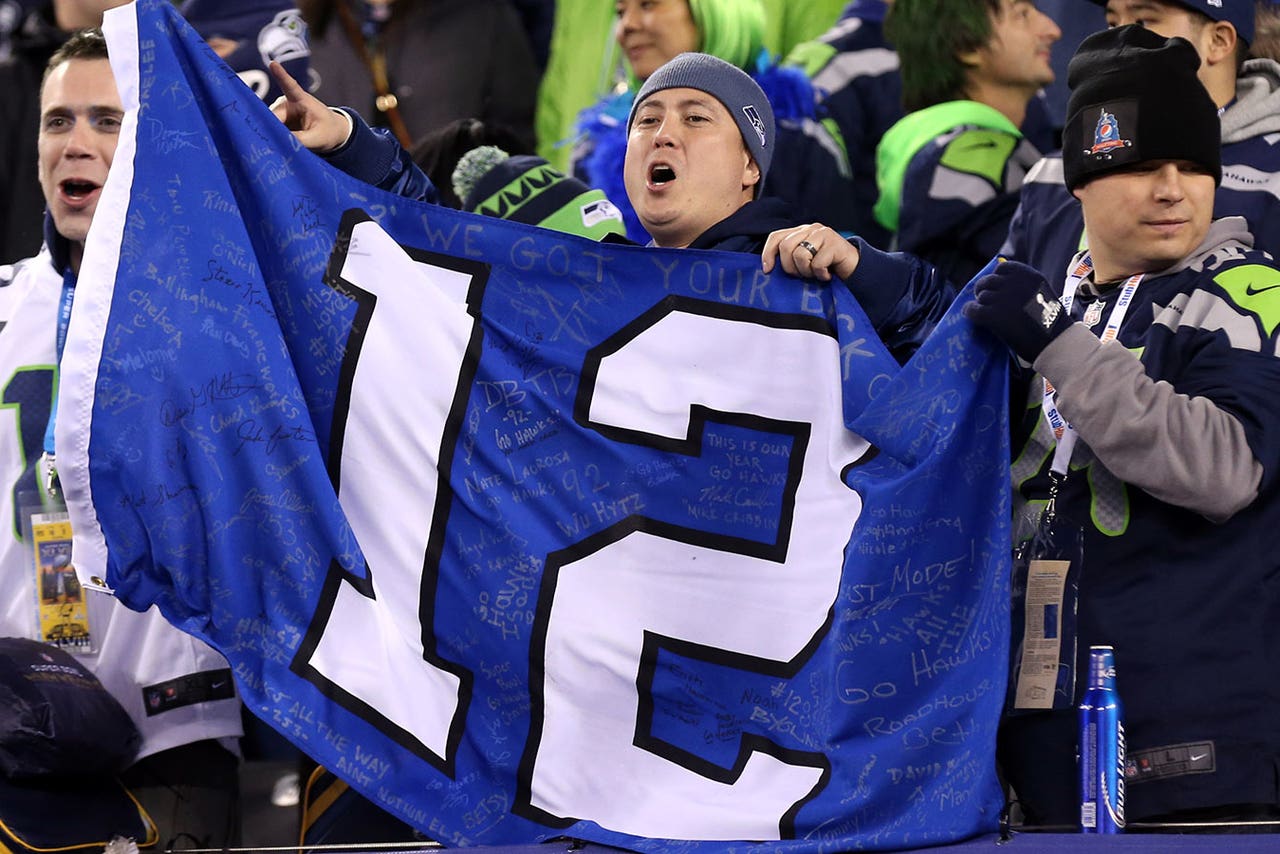 Feb 2, 2014; East Rutherford, NJ, USA; Seattle Seahawks fans celebrate after winning Super Bowl XLVIII against the Denver Broncos at MetLife Stadium. Seattle Seahawks won 43-8. Mandatory Credit: Matthew Emmons-USA TODAY Sports
Want to watch a truly great sports video?  Just check this one out.
That's from 2008, when Jamie Moyer, who I think finally retired from baseball a couple of weeks ago, raised the 12th man flag before the Seahawks' playoff win over the Washington Anachronisms.  And can you see the energy, the spirit, the pure, uninhibited joy, as he sprints from one side of the platform to the other, making everyone a little uncomfortable that he might fall right over that railing?  This is Jamie Moyer we're talking about, the junk-balling hurler who hung around baseball forever, but was never known as one of its most dynamic personalities. 
But that's the power of the incredibly rabid Seahawks fan-base.  The "12th man" is just a gimmick, sure, and it's not even an exclusive one, but the reason it holds up is because CenturyLink Field is one of the few places remaining where the crowd really does become a part of the action.  We're living at a time when the live sports experience has become too staid, too stodgy, and too corporate.  (If you really want to hear a rant, just ask any Yankee fan what they think of the environment at their new house of opulence.)  But Seattle has become the antidote to all of that, with their towel waving, face painting, jam-band channeling brand of fun.
It's not just anecdotal evidence either.  Whether it's a Guinness World Record for crowd noise, or studies by Harvard Sports Analysis, and the incredible Jason Lisk, there's no shortage of tangible proof that Seattle boasts one of the most significant home field advantages in all of sports.  And really, what's better than that?  There's no joy in fandom greater than honestly and truly helping your team, your city, achieve victory.  No wonder so many of us admire Seattle's story.  We just wish we could be a part of it.
3.       The Best Corner In The Game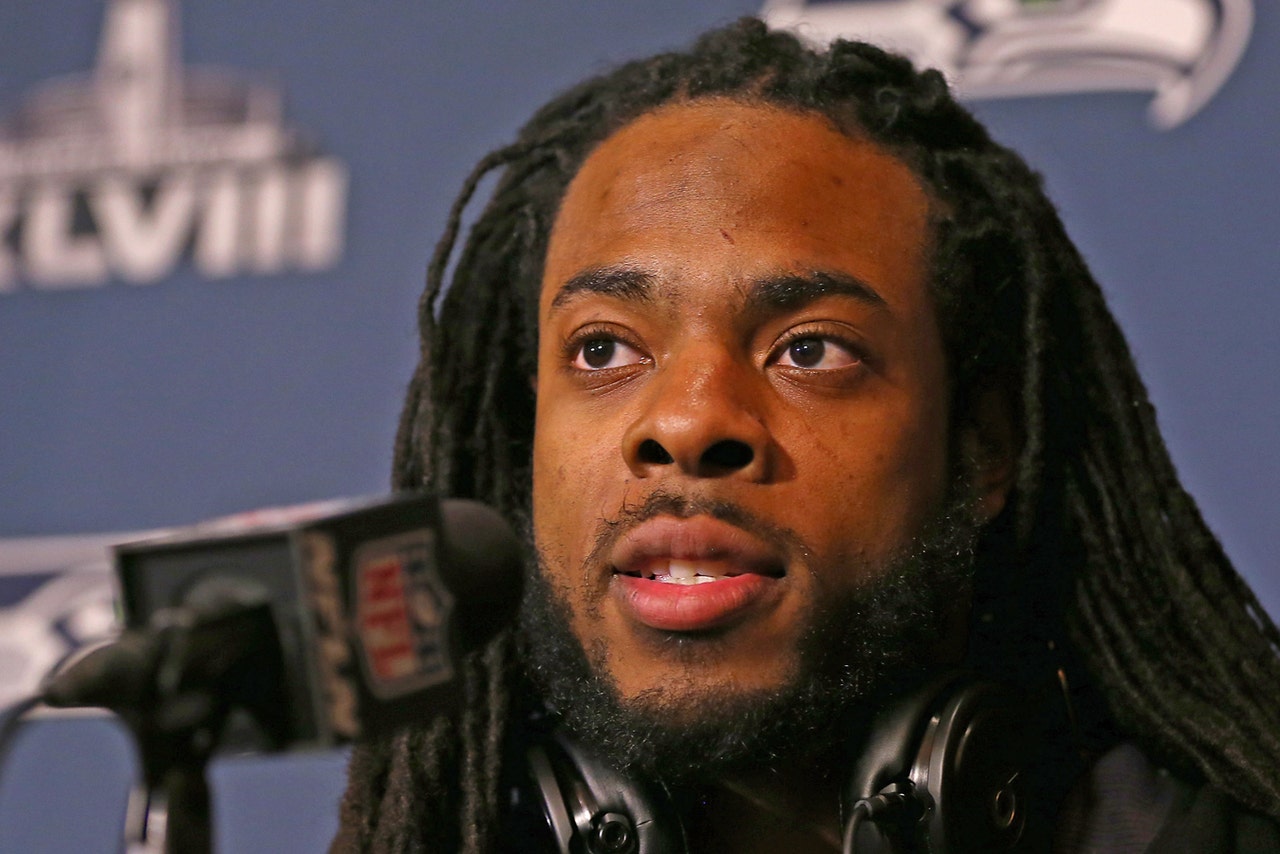 JERSEY CITY, NJ - JANUARY 26: Richard Sherman of the Seattle Seahawks addresses the media at the Westin Hotel on January 26, 2014 in Jersey City, New Jersey. (Photo by Elsa/Getty Images)
Yes, no discussion of the Seahawks would be complete without taking a moment to appreciate their physical, emotional, and oh so vocal leader, Richard Sherman.  You've probably read plenty about Sherman during Seattle's rise to prominence over the last few seasons.  That's fine, but you should still go read more.  You can start with Will Leitch's outstanding perspective, written in the wake of the viral post-game interview that sent him soaring to another level of fame.   You can follow that with Greg Howard's powerful discussion of what that moment, and the ensuing reaction, said about American race relations in 2014.  After that, you can check out Danny Kelly's incredible illustrated guide to what makes Sherman worth talking about in the first place, the unparalleled skill with which he plays his position.  Finally, you can wrap up by reading plenty from the man himself, over at MMQB.com, where he has written thoughtfully on a variety of topics, including the league's best QBs, reactions to his own trash talk, and DeSean Jackson's controversial release from the Eagles.
We should be sick of Richard Sherman by now, because he's dominated the sports media landscape almost as much as a few quarterbacks who I don't need to mention.  But we're not, because he manages to be more complicated, more candid, and more human than most all of his peers.  Tom Brady is a matinee idol.  Peyton Manning is an advertiser's dream.  Aaron Rodgers is straight out of central casting.  But there's something great about a new kind of leadership, something captivating about seeing the Super Bowl Champions fronted by a hard hitting straight-A student from the inner city who gives no quarter, and has no place for false humility.  Richard Sherman spent the offseason asserting, correctly, that money was the truest sign of respect.  Just weeks later, the Seahawks handed him a respect-laden extension that should keep him in Seattle for the foreseeable future.   And that's a good thing, because when it comes to players worth the price of admission, Richard Sherman is at the top of the list. 
So in advance, we must apologize to the Green Bay Packers.  Your publically owned, tradition laden, blue collar image has served you well for so many years.  But this is Seattle's moment, and Thursday is going to be their night.  It's because they're champions, yes, but it's also because they're so much fun.  The NFL season is back, and although it'll be a blast, it will also be big, and bloated, and occasionally too self-important for its own good.  We need a team that can cut through all that noise.  That's why we need the Seahawks.
---
---