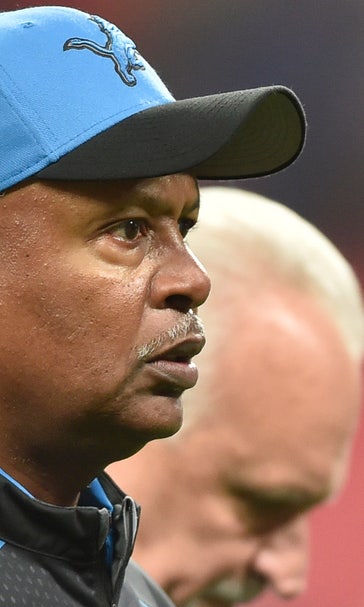 Lions coach Caldwell on job status: 'We don't worry about that'
BY foxsports • October 3, 2016
ALLEN PARK, Mich. (AP) -- Detroit coach Jim Caldwell is shrugging off speculation about his job security just a quarter of the way into the season.
The Lions' 17-14 loss to Chicago on Sunday dropped them to 1-3 and Caldwell's future came into question at Monday's news conference. Caldwell, whose four-year contract runs through next season, didn't seem concerned.
"We don't worry about that," he said. "My job is to coach this team and get this team headed in the right direction."
Caldwell said he meets with general manager Bob Quinn on a daily basis, but he would not elaborate whether his job performance has been discussed.
"If it was, I wouldn't tell you," Caldwell told reporters. "What we talk about in terms of those meetings are things we don't discuss publicly."
Detroit linebacker Tahir Whitehead was more willing to discuss his coach's future.
"Coach Caldwell definitely has our support," Whitehead said Monday. "He's a great coach, a great man. He's always composed. His demeanor forces you to give it your all. You want to lay it on the line for him."
Whitehead said questions about Caldwell's job security have not become a distraction.
"It's easy to block it out," he said. "You ignore the noise. You can't worry about what outsiders are saying. They are outsiders for a reason. They are not on this team or involved with this team."
After a 39-35 win at Indianapolis to open the season, the Lions have dropped three straight by a total of 11 points. Two of the losses have been to NFC North rivals. Detroit hosts the undefeated Eagles (3-0) on Sunday.
"I'm a guy that believes in results. Results aren't good, plain and simple," Caldwell said.
"I'm not going to make excuses or hide from facts. I'm more interested in winning and losing. We've been losing of late, and that's not good."
Some Lions players defended Caldwell, who showed last season that a turnaround is possible. The Lions won six of their final eight games to finish 7-9.
"Coaches don't go out and play, they just prepare us," tight end Eric Ebron said after Sunday's loss to the Bears. "They don't play for us. We play the game. If we don't execute the game plan they put together, we lose."
If the Lions hope to put together some wins, they will likely need more from receiver Golden Tate, who was targeted four times against Chicago and caught one pass for 1 yard in limited action. Tate has 14 receptions for 95 yards and no touchdowns this season.
"Everybody has an important role," Caldwell said, expressing confidence in Tate. "There may be some games where he has one or two catches and somebody else has 10. It's going to happen that way, particularly when you have a number of guys that can make plays."
Tate said the Lions' entire offense needs to play better.
"We aren't in sync right now, but we know we're good," Tate said. "We just got to all click at the same time every single play. We're just trying to get back on track. We're working hard, no doubt."
---
---