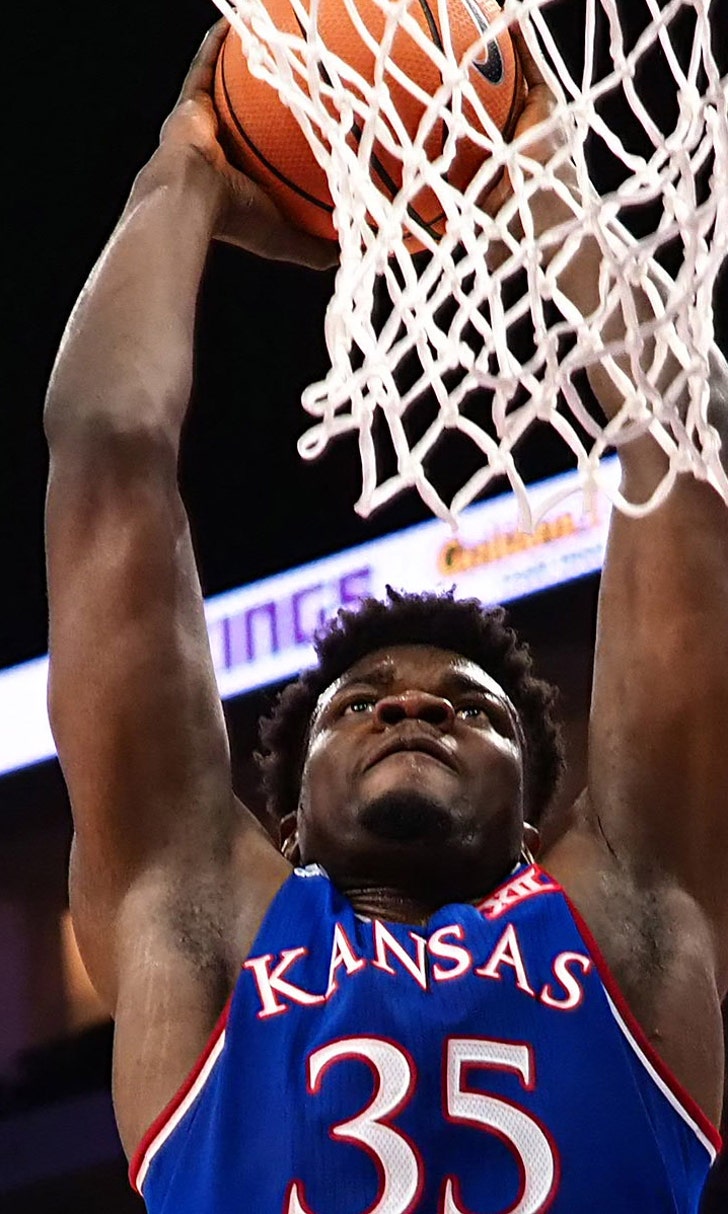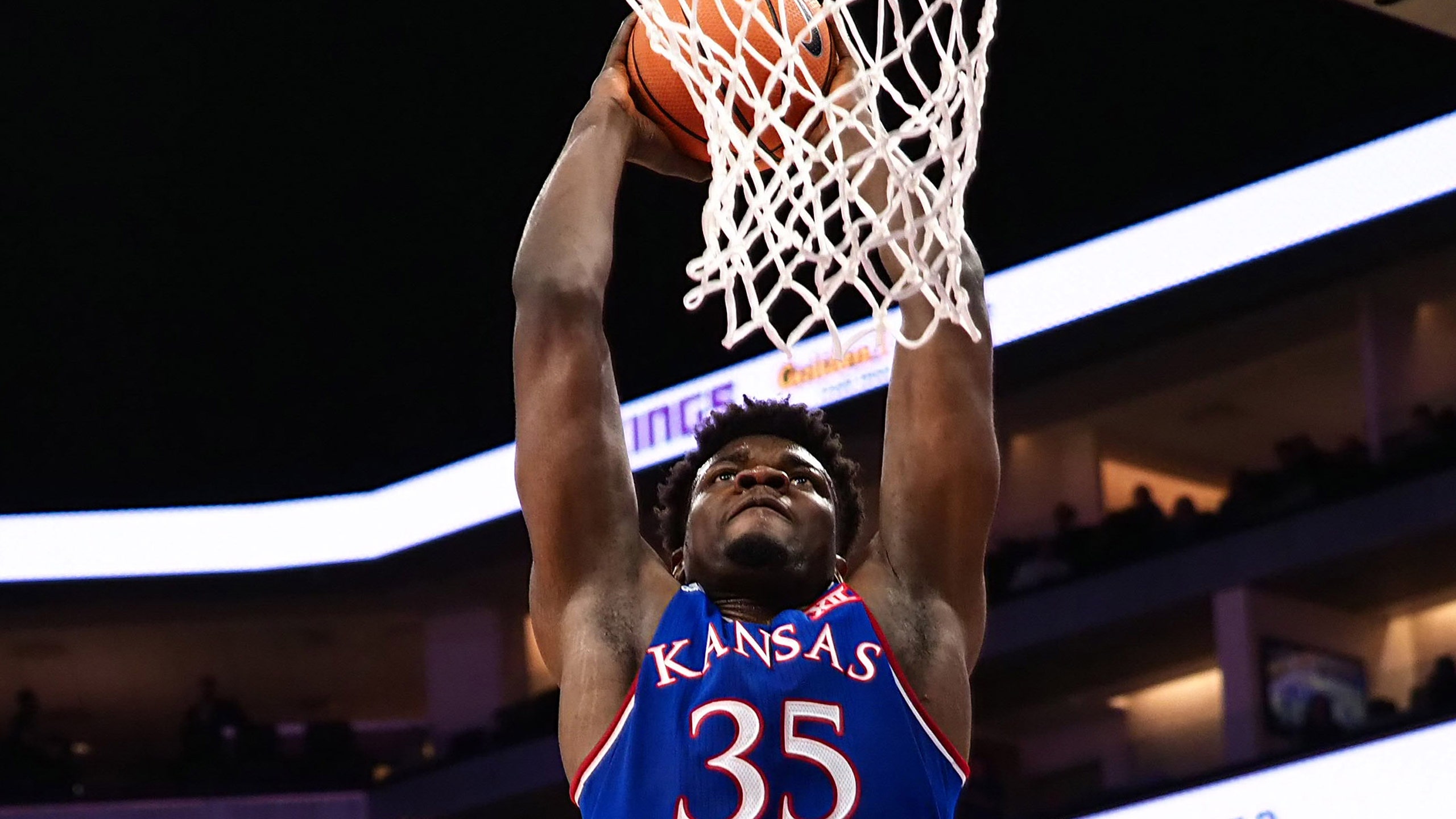 Jayhawks looking to avoid fifth straight loss in Morgantown
January 15, 2018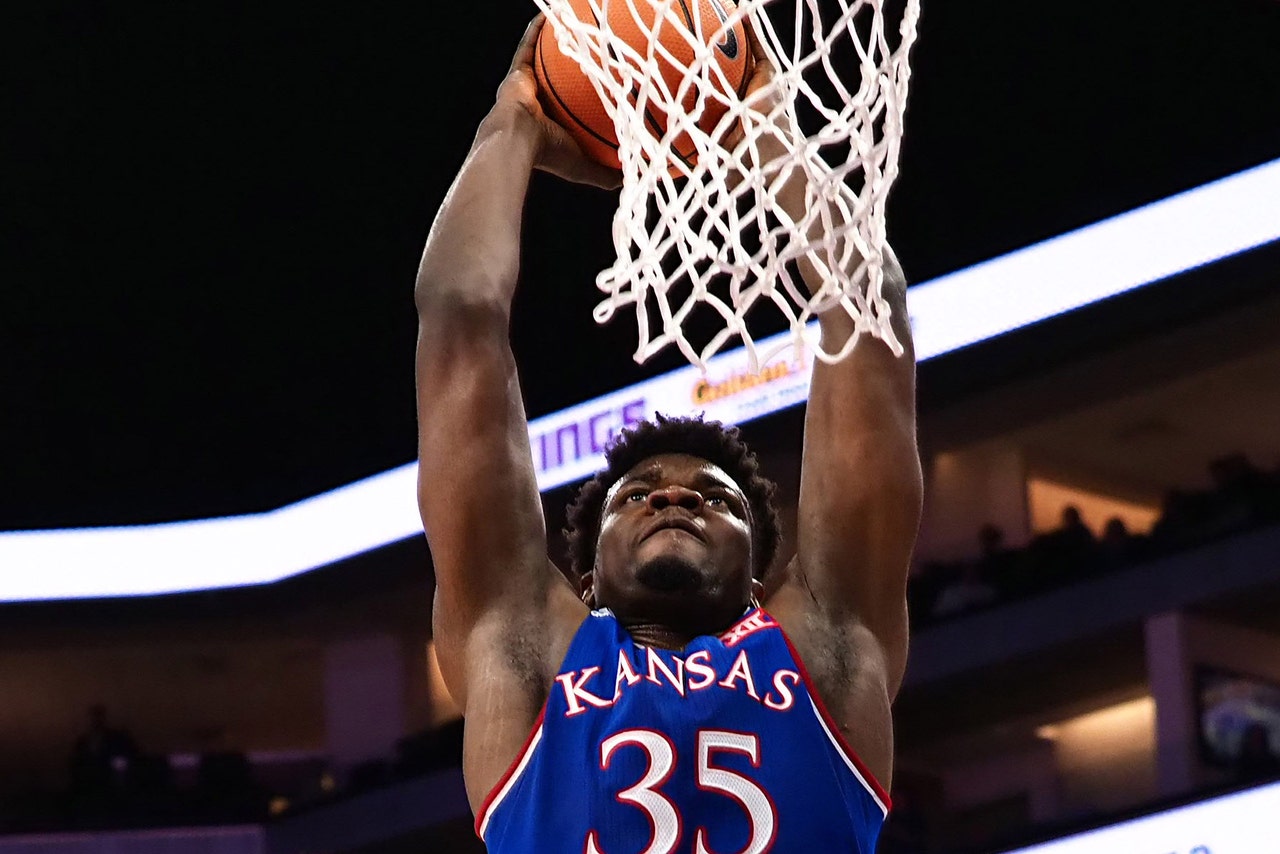 Kansas center Udoka Azubuike is averaging 14.8 points and 7.7 rebounds per game this season.
MORGANTOWN, W.Va. -- Kansas basketball fans must dig deep into the archives, nearly three decades deep, to unearth the last time their team lost five straight games at an opponent's arena.

No. 6 West Virginia hopes to pull off the rare feat Monday night at WVU Coliseum.

The No. 10 Jayhawks lost here in 2014 despite 40 points from Andrew Wiggins, and the 2015 game slipped away in the final seconds on Juwan Staten's coast-to-coast drive. Two years ago, Kansas sacrificed its No. 1 ranking by committing 22 turnovers, and last season West Virginia coasted 85-69 behind Esa Ahmad's 27 points.

And as coach Bill Self acknowledges, this year's version of Kansas (14-3, 4-1) appears even more vulnerable than those previous teams that extended a dynasty of 13 straight Big 12 titles. Saturday's 73-72 squeaker over Kansas State at Allen Fieldhouse was the latest close call for a team that had to reload half its roster.

"We don't have the same teams we've had in the past where you can pull away from folks," Self said. "When you play better competition, any win is a good win, and we have to understand that."

Ahmad is back for the Mountaineers (15-2, 4-1), having been reinstated from a 16-game suspension for Saturday's 72-71 loss at Texas Tech. The junior forward scored 18 points off the bench in 34 minutes, presenting a silver lining after "Press Virginia" blew a double-digit second-half lead and saw its 15-game winning streak snapped.



The postgame scene in Lubbock created more drama when Mountaineers forward Wes Harris tried to punch a court-storming fan who bumped him. As of Sunday night, neither the school nor the league had announced any disciplinary action against Harris, a 17-game starter.

"I have had positive and open dialogue throughout the day with the Big 12 Conference and Texas Tech," WVU athletics director Shane Lyons said. "The issues of court security, player safety and postgame emotions all come into play with this situation. All three parties will continue to work together to review the information available and come to an appropriate outcome after all the facts have been addressed."

West Virginia coach Bob Huggins, notorious for suffering losses harder than he enjoys wins, sounded more concerned about his younger players fixating on last week's No. 2 ranking, the program's highest since 1959.

"We've got guys with inflated self-worth," he said. "They think they're better than what they are."

Huggins wasn't chastising senior point guard Jevon Carter, who scored 28 points and remains one of the nation's stickiest defenders at 3.59 steals per game.




Carter (16.8 points, 6.5 assists) and Kansas guard Devonte' Graham (18.4 points, 7.4 assists) are the Big 12's most veteran playmakers, combining for 181 career starts.

Each has a strong supporting cast. The Jayhawks deploy 3-point shooters Svi Mykhailiuk (16.5 points) and Lagerald Vick (14.9 points) around 7-footer Udoka Azubuike (14.8 points, 7.7 rebounds) in the middle. And sophomore transfer Malik Newman (10.7 points) sporadically flashes the potential expected from a five-star recruit.

West Virginia's spate of role players includes senior guard Daxter Miles (13.2 points), forward Lamonte West (12.3 points) and brawny center Sagaba Konate (8.9 points, 7.8 rebounds), whose 2.9 blocks rank second in the league.

The Mountaineers use a deeper rotation to enable their high-tempo, full-court press.

"They are terrific," Self said. "We are going to have to be focused and go up there and kind of let it go. We will need to rebound the ball, got to be physical and, of course, you have got to have a presence in everything we do."

If not, Kansas could suffer a fifth straight loss in Morgantown, something the program hasn't experienced since losing at Oklahoma from 1987 to 1991.
---
---