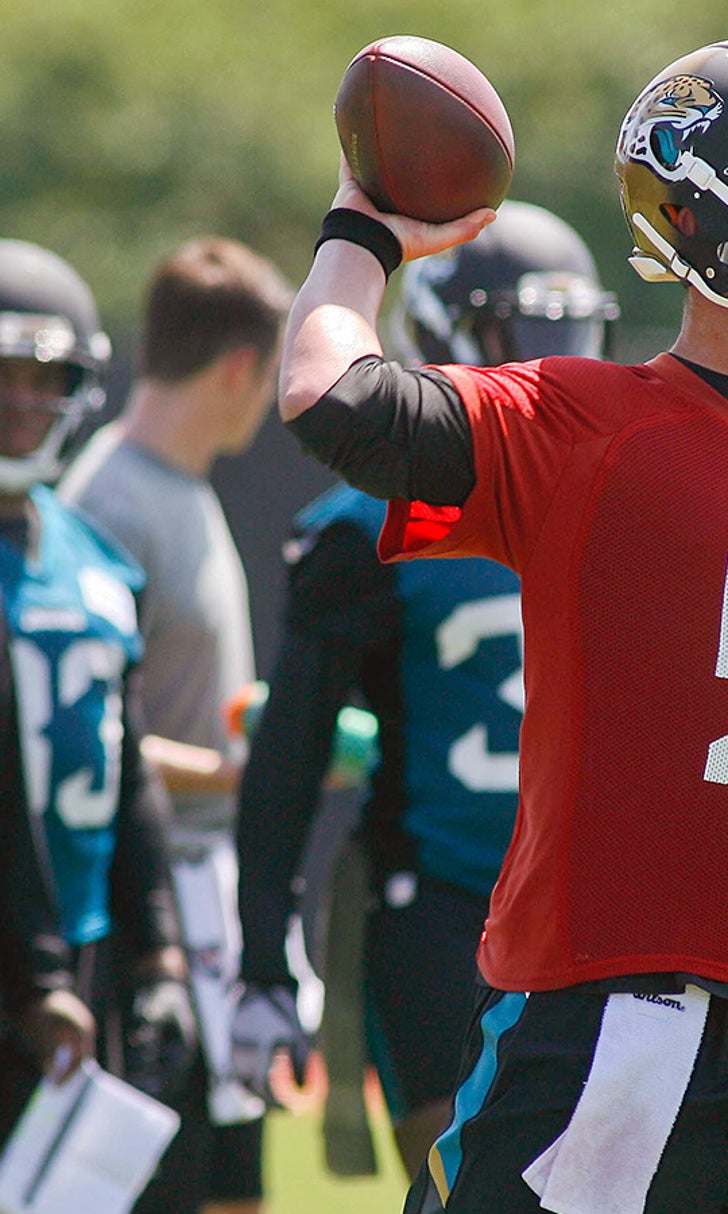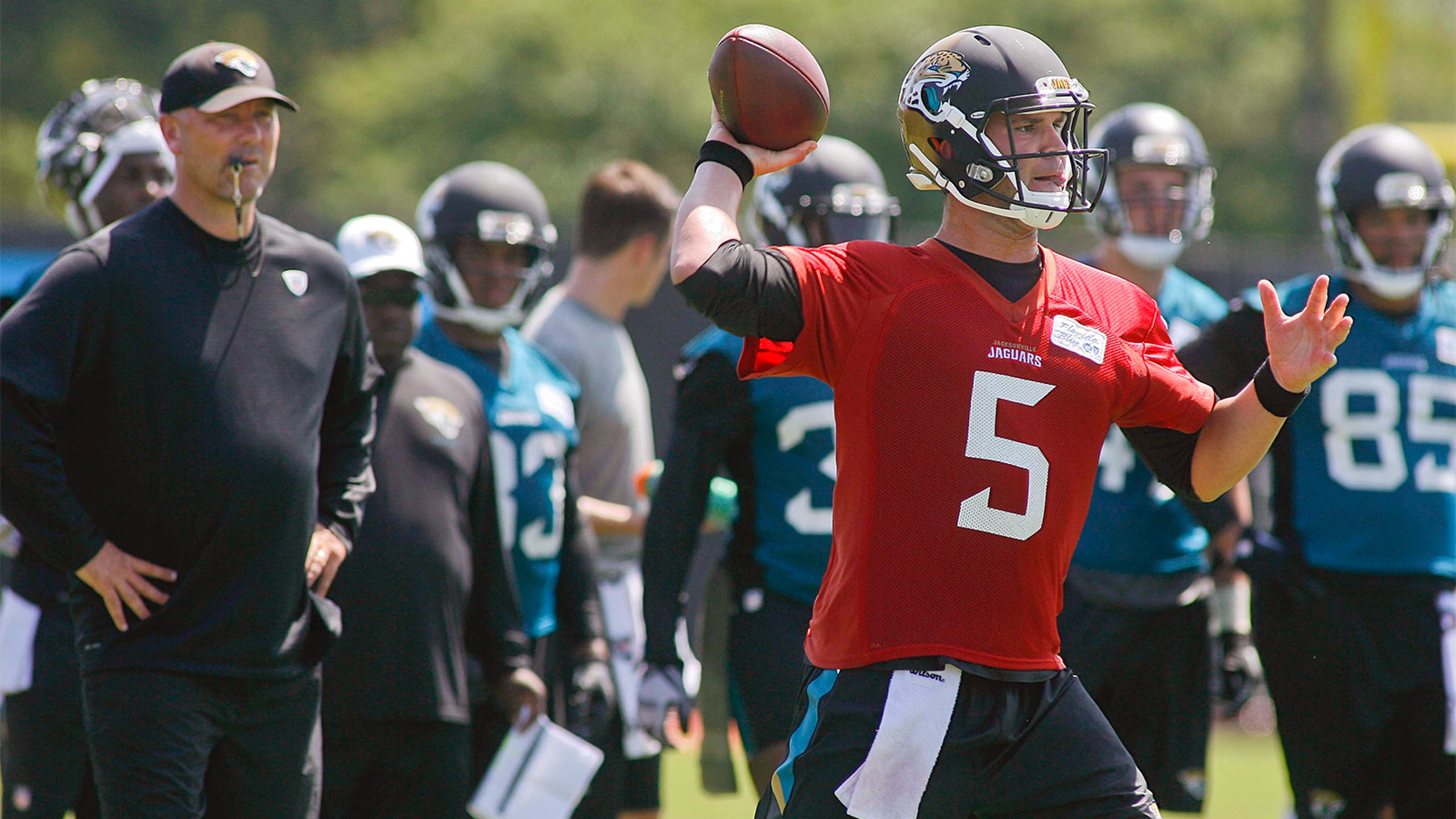 Jaguars optimistic as minicamp comes to a close
BY foxsports • June 18, 2015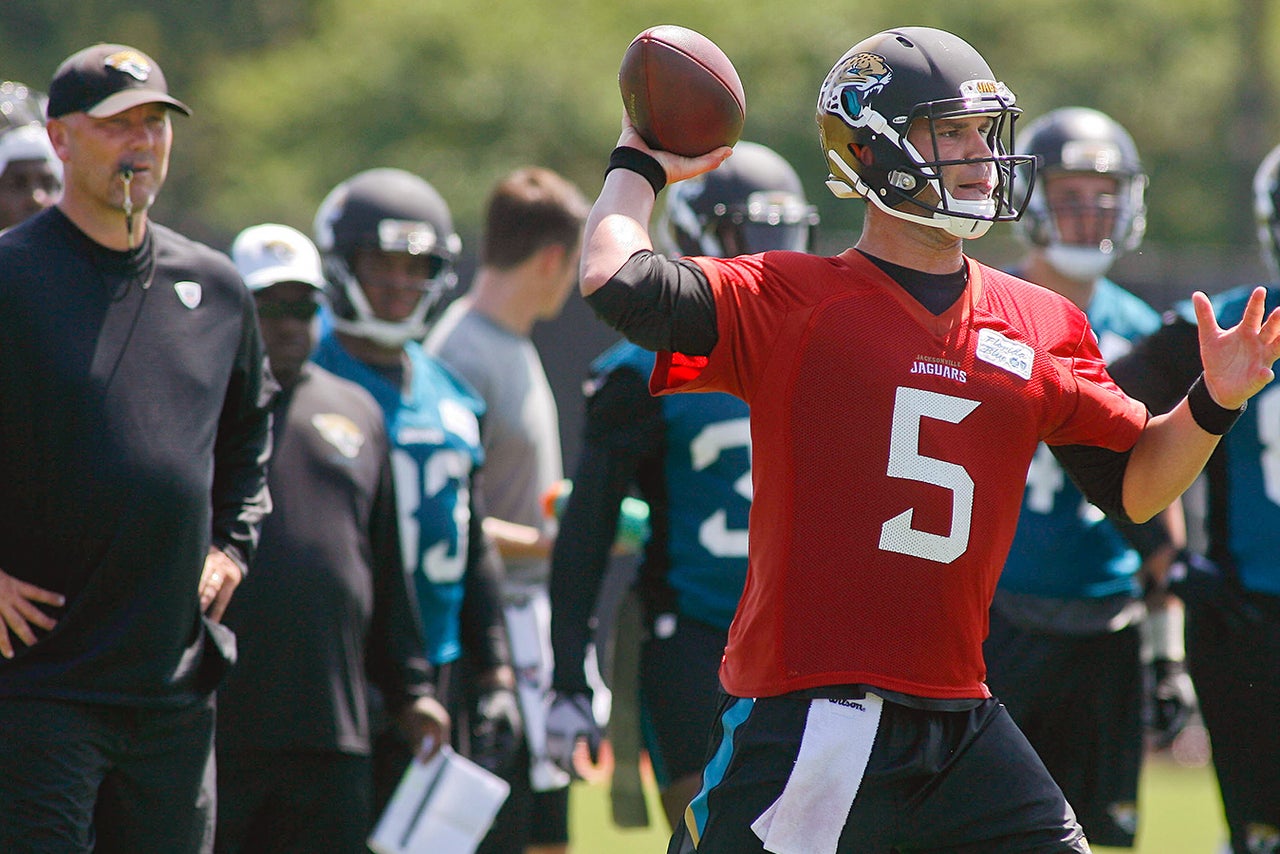 JACKSONVILLE, Fla. -- Choosing to err on the side of caution, coach Gus Bradley opted to conclude the Jacksonville Jaguars' mandatory minicamp Thursday morning with an abbreviated session in which his players wore baseball caps or floppy sun hats rather than helmets.
The decision to hold basically a 45-minute walkthrough with the heat index in triple figures probably wasn't what most of the approximately 1,200 fans in attendance anticipated seeing. But if there was any sense of disappointment, it was gone by the time the Jaguars lingered to sign autographs after the team's final workout before training camp starts in late July.
"First and foremost, we've got to take care of our players and take care of our team, make decisions on what's best for them," Bradley said.
Compared to a year ago, the Jaguars made it through minicamp with a minimum of injuries. But after losing first-round draft pick Dante Fowler Jr. for the season with a torn ACL last month in rookie minicamp and seeing fourth-rounder James Sample break his left arm during organized team activities, Bradley decided to play it safe.
"We came in thinking it was going to be a normal day of work," middle linebacker Paul Posluszny said. "Obviously coach has a plan. He knows what's best."
Added tight end Marcedes Lewis: "Sometimes it's good to take a little bit off the physical (end). We've been pushing the envelope, getting better every day, going hard. Obviously with these conditions, sometimes you get some injuries. That's what makes a good coach sometimes -- to be able to recognize that. I feel that's why we respect Gus so much, because he gets it."
While Bradley didn't cite a specific reason for the change of plans, he said the Jaguars got enough accomplished Tuesday and Wednesday to satisfy him. He mentioned that defensive end Chris Clemons, the only player who was absent during OTAs, told him the attitude around the team this week feels completely different from when the former Seattle Seahawk came to the Jaguars a year ago.
"You rely on your players and you trust them," Bradley said. "And I would agree. It feels different."
Lewis and kicker Josh Scobee are the only players remaining from when the Jaguars last had a winning season in 2007. Their nine victories in the past three years are the fewest in the NFL over that stretch.
"The way we compete in practice now -- I haven't seen that in a long time," Lewis said. "The last time I've seen it like that was when I was here in '06 through maybe '08, where guys were almost fighting in practice, when every possession means everything to you, every ball is supposed to be our ball.
"It hasn't been like that in a while. We're out there, and everybody's playing with chips on their shoulders and just trying to get better every day."
With the wearing of shoulder pads and other equipment not allowed, it's hard to determine how much an offense which ranked 31st last season has improved after bringing in four new assistant coaches and two high-priced free agents in tight end Julius Thomas and tackle Jermey Parnell.
"Offensively, we're more talented," Bradley said. "There's greater competition in every position group on offense. And that's why we're seeing limited mental errors."
Blake Bortles, their first-round selection in 2014, was described by Bradley as "still a work in progress" in regards to making the changes to his fundamentals permanent and learning the offense of coordinator Greg Olson. Lewis didn't develop much of a rapport with the quarterback out of UCF over the final six games of last season but sees a difference in Bortles now.
"His release is smoother," he said. "The location on the ball -- he's able to put it where he wants to put it, for the most part."
Other than Fowler and Sample, the only player who might not be available when camp begins is defensive tackle Sen'Derrick Marks, who had a team-high 8.5 sacks last season before tearing his ACL in the Jaguars' final game. Marks appears to be progressing ahead of schedule, although they don't want to risk bringing him back too soon.
"I think he's right where he needs to be," said defensive tackle Roy Miller, who is coming off a less major procedure on his knee. "He's doing all the things they're asking him to do."
Both the Jaguars and their fans should expect comparable heat and humidity when the third training camp under Bradley gets under way.
"The fans are so important to us, and we want to always connect with them whenever we can," Posluszny said. "I know they may have came expecting a long, spirited practice, but hopefully spending time with them afterward, we were able to make up for it.
"It's hot for everybody, that's for sure."
You can follow Ken Hornack on Twitter @HornackFSFla or email him at khornack32176@gmail.com.
---
---