It's too early for the Sounders to panic, but the Red Bulls should worry
BY foxsports • March 12, 2016
The New York Red Bulls were Supporters' Shield winners just last season, and the Seattle Sounders have long been one of the best teams in MLS. Both sides were expected to compete for MLS Cup this season, but after two matches, neither has a single point.
This is MLS, where the playoffs make it so playing well at the end of the season is far more important than what one does early on, while the summer transfer window and a slew of other reasons make early season results often no more than a blip. It's only been two matches and panicking after two matches is silly - unless you're the Chicago Fire, then you should have started panicking before the season started or two years ago. But Seattle and New York aren't quite in the same boat.
The Sounders, two losses or not, will be fine. They have looked good for stretches in both of their matches. Sigi Schmid's side only lost their opener because of a terrible mistake by goalkeeper Stefan Frei, and after scoring the opener against Real Salt Lake in their second match, they looked like they would win with ease. They also put in an admirable fight against Club America in the CONCACAF Champions League, flashing their potential.
Everything that we expected to see from the Sounders has been on display, at least in intervals. Clint Dempsey is primed for a big season and Osvaldo Alonso looks more mobile than he has in years. Nelson Valdez is terrific and Jordan Morris hasn't looked out of place in his first few professional matches. Joevin Jones might be the most over-looked signing of the offseason and, most importantly, they only figure to get better.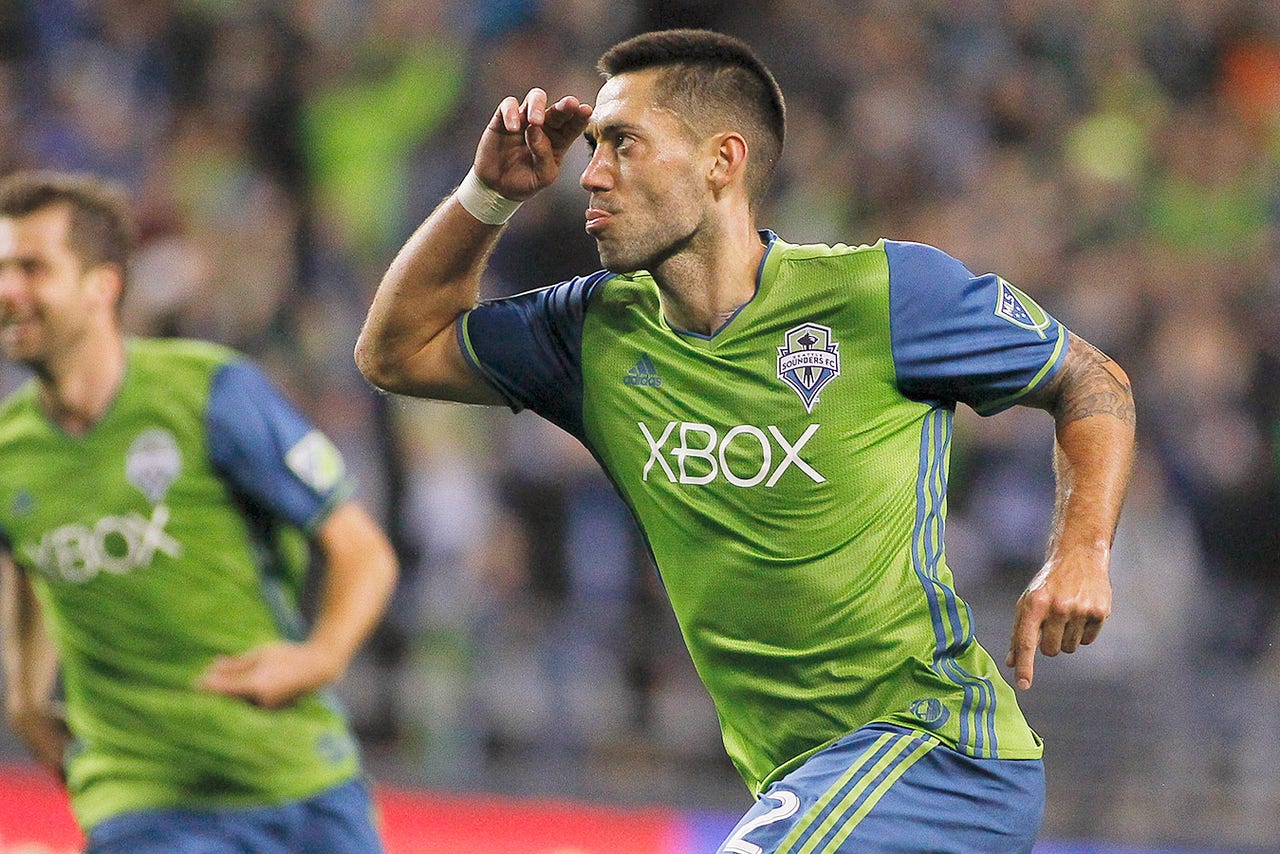 The Sounders attack has shown flashes of brilliance.
Roman Torres is still out with the torn ACL he suffered last September, but when he does return, it should be revelatory for the Sounders' backline. Morris will continue to adjust and improve and the team will begin to feel more comfortable in the 4-3-3 system that Schmid has installed this season. But maybe most importantly, Seattle haven't looked impotent without Obafemi Martins. His departure isn't reason to worry, plus they have his maximum salary hit now freed up so general manager Garth Lagerwey will have plenty of flexibility to add a great player or two to the team come the summer.
The Sounders are the worst team in the Western Conference through two matches, but it's just two matches and, at least for parts of the two contests, they've looked capable of being the best. With a reasonable adjustment period for a new system and big additions on the way in the form of Torres and new signings, the Seattle faithful have no reason to worry.
The Red Bulls aren't sitting quite as pretty.
Like Seattle, New York are also bottom of their conference, but their showings haven't been quite as good. Gideon Baah, signed to replace Matt Miazga, has turned in one solid match and one abysmal one. He gave the ball away on the Impact's first goal and was burned on Montreal's second. Karl Ouimette, stepping into the starting lineup this season, has looked shaky as well. Both of them were question marks entering the year and neither has put any worries at bay yet.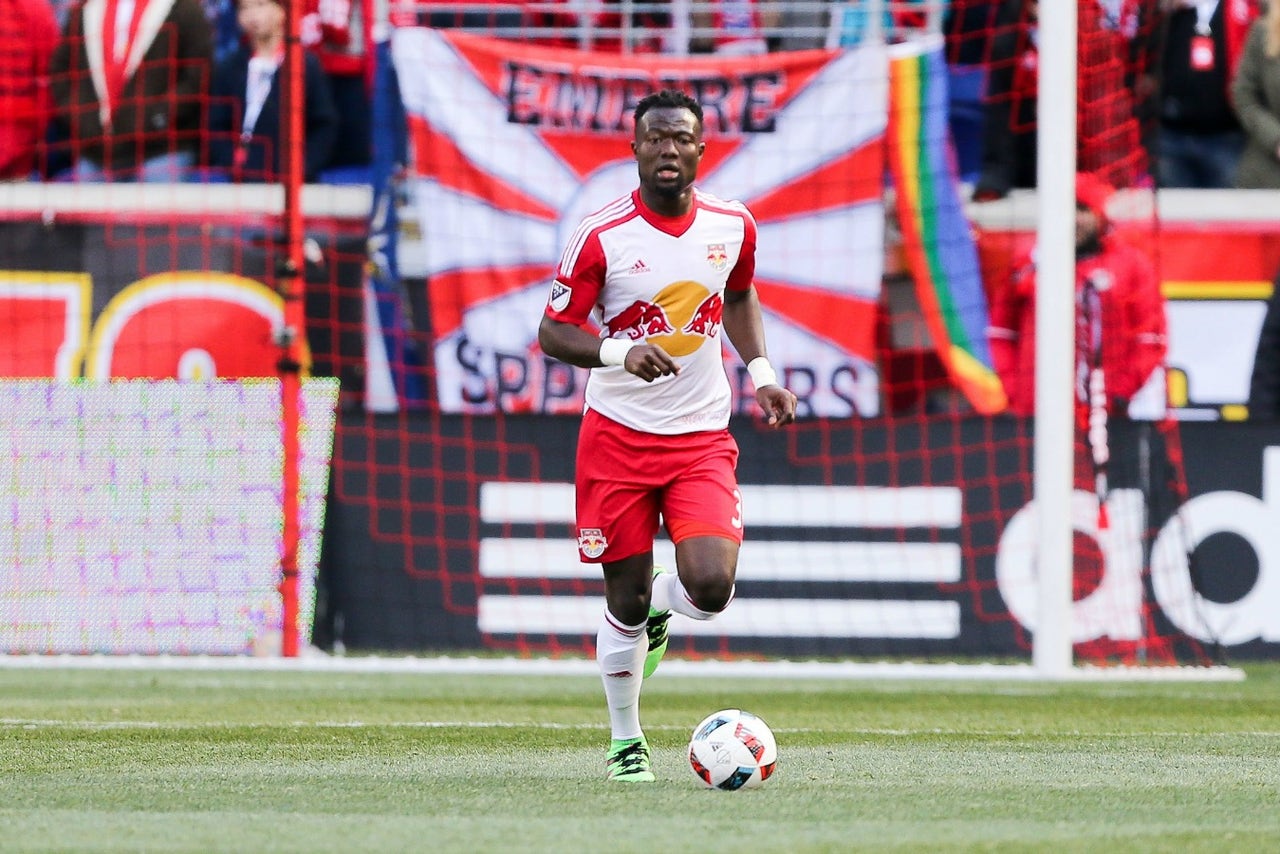 The jury is still out on Gideon Baah, but the Red Bulls defense will go as he goes.
The Red Bulls attack has been entirely toothless as well. They've yet to score a goal and Bradley Wright-Phillips has struggled to get chances. He didn't register a single shot on goal in the first match and even an improved performance against Montreal saw him fail to find space far too often. New York's failures in the attack aren't entirely unsurprising either, with many wondering whether Mike Grella could repeat his performances from a revelatory 2015 campaign and Lloyd Sam could be counted on to make a big impact again. So far, neither has.
It's not like the Red Bulls are going to end up as some doormat. Even if they struggle, they should still make the playoffs. There's too much talent in the squad for them to miss out in a weak Eastern Conference. Getting Gonzalo Veron healthy should help, too, but the goal at Red Bull Arena isn't to make the playoffs. They expect to win trophies, as they have in two of the past three years. That dream is far from dead -- after all, it's been two matches -- but with preseason concerns not quite yet solved, no gigantic adjustment to an entirely new system as a culprit and the unlikelihood of major summer upgrades, there is some reason to be concerned.
Two matches is too early to make any conclusions about any team. That's true in any league and doubly true in MLS. The Sounders and Red Bulls won't be at the bottom of their respective conferences for long, and will be far from the cellars come playoff time, but that doesn't mean that there isn't any reason whatsoever to worry. At least if you're New York.
---
---