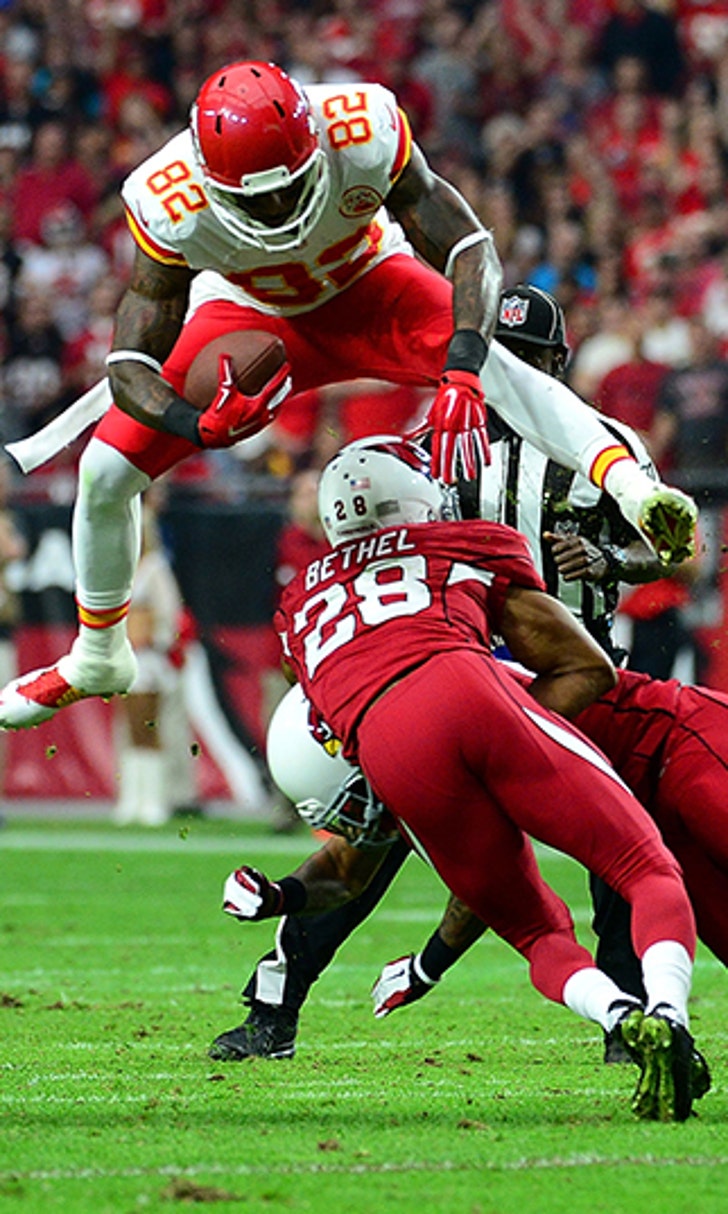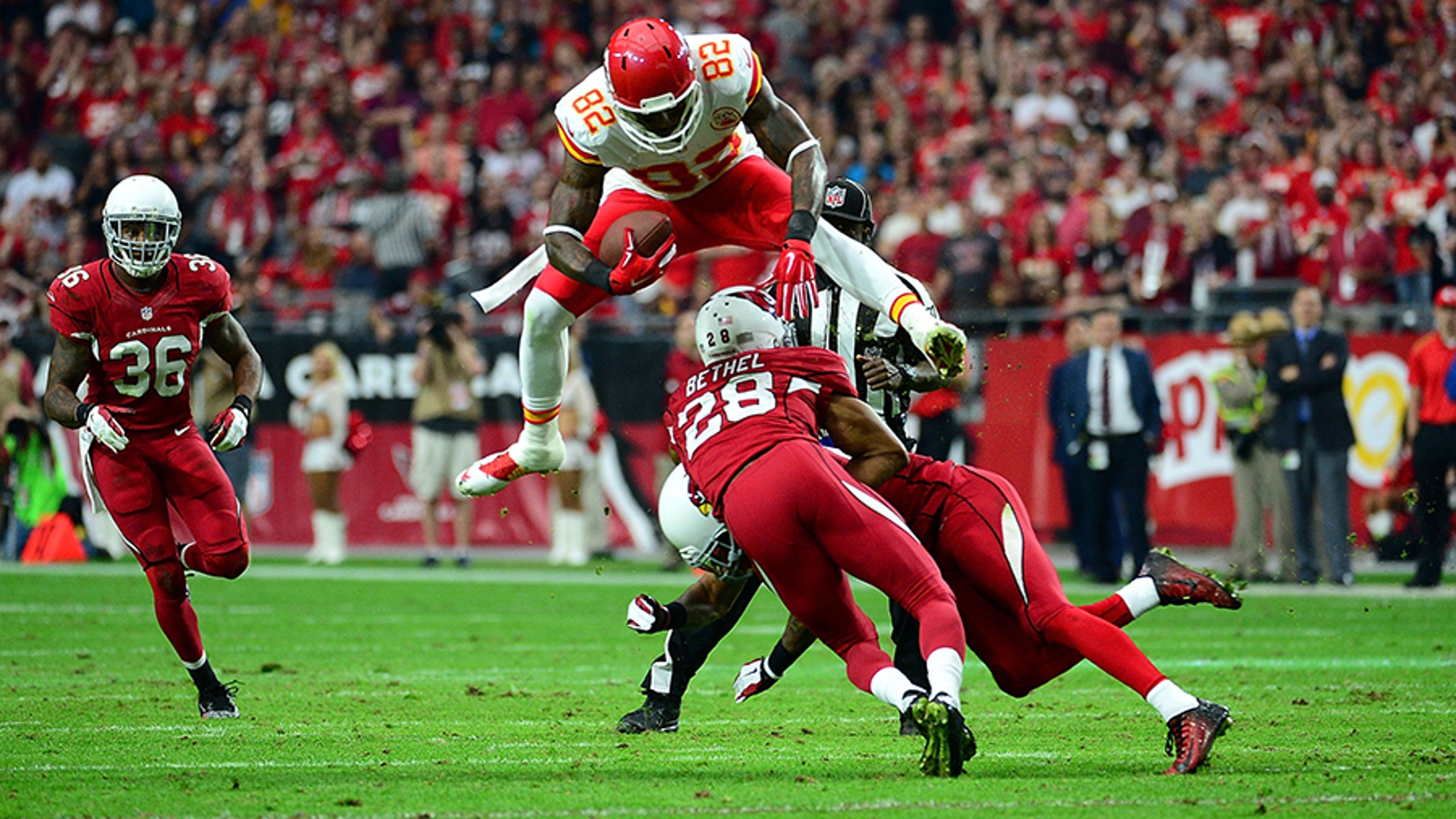 It's not him, it's them: Alex Smith needs help, and his wideouts aren't giving it
BY foxsports • December 10, 2014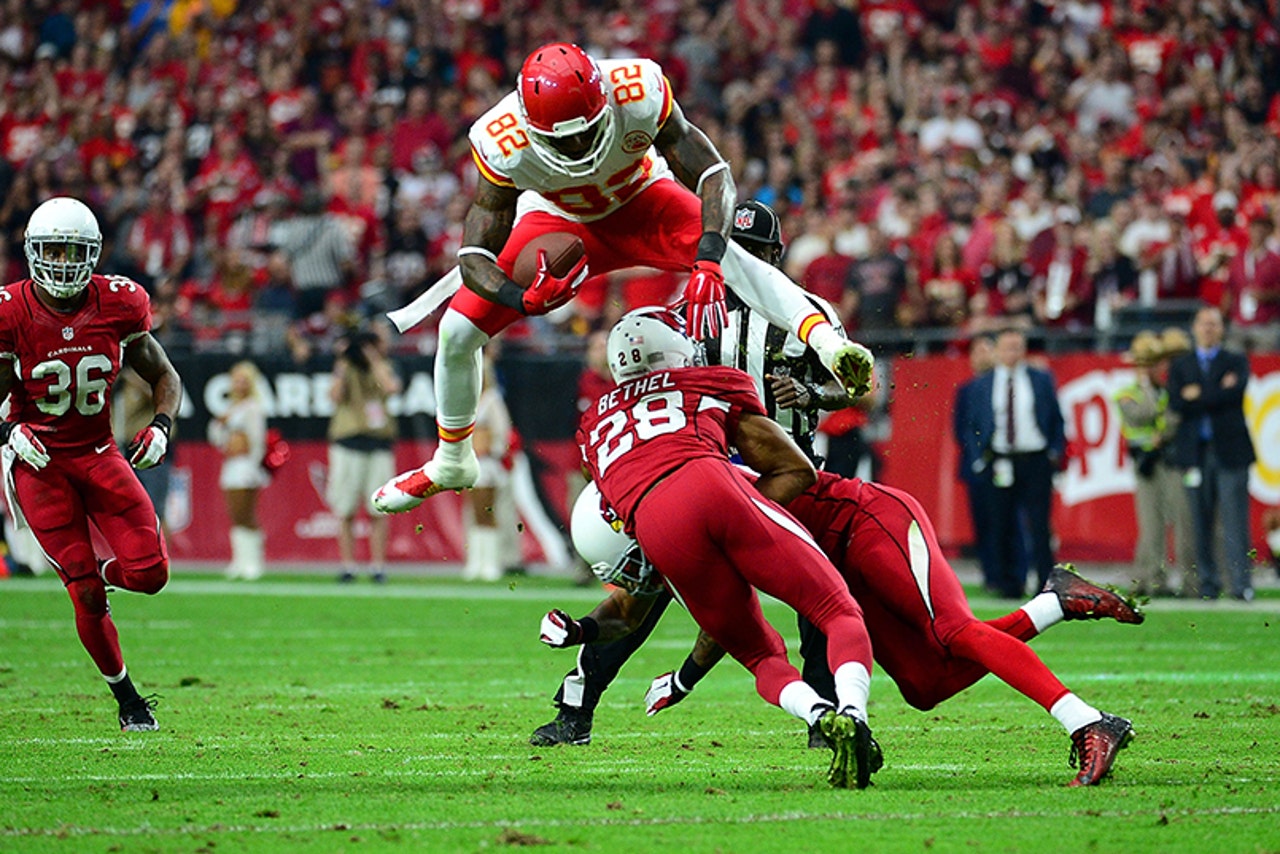 KANSAS CITY, Mo. -- It's hard to elevate a dead cat. For kicks, we added up the ProFootballFocus.com grades this fall for the top three wide receivers available, by playing time, to Peyton Manning, Tom Brady, Philip Rivers, Aaron Rodgers and Colin Kaepernick, and compared that with what the Kansas City Chiefs have served up to quarterback Alex Smith.
Manning: +23.1
Brady: minus 8.7
Rivers: +9.9
Rodgers: +18.1
Kaepernick: +2.8
Average WR unit grade, by quarterback: +9.04.
Smith's guys: minus 9.0.
Now let's try the same trick, comparing the PFF grades of each signal-caller's top five offensive linemen, by playing time:
Manning: minus 0.2
Brady: minus 14.9
Rivers: minus 69.4
Rodgers: +48.7
Kaepernick: +22.4
Average OL grade, by quarterback: minus 2.68.
Smith's guys: minus 62.4.
So in the age-old question kicking around these days with No. 11 and the Chiefs' present malaise -- is it him, or is it them? -- the answer is both ... both, but with a strong, strong, strong lean toward "them."
Smith won't come right out and say this, of course, because:
a) he's a company man;
b) he's an obscenely rich company man, and poor-mouthing the poor is bad form in any context, NFL or otherwise.
A scribe asked Smith, a guy sacked 13 times over his last three games -- all Chiefs losses -- on Wednesday what his "comfort level" was dropping back in the pocket at the moment. To this, No. 11 chuckled softly, then dropped the political correctness:
"As good as it always is," the quarterback replied. "It's a part of the game. We've had our fair share of games where I have been very clean. There's a lot that goes into that.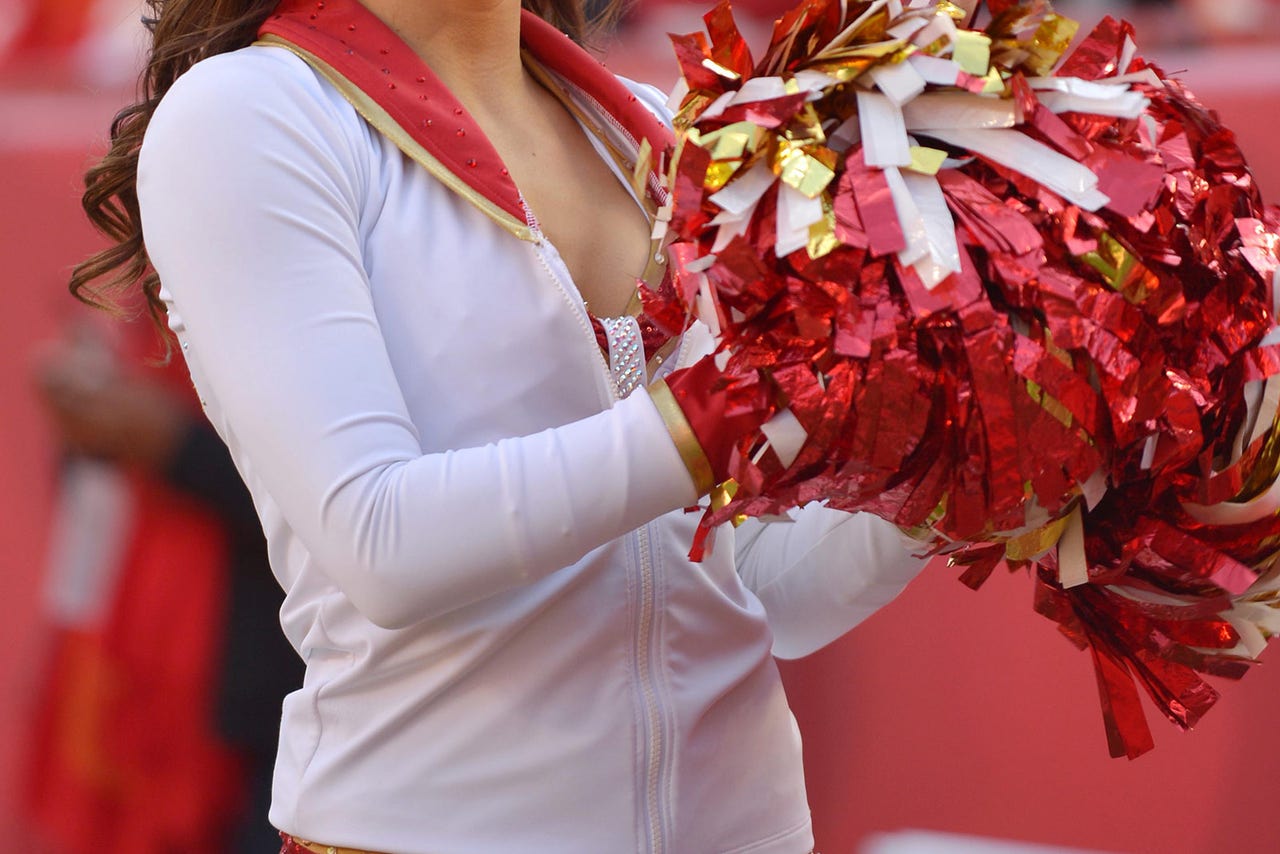 Flip through our photo album of Chiefs cheerleaders.
"I know those guys up front take the brunt of it, but certainly it's on all of us -- myself included. But a lot of that are little things, from my perspective: Moving in the pocket, when to get rid of the ball. You've got to play the game. And we knew that going into that game last week that it was going to be that type of game. So we've just got to continue to fight through it."
Well, not exactly as good as always, at least compared to the "always" that Smith has seen of late. Last fall, the top five Chiefs offensive linemen were a combined minus 13.6 -- not great, but a far cry from this autumn's swinging gate of doom. From 2009-12 in San Francisco, the 49ers' top five linemen averaged a +37.43 PFF grade per season. Over the past two years with the Andy Gang, the Chiefs' most-played five linemen combined for a minus 38.0 score, on average, which goes a long way toward explaining happy feet and the occasional sore ribs.
That minus 11.6 average grade among Chiefs wideouts from 2013-present (minus 14.2 last year, minus 9.0 in '14) reveals some things, too, most of them unpleasant.  And a little fluky: Some outlets -- CBS notably among them -- reported the last Chiefs receiving touchdown by a wideout in the regular season as last Dec. 8, on a 22-yard slant from Smith to Dwayne Bowe at Washington. Only that's not right. Receiver Dexter McCluster caught a 2-yard score from Chase Daniel in the first quarter of a Week 17 loss at San Diego last Dec. 29.
Regardless, it's been a while. A long while. Too long.
"With the touchdowns, you know, other people are scoring them, so I think we're OK there," coach Andy Reid said. "They're making plays."
As eyebrows raised, Big Red pressed on.
"I think Dwayne Bowe's had a very good year," Reid continued. "Even though he hasn't had a touchdown, he's had a very good year, so ... those things will come. I'm not worried about it. We've got touchdowns coming in other places."
In the coach's defense, Bowe has the top PFF wideout grade of the group so far, at +1.8. (No. 82 finished with a +1.6 a year ago in the regular season, if you're curious.) And it's not as if they haven't tried. Smith was shooting for Bowe on a fourth-down slant in Week 2 in Denver at the Broncos' 2-yard line, only to have it broken up by Terrance Knighton with 15 seconds left.
Plus, one of the most unusual plays -- in a season that's had more than a few  -- of 2014 came in Week 9, on another slant intended for Bowe in the end zone. Facing first-and-goal from the New York 2-yard line, Smith's bullet pass got tipped up in the air by the Jets' Calvin Pace, careening directly into the waiting lap of tight end Anthony Fasano, then sitting on his backside at the line of scrimmage, stretching into the end zone with his new prize for the unplanned score.
Tight end Travis Kelce has caught 81.0 percent of the balls thrown his way, according to PFF charts; Fasano's catch rate is 69.7; tailback Jamaal Charles is snaring balls at a 78 percent clip.
"That's part of it, for sure," the quarterback said. "And then (with) those guys, for whatever reason, just (how) the way the play-calling went -- we've thrown it down inside the 10 with a receiver, and all of a sudden those (other) guys get their opportunity and do it. That's certainly a part of it, yeah."
So is this: Bowe's catch rate sits at 67.6. Throw in the fact that Donnie Avery's is at 65.2; A.J. Jenkins' is 64.3; Junior Hemingway's is 60.0; and Jason Avant's is 55.3, and maybe the touchdown drought isn't so much about the inability to create separation as it is about trust. And you can hardly blame Smith if his is starting to waver.
You can follow Sean Keeler on Twitter at @SeanKeeler or email him at seanmkeeler@gmail.com.
---
---