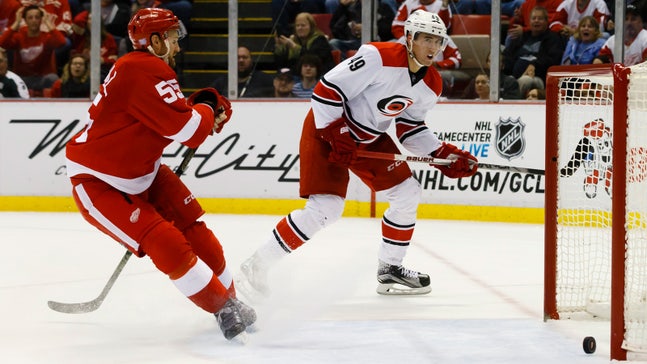 ICE CHIPS: Giveaways cost Wings against Hurricanes
Updated
Mar. 4, 2020 12:20 p.m. ET

GIVEAWAYS COST WINGS
After jumping out to a 3-0 start, the Red Wings have lost five of their last six games, including Tuesday's 3-1 loss to the Carolina Hurricanes.
Giveaways have been a concern for the Wings all season, and their third and final matchup against the Hurricanes this year wasn't any different.
Detroit had 12 giveaways in Tuesday's loss, which coach Jeff Blashill attributed to a combination of execution and mental errors.
"You're going to have some turnovers but it's got to be manageable and we've got to get better at it," Blashill said. "We're not good at it."
MRAZEK'S MISHAP
Wings goaltender Petr Mrazek is known for aggressively playing the puck, and it cost the Wings on Tuesday.
Mrazek skated out to play the puck in the second period, and bounced it off Hurricanes center Victor Rask. Rask quickly collected the puck and buried it in an open net to break a scoreless tie.
"It shouldn't happen," Mrazek said.
HAPPY ANNIVERSARY
Twenty years ago Tuesday, the Russian Five were introduced to Hockeytown. On Oct. 27, 1995, the Red Wings put three forwards and two defensemen -- Sergei Fedorov, Igor Larionov, Vyacheslov Kozlov, Vladimir Konstantinov and Viacheslav Fetisov -- on a unit together for the first time against the Calgary Flames.
The unit helped the Wings win the 1997 Stanley Cup Championship.


ON THE SCOREBOARD
Defenseman Jakub Kindl scored his first goal of the season in Tuesday's loss. Kindl's shot deflected off the right foot of Hurricanes forward Jay McClement and past goaltender Cam Ward, and was the Wings' lone goal of the game.
NEXT UP
The Red Wings will host the Ottawa Senators on Friday (7 p.m. pregame, 7:30 face-off on FOX Sports Detroit PLUS).
---
---