Hughes gets best of former club, Twins rout Yankees
July 24, 2015

MINNEAPOLIS -- Phil Hughes has settled in nicely in Minnesota, where a smaller media market and a bigger ballpark have helped him become the kind of pitcher the New York Yankees always hoped he would be.
Hughes pitched seven shutout innings against his former team and Miguel Sano hit one of Minnesota's four home runs in the Twins' 10-1 victory over the Yankees on Friday night.
"It's still a little weird. I know a lot of those guys over there," Hughes said. "I faced them twice last year. It's different. We don't see these guys a lot. But I think the more important thing was we got the win tonight."
Hughes (9-6) gave up seven hits, struck out three and wiggled out of a bases-loaded jam in the seventh. Trevor Plouffe went 3 for 4 with a homer and a double and Torii Hunter and Brian Dozier also went deep for the Twins.
Michael Pineda (9-7) gave up five runs on eight hits in 5 2/3 innings for the Yankees, who had their four-game winning streak snapped. Mark Teixeira had three hits for New York (53-42), which fell to 23-25 on the road.
Kurt Suzuki broke out of a slump with two hits and two RBI to help Minnesota build a 5-0 cushion in the fourth inning and Eddie Rosario added three doubles.
"I tried to incorporate more curveballs, change-ups, cutters, anything to get them off balance," Hughes said. "As the innings went along it seemed to work pretty well."
Hughes spent his first seven seasons in New York, coming in as a highly touted prospect in 2007. He represented the Yankees in the All-Star game in 2010, but never really lived up to the hype that Yankees fans had for him.
After a stellar first season in Minnesota that led to a five-year, $58 million deal in the offseason, Hughes has been a little more uneven in 2015.
He allowed a league-leading 23 homers in his first 19 starts of the season and was facing a Yankees offense that scored nine in the finale against Baltimore on Thursday and led the majors in first-inning runs scored.
They nearly pounced in the first inning again thanks to back-to-back singles from Alex Rodriguez and Teixeira, but once Hughes got Brian McCann to end the inning, it was smooth sailing.
The big right-hander retired 15 of the next 17 hitters he faced, then loaded the bases with two outs in the seventh. After a brief conversation, manager Paul Molitor left Hughes in to face Jacoby Ellsbury, and he rewarded the faith by getting Ellsbury to pop out to left field to end the inning.
It was the first time in nine starts -- dating back to June 3 -- that Hughes didn't give up a homer.
"Not taking anything away from him but obviously we swung the bats better than what it showed," Yankees third baseman Chase Headley said. "You're game plan changes a little bit also when they have a big lead. We're more station to station. We had a couple chances where we probably could have scored a run here or there but when you're down five, six runs, you've got to play for the big inning."
TORII'S MILESTONE
Hunter's homer gave him 207 in a Twins uniform, moving him into a tie for sixth on the franchise's career list with Kirby Puckett, who served as a mentor to Hunter when he was coming through the system.
"Early in my career he gave me a lot," Hunter said. "Just to be mentioned, as far as the home run column, to tie him is a special day for him. I always think about him and today I'm really thinking about him."
TRAINER'S ROOM
Twins: OF Byron Buxton (sprained left thumb) has been playing catch and taking some outfield over the last couple of days, Molitor said. Buxton also took some swings under water to try to build up some strength in his hand as he continues to work his way back.
UP NEXT
The Yankees will send lefty CC Sabathia (4-8, 5.25) to the mound to face LHP Tommy Milone (5-2, 3.38). The struggling Sabathia had a nice start out of the break, striking out seven in a 2-1 win over the Mariners. He is 3-0 with a 2.86 ERA in three starts at Target Field. Milone had a 1.62 ERA in six straight quality starts before getting knocked around in a 14-1 loss to Oakland earlier this week. He gave up five runs on five hits in 2 2/3 innings.
---
---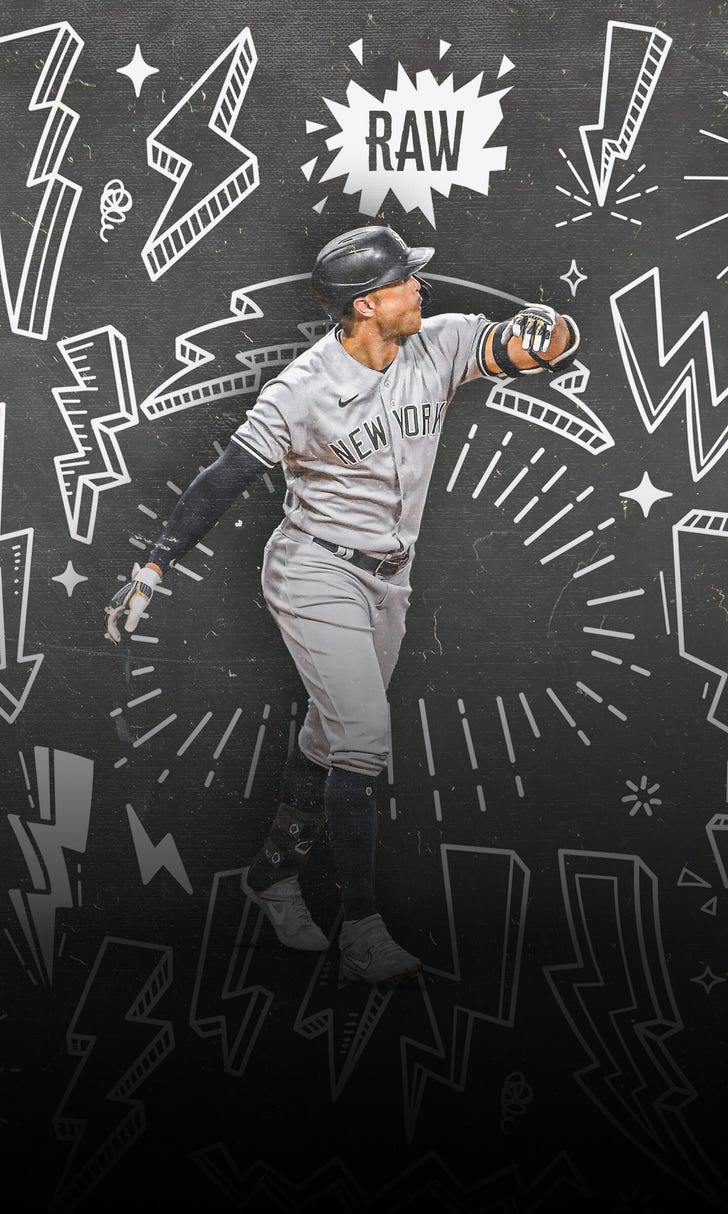 Giancarlo Stanton tops list of MLB players with the greatest raw power