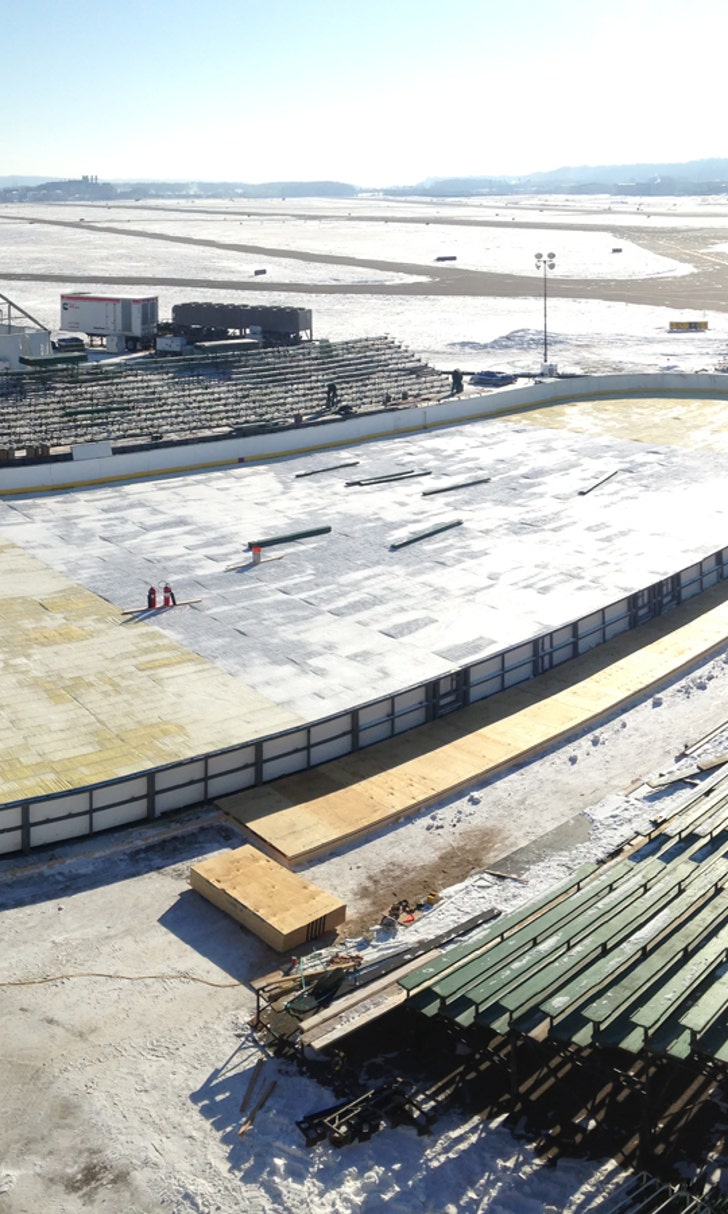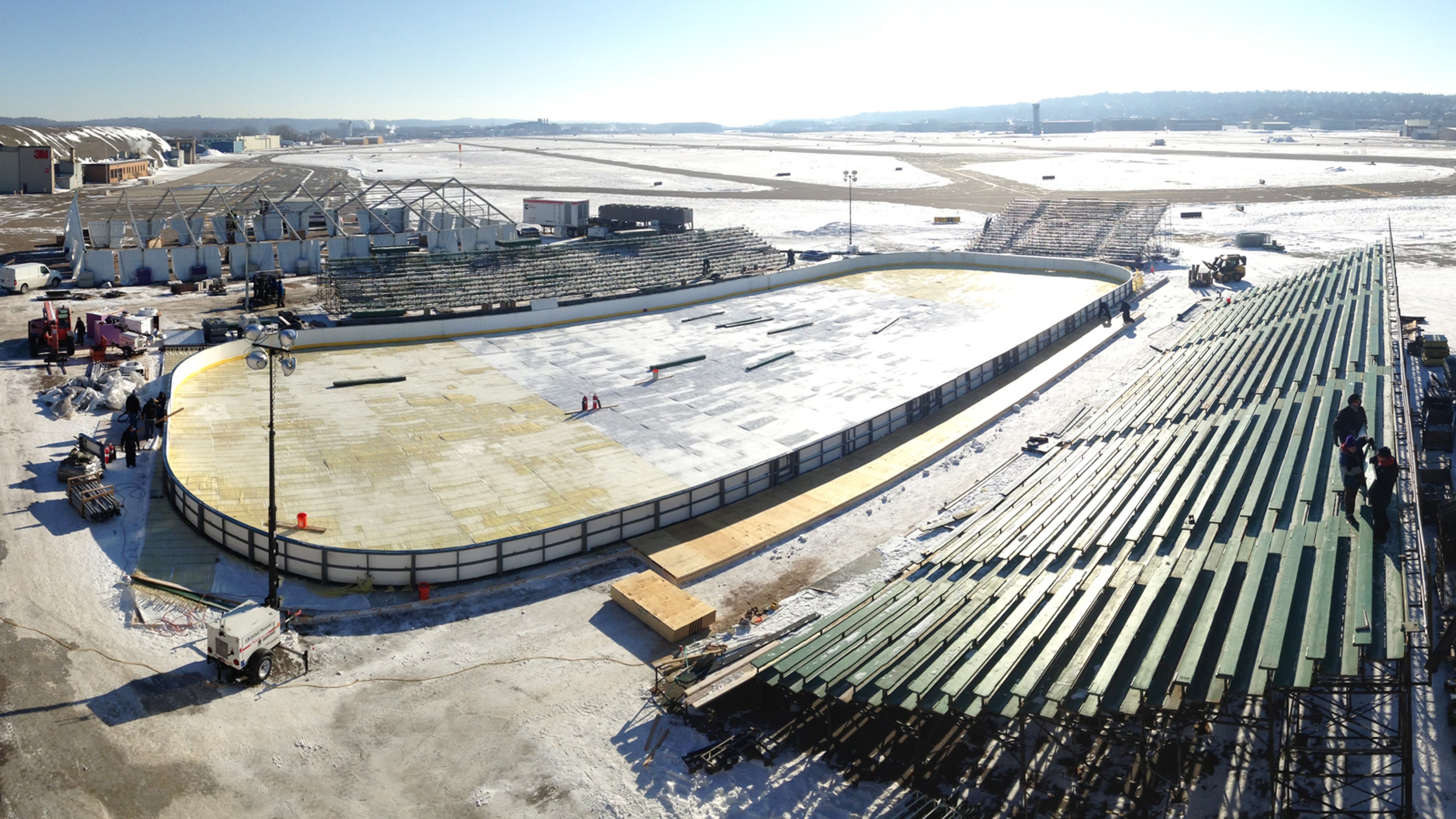 Hockey Day Minnesota preview: A military appreciation
BY foxsports • January 15, 2015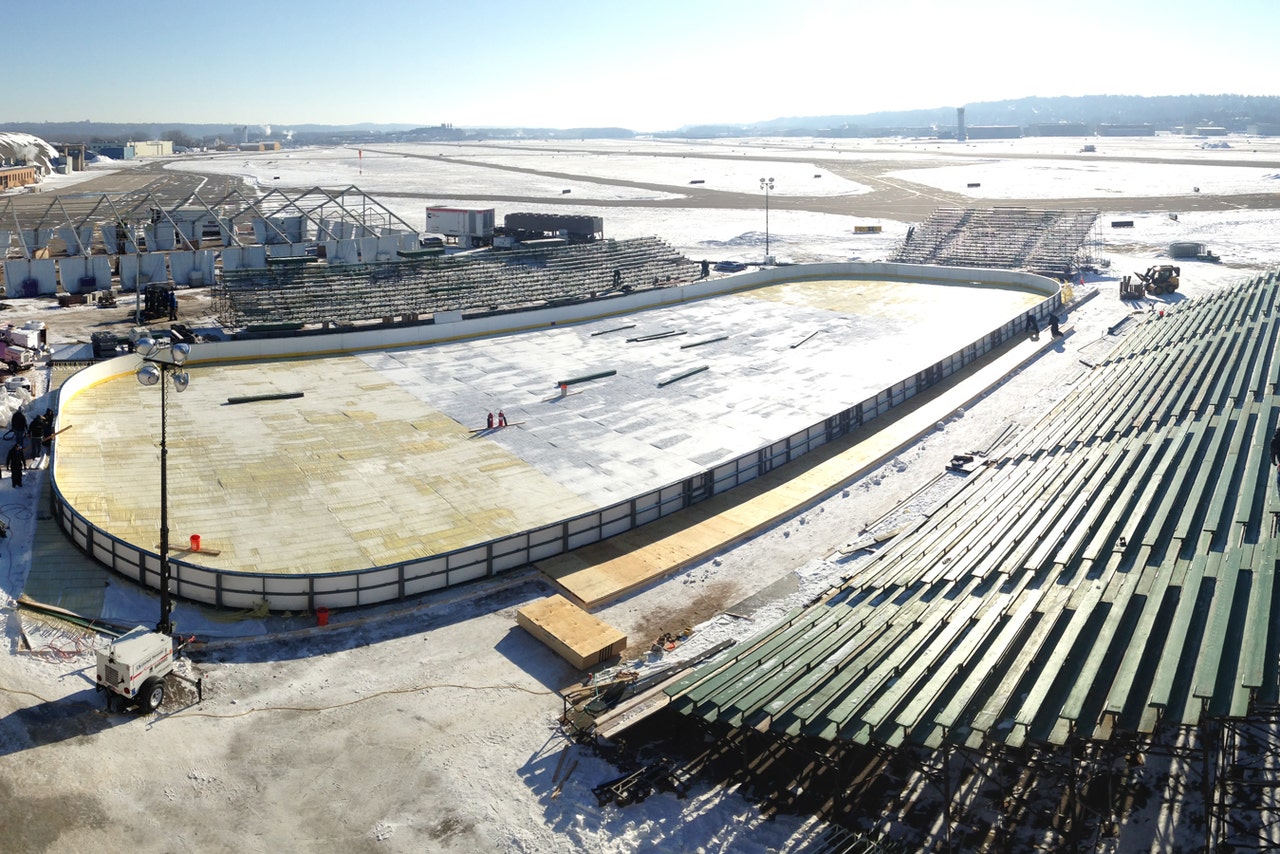 ST. PAUL, Minn. -- Pat Harris stands in the observation tower of the Kasota limestone-adorned Holman Field Administration Building and beams at what the hands of some major Twin Cities hockey and military players have wrought.
It's Tuesday morning, still 3 1/2 days before Hockey Day Minnesota 2015. An outdoor rink has risen out of the St. Paul Downtown Airport tarmac, and one set of workers is preparing to pump water inside the boards while another puts the finish touches on three giant sets of bleachers.
"Two weeks from now," said Harris, a higher-up with soldier outreach organization Serving Our Troops, while pointing at the construction site below, "you can't be inside this area. And we're going to have 3,000 to 4,000, 5,000 people here."
The admin building, built in 1939 and listed on the National Register of Historic Places, looks out over Holman Field and the rest of this "reliever" airport, which hosts private traffic, a flight school, cargo transportation for 3M and, most centrally, the Minnesota National Guard 34th Combat Aviation Brigade and 2-147th Assault Helicopter Battalion. It's quieter than normal today, with 300 of the soldiers stationed here currently deployed to Kuwait.
One of the most anticipated sporting events in the state since its 2007 inception, Hockey Day Minnesota is always a celebration and commemoration of the Land of 10,000 Lakes' official pastime. But this time around, there's a dual meaning -- the game, and its function of honoring members of the American military, both home and abroad.
Which is why Hockey Day 2015 is taking place on a fully active airfield with Blackhawk and Chinook helicopters and cargo jets surrounding the ice and various aircraft taking off, landing and taxiing behind it.
"It's a chance to really send a message from the State of Hockey to our families and soldiers in the National Guard that are in harm's way each and every day," Harris said as a chopper prepares for takeoff on the other side of the 540-acre airfield. "I can assure you that this is probably one of the most unique rinks I've ever seen. There's a lot that goes into building a refrigerated ice rink anywhere, but doing it on an airport Tarmac just involves a lot of players in a lot of communities."
This year's prep pucks showcase is the brainchild of Harris, Minnesota National Guard director of communications Col. Kevin Olson, FOX Sports North senior vice president and general manager Mike Dimond and officials from the Minnesota Wild, to name a few. Three high school hockey matchups will be played on the refrigerated sheet and made available for Minnesota National Guard servicemen and women to view live from Kuwait.
There will be in-game shout-outs on a video board at the rink and broadcast hits with FOX Sports North sideline reporter/studio host Jamie Hersch live from Camp Beuhring in Kuwait. Members of the 34th Aviation Brigade there will play a floor hockey game. Former NHLers Lou Nanne, Tom Reid and Shjon Podein will be there to interact with the soldiers. So will KFAN sports talk host Dan Barreiro. Fans at Holman Field, meanwhile, will be able to tour the insides of several different aircraft and learn about the Minnesota National Guard and its 1,100 soldiers, many of whom are still in St. Paul and will be on hand for Saturday's festivities.
Dimond's idea to partner with Serving our Troops for Hockey Day Minnesota stemmed from a trip to Kuwait he took with Harris and Serving Our Troops back in February 2012. "The Minnesota National Guard deployed again in May (this year), and it struck me that there are some pretty big events in the state that they're not going to get to be part of," Dimond said. "We had the MLB All-Star Game in July and they wouldn't be here for that, then Hockey Day is another one -- a big day in the state and they wouldn't be able to experience that as well."
So Dimond, Harris and Olson found a way to bring the event to the other side of the globe, where temperatures are currently in the 60s and the clocks are set nine hours ahead of Minnesota's Central time zone.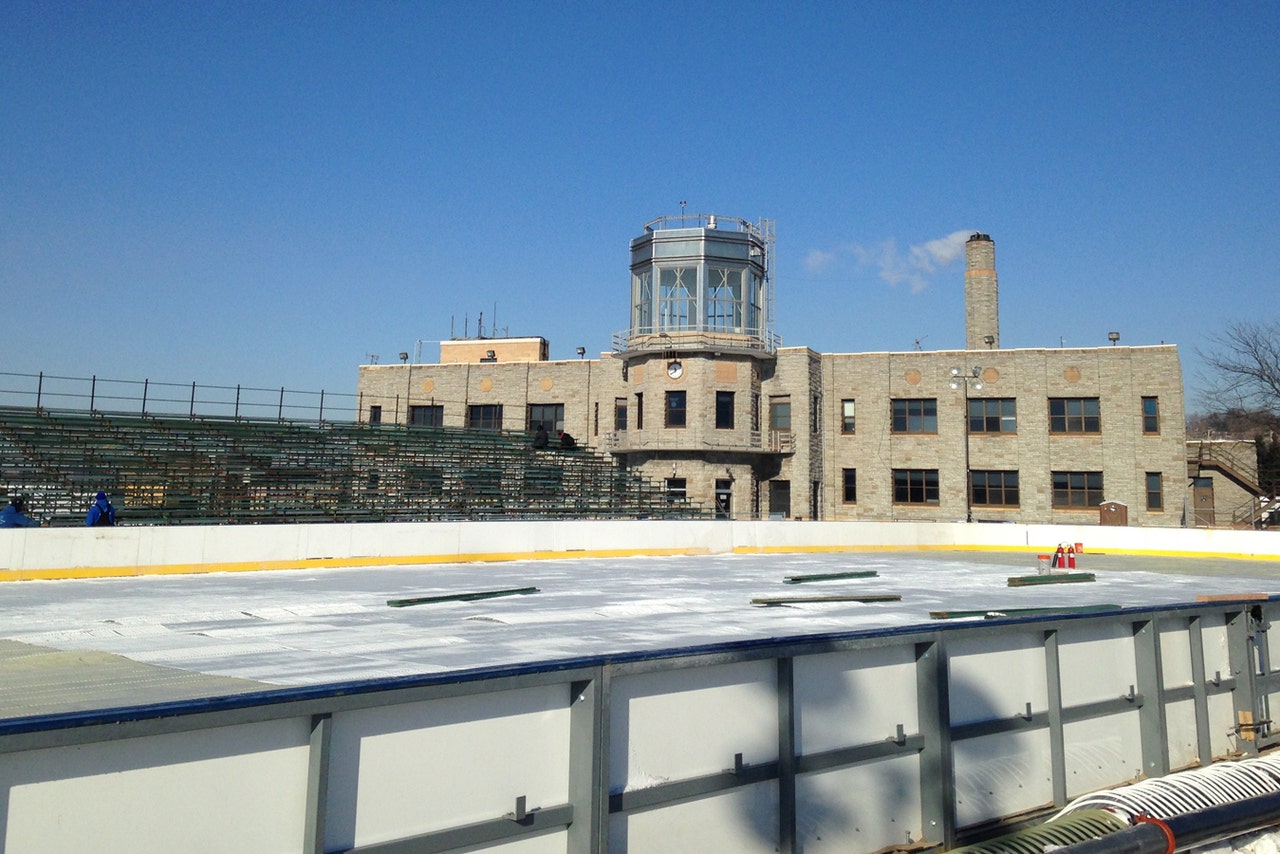 The Hockey Day Minnesota rink.

Before the Wild host Arizona and the Minnesota Gophers entertain border rival Wisconsin, Holman will serve as the setting for regular-season action between Luverne and St. Paul Johnson's boys teams, the St. Thomas Academy and Hill-Murray boys, and Cretin-Derham Hall and Duluth's girls. FOX Sports North will carry every contest in its entirety, with the girls contest shown on tape delay following Minnesota's tilt with the Coyotes.
Luverne, an up-and-coming Southwest Minnesota program that made its first state tournament appearance last season, takes on Johnson at 10 a.m. At 1:30 p.m., Hill-Murray and St. Thomas Academy clash in a matchup of Class 2A's third and fourth-ranked clubs, respectively. Faceoff for the girls contest is slated for 4:30 p.m.
"It's going to be cool playing on an airport," Johnson captain and forward Justin Howell said. "That's different. I haven't seen that before."
"I think it's going to be the highlight of (these girls') season," said Cretin-Derham Hall girls coach and former Gophers and NHL player John Pohl. Pohl's wife Krissy, who also played at Minnesota and represented the United States in two Olympic Games, is a Raiders assistant.
HDM 2015 TV schedule
| | | |
| --- | --- | --- |
| TIME | EVENT | LOCATION |
| 9 a.m. | Hockey Day Minnesota |   |
| 10 a.m. | Luverne vs. St. Paul Johnson | At Holman Field, St. Paul |
| Noon | Hockey Day Minnesota coverage |   |
| 1:30 p.m. | Hill Murray vs. St. Thomas Academy | At Holman Field, St. Paul |
| 3:30 p.m. | Hockey Day Minnesota coverage |   |
| 5 p.m. | Minnesota vs. Wisconsin | At Mariucci Arena |
| 7:30 p.m. | Wild Live presented by CenturyLink |   |
| 8 p.m. | Minnesota Wild vs. Arizona Coyotes | At Xcel Energy Center |
| 10:30 p.m. | Wild Live Postgame presented by CenturyLink |   |
| 11 p.m. | Cretin-Derham Hall vs. Duluth Northern Stars (Girls; tape delayed) | At Holman Field, St. Paul |
Friday night, the Minnesota Warriors will take on another team comprised of military veterans from Buffalo, N.Y., the St. Paul Police and St. Paul Fire departments will square off, and a Minnesota National Guard squad will take on the Canadian Armed Forces team.
Before the rink is deconstructed, eight Pee Wee games will be played on it Sunday.
The sheet will stay at optimal playing temperature no matter how warm it gets Saturday, Harris said. Its cooling tubes are connected to a giant chiller, running off an equally imposing generator adjacent to a heated "fan zone" tent where fans can warm up and purchase food and beverages throughout Saturday's proceedings.
The National Weather Service calls for a high of 36 degrees and a pleasant, sunny January day in St. Paul.
"The last time we did this, we played at Xcel Energy Center, which is a nice venue, but nobody in our group except for the coaches have ever played outdoors," said St. Thomas Academy co-head coach Greg Vannelli, whose club lost 4-3 to conference rival Hill-Murray in overtime at Hockey Day 2008. "This is going to present a whole new experience that I think when the weather's reasonable, it's just fantastic. You can't beat it."
The day's 16 hours of hockey-centric programming begins at 9 a.m. and includes a bevy of feature stories in between game action.
"What's specific and unique is the whole military theme," FOX Sports North executive producer Tony Tortorici said. "That's going to be a whole other layer that we haven't had before."
Hockey Day has taken place indoors and outdoors, at places like Elk River and Moorhead. But never has it been played in a setting so commemorative of more than just pucks.
"This type of message is truly invaluable," Harris said. "It really makes a difference for the soldiers to know that a whole community is behind them and supporting them."
Said Olson, the Minnesota National Guard communications director: "I can tell you that it means -- from firsthand experience -- a great deal to our deployed service members to have the community come together and take part in the kind event of event that centers around something as important to their community as hockey."
Follow Phil Ervin on Twitter
---
---