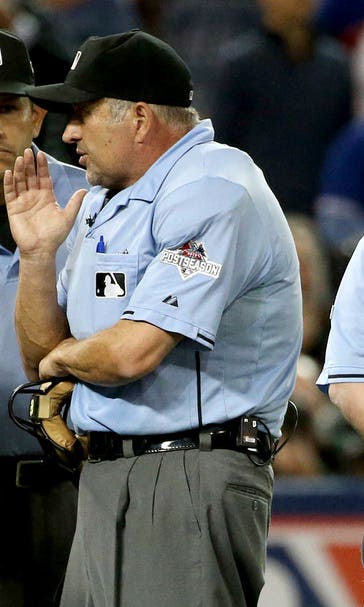 Great October moments that we might very well forget
October 29, 2015

They were incredible moments: some funny, some dramatic, some game-changing. And 10 years from now, we probably won'€™t remember them.
Postseason moments tend to become Capital-B Baseball memories. But sometimes those moments just ... slip away. And that'€™s too bad, because it means we leave behind some terrific plays, moments that were almost perfect, but not quite, through no fault of their own. The 2015 postseason has seen a number of these. And today, we pay our respects to the Forever Highlights that might have been.
Carlos Correa launches two home runs, then forgets how to baseball for a second
Until the eighth inning of Game 4 of the Astros-Royals American League Division Series, Carlos Correa was having one of those games they play in Cooperstown when we want to feel nostalgic about a player'€™s early years. He homered in the third, doubled in George Springer in the fifth, then homered again in the seventh. Until the eighth inning, he was having one of those games. But then in the eighth, he had one of those games. Hey, it wasn'€™t his fault Houston'€™s pitchers gave up three singles in a row. It wasn't his fault the fourth and fifth singles of the inning made it a two-run game. But when Kendrys Morales'€™ grounder skipped off Correa'€™s glove, the Astros found themselves tied, and folks at home found themselves saying, "€œUh-oh."€ The Astros'€™ exit from the playoffs was by no means Correa's fault. His four-RBI day was almost the stuff of legend. Until the eighth inning. Baseball comes at you fast.
Rougned Odor swipes home, perplexes nation, is promptly forgotten
It's one of those heads-up plays in an elimination game that could have been remembered for a very long time. The turning point of Game 5 of the Rangers-Blue Jays American League Division Series was bizarre: Russell Martin's throw to the mound caromed off Shin-Soo Choo'€™s bat. Odor came home, putting the Rangers up 3-2. Odor's play might have been immortalized, despite the frenzy of thrown beer bottles and infield errors that followed. It might have been. It had all the makings. But Jose Bautista had other ideas. (More on that shortly.)
Jose Bautista redefines the bat flip
OK, who are we kidding? This one will probably endure. (Indeed, it already is living on at least for this fan.) We just want to see it again. Tied 3-3 in that same ALDS Game 5 with two outs and runners at the corners, Jose Bautista came to the plate for the Jays, fouled off a pitch, took a ball, then redefined the bat flip. The moment the ball leaves his bat, you know the Blue Jays are up 6-3. You know they'€™re going to win this game. You just know it. And so did he. Much was said of professionalism afterward, but this was the only appropriate response. And you know what? In Game 6 of the ALCS, Bautista hit another monster home run to give the Blue Jays a brief shot at extending the series, and he eschewed the flip. The Blue Jays lost. The lesson? If you want to win, always flip. Always, Jose. Always.
Cliff Pennington pitches in relief
All teams suffer embarrassments in the regular season, but with rare exceptions those moments are relatively private. Being so far out of it that you have to bring in a position player to pitch in a playoff game to save your bullpen? Well, that is a public mortification that had literally never happened before. Things looked bleak for the Blue Jays. Hell, down 12-2 to the Royals in Game 4 of the American League Championship Series, things were bleak for the Blue Jays. But when Cliff Pennington trotted to the mound with two outs in the ninth, a tiny ray of light managed to beam through the roof at the Rogers Centre. Maybe it was the fact that Cliff threw a first-pitch sinker that was faster than anything K.C. starter Chris Young threw that day. Maybe it was the look on his face: "€œHEY I'€™M DOING THIS, YOU GUYS. HI MOM!"€ Mostly, it was the collective thrill in the dugout when that 91-mph pitch registered. These guys hadn't had fun all day. But then Cliff came in.
Kyle Schwarber sends a ball into space, or at least atop the JumboVision
This moment is doing its darndest to rage against the concept entirely. The Cubs were already winning the decisive Game 4 of their National League Division Series against the Cardinals, but just barely. With one swing, Schwarber decided to put this game, and the series, permanently out of reach. Schwarber'€™s hitting heroics in the series would later be marred by his iffy outfield defense in the National League Championship Series against the Mets, but on this night it didn't matter. Kyle sent a ball to the moon. You might not be in the World Series, Cubs, but you unseated the Cardinals, and you did so spectacularly. A grateful nation thanks you for your service.
Cubs small-ball the Cardinals to death
Remember in Charlie Brown when the Peanuts gang gets together to play baseball, and Charlie Brown is pitching, and a comebacker hits him so hard that parts of his uniform fly off him? That didn'€™t actually happen in the second inning of Game 2 of the Cubs-Cardinals NLDS, but it probably felt that way to Cardinals pitcher Jaime Garcia. Three hits, two errors, and five runs later, those at home had no other choice but to marvel at a postseason inning that saw Austin Jackson steal two bases and the Cardinals forget how to baseball. Small ball was the opening salvo; the long ball was the death knell. Baseball is the best dumb thing.
Of course, the Royals and the Mets will soon have candidates for this list once the World Series wraps. As early as Saturday night, we could be talking about Lorenzo Cain scoring from first on a single, or Alex Gordon's home run to send Game 1 to extras, or Chris "Extreme Fly Ball Pitcher" Young's transformation into a strikeout machine at the exact moment his team needed him most. We could be talking about Yoenis Cespedes'€™ monster home run to help beat the Dodgers. Or the Mets' flamethrowers.
Or maybe, just maybe we'€™ll forget. These moments, endowed with such significance and feeling at the time, will fade away, only to be revisited if these teams make the postseason next year. We won'€™t know which moments will end up being almost perfect (but not quite) until the last out is recorded. But as we wait for the next World Series game to start, let'€™s take a moment to appreciate the moments that might have been. Because next year, it might seem as if they never happened at all.
---
---