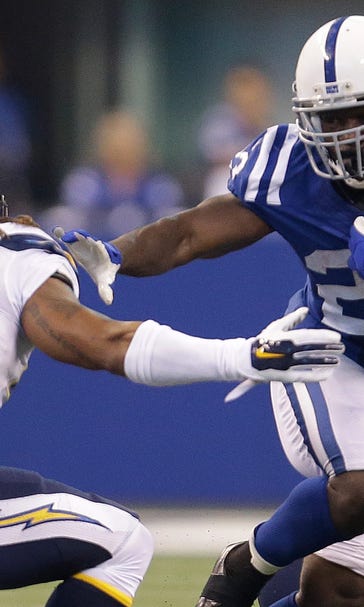 Gore could pass legendary NFL running backs on Sunday
September 27, 2016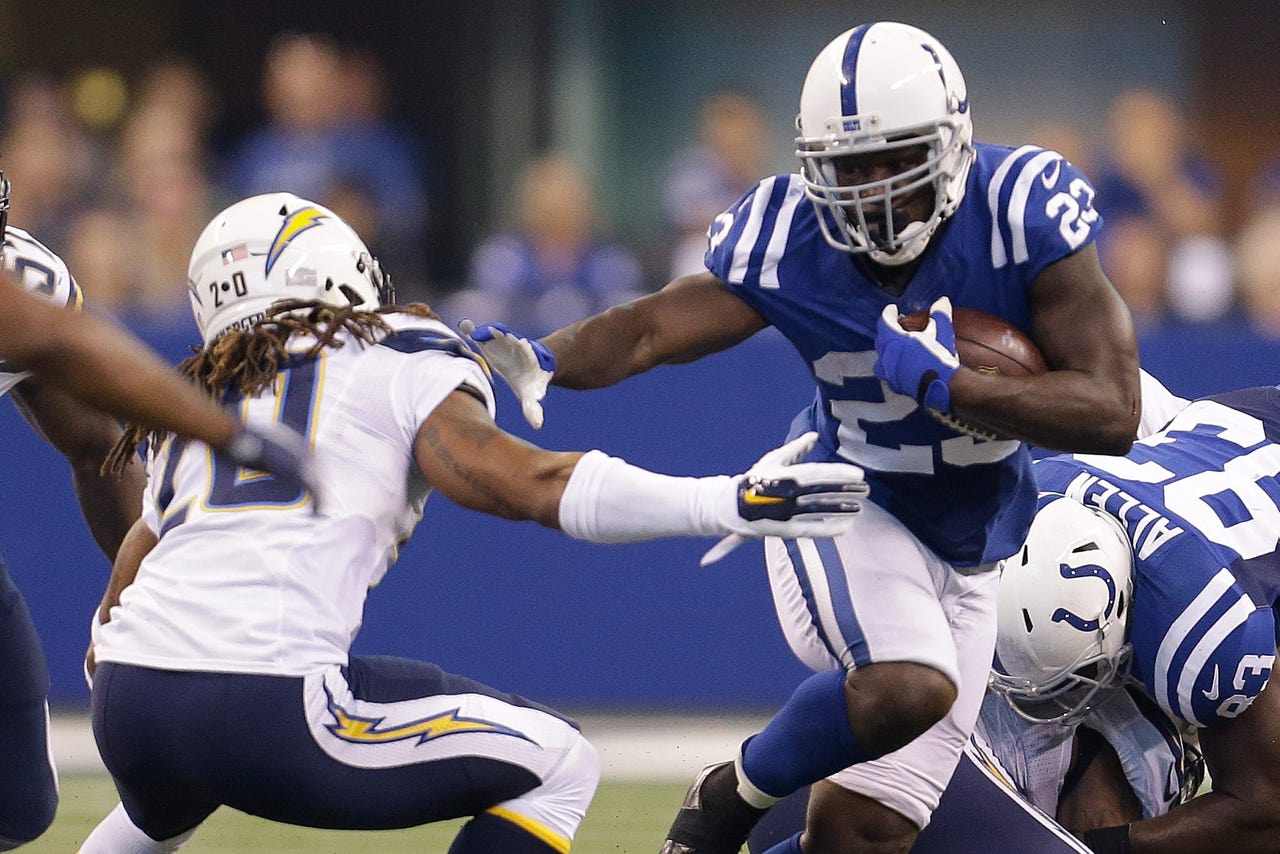 INDIANAPOLIS -- When Frank Gore hears the list, he shakes his head.
Two weeks ago, he passed Thurman Thomas.
Last week, it was Franco Harris.
This week in London, the Indianapolis Colts' running back needs 88 yards to move past Marcus Allen, Edgerrin James, Marshall Faulk and Jim Brown on the league's career rushing list.
If Gore stays healthy and productive through the rest of this season, he just might catch Tony Dorsett and Eric Dickerson, too.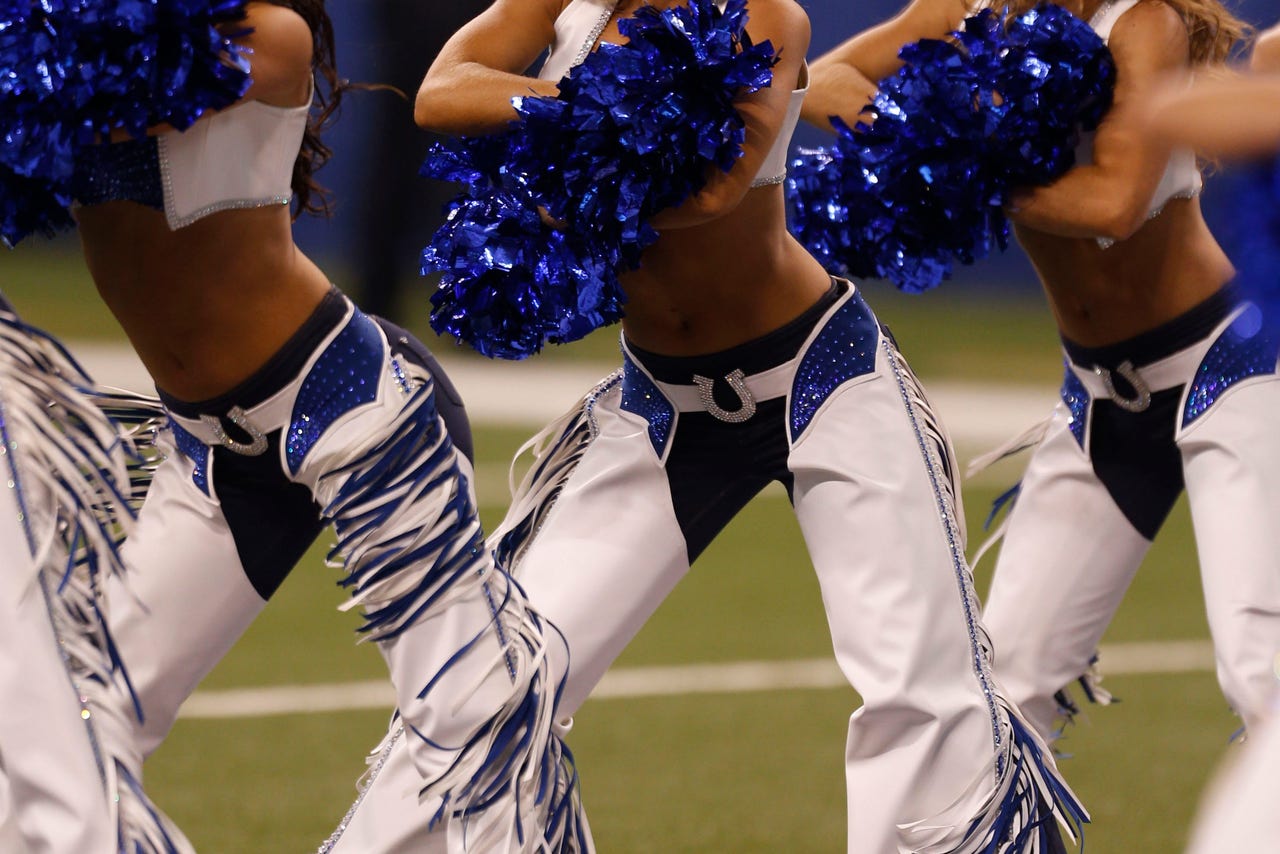 View from the sidelines: NFL cheerleaders 2016. 
Gore never dreamed he would be mentioned in the same breath as so many all-time greats or be able to potentially pass seven Hall of Fame running backs in one season.
James is the only one of the eight who hasn't been inducted, though he is the Colts' career rushing leader and former University of Miami player, just like Gore.
"Man, that's a blessing, especially coming out of college as a third-round (draft) pick," Gore said Tuesday.
"A lot of people said I wouldn't be here long enough to do something like that. Eighty-eight yards? I hope it happens this weekend."
At age 33, Gore doesn't spend much time reflecting on milestones, and though he knows he's No. 13 all time, he couldn't tell you his rushing total was 12,225 yards or that his 83 consecutive starts are the most of any back in the league.
See, Gore would rather watch film, prep for the Colts' longest trip of the season and make sure Indy (1-2) takes advantage of its chance to get to .500 with a win over the winless Jacksonville Jaguars so he gets another shot to get the most elusive prize of all -- a Super Bowl ring.
Teammates have learned to expect nothing less from Gore, who refuses to let age, opponents or anything else get in his way.
"Frank is definitely a different kind of guy from the ones I've played with before," running back Jordan Todman said. "He's probably the most veteran back I've played with, and the marks he's made on this game are unbelievable."
At times, Gore has made the hard work look easy.
After running for 608 yards as a rookie in 2005 with San Francisco, the 49ers' strong offensive line cleared the way for Gore to top the 1,000-yard mark eight times over the next nine years. He missed by 147 yards in 2010, when he was limited to 11 games.
When coach Jim Harbaugh departed after the 2014 seasons and the 49ers appeared to be in rebuild mode, Gore decided to leave the only NFL home he had known.
Initially, he agreed to sign with Philadelphia then changed his mind and joined former college teammate Andre Johnson in Indy, a team many pegged as a title contender.
But 2015 didn't go according to plan.
Injuries forced the Colts to shuffle their offensive line and the predictable struggles led to a series of injuries that knocked Andrew Luck out of nine games.
The running lanes were smaller and closed quicker than expected, too, and as a result, Gore finished a frustrating season with a career low of 3.7 yards per carry, 967 yards and out of the playoffs.
"I'm not over it. I'm not going to be over it until I do it," Gore said in May when asked about coming up short of 1,000 yards.
"To go after my goals again, to be the one to get the 100 yards that they didn't have in years, to get that 1,000-plus yards.
"Now I got another opportunity to do it so from here on out I just have to start taking care of my body, eating healthy, start training to get myself ready to try to go get it."
So Gore has embarked on a personal mission to become the team's first 1,000-yard runner since 2007 and end a league-high 53 consecutive-game streak without a 100-yard runner, a streak that almost ended last week against San Diego.
Gore ran 13 times for 70 yards in the first half, but finished with 21 carries for 82 yards.
If Gore ends the drought Sunday, he will also leapfrog four big names on the career rushing list including Jim Brown (12,312) at No. 9, and put Gore within striking distance of two more household names, Dorsett (12,739) and Dickerson (13,259), still the NFL's single-season rushing leader.
"Pretty amazing," coach Chuck Pagano said. "You think of Jim Brown, you think of one of the best if not the very best to play that position.
"It's a testament to Frank, his worth ethic, his passion, his durability, his reliability. You can check all the boxes next to his name. Great career."
Notes: Indy put outside linebacker Trent Cole on injured reserve Tuesday. Pagano said he aggravated his back injury Sunday and will likely need surgery.
---
---