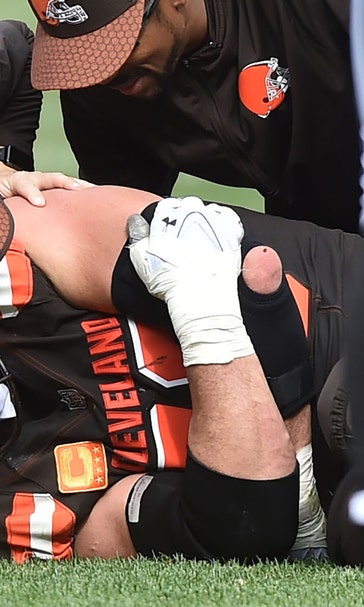 Future blurry for Browns' Thomas after season-ending surgery
October 24, 2017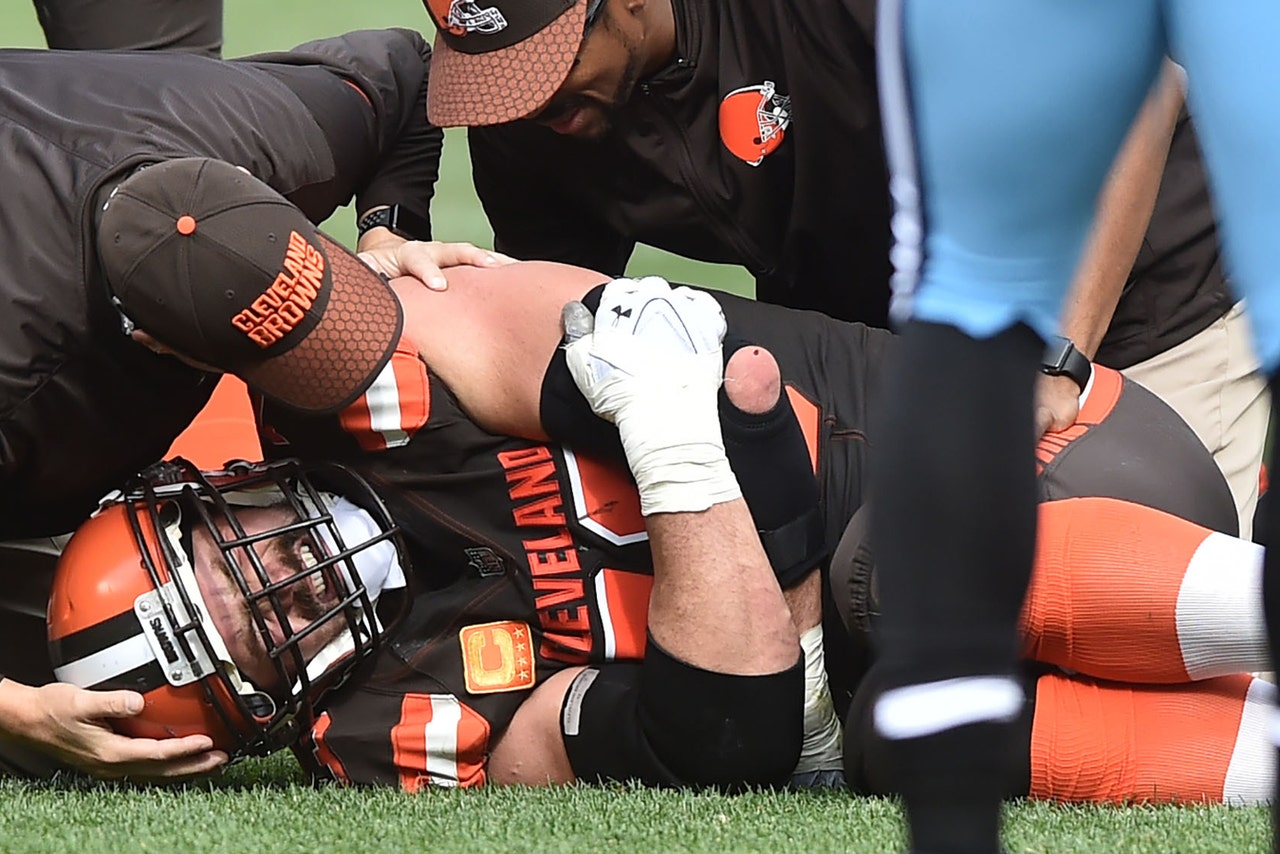 BEREA, Ohio (AP) -- Joe Thomas felt the tendon detach from his elbow and roll up in his arm, and before the pain registered, the Browns' seemingly indestructible tackle realized everything had changed.

His day was over. His season done. His career in doubt.

Cleveland's iron man was finally flattened.

Thomas suffered a torn left triceps during Sunday's loss to Tennessee and will miss the remainder of his 11th NFL season, a devastating blow to the perennial Pro Bowler and winless Browns.

The 32-year-old Thomas, who had never missed a snap since turning pro in 2007, will undergo surgery Tuesday and could need nine months to recover from a serious injury that has left him pondering his future beyond this season. Thomas is still processing what happened and said he'll wait until the offseason before deciding whether to keep playing or retire.

"Am I done playing? I don't know," he said on a conference call. "Right now, it's too early to make any decisions. Obviously, you go through a range of emotions after an injury like that, and I think it's the most fair to myself and my teammates to just wait until after the season to really kind of sit down with my family and kind of discuss what the future looks like."

The Browns are about to find out what life is like without Thomas, who believes his injury is a "wear-and-tear thing" from years battling defensive linemen.

The face of a floundering franchise for a decade, Thomas played 10,363 consecutive snaps before he was forced to leave the field on Sunday, ending what is believed to be the longest consecutive plays streak in NFL history.

The sight of Thomas curled up in a ball on the field of FirstEnergy Stadium and screaming in pain left his teammates, coaches, Cleveland fans and Titans players shaken. Thomas, who pushed himself to play on Sundays despite an assortment of injuries, always knew the day would come when he would be unable to physically continue.

Still, when he got hurt in the third quarter, it took him a moment to process what had happened.

"It's definitely surreal," he said a day later. "Obviously, you don't ever expect to get injured, but as a football player you always understand the realities of the violent sport that we play. That at any moment it can be taken away from you and you could be sitting on the bench and rehabbing an injury. In the back of your mind you're always prepared for it, but you're not always ready for it."

The Browns formally placed Thomas on injured reserve, officially ending his season and snapping his string of Pro Bowl selections at 10 straight. Thomas was one of just five players in league history to make the Pro Bowl in his first 10 seasons. The other four -- Merlin Olsen, Mel Renfro, Barry Sanders and Lawrence Taylor -- are in the Pro Football Hall of Fame.

Thomas is under contract through the 2018 season. While the Browns have limited his practice time to keep him healthy, Thomas believes he was playing up to standards, and that could have a bearing on what he decides to do after rehab.

"I guess I felt like I was having one of the best seasons of my career," he said. "I felt like our offensive line was playing well and we were really jelling together. I was having a lot of fun. I didn't feel like I was losing any of my physical skills, that's for sure. I felt like I was playing at the top of my game."

Thomas has been one of the few bright spots for the miserable Browns since 2007, when the club selected the former Wisconsin All-American with the No. 3 overall pick. Despite numerous front-office and coaching changes, Thomas has always been there for the Browns, performing at an elite level while embodying the working-class ethic for an entire region.

The injury to Thomas could be the nadir for the winless Browns, who are 0-7 this season and 1-22 in two seasons under embattled coach Hue Jackson.

Jackson has grown close to Thomas and will now have to move forward without the reliable No. 73 anchoring the left side of his line.

"It is hard to replace someone like him," Jackson said. "We know that. We will have to adjust and do some things differently, and we will."

For now, Spencer Drango will fill in for Thomas. Jackson fears the injury could have a lasting effect, but he has to prevent that from happening.

"We have to get over it quick because nobody else cares about that," Jackson said. "I just think in our locker room you are used to having him in there, seeing him in there and knowing he is going to play. He has been iron man. You walk out there, Joe Thomas is on the field ready to go. Our players, we need to get past that as fast as we can. We don't have that safety net anymore. He is not going to be here playing the rest of this season.

"As fast as we can, we have to turn that corner."

That won't be easy without Thomas.
---
---