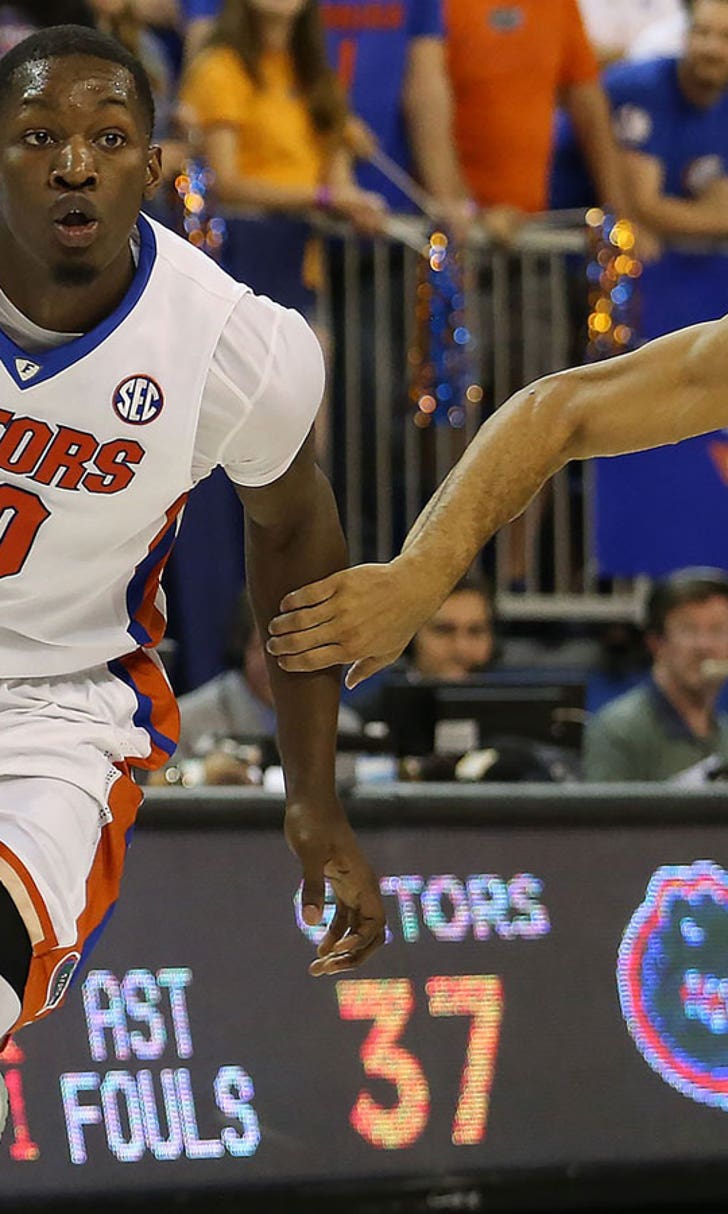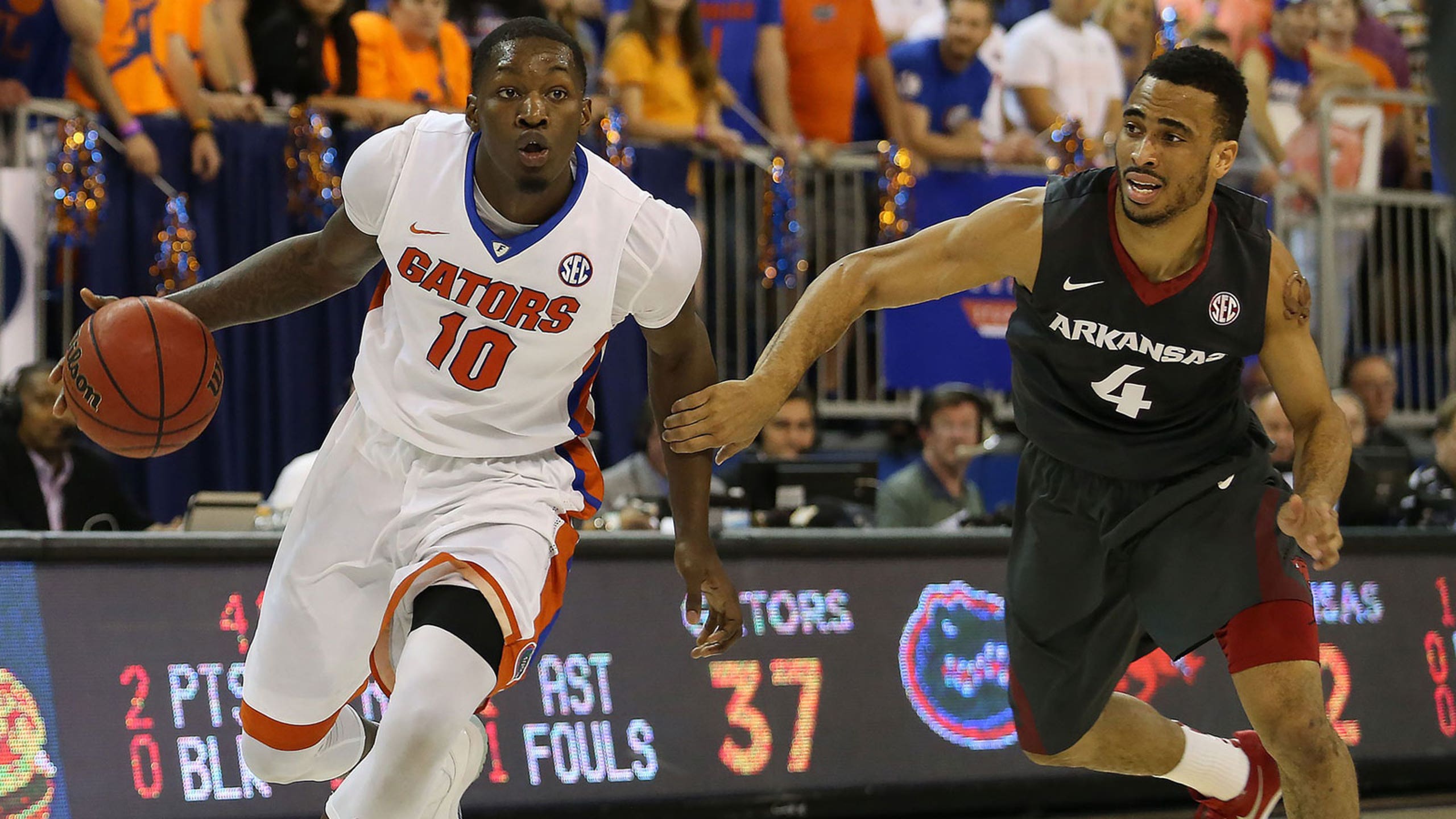 Florida Gators hang on to beat Arkansas at home
BY foxsports • February 3, 2016
GAINESVILLE, Fla. (AP) -- Three months into the season, Florida has found an identity.
It centers on senior forward Dorian Finney-Smith.
Finney-Smith had 22 points and nine rebounds, topping 20 points for the fourth time in the last five games, and Florida beat Arkansas 87-83 Wednesday night for its fifth win in six games.
"We're playing with a lot of confidence right now," first-year Florida coach Mike White said. "We're way more of a confident team than we were earlier in the season."
The Gators (15-7, 6-3 Southeastern Conference) also continued their recent dominance in the series, beating the Razorbacks (11-11, 4-5) for the ninth time in the last 10 games and extending their home-winning streak against Arkansas to 11.
This one was a nail-biter late.
The Hogs hit four 3-pointers in the final minute and made it a two-point game with 6.5 seconds remaining. But Florida closed it out from the free-throw line, with KeVaughn Allen hitting both with 5.6 seconds to play.
"Last minute of the game, I felt like I aged a year," White said.
Florida looked like it would win comfortably for much of the night, especially after Finney-Smith and Chris Chiozza took over down the stretch.
Chiozza hit a step-back jumper just before the shot clock expired and then followed that with a step-back 3-pointer on the next possession. Finney-Smith kept it going with a trey of his own with 5:50 to play, capping an 8-0 run that put the Gators up 68-57.
Chiozza finished with 17 points and eight assists. John Egbunu (14), Kasey Hill (11) and Allen (10) also reached double figures for Florida.
Anthlon Bell led Arkansas with 24 points. Leading scorer Dusty Hannahs chipped in 20. He was 3-for-7 shooting from behind the arc. Moses Kingsley finished with 15 points and nine boards.
"Our guys didn't go away and gave themselves a chance," Arkansas coach Mike Anderson said. "I give Florida credit for going to the free-throw line and knocking them down. ... Our guys had the opportunity to just go away and they did not. Before you know it, they made a few shots and it was a game again."
The Razorbacks had won two in a row, including getting one of the league's three wins in the Big 12/SEC Challenge on Saturday. Florida had one, too. But coming off a resume-building win against then-No. 9 West Virginia and with a trip to Kentucky up next, the Gators were wary of this game.
BENCHED BIG MAN
Because of some poor practice habits leading into the game, White benched Egbunu for just the second time all season. Egbunu sat for nearly 15 minutes before getting on the floor.
"The other guys had a better week of practice than I did, credit to them, and coach decided to put them in the starting line, which is fine with me," said Egbunu, who responded by scoring 10 points in his first 11 minutes of action.
HITTING FREE THROWS
After struggling from the free-throw line most of the season, the Gators have made 54 of 67 from the stripe in the last two games. They sank 30 of 36 against Arkansas.
"I think it was mental," Finney-Smith said. "We shoot 80, 85 percent every day in practice as a team. So I know it's just a mental thing. We do it every day in practice. We shoot free throws and we make them. It's just starting to correlate."
TIP-INS
Arkansas: Hit 10 of 21 from 3-point range and finished with 15 offensive rebounds. ... Last won in Gainesville on Feb. 28, 1995.
Florida: Chiozza and Hill combined for 10 assists and two turnovers. ... Hill, who broke his nose against the Mountaineers, played with a protective face mask. ... The Gators extended their 3-point streak to 818 games.
UP NEXT
Arkansas hosts Tennessee on Saturday.
Florida plays at Kentucky on Saturday.
---
---