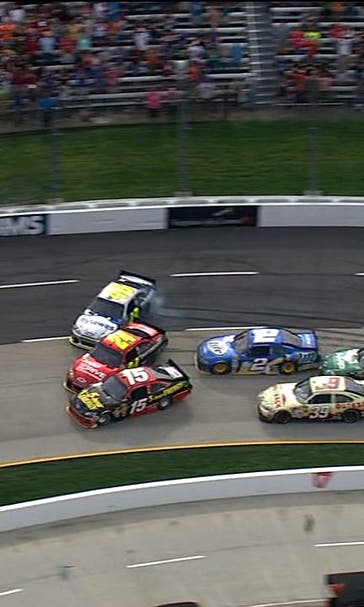 FANTASY NASCAR PREVIEW: Goody's Headache Relief Shot 500 Driver Picks
October 29, 2015

This week we go from the circuit's longest track, Talladega, to the circuit's shortest track. The Sprint Cup Series visits Martinsville Speedway, which is the circuit's shortest track, nestled in the foothills of Southern Virginia. After visiting super speedways and intermediate ovals for most of the Chase for the Cup, we swing to the other extreme for this week's Goody's Headache Relief Shot 500. With the big shift in racing style, the drivers had better be prepared for the surprises that the bullring at Martinsville will provide. Martinsville Speedway is best described as a "paper clip" shaped track for its twin 800-foot straightaways capped with hair-pin corners banked at a modest 12 degrees. Racing at Martinsville requires mental toughness, physical stamina, and razor sharp concentration, and that doesn't even include the durability of your equipment which takes a brutal pounding on this abusive small oval. So, survival will be the name of the game this weekend as the Chase drivers take to the short track in Southern Virginia. Martinsville Speedway demands the ultimate performance from both the driver and the car, so it is fitting that this bullring is one of the pivotal races that crowns NASCAR's champion. Some of the top contenders for this season's championship chase are excellent short track drivers, so we should see some real fireworks at the front of the pack this Sunday afternoon. For those 8 fortunate drivers advancing to the Eliminator round of the Chase, the stakes will be very high in this 500-lap brawl. Among those Hendrick Motorsports star, Jeff Gordon, comes to mind right away. He claims Martinsville as his best short track and who can blame him? Gordon owns eight-career victories at the half-mile paperclip. The driver of the No. 24 Chevrolet will definitely be defending his home turf this weekend in an effort to win his fifth Sprint Cup Series championship.
Let's take a quick look at the recent history of Martinsville Speedway. We have a select group of drivers that rise above the field on short tracks, and we expect to see them running up front on Sunday. As the loop stats will illustrate, there's a good reason why Gordon is going for his fifth title this season. The Chase schedule sets up well for the driver of the No. 24 Chevrolet and Martinsville is one of the key races in this 10 to win the championship. Gordon has absolutely dominated here over the years. Only his teammate Jimmie Johnson has more Martinsville hardware and accomplishments among the Sprint Cup ranks. In the table below are the loop stats for the last 21 races at Martinsville.
A lot has happened since the last race at Martinsville Speedway in March of this year. Kevin Harvick has maintained a complete stranglehold on the standings lead. Martin Truex Jr. pulled his surprise victory at Pocono. Jimmie Johnson was shockingly eliminated from the Chase field after Dover. Joey Logano has reeled off three-straight victories during the Chase. Jeff Gordon, Brad Keselowski and Harvick are trying desperately to keep pace with Logano in the championship chase entering this event, so they'll be racing for the win on Sunday at Martinsville to keep those hopes alive. All-in-all it has been a wild season of NASCAR racing since the last time we visited the historic Virginia short track. If this week's race plays out like the spring installment at Martinsville, we should be in for some excitement. Harvick dominated most of the event, but he couldn't hold off several challengers in the closing laps. It would be Denny Hamlin who would surprise the reigning champion and take the checkers first in the STP 500. It capped 31 lead changes on the day and lots of fireworks and excitement to end the 500 laps in the Virginia bullring. There's good reason to believe we could see a similar battle develop in Sunday's Goody's Headache Relief Shot 500. Hamlin was eliminated from the Chase last week at Talladega, but that doesn't mean he won't be racing for the win this weekend. As with any race this far into the Chase there are a lot of story lines going into this event at Martinsville Speedway. None the least of which will be NASCAR stars Gordon, Keselowski, Harvick and Logano battling to see who can get the upper hand as we head into the closing stages of the Chase for the Cup. We'll examine the short track specialists who thrive on small ovals like Martinsville, and give you the tips that will help you win your league this weekend.
| DRIVER | AVG FINISH | QUALITY PASSES | FASTEST LAPS | LAPS LED | LAPS IN TOP 15 | RATING |
| --- | --- | --- | --- | --- | --- | --- |
| Jimmie Johnson | 6.7 | 698 | 1,041 | 2,575 | 8,980 | 119.4 |
| Jeff Gordon | 5.1 | 738 | 1,131 | 1,890 | 9,289 | 119.1 |
| Denny Hamlin | 8.3 | 730 | 687 | 1,312 | 7,964 | 111.4 |
| Dale Earnhardt Jr. | 12.2 | 737 | 544 | 521 | 7,933 | 99.5 |
| Tony Stewart | 13.7 | 515 | 399 | 870 | 7,139 | 96.8 |
| Kyle Busch | 15.7 | 675 | 415 | 487 | 7,075 | 96.2 |
| Clint Bowyer | 12.1 | 669 | 299 | 356 | 6,978 | 94.6 |
| Kevin Harvick | 15.0 | 648 | 313 | 371 | 6,972 | 93.6 |
| Joey Logano | 13.2 | 470 | 129 | 207 | 3,713 | 88.0 |
| Brad Keselowski | 14.0 | 377 | 102 | 28 | 3,158 | 86.3 |
| Matt Kenseth | 12.8 | 491 | 202 | 381 | 5,723 | 86.2 |
| Ryan Newman | 14.8 | 571 | 153 | 138 | 5,937 | 86.2 |
| Jamie McMurray | 17.5 | 518 | 198 | 158 | 5,957 | 85.7 |
| Carl Edwards | 15.6 | 623 | 159 | 44 | 5,845 | 81.8 |
| Kurt Busch | 20.6 | 504 | 163 | 136 | 5,109 | 79.7 |
| Kasey Kahne | 21.0 | 371 | 269 | 42 | 3,872 | 77.4 |
| A.J. Allmendinger | 21.4 | 375 | 87 | 26 | 2,966 | 71.9 |
| Greg Biffle | 19.3 | 414 | 77 | 39 | 3,371 | 71.2 |
| Martin Truex Jr. | 22.2 | 355 | 101 | 24 | 3,437 | 70.1 |
| Danica Patrick | 20.4 | 72 | 16 | 0 | 508 | 67.6 |
The Contenders - Drivers in the hunt for the win
Denny Hamlin - Hamlin was eliminated from the Chase at Talladega with a disappointing performance, but we believe he'll turn that anger into motivation this week at Martinsville. The Joe Gibbs Racing star has won five-career victories at Martinsville Speedway, and he's led over 1,300-career laps at the half-mile oval. A win here would not reverse his championship elimination, but it would go a long way towards soothing his tormented soul. The No. 11 Toyota team won here in the spring and you can bet the notes from that outing are still fresh in crew chief Dave Rogers' notebook. The upside is just too big to ignore considering the success Hamlin has shown at this oval over the years.
Joey Logano - The championship is tantalizingly close for the Penske Racing driver. Can Logano turn up the level of performance and make it happen? A great finish at Martinsville would go a long way towards making it happen. Logano has only five-career Top 10s at the Martinsville short track. However, three of those have come in the last three-straight visits. He won the pole position, led a career-best 108 laps and finished third here in March. The No. 22 team should have some great notes from that outing and tons of incentive with so much on the line this weekend. Logano has been improving with each visit to the Martinsville short track, and we believe he's finally ready to win here.
Kevin Harvick - It's been a stellar season for the No. 4 Stewart Haas Racing team, and Harvick has his intentions set on defending his championship in these final four races of 2015. While Harvick has been anything but consistent of late, he has been pretty fast each weekend he unloads the car from hauler and that's half the battle. Martinsville Speedway is one of those facilities that have been an up-and-down affair for the veteran driver. Harvick has one-career victory and 13 Top-10 finishes at the paperclip in Virginia. With a win guaranteeing an automatic spot in the final-four championship contenders at Homestead in a few weeks, we believe Harvick will elevate his game this Sunday.
Jeff Gordon - The eight-time Martinsville winner is not hardly out of the championship picture just yet. While Gordon is a bit of a long shot compared to how well some of the other contenders are currently performing, he's still got a lot to race for in this Martinsville event. Gordon has led over 3,700 laps at Martinsville Speedway and he's posted a staggering 36 Top 10s for his career at this facility. That works out to an amazing 80-percent Top-10 rate and 6.9 average finish over 45-career starts. Gordon won this event two years ago in a very strong performance, so his success is not only long-standing but also very recent at this short track. He has to be one of the top contenders to win this weekend.
Solid Plays - Drivers who are near locks for the Top 10 with an outside shot at winning
Brad Keselowski - Keselowski doesn't have the resume that other Sprint Cup drivers have at this short track, but he's building that portfolio quickly. He has six Top 10s in 11-career starts at Martinsville Speedway, and his visit here in March yielded an impressive runner-up finish in the STP 500. The Penske Racing star has been well known for his short track prowess during his six seasons of competition. That should translate well to the Goody's Headache Relief Shot 500. The driver of the No. 2 Ford showed everyone last week at Talladega that he can perform when the pressure is on, so Keselowski should be racing with the leaders at this Virginia short track.
Jimmie Johnson -Our six-time Sprint Cup Series champion is an eight-time winner at Martinsville, and has led well over 2,700 career laps at the paper clip shaped track. Even though Johnson was booted from the Chase at Dover a few weeks ago, he won't dial down his performance at this oval one bit. The No. 48 team has won at Martinsville Speedway as recently as 2013, and they've finished inside the Top 5 in four of their last six outings here. Johnson's performance here in the spring was shockingly bad, but we believe he'll rebound from that effort. No driver in the Sprint Cup Series has dominated an oval like Johnson has Martinsville in the last 13 years.
Clint Bowyer - The short tracks have been successful venues for Bowyer during his Sprint Cup Series career, and Martinsville Speedway has been no exception. The No. 15 team is not in the championship battle but he should be motivated none-the-less. Bowyer will be looking to turn in a big performance on Sunday afternoon. The NASCAR veteran's four Top-5 and 12 Top-10 finishes in his 19-career trips to Martinsville entering this event show his expertise at this small oval. The Michael Waltrip Racing star snapped a six-race Martinsville Top-10 streak with his 13th-place finish at the oval in March. We expect him to start a new streak in the Goodys Headache Relief Shot 500.
Dale Earnhardt Jr. - The Hendrick Motorsports star is coming off the disappointment of not advancing in the Chase at Talladega last weekend. Earnhardt should shake that off as we visit one of his favorite short tracks this weekend. He owns one victory, 12-career Top 5s and 17 Top 10s at the Virginia bullring. He has been the closest driver in the field at challenging the Martinsville big three of Hamlin, Johnson and Gordon in recent seasons. Earnhardt won this event one year ago, and that made for three Top-10 finishes in his last four Martinsville starts. The risk is relatively small and the fantasy racing upside is too good to ignore.
Sleepers - Drivers with good history at Martinsville who can provide a solid finish
Matt Kenseth - The driver of the No. 20 Toyota doesn't sport the career numbers at this short track that other stars of the series do. However, if there's an upset candidate in the field this week, it's without a doubt this Joe Gibbs Racing star. Kenseth has been eliminated from the Chase for the Cup, but he's still primed to be a major player at Martinsville Speedway. He has led 347 laps in his last five Martinsville starts combined. That has led to a string of four-straight Top-6 finishes. Kenseth has elevated his game in the past couple seasons at this half-mile oval and we expect to see those results again this Sunday afternoon.
Kyle Busch - Busch will continue building his improved Martinsville resume this weekend in the Goody's Headache Relief Shot 500. The JGR star had it rough at this half-mile oval for the early part of his career, but that has started to reverse in recent visits. Busch has eight Top-5 and nine Top-10 finishes in 20-career visits to Martinsville Speedway. That works out to a respectable 45-percent Top-10 rate. He's led close to 500-career laps at the Virginia short track, and most of those have come in the past four seasons. Busch is still alive in the championship picture, so motivation shouldn't be an issue for this 500-lap event. We expect to see the No. 18 Toyota mixing it up at the front Sunday afternoon at the paperclip.
Martin Truex Jr. - The Furniture Row Racing veteran is having a career-best season. Truex is still alive in the Chase for the Cup, and he's hoping to be racing for the championship by the time we reach Homestead. Martinsville Speedway has not been a track of any particular success for this driver and team, but Truex bucked those trends in March when he raced to a strong sixth-place finish in the STP 500. He qualified third that weekend and led 23 laps en route to that impressive finish. With the stakes being at incredible highs this weekend, the No. 78 team will be on their game and challenging to repeat their spring success at the Martinsville short track.
Kurt Busch - The driver of the No. 41 Chevrolet is a recent Martinsville winner. He pulled off the big upset of Jimmie Johnson in March of 2014 at this half-mile oval. Busch will be looking to repeat that success this Sunday with all the Chase stakes on the line. While a win is not likely, this team and driver are performing well enough to slip into the Top 10 this Sunday. Busch is a two-time winner at this historic short track, and he's coming off the solid Top 10 at Talladega this past weekend. He rides a three-race Top-10 streak into Southern Virginia. The Stewart Haas Racing star is clearly gathering momentum for a big push for the title, so he should finish out the stretch run of this season very strong.
Aric Almirola - The Richard Petty Motorsports driver has been a steady performer at Martinsville Speedway the last few seasons. Almirola owns three Top 10s and six Top 20s in the last seven races there. During that span he's shown an incredible knack for staying on the lead lap and not getting into the tangles on the track. That works out to a strong 13.3 average finish over the past four years. When it comes to the bottom of your fantasy racing lineup, you'd be challenged to find a more consistent and reliable start at Martinsville than what Almirola can provide.
Jamie McMurray - Talladega heartbreak aside, the veteran driver should rebound this week at Martinsville. McMurray should make a good start at the flat short track. The Chip Ganassi Racing veteran has made 25 starts at this speedway and he boasts one pole position and an impressive 13 Top-10 finishes. That's a tick better than 52-percent for this steady driver. Three of those Top 10s have come in his last five trips to Southern Virginia. Given his record here and his current level of performance, another Top-10 finish is quite possible for the No. 1 Chevrolet team.
Slow Down - Drivers to avoid this week
Austin Dillon - This has been a tough second season for the driver of the No. 3 Chevrolet. Dillon has labored to only five Top-10 finishes this season and a Top-20 standings finish is somewhat in doubt. The venue only gets tougher for the Richard Childress Racing driver this Sunday. Martinsville Speedway has puzzled the young driver in the handful of starts he's made here. The STP 500 in March was his most difficult outing at the half-mile oval. Mechanical problems relegated Dillon to a poor 41st-place finish. Qualifying has been a big part of this young driver's problem. His average starting position of 25.0 across his three starts shows he has to struggle in traffic most of the time.
Ricky Stenhouse Jr. - With his surprising Top-10 finish at Talladega last weekend, Stenhouse has been on a roll of late. The Roush Fenway Racing driver comes to a tough oval to keep his recent streak going. Martinsville Speedway has held nothing but struggles for the young driver during his brief Sprint Cup Series career. With only one Top-20 finish in five-career starts, the results just have come for the No. 17 team. That works out to a lowly 30.2 average finish across the five starts. Stenhouse might have some good Top-20 performances left over the final few races, but not this weekend.
Kasey Kahne - The Hendrick Motorsports star has been mired in the biggest slump of his career in 2015. Kahne faces an uphill battle to reverse those trends over the last four races of the season. The driver of the No. 5 Chevrolet has had more bad luck at Martinsville than Kahne would care to remember. With only four Top 10s in 23-career starts, the veteran driver checks in at a lowly 17-percent Top-10 rate at this short track. Kahne's last four starts at this half-mile oval have netted one Top-15 finish and three finishes outside the Top 20. That's far worse than what we expect for this driver and team most weeks.
Kyle Larson - The talented young driver hasn't shown up in the slow down list most of the season. The truth has been that he's raced like a driver many years his senior during the 2015 season. However, if there's a week to bench the Chip Ganassi Racing driver, this would be it. One of the few bumps in the road this season for the No. 42 team has been Martinsville Speedway. Larson has three career starts at the half-mile oval and none of those efforts have ended inside the Top 30. Two have led to DNFs for the team, including his 30th-place finish in March's STP 500. Keep Larson on the bench this week and deploy him elsewhere before season's end.
Taylor is a three-time FSWA Racing Writer of the Year.
Get a FREE RotoWire 10-day trial (no credit card required) at RotoWire.com.
---
---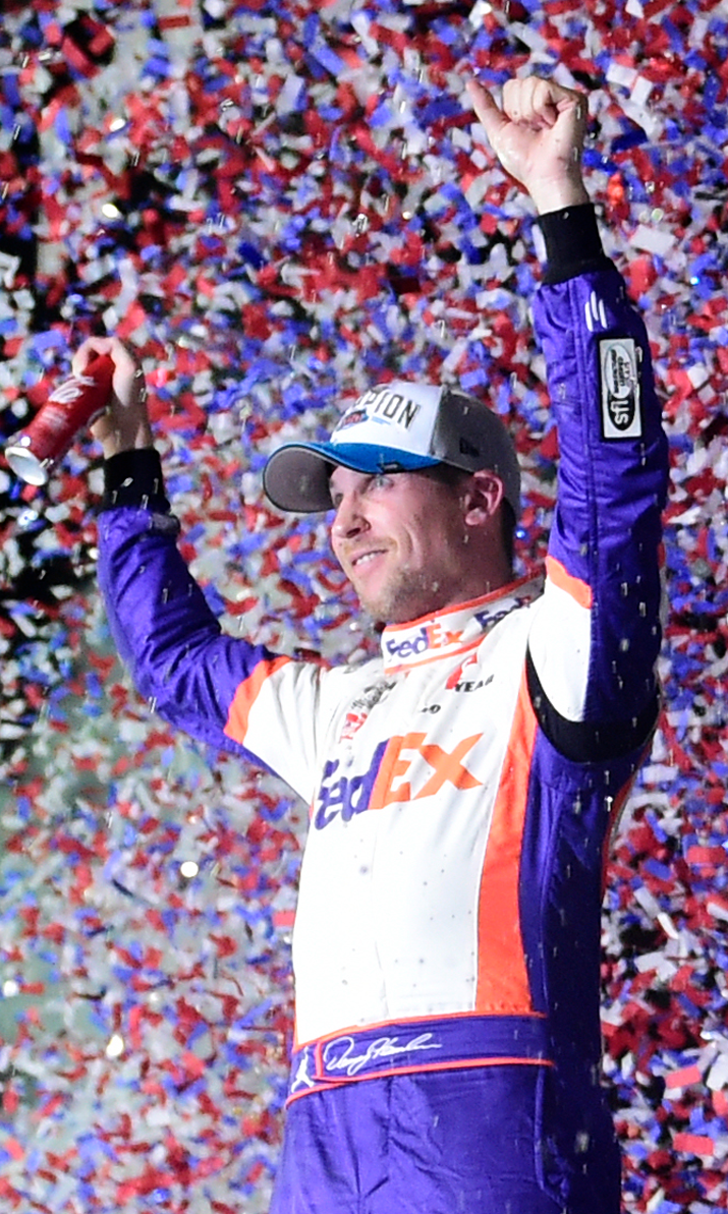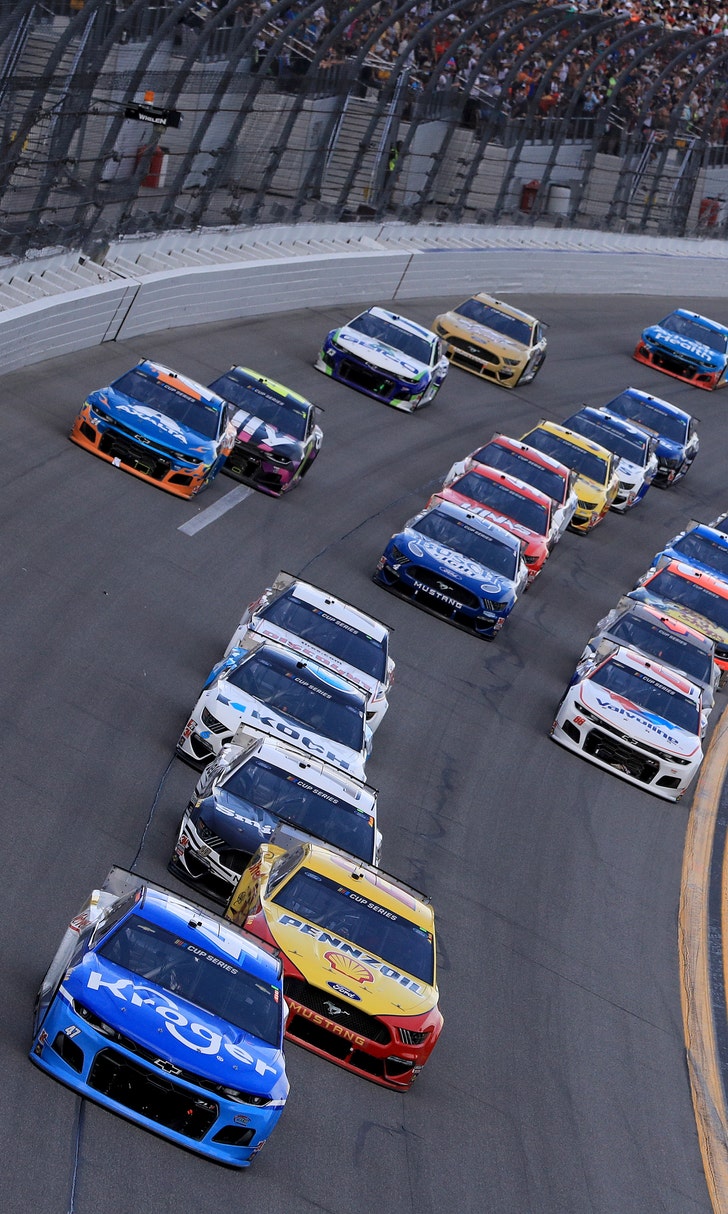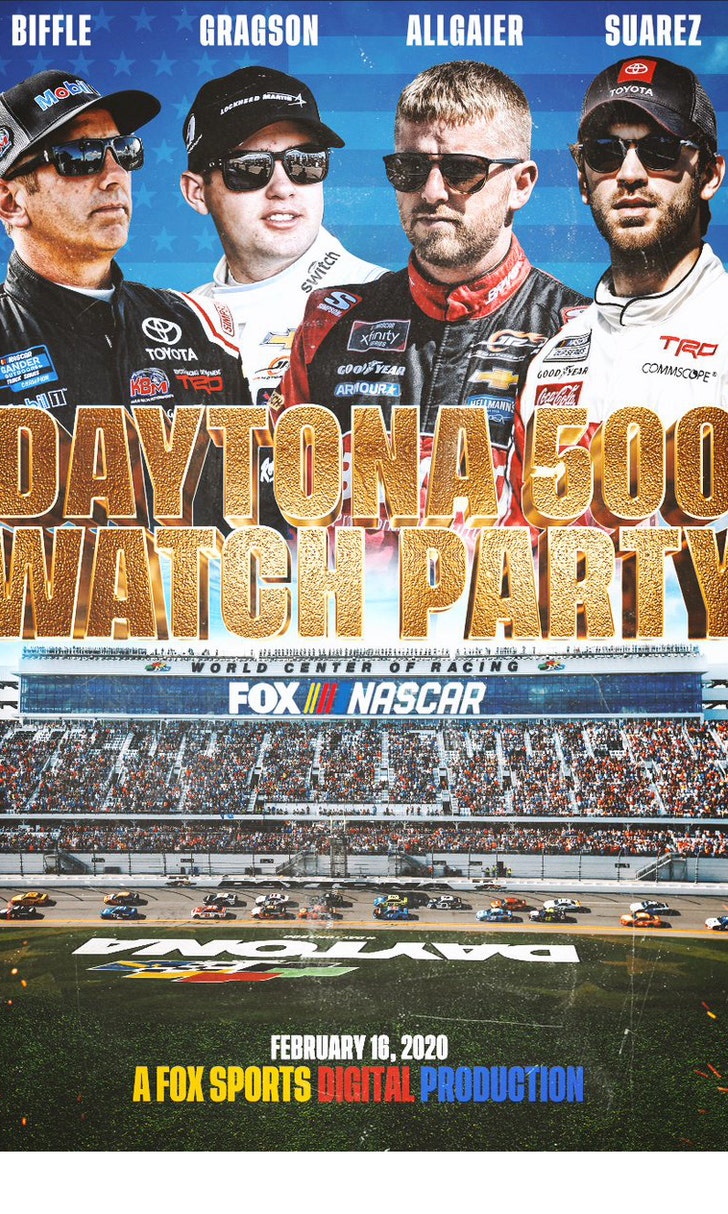 The Daytona 500 Watch Party!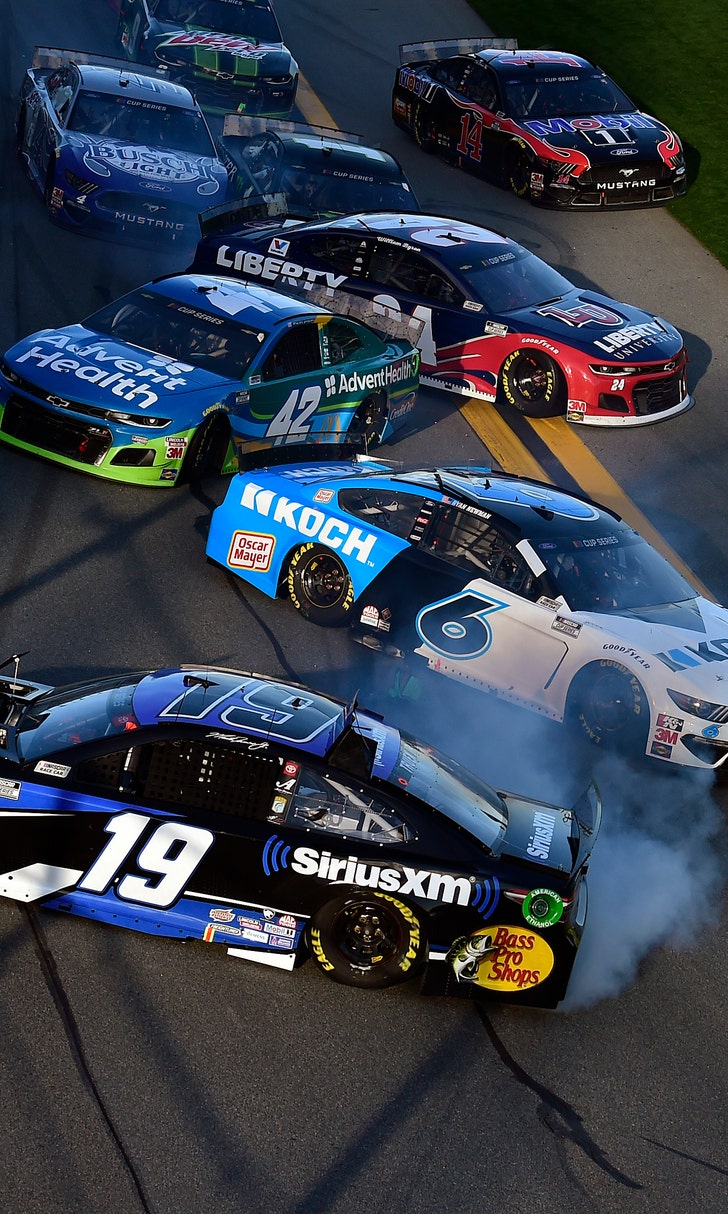 The Numbers Game At Daytona