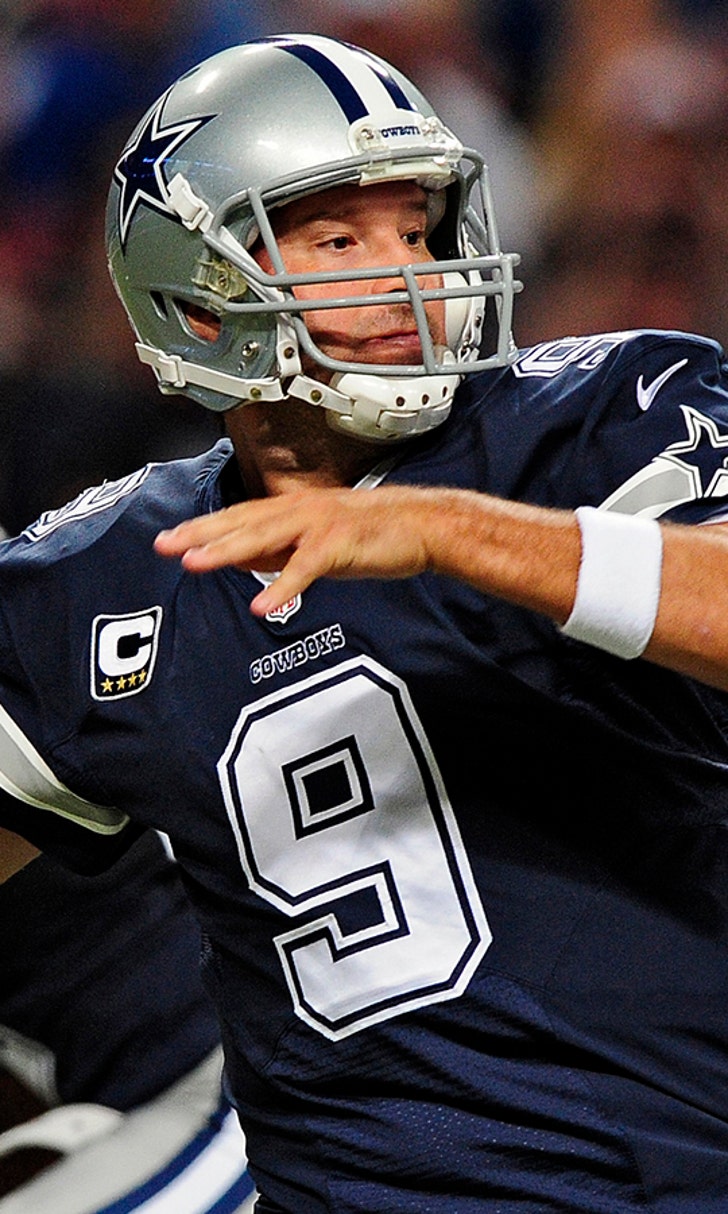 Fantasy Basement: Week 4
BY foxsports • September 24, 2014
The Fantasy Basement is a weekly piece that provides fantasy advice on lineup calls, sleepers, waiver-wire moves and rookie spotlights, along with the occasional ramble or two. Why "Fantasy Basement" you ask? There is a common belief that sports writers dwell in their childhood cellars, that the institution promotes arrested development. Um…why is that such a bad thing? Who wouldn't enjoy coming home to fresh-baked cookies and having their laundry done?…Anyway, enjoy!
Start 'Em
QB: Tony Romo, Cowboys
Boasting a three-year line of 4,305 yards and 30 touchdowns, Romo is normally a credible pick for fantasy. Unfortunately, persistent back pain has sapped some of the Romo's vitality, transforming the once-reliable quarterback into a roll of the dice. As a consequence, this explains the league-high workload for DeMarco Murray.
Although Romo's days as a weekly starter have passed, he maintains value from time to time. Week 4 provides such a juncture. The Saints, while showing improvement last weekend, remain an exploitable secondary, a belief supported by the team's allowance of 278.3 passing yards per contest (second-worst in the conference). Moreover, the Cowboys' defense is just as susceptible, if not more so, which could translate to a fireworks display from both offenses. In all formats, consider Romo a top-10 asset in Week 3.
Other starts: Tom Brady, Colin Kaepernick
RB: Donald Brown, Chargers
From an efficiency standpoint, Brown was something awful against the Bills, finishing with 62 yards on 31 carries. For you math scholars out there, that computes to a mark of two yards per touch. That's not…that's not good, Donald.
On the bright side for Brown proprietors, the former first-round back is the only rusher left standing in the Chargers backfield. A week after losing Ryan Mathews to injury, Danny Woodhead was placed on the season-ending IR. By default, this gives Brown a chance to make noise in the box score. Like baseball closers, 90 percent of a running back's worth is predicated off opportunities, and if last week was an indication, Brown fits that description. Oh, and he's playing Jacksonville. Call me crazy, but I think he's going to do alright against the Jags. Just a hunch.
Other starts: Matt Asiata, Lamar Miller
WR: Michael Crabtree, 49ers
Crabtree was hobbled with a calf ailment most of training camp, correlating to a no-show in the season opener. In the ensuing two weeks, Crabtree has displayed no lingering effects from this bruise, hauling in 17 catches for 162 yards and two scores. More importantly, Colin Kaepernick has been looking in Crabtree's direction early and often, seen in 20 targets from this span. The Niners face a Philadelphia secondary that has conceded a league-high eight aerial scores, bequeathing the perfect storm for Crabtree this Sunday.
Other starts: Terrance Williams, Markus Wheaton
TE: Owen Daniels, Ravens
Straightforward recommendation: Dennis Pitta, Joe Flacco's favorite target, is out for the season. Aside from Steve Smith, the Baltimore receiving corps is underperforming, telling given its already-shabby reputation. The Panthers aren't the easiest of foes, but Daniels should see plenty of action headed his way. And since I have nothing else to add, is anyone else memorized by the absurdity of the Madam Secretary promos? What's this – a Washington outsider comes to DC and is not playing by the rules? Talk about innovative! Way to think outside the box, CBS.
Other starts: Greg Olsen, Zach Ertz
DEF: Detroit Lions
Fantasy owners have been burned by Motown in the past, yet the 2014 iteration of the Lions do not mirror their predecessors. Instead of a feast-or-famine approach, Detroit's front seven sets an impervious tone, one reminiscent of the early-Aught Steelers. Expect the Motor City to have its way with Geno Smith and Gang Green.
Other starts: San Diego Chargers, Houston Texans
Sit 'Em
QB: Andrew Luck, Colts
Every week I get bombarded with, "Why do you hate (Player X)?" from readers if I don't endorse someone as a start in a chat or article. For the record, Andrew Luck is a beast. So good that people are willing to overlook his hideous beard that's evocative of a college freshman trying to show his independence by not shaving for two months. HOWEVER, as bad as the Titans have looked the past two weeks, their defense is holding opposing arms to the second-lowest fantasy output in the league. I wouldn't totally blame owners for sticking with Luck this weekend, just be cognizant that his production might fall short of his usual yield.
Other sits: Cam Newton, Matt Ryan
RB: Shane Vereen, Patriots
Bill Belichick is the new Mike Shanahan for fantasy owners: the bane of our existence. Belichick has no rhyme or reason towards the utilization of his backfield, which is how Stevan Ridley, once thought to be in danger of losing his roster spot, obtained more touches than Vereen last week. It wouldn't surprise me if Vereen did work against a battered and bruised Kansas City defense, but it's such a treacherous matter that I'm avoiding all NE backs. By the way, that's probably the first time Belichick and Shanahan have been name-dropped in the same sentence.
Other sits: Reggie Bush, C.J. Spiller
WR: Cordarrelle Patterson, Vikings
Matt Cassel is done for the year with a broken foot, meaning 1. Cassel can now focus all energy to his side gig as Marketing Director for Kenny Power's K-Swiss tubes (because it's NSFW I can't link it but pretty easy to find on the web) and 2. Teddy Bridgewater is now the man under center for the Vikings. As one who will be riding with Bridgewater as his QB in Tecmo Bowl '15, I'm all-in on the Louisville product. Alas, it could be tough sledding in his first few weeks. Though Bridgewater should provide a shot of life to the offense, it's not going to be an overnight process. As such, managers should be wary of inconsistency from Patterson. Unless he sees more love in the ground game, don't be surprised if Patterson becomes irrelevant to our roto realm.
Other sits: Randall Cobb, Torrey Smith
TE: Heath Miller, Steelers
Tampa Bay is conceding six receptions and 62 yards to tight ends, presenting an advantageous matchup for Miller. I wouldn't blame owners for starting the Steelers big man because of date with the Bucs. In that same vein, I can't justify giving the thumbs-up to a guy with only 11 catches on the year. Furthermore, I can see Pittsburgh going up early in this contest and concentrating its assault on the soil. Only start Miller in deeper leagues.
Other sits: Levine Toilolo, Delaine Walker
DEF: Miami Dolphins
A tryst with the Raiders is seemingly just what the doctor ordered for Miami. Before you implement the Fins as your fantasy defense, marinate on this: are you comfortable backing a team with Ryan Tannehill under the gun?...Exactly.
Other sits: Green Bay Packers, San Francisco 49ers
Waiver Wire Watch: Branden Oliver, Chargers
We gave our support to Brown above, and Oliver is nowhere near a starting asset. Yet for those looking for a strong handcuff candidate, Oliver, an undrafted back out of Buffalo, is a good investment. Oliver earned a roster spot with a commendable preseason, and has the type of Woodhead-esque madness that could be a good offset to Brown's conservative style. Available in nearly all of FOXSports.com Fantasy Football leagues, make room for Oliver on your roster.
Email of the Week
Throughout the season we'll be emptying out the fantasy fan mail in this column and the occasional mailbag post. Reach us on Twitter @JoelMBeall or email – jbeallfoxsports AT gmail.com. This week's letter comes from Papa Smurf in Fort Jeff, NY:
I'm feeling pretty good about my team right now sitting at 3-0 and leading in pts scored. I'm always looking to upgrade and don't mind trading 2 for 1. Here's my roster: Matt Ryan, Calvin Johnson, Jordy Nelson, Kelvin Benjamin, Justin Hunter, Jordan Mathews, Josh Gordon, Leveon Bell, Ryan Mathews, Joique Bell, Ahmad Bradshaw and Carlos Hyde. I am trying to trade for Gio Bernard right now but am always leery of giving up too much. What do you think I would have to give up to get Gio - that team is pretty weak outside of Gio. Current offer on the table is Ryan Mathews, Joique Bell and Jordan Mathews for Gio and Blount. Should I swap Benjamin for J Mathews if I have to for Gio?
Insulting fantasy trades turn me into Clint Eastwood from Gran Torino. "What the hell…you call this a trade??? I should knock out your front door for offering such a piece of ***!" Papa Smurf is seeking to pull the old "three nobodies for a star" barter, a proposal that has a 99.4 percent fail rate. It's spitting in the face of your fellow managers, almost a sign of disrespect. Turn that trade around, Papa Smurf, and you would reject it with laughter. If you want Bernard, you're going to have to give up Jordy Nelson and either Joique Bell or Ahmad Bradshaw. In truth, your roster is fine in its current design.
Fantasy Flyer: Darrin Reaves, Panthers
Mike Tolbert is out for eight weeks, Jonathan Stewart is sidelined for a month and DeAngelo Williams, while returning to practice on Wednesday, is still nursing a thigh injury. Enter Reaves, an undrafted rookie and the only healthy back on the Panthers' roster. Reaves is a diminutive back and probably can't handle full-time duty. Still, if Williams goes down, Reaves is the next man up, and can be had in most FOXSports.com leagues. If you're lean at the position, grab Reaves for insurance.
Bye Watch
In which we highlight the teams on Bye, accompanied with a David Hasselhoff beach clip. This week's group includes Cincinnati, Cleveland, Denver, St. Louis, Arizona, Seattle and a commercial of the Hoff singing about iced coffee.
This Week in BRENT CELEK
Cary Williams made waves by criticizing Chip Kelly's practice methods after the Eagles' win in Week 3. In Williams' defense, if you had to get body-slammed by Celek every day in practice, you'd hate it, too.
2014 stats: Three receptions, 15 yards
Linebacker Body Count: Four

Personal Foul on: Morris Claiborne and Steve Bisciotti
Claiborne bounced from the Dallas practice facility after informed of his demotion, akin to the neighborhood kid who takes the ball and goes home after losing. Good to know he's a team player.
As for Bisciotti…anytime the Ray Rice story can't get any crazier, something like Bisciotti's rambling and incoherent presser happens. The NFL succeeds in spite of itself.
Gatorade Shower Goes to: Aaron Rodgers, Packers
Give this article on Rodgers' helping an 11-year-old girl spread the word about pediatric cancer a moment of your time.
Joel Beall is a writer for FOXSports.com and WhatIfSports.com, and is the host of the Fast Break on FOX podcast. He lives with a Golden Tee machine and a jump shot that's broken. Reach Joel on Twitter @JoelMBeall
---
---