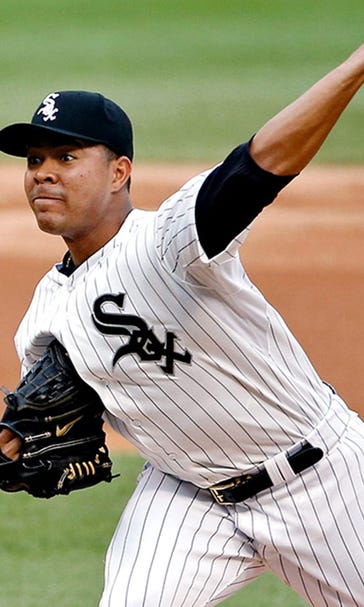 Fantasy baseball studs, duds and waiver wire targets to watch
May 5, 2016

If you're a veteran fantasy baseball player and your teams are off to a rough start, let me share the wise words of my friend, Michael "Ichiban" Cohen: You're never as good as you think you are when you're winning, nor as bad as you think you are when everything is going against you. 
Ichiban is a longtime fantasy player and a partner of mine in the NFBC. A SoCal native who grew up on Dodgers Baseball in the 70s and 80s, Michael moved to Japan more than 20 years ago to raise his family and teach English to Japanese high school students. His experience and level-headed approach comes from years of playing poker, but also from playing our beloved fantasy game without the advantage of watching much baseball outside of the Ichiro-era Mariners. 
Michael keeps me humble. He prevents me from tearing our rosters apart if we're off to a bad start, but will also put me in my place if I act like we've won our league when we have a hefty lead on second place in early August. Instead, we approach each bi-weekly roster spot decision and each week of free-agent bids scientifically and unemotionally.
Michael has helped me tremendously in my approach to DFS simply by my partnering with him in season-long leagues. Like so many others who play DFS and have that strong competitive gene, I've been known to irrationally up my ante the day after doing well in a big DFS tournament. "I'm on fire, I can't be stopped!" It doesn't happen all that often, but usually when I'm doing well, the streak runs for several days. As you may be able to relate to, when you're on fire, it feeds the ego and you feel unstoppable. But as we all know, streaks run both ways. Momentum can turn on a dime, and before you know it, every player you touch turns into an icicle as you quickly move closer to a re-deposit.
The last year or so, I can proudly say that my approach to DFS is more disciplined. DFS is incredibly helpful for my season-long leagues as I research matchups and splits more carefully, using DFS as a tool to improve my season-long game. Taking the macro season-long approach to a micro-ness of DFS helps me emotionally detach the ebbs of tilt from the flows of success.
It works both ways, though, as risk-taking and relying on knowledge-based intuition is inherent in the game of fantasy baseball, both for DFS and seasonal leagues. Keeping company with a guy like Ichiban makes us both better fantasy players. Now excuse me as I go back to pulling a couple struggling squads out of the league basement.
RISERS
Brandon Drury (3B, ARI)
The 2010 13th-round pick is quickly making a name for himself, both in the majors and in fantasy circles. Along with the Marlins' multi-position eligible Derek Dietrich, Drury received dozens of triple-digit bids in NFBC leagues and was scooped up in more than 12,000 Yahoo leagues over the weekend. Never much of a power hitter in the minors, Drury surprised us all with a dynamic week, crushing four home runs. Tied for the most in Week 4 along with Giancarlo Stanton and major league home run leader, Nolan Arenado. Drury has earned a spot in the Diamondbacks' lineup, spending time in the two-hole lately, in front of offensive anchor Paul Goldschmidt. Getting comfortable in the outfield, Drury should gain eligibility there by mid-week. Drury is more of a gap hitter, but power may be a quickly developing part of the 23-year-old's profile. His bat speed is subpar and he won't contribute much in the stolen base category, but Drury could hold full-time role down for most of the season. So long as a huge slump doesn't correspond perfectly with the promotion and hot bat of Socrates Brito or Peter O'Brien. One more concern is Drury's 15:1 K:BB ratio in April. I still prefer teammate Jake Lamb if given the choice, but can't fault folks jumping on board. Almost any friend of Chase Field is a friend of mine.
Brett Lawrie (2B/3B, CHW)
Lawrie had a fine final week of April crossing home plate seven times, hitting three homers, walking five times, adding a stolen base cherry on top. He is the only White Sox hitter with a steady pulse at the plate lately, hitting sixth in the lineup but eventually earning some time hitting ahead of Jose Abreu in the two-hole. Lawrie will have to maintain his career-high 9.9-percent walk rate to earn that privilege. The former first-round prospect has never truly lived up to his minor-league hype, but turned 26 during the offseason and is about to be entering his power prime. His April strikeout rate (29 percent) would be the highest of his career if the season ended today. Fortunately, we have five more months to play out. Lawrie is dual eligible at second and third base and could well set career highs across the board -- not much of a stretch considering he has yet to actually have a breakout season. The batting average may not help your fantasy team, but he could provide in the other categories. At 14 R, 3 HR, 9 RBI, 2 SB, .267, let's project his year-end numbers at: 76-16-65-14-.261. 
Rubby De La Rosa (SP, ARI)
My affection for Rubby has been well-documented on Twitter. Irrational at times, and perhaps not completely justified. De La Rosa is one of those emotional starting pitchers who can suck you in after a couple gems and spit you out the following week having him beg you to drop him and utter, "nevermore." His starts last season were as unpredictable as any pitcher, allowing four ER or more in 13 of 32, including 16 earnies allowed to the Dodgers and Braves in back-to-back June starts. On the flipside, 14 of those starts were kept to two ER or less where he looked flat-out dominant. That's what we've witnessed over his two most recent starts -- a three-hitter with six K in six IP against the Pirates and a 10-K outing in seven scoreless against the Cardinals last week. Despite getting bludgeoned early in the year and accepting some relief appearances to work out the kinks, De La Rosa walked just four batters over his last three starts and is ranked near the top of the league with 10.5 strikeouts-per-nine. He is a fiery competitor and seems to get flummoxed easily after allowing hits or consecutively missing his spots -- similar to Michael Pineda in terms of his emotion on the mound. I expect 2016 to his best season to date, but it won't be without some struggles. Don't be surprised to see him get bashed by the "lowly" Marlins this week, only to follow it up with a gem at Coors Field next Monday. That's just how Rubby rolls.
Jose Quintana (SP, CHW)
Unlike teammate Mat Latos, it is quite possible that there's something to Quintana's hot start and that he's taking his game to the next level. The fifth-year southpaw was technically just one batter away (5.2 IP on April 5) from throwing five consecutive quality starts to begin the season. He rang up 13 shutout innings in his two most recent starts, including an impressive 10-strikeout performance against the Blue Jays in the Rogers Centre. Quintana has been incredibly consistent, hitting the 200-inning mark, making 32 or 33 starts in each of his three full seasons in the majors. Not to mention, incredibly consistent ratios: 3.36 and 3.32 ERA the last two years and WHIPs of 1.27, 1.24 and 1.22 the last three. His 7.5 career K/9 is about league average, but he's had a handful of double-digit strikeout games in his career, including 13 in an outing two years ago. Although it's only been five appearances, he's averaging more than a strikeout per inning for the first time in his career. Quintana is throwing the same mix of pitches he did last season and his fastball velocity is on par with last year's. It's hard to pinpoint what's different other than better pitch selection and maturity. The final consistency to mention is Quintana's bad luck in the wins column, as he's yet to win double-digit games in a season. Already with three wins under his belt, perhaps he doubles last year's nine and cements himself as one of the best left-handed starting pitchers in the American League.
HONORABLE MENTIONS
Rougned Odor (2B, TEX)
Odor is a star in the making, plain and simple. He flashed incredible potential as a 21-year old after being recalled by the Rangers last summer, hitting 12 HR with 37 RBI over his final 256 at-bats. Odor had a mediocre start to 2016, but has been on fire the last week, hitting .391 with a .462 on-base percentage. One week of OBP means little in the grand scheme of a full season, but it's nice to see for a guy who walked less than five percent of his plate appearances last year and didn't have much of a track record doing so in the minors. Most important, he appears to have locked up the leadoff role. At least against righties and truly cementing it once Shin-Soo Choo returns to take Delino DeShields Jr.'s spot in the lineup. One part of Odor's game that is developing is accuracy on the base paths. Prior to the All-Star break last year, he stole five in eight attempts. After the break, just one of four. So far this season, Odor has successfully stolen bases on all four of his attempts. He is hitting lefties better than righties this year, albeit only a super small 29 AB sample. If he keeps it up, he could lock himself in at leading off and putting up 20/20 seasons for the Rangers for a quite a few years.
Michael Saunders (OF, TOR)
If you're in a 12- or 15-team league and Saunders is still available, please open another tab on your browser and add him immediately. "Leadoff hitter for the Blue Jays" is worth its weight in gold. Saunders cracked three homers last week, including two against Rays lefties Drew Smyly and Dana Eveland last Friday. He's hitting .303 with a .376 OBP and has scored 14 runs in 20 games. The issue with Saunders is and always will be his ability to stay on the field. He has appeared in more than 100 games in just two of seven big league seasons. He got hurt in February and missed a few games a couple weeks ago due to a hamstring injury. If he can stay on the field, the 29-year old is in a prime position for a career year.
Derek Dietrich (3B/OF, MIA)
Along with Drury, Dietrich was a popular waiver-wire target in 15- and even 12-team NFBC leagues this weekend. Somewhat of an under-the-radar favorite of many who play NFBC, Dietrich should become a steady presence in the Marlins' lineup the next few months due to the 80-game suspension laid on second baseman Dee Gordon. A second-round pick of the Rays (the deviled ones) in 2010, Dietrich made his way to the Marlins in 2013 and shuttled between Triple-A and the big league squad the last two seasons. He hit .298 in 47 at-bats last July and followed that up with 87 August at-bats that included five HR and 15 RBI. A left-handed hitter, Dietrich naturally struggles against southpaw hurlers, but he will be forced to make strides against them this year to lock himself into full-time at-bats. Dietrich launched a homer from the leadoff spot Saturday and followed with a two-run triple from the three-spot Sunday -- a weekend that certainly helped pump up his bid amounts late Sunday night. Dietrich has the opportunity to be an all-around contributor to fantasy teams this summer.
Steven Wright (SP, BOS)
Wright was drafted by the Indians in the second round 10 years ago, but only recently received his first opportunity in a big-league rotation. He started two games total in 2013 and 2014 and started nine games for the Red Sox last season. The knuckleballer is off to a nice start this year, holding opposing offenses to two earned runs or less in all four of his starts. His most recent outing against the Braves was the best of his career – three hits over seven innings with one earned run and a career-high eight strikeouts. The 1.37 ERA screams regression and may be confirmed when you glance at a 4.21 xFIP. Furthermore, Wright has walked nearly four batters per nine innings. Adding streaming starters from the AL East should always be done so carefully, and this situation is no different. Wright lines up for two road starts this week against the White Sox and Yankees and new owners shouldn't be surprised to see him lit up in at least one of those starts. Proceed with caution.
FALLERS
Yan Gomes (C, CLE)
A fantasy owner wouldn't typically complain about one of his catchers posting seven runs, three HR and 11 RBI in a month. Unless those numbers came with a sub-Mendoza Line average. That's the case with the Brazilian Basher, who is hitting .188 through his first 19 games. Gomes is supposed to be one of the better contact-hitting catchers in the league. He hit .294 with a .345 OBP in his first season with Cleveland back in 2013. He followed that with his breakout year -- 21 HR and 74 RBI. Last season's struggles were what kept his price reasonable for drafts this March. He hit the disabled list in early April, missed six weeks and never got his swagger back, finishing the year hitting .231 with a 104:13 K:BB ratio. Last week involved a lot of O-fers, as Gomes managed just one hit and one walk in 20 plate appearances. Based on Gomes' lack of plate patience the last couple years, fantasy owners have to be prepared for a lackluster batting average. On the plus side, Gomes will heat up at some point and could hit the 20-homer mark come the end of the season. Progressive Field plays well for his right-handed power, and I believe Yan still has game.
Melky Cabrera (OF, CHW)
The .285 career hitter is hitting .298 this year, but had a rough stretch (3-for-26, .115) in the seven games prior to his 3-for-4, two-run Sunday. Cabrera has struck out just seven times in 100 plate appearances and has taken 12 walks. Granted, the 31-year-old's career is on the downswing, but when the White Sox take off this summer, Melky will be on board that train. He doesn't run anymore and his upside in R, HR, RBI are limited, but his plate skills appear to be intact, and another season of .290 wouldn't be asking too much of him. He was aptly drafted as a OF5 in most leagues this year, which means you don't always have to play him in your starting lineup. Cabrera has strong splits against RHP and at home, so if you see that combo coming up on the docket, go ahead and put him in. Being aware of splits and using them to your advantage, especially with the borderline hitters on your team. Use them to squeeze out the most value possible and get those extra stats.
Brandon Crawford (SS, SF)
Despite his breakout season, Crawford would have had to really fall way down his ADP to find his way onto my team. Hence, I have no shares and don't mind. I appreciate a shortstop who can pop 20 homers and help me there, but if I'm relying on middle-infielder power, then my team was probably already in trouble. Give me boring Elvis Andrus (OK, maybe not him) or speedy but seedy Cesar Hernandez as my MI. That's because I typically structure my teams to get my runs, speed and batting average from SS and 2B. And hitting for contact happens to be Crawford's Achilles' Heel. His breakout year of 21/84 came with a career-high batting average of .256. Sorry, .256? Crawford has hovered between .246 and .256 over four full seasons, and that simply doesn't work. At least not for me. It's the same reason I didn't love Kyle Seager at his ADP or Marcus Semien at his, unless I thought that the double-digit HR/SB were repeatable (and I think they are, but that's a topic for another time). Taking players who not only have zero batting average upside, but have career averages less than .255 hurt a fantasy team. Sure, maybe he has an outlier season of .285, but I'm not banking on that. Each and every season, we have players who we perceive as high-average hitters who end up disappointing with an average far below their career norms. If you have too many of those and combine that with your .250 "upside" guys, you're just giving a valuable category away to the field. Crawford is one of those "better in real life" players. A fantasy player you just won't find on my team. UPDATE: Crawford blasted a three-run shot Monday. I need to go back and run some numbers on the Barometer's "fallers" the day after they're mentioned here.
Jake Peavy (SP, SD)
I was hoping for a couple of Peavy shares with my last pick in drafts this year, but it just didn't happen. Lucky for me, I guess. I believed Peavy still had something left in the tank and would make the perfect home streaming option in forgiving AT&T Park. His five-game stretch to start the year has been frustrating. If you own (or owned) him, surely you didn't use him for "at Coors." Nevertheless, the numbers are among the league's worst -- an 8.61 ERA and a 2.00 WHIP in five starts (23 IP). Peavy may in fact still have something left in the tank. If I owned him, I'd still consider him for home starts against the right opponents. Perhaps after watching a start or two from my bench first, of course. Peavy could give way to Chris Heston, with Heston taking over his rotation spot. The issue there is that the Giants have someone (Matt Cain) who has been far worse. Heston is at Triple-A getting his pitch count up and should be promoted soon, gunning for one of these two gentleman's spots. My guess is it it's Cain's, but I'm sure their next two outings will dictate that decision.
DISHONARABLE MENTIONS
Anthony Rendon (3B, WAS)
Based on dozens of preseason conversations with fantasy geeks like myself, I came away thinking Rendon was incredibly polarizing. People either loved him or hated him at his ADP. Even quipmaster Chris Liss nicknamed him "Rendon't." Through the first month, the results appear to be in the faders' favor. It seems fairly impossible that Rendon has no home runs and just one run batted in through his first 105 plate appearances. Rendon hits in a crazy run-producing spot in the Nats' lineup, right in front of superstart Bryce Harper. Hence, the 16 runs scored are produced simply by showing up. Just five of Rendon's 23 hits this year are extra-base ones (all doubles) and his ISO is a pathetic .053. On the bright side, Rendon is walking at a nine percent clip and striking out at only a 13-percent rate. He's a solid buy-low candidate if there ever was one. Especially with Ben Revere due to return soon. Although Revere doesn't take many walks, he's a career .295 hitter. Buy on Rendon if possible.
Kendrys Morales (DH, KC)
Morales was one of the biggest late-round surprises of 2015. He nestled in nicely into the Royals' cleanup spot and drove in 106 runs, the second most of his career. His April was one to forget with a .216/.268/.609 line, two HR and eight RBI. The Royals are off to a cold start as is, but Morales has been arguably the coolest. He has already struck out 22 times in 97 plate appearances (22.7 percent), five points higher than last year's total. Despite facing righties more than three times as often as lefties last month, Morales is hitting .162 against them, compared to .400 against lefties. Last season, the lefty-righty split was closer -- .298 against lefties in 238 at-bats compared to .284 in 331 at-bats versus righties. Most folks had Morales as a candidate for regression this spring, but the drop-off won't be as pronounced as you might think. Expect 18-85 as a floor and for Morales to heat up as the Royals do.
Mike Leake (SP, STL)
If you're looking for a NL Central pitcher to break out, please look elsewhere. Leake is exactly who we think he is and who he's been the last few seasons. A middle-of-the-rotation guy with a below-average strikeout rate who is difficult to time based on opponent. Leake was a semi-hyped prospect coming up with the Reds many years ago and was a mainstay of mediocrity in their rotation for five seasons. His best one was 2013 when he won 14 games and finished the year with a 3.37 ERA. In no other season has Leake had an ERA less than 3.70. Through five April starts, Leake has allowed as many earned runs (19) as he has strikeouts. Leake's best skill is his ability to limit free passes -- slightly more than two walks-per-nine over his career. He was a SP4 target for me in drafts based on his home park and my assumption that he was a "safe" option. I didn't end up with him anywhere, though I've kept track and he's quickly reminded me that he's "just a guy."
Cody Allen (RP, CLE)
Allen went through a similar rough patch the first month of the 2015 season, only worse. Last April, Allen gave up nine ER and nine BB over eight appearances (7 IP). This April, 10 ER and five BB over 10.1 IP, though he's nailed down all seven save opportunities. And that's what matters most. Allen recovered nicely after last April, finishing the season with 34 saves along with a 2.99 ERA and a 1.17 WHIP. Not upper-tier ratios for a ninth-inning guy, but it was made much more palpable by his 13 K/9. This year, his strikeouts are down (7.85 K/9), but let me remind you once more how early it is. Allen's leash is fairly long. He hits 95 on his fastball with consistency, and there really isn't anyone on the roster who's comparable for the role. Possibly Trevor Bauer, but he's needed in the rotation with Carlos Carrasco down and out. Nevertheless, you've taken your lumps and will take some more from him from time to time. But over the long haul, the saves, ratios and strikeouts will balance out to make him well worth his draft-day cost.
---
---