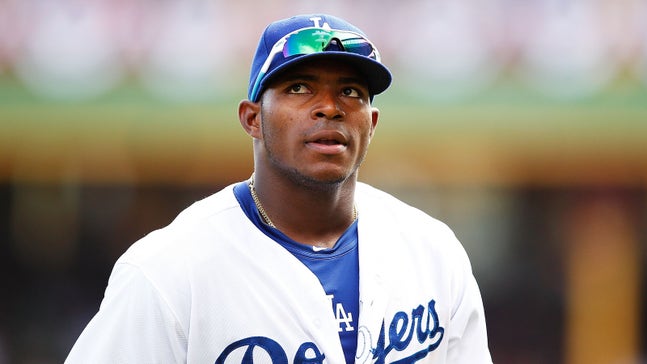 Fantasy Baseball Draft Strategy: ADP risers and ADP fallers
Updated
Mar. 4, 2020 3:14 p.m. ET

Hitters and pitchers move swiftly up and down Average Draft Position (ADP) lists with great volatility, on a daily basis. This market movement is one of the reasons I make sure to spread my NFBC drafts over different points of the preseason. I'm specifically referring to my favorite type of draft league: the 12-team RotoWire Online Championship (OC). This year, the overall prize is a cool $100,000, and I shall throw a few hats into the ring once again this year.
I usually draft my first OC toward the end of February, a couple more in mid-March and one right before the season starts. There is always a distinct trade-off drafting so early -- the risk of injuries to key draft picks in exchange for taking advantage of underpriced players. Every year, we have starting pitchers who don't make it out of spring training without some type of arm trouble. Or worse yet, fall victim to Tommy John surgery. Such was the case with my February 2015 team that took Yu Darvish and Zack Wheeler.
On the other hand, those who start their prep in winter can identify targets they feel strongly about. Those who do their homework early can build strong teams filled with value picks to the brim, and at huge discounts.
Toward the end of March, when most teams' rotations are set and positional battles are settled, the market corrects. ADP becomes homogenous and chalky. Fantasy sites and SiriusXM hosts discuss hyped players ad nauseam. Before you've had a chance to blink, a seventh-round Yasiel Puig (OF, LAD) in late February needs to be taken in the fourth if you want him.
The rise of these helium players almost takes on a life of its own. A touch of spring training noise adds to the volatility. Noah Syndergaard (SP, NYM) adds a cutter and moves up half a round in the ADP in a little over a week. Never mind the fact that Thor has now cracked the threshold of SP1 status with less than a full year of major league experience under his golden hair. Avisail Garcia (OF, CHW) adjusts his approach at the plate and ... well, sometimes the fantasy boy cries wolf once too many times.
But you get the picture.
You can draft an OC team once a week for six consecutive weeks and now will be paying a 16th-round pick for your sneaky 23rd-round Pedro Alvarez (1B, BAL) from six weeks ago. If you drafted Brad Boxberger (RP, TB) last week, you're already figuring out how much of your 1,000 FAAB dollars to spend on his successor in the first weekend of free-agent bidding.
The pros and cons are aplenty. So if you're only doing a draft or two, mid-March is likely the sweet spot. Although your values are still moving targets, many will be much more affordable than in late-March drafts.
We are now at the point in preseason where NFBC players can separate and compare ADP before and after March 1. It is how we can identify the risers and fallers in relation to all of the spring training movement and noise.
Let us look at the recent data and compare:
ADP RISERS
The closer you are to the top, the less movement you will see. Miguel Cabrera (1B, DET) and Mookie Betts (OF, BOS) have moved up ever-so-slightly since February drafts as the margins are tight at the top of drafts with no major spring injuries among the top-ranked players (yet).
Movement on Carlos Carrasco is slight, but it's imperative to list him. Carrasco is quickly entering that SP1 tier after Clayton Kershaw Island. This is particularly the case among NFBC vets who rely less on ADP data and simply take who they like. Come the first weekend of live drafts in Las Vegas, don't be surprised to see Carrasco picked ahead of Chris Sale (SP, CHW) and Gerrit Cole (SP, PIT) in some of the larger entry fee leagues.
Next up is Yasiel Puig, who is one of the most polarizing hitters in the draft once again this season. Puig has never hit 20 home runs in a season and was a hot pick in the second round of drafts last year. His ADP in winter was due for obvious correction. He spent most of the 2015 season dealing with an injured hamstring and was investigated for an offseason fracas. Come early March, and MLB said Puig won't be disciplined. He appears to be in tremendous shape and outlook on his 2016 is bullish with speed-friendly Dave Roberts at the helm. Remember the other polarizing hitter you might have passed on last year by the name of Bryce Harper.
Fellow outfielder Carlos Gomez (OF, HOU) is not listed, but he is clearly on his way up the ADP train if you've been drafting OC's over the last couple weeks. Gomez was a first-rounder last season whose season was marred by injury. He is one of the few solid 20 HR/25 SB candidates for 2016. The helium is in full effect.
A quick glance at the ADP Risers, and you may instantly recognize a major trend brewing from pre-March drafts to those taking place now. Those second-tier closers are sprouting up like wildflowers. Each of the following six second-tier guys -- Rondon, Papelbon, Ramos, Rodriguez, Street and Tolleson -- have moved up by at least one full round. In some cases, nearly two full rounds. Folks who drafted in late February noticed how hard it was to solidify the three closers we typically target in OC drafts and started pushing that middle tier up.
In my latest OC last Sunday night, I took Wade Davis as my first closer in the sixth round and was essentially "forced" to take Francisco Rodriguez in the ninth over all of the solid hitters available. Foregoing Rodriguez, who was the last guy available in this tier, would have forced me to wait for the likes of Santiago Casilla, Glen Perkins and Brad Ziegler. Closers I wouldn't feel comfortable with as my RP2. Interestingly enough, Casilla and Perkins were taken a few picks after my K-Rod pick, which would have put me in an even rougher spot. And Casilla and Perkins were taken way ahead of their current ADP.
This new trend is derived from all the uncertainty in the backend bullpen options -- murky situations like those in Milwaukee, Cincinnati and Philadelphia. Most NFBC vets don't want to start the season having to blow big chunks of their FAAB money on closers. They prefer to address it at the draft. Hence, all closers, even the shaky ones, are inflated to a premium and are overpaid for. It is an important trend to note.
The two young Cardinals studs -- Randal Grichuk and Stephen Piscotty -- appeared as bargains in February. Now each is pushed nearly two full rounds above his February ADP as owners have now refreshed themselves on players' pedigrees, underlying metrics and recent stats. The two young Cards should continue to climb.
Pedro Alvarez and Trevor Story are red-hot risers. Alvarez signed with an AL team in a hitters' park while Story has blistered the ball this spring and should win the starting shortstop job in Colorado with Jose Reyes likely out of the picture for quite some time. I drafted Story in the 28th round of a 15-teamer a month ago. Last week, I got him in the 20th round as my MI in a 12-team OC. And just the other night, in another OC, I was beaten to the punch on him as he was selected as a starting shortstop in the 15th round. This could well be a case of justified helium. But if he continues to crush spring training and officially wins the job, Story could rise to a range several rounds higher that prices him out of reasonable expectations simply because he's the hot new toy playing in Coors. Let's all pay attention to Story over the next few weeks and a few months into the season and see what lesson we learn.
Finally, every March we find our "Oh, I Remember Him" helium guys. This year it's Juan Nicasio, fighting for the Pirates' fifth rotation spot, on our radar after 24 strikeouts and no runs allowed in 15 spring innings. Nicasio has gone from undrafted to a 30th-round pick in the RotoWire Online Championship. Moving on from Coors Field and considering the tutelage and wizardry of pitching coach Ray Searage, there is very little risk drafting Nicasio with your final pick. If he stinks, just drop him.
ADP FALLERS
The list of ADP Fallers is typically littered with the old, boring and injured. I've heard this often in poker games and after fantasy drafts: if you can't identify the sucker at the table, it's probably you. That was the cloud of doubt I felt after many live NFBC drafts when I ended up taking several players well after their ADP. Some of these players end up becoming values after all. As was the case with an 18th-round Shelby Miller in a 15-team live draft last season. Most times, if you're drafting with a bunch of smart people online, or in a room, there is a reason the other 11 or 14 other owners are continuously passing on the same player, round after round.
Corey Dickerson continues to slip, week after week. Falling nearly two whole rounds since mid-February. Dickerson moved from the power-friendly confines of Coors Field to pitcher-friendly Tropicana Field. Drafters likely still have concerns with his recovery from plantar fasciitis, and of course there's his issue against left-handers -- career .676 OPS against LHP, compared to 1.085 versus righties. Park factor is the main cause behind the ADP decline of Khris Davis as well, moving from last season's best home-run park to the 27th-ranked one.
Pablo Sandoval has already fallen out of the good graces of many of his former fantasy owners, but now the decline will be even more pronounced as he battles with Travis Shaw (3B, BOS) for the third base job with the possibility of losing it. The declines of McCullers, Darvish, Wright and Ryu are injury related. Javier Baez has dropped nearly two full rounds since February and becomes even more intriguing as an endgame stash. Baez has no easy path to playing time, but could thrive in the super utility role and gain eligibility in other positions besides second base. It is always tough to hold these types of players, especially in formats with few bench players like the NFBC. But if there is anyone you may regret drafting and dropping in April, I'll put a few bucks on Baez being near the top of that list.
Finally, it perplexes me how Howie Kendrick continues to slip and be underappreciated. Kendrick had a minor groin injury, but returned Friday. He remains one of my ideal mid-to-late round middle infielder targets. A career .293 hitter, Kendrick is projected to leadoff for the Dodgers. You wouldn't expect a 32-year old to set a career high in stolen bases, but Kendrick has a shot to steal more than 14 should manager Dave Roberts give him the green light more often.
Always be sure to keep ADP Risers in check and set your own limits on sky-high risers, unless it's a player you think you should have at almost any cost. Moreover, study the ADP Fallers. Identify and justify the reasons for their falls and draft accordingly. The last person you want to be is that sucker in the room.
Sedler is a veteran NFBC player and CDM Hall of Famer.
Follow @rotogut on Twitter.
Get a FREE RotoWire 10-day trial (no credit card required) at RotoWire.com
---
---