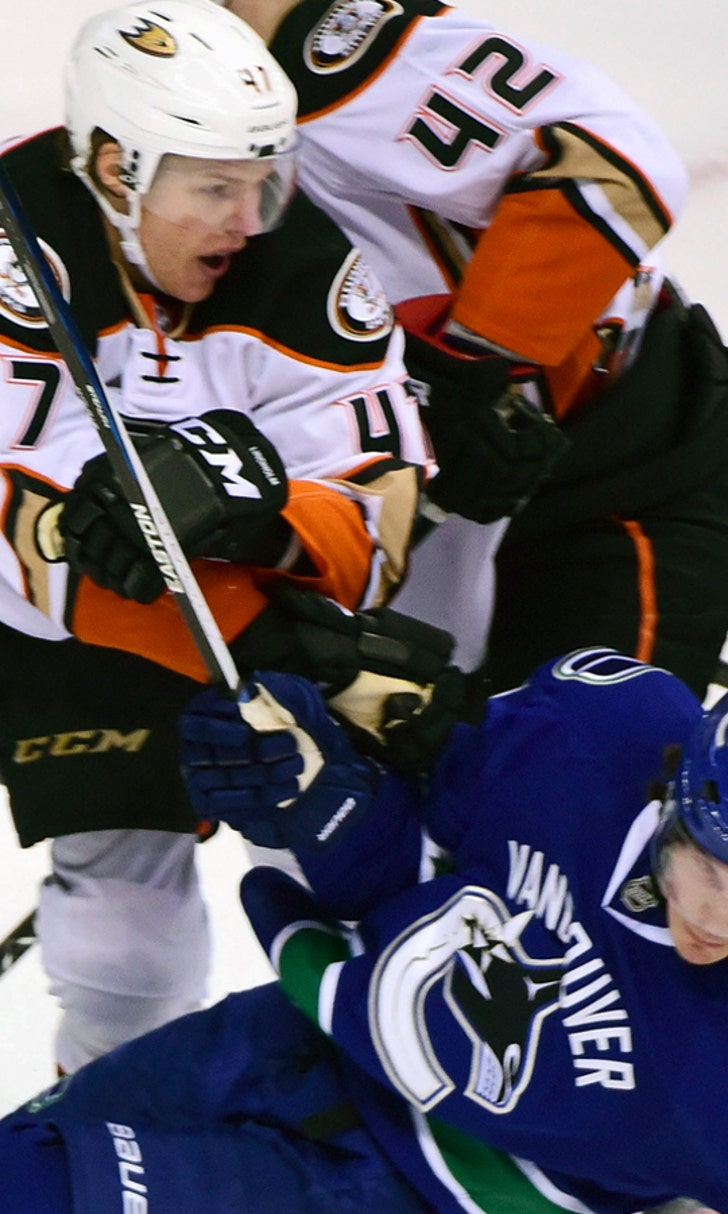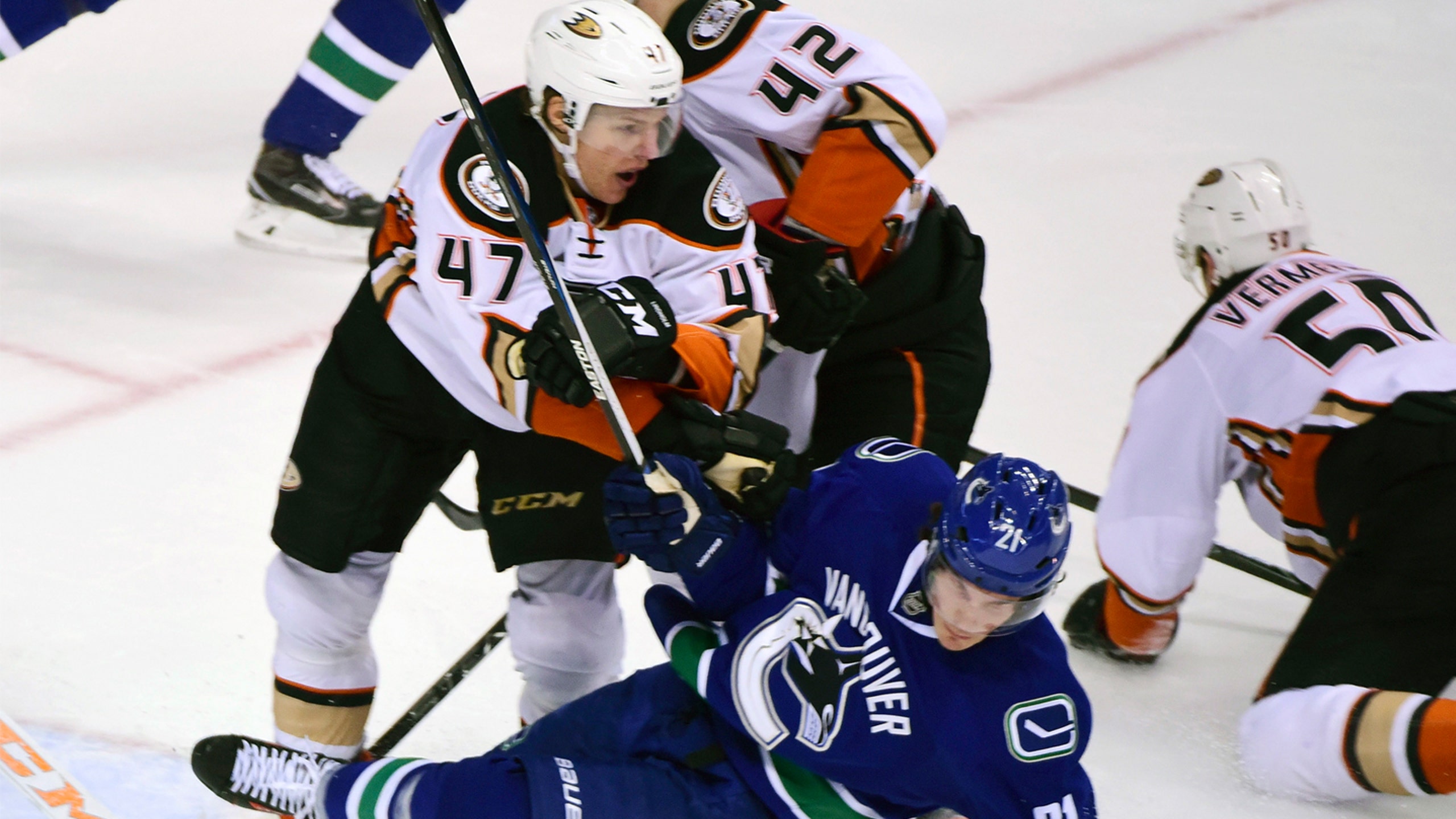 Ducks visit Canucks for second-half push
BY STATS LLC • December 30, 2016
VANCOUVER, British Columbia -- It is often said that the real NHL season begins after Christmas.

That is when playoff (if not Stanley Cup) contenders separate themselves from the also-rans, and the going gets much tougher -- and more physical.

On Friday, the Vancouver Canucks (15-18-3) will try to demonstrate their ability to handle the heavy hitting for postseason purposes as they host the Anaheim Ducks (18-12-7) at Rogers Arena.

"It's the second-half push now," Vancouver rookie defenseman Troy Stecher said. "We're not in a playoff spot, and that's where we want to be."

The Canucks, five points below the playoff bar, are hoping that a win over one highly physical opponent will lead to another. They edged the Los Angeles Kings, who are often described as one of the league's heaviest teams, by a 2-1 score Wednesday.

The performance was not spectacular -- especially considering that the Kings outshot Vancouver 31-8 over the final two periods and 37-20 on the night. But the win was gritty and something that the Canucks hope to build on against Anaheim.

Despite the lopsided shot count, the Canucks kept the Kings mostly on the perimeter.

"We have to change up some things," Stecher said. "Obviously, you never play a perfect game. There are some things we have to work on."

Improved physical play ranks among the priorities. Coach Willie Desjardins indicated that the Canucks, whose toughness has often been questioned, do not really have a choice.

"We're gonna get that (increased physicality) as we go forward here," Desjardins said. "Guys just have to battle. We've just gotta keep battling."

With defenseman Alex Edler now back from a broken finger that had kept him out since late November, Desjardins appeared less worried than he might have been a month ago, although rearguard Erik Gudbranson, one of Vancouver's more physical players, is out for an extended period following wrist surgery.

"We've got some big boys (with) Edler back in, and (Luca) Sbisa is physical," Desjardins said. "I think teams will come at us that way, but we've just gotta keep our feet moving and, if they take penalties, we've gotta score on the power play."

A rare Vancouver power-play goal, by winger Loui Eriksson, kick-started the win over Los Angeles. Desjardins might have his wish for more power-play opportunities granted after the Ducks showed considerable animosity in a 3-1 win over the Flames in Calgary on Thursday night.

When it comes to killing penalties, the Ducks are well below the league's best. However, the Canucks also will have to maintain discipline in order to neutralize one of the NHL's best power-play units. The Ducks went 2-for-6 in man-advantage situations Thursday.

Even with the victory over the Flames, Anaheim owns just two wins in its past six games (2-2-2).

"I thought we got better as the game went along," Ducks goalie John Gibson said after making 31 saves at Calgary. "They jumped on us a little bit in the first period, but once we weathered that storm, we got our power play going and settled down from there and locked it down."

Although Jakob Silfverberg extended his scoring streak to three games, the Ducks have not been getting as many goals as they would like from captain Ryan Getzlaf and fellow top forward Corey Perry.

Getzlaf has just four goals while Perry has seven. Lately, the nominal No. 2 line of Silfverberg, Ryan Kesler and Andrew Cogliano, known more as a penalty-killing specialist, have generated most of Anaheim's production.

"We've got to score goals," Getzlaf, referring to his line, told The Orange County Register this week. "That's our job. That's what we're here for. (Kesler's line is) a line that's playing complete hockey right now. We expect them to contribute offensively as well as defensively. Our line has to be better in the goal-scoring department."

Getzlaf and Perry toiled on separate lines in Calgary. Anaheim's blue line also has a new look with rookie defenseman Brandon Montour slated to play only his second NHL game in Vancouver after making his debut in Calgary. Montour, an offensive defenseman, was promoted from San Diego of the American Hockey League after Sami Vatanen was sidelined due to illness.

The Ducks are 2-0-0 against the Canucks this season with wins at home and away.
---
---