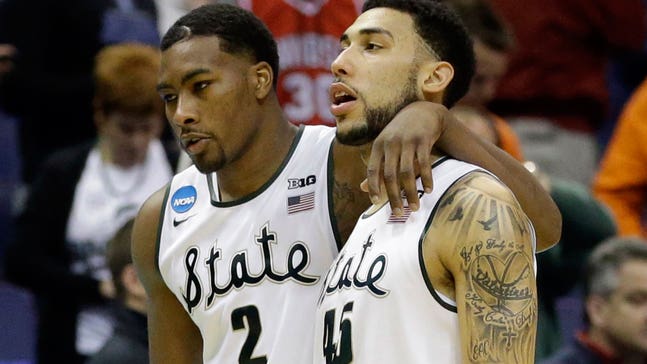 Dream season ends with nightmare for Valentine, Spartans
Updated
Mar. 4, 2020 3:28 p.m. ET

EAST LANSING, Mich. (AP) -- Denzel Valentine had one of the best seasons, and careers, in Michigan State basketball history.
Valentine's last game, though, is one that will haunt him forever.
The national player of the year candidate matched a season high with six turnovers and shot 5 of 13 in the second-seeded Spartans' stunning, 90-81 loss to 15th-seeded Middle Tennessee State in the first round of the NCAA tournament.
"When you're in this position and everybody's looking at you, you've got to come through," he said softly Friday. "I didn't come through. I'll remember that for the rest of my life."
The Big Ten player of the year did have 13 points, 12 assists and six rebounds, but he and his teammates simply could not slow down the Blue Raiders.
"That's probably one of the worst games we played all year, and it happened to be in the first round," Valentine said. "You can't have that if you want to win championships."
Middle Tennessee State jumped out to a 15-2 lead and never trailed in a game in which it made 56 percent of its shots and was even better beyond the 3-point line, where four players combined to make 11 shots.
"We just failed defensively," Matt Costello said after equaling a career high with 22 points and grabbing nine rebounds. "That's where we've hung our hat all year, and we couldn't stop them."
And, Tom Izzo could not stop tears from streaming down his cheeks after what he said was the toughest loss in his 21-season career as a head coach. It rivaled how he felt as an assistant during the 1995 NCAA tournament first-round loss to Weber State that ended Jud Heathcote, Shawn Respert and Eric Snow's careers at Michigan State.
Izzo, a Basketball Hall of Fame finalist, publicly declared this team had a legitimate chance to win a national championship and many people agreed with him just a couple days ago.
A Conference USA program had other plans, starting strong and finishing with poise against a talent-laden, experience team that simply seemed to wilt.
"There was pressure," Izzo said. "They put it on me and I put it on them. Isn't going to change as long as I'm here. That's why you come here."
Izzo hopes Josh Jackson, one of the top recruits in the country, decides to come to Michigan State to chase a championship next season. The 6-foot-7 Detroit native attends Prolific Prep Academy in California.
Jackson is scheduled to play in the McDonald's All-American game later this month along with Miles Bridges and Joshua Langford, both of whom have already signed to play with the Spartans along with a another pair of highly touted players, Cassius Winston and Nick Ward.
Michigan State will also hope Deyonta Davis decides to return for his sophomore year, instead of entering the NBA draft as a projected first-round pick.
If Davis comes back, he would be a key player on a team that includes perhaps Izzo's best recruiting class. The Spartans will also have seniors Eron Harris, Gavin Schilling and Alvin Ellis, juniors Marvin Clark, Lourawls Nairn and Javon Bess along with sophomores Matt McQuaid, Kenny Goins and Kyle Ahrens.
Izzo was clearly not in the mood to talk about the future at his postgame news conference, where he was joined by outgoing seniors: Valentine, Costello and Bryn Forbes.
"There's three guys here that gave me every single thing they had," Izzo said. "I don't care about next year."
---
---