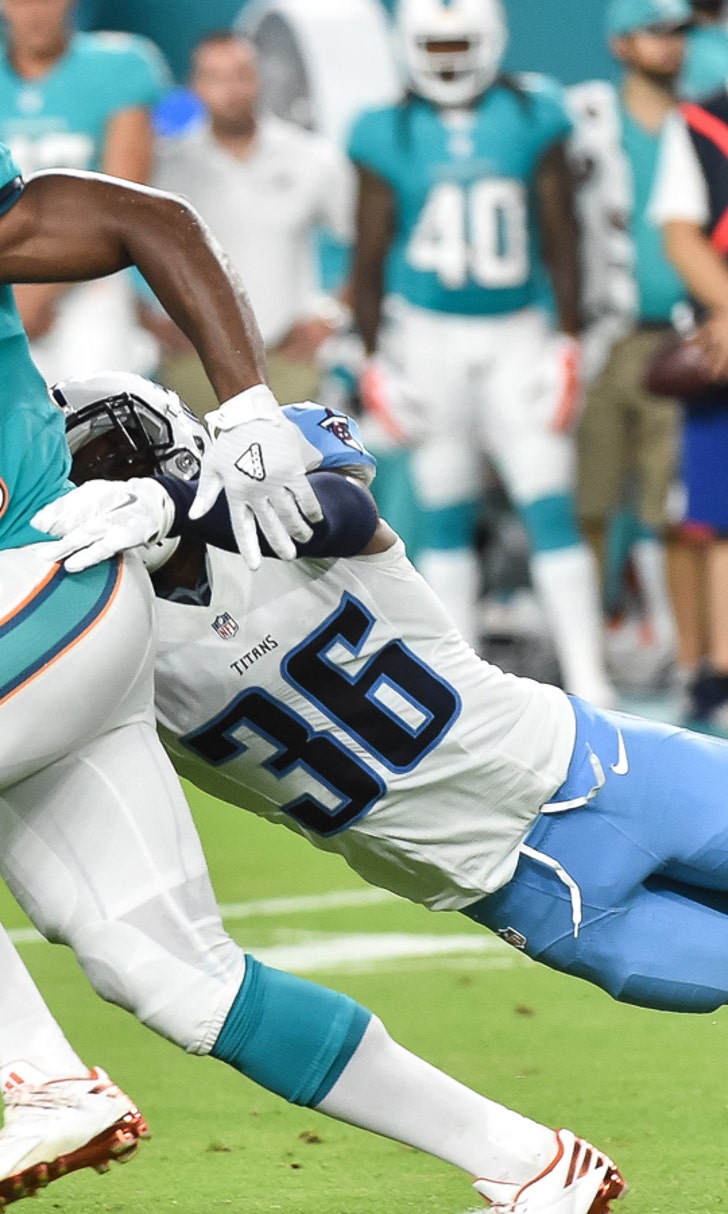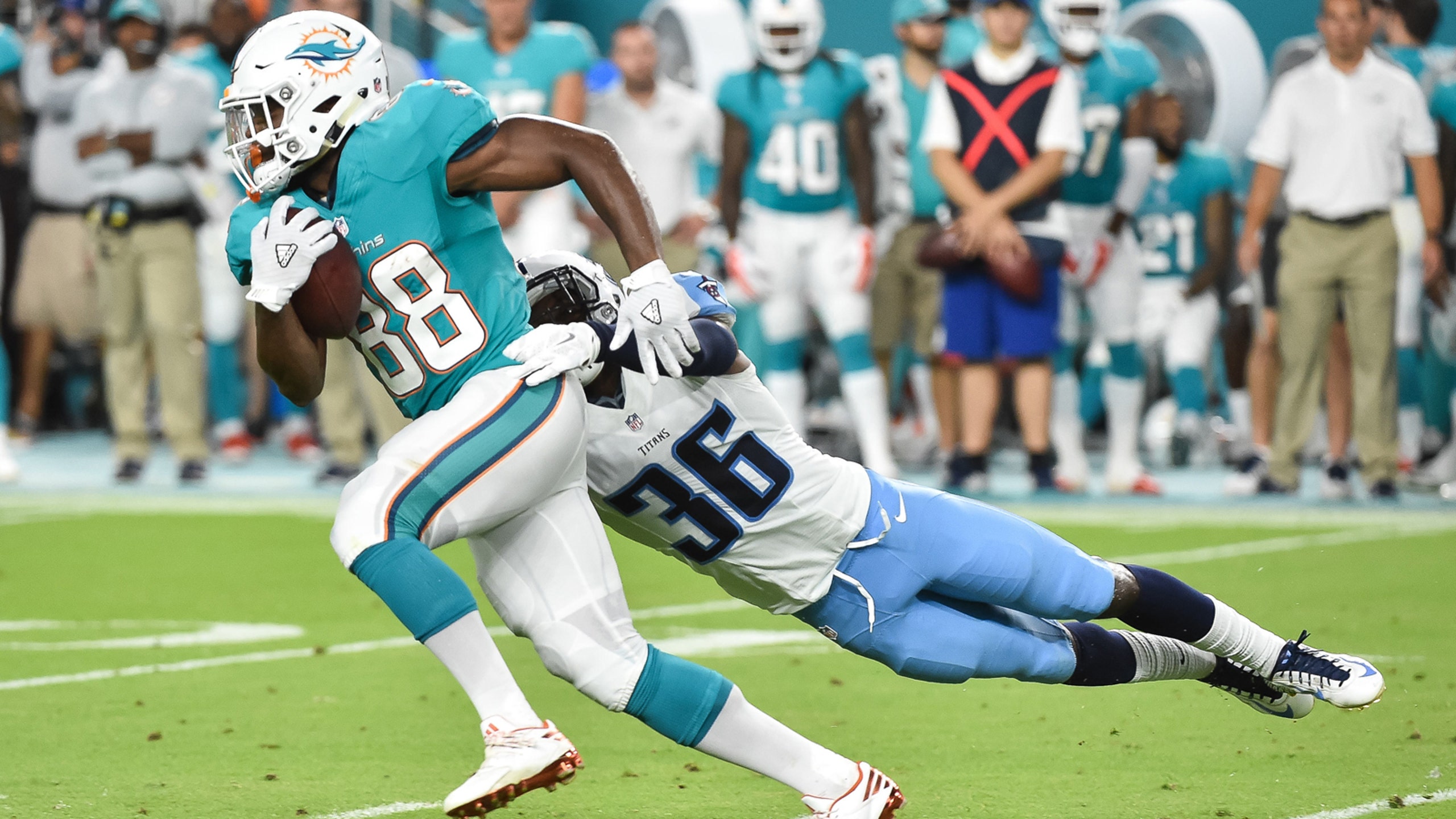 Dolphins backups falter, close out preseason with loss to Titans
BY foxsports • September 1, 2016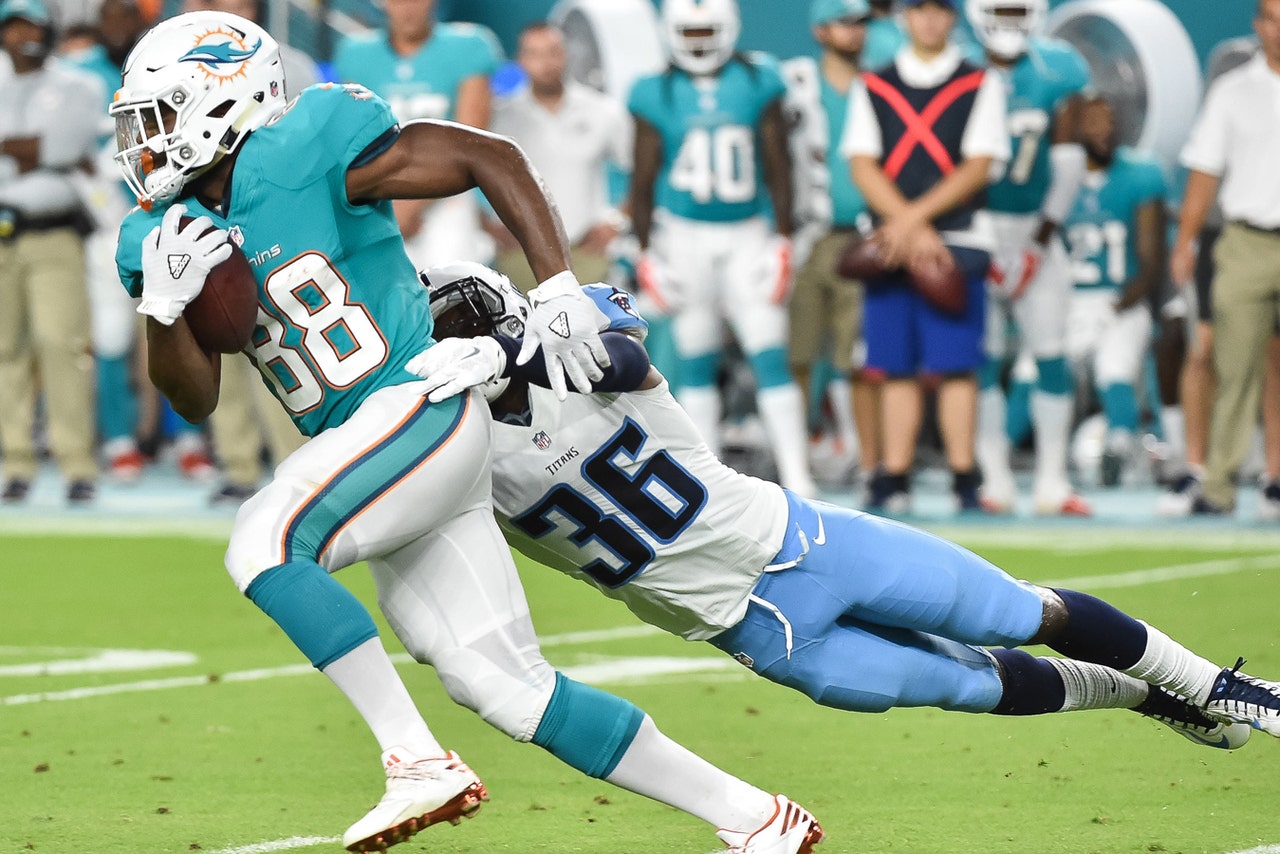 MIAMI GARDENS, Fla. (AP) -- Tennessee Titans coach Mike Mularkey decided his starters would play one series Thursday night, and for the defense, that meant a single snap.
The Titans forced and recovered a fumble on the game's first play, setting up a touchdown as they beat Miami 21-10 in the Dolphins' remodeled stadium.
Tennessee defensive end DaQuan Jones jarred the ball loose from Jay Ajayi, and Rashad Johnson recovered. Three plays later, rookie Derrick Henry scored on a 1-yard run, and that was the last action for almost all Titans first-teamers.
"I'm happy with the defense with a turnover on the first play," Mularkey said. "I'm happy with the offense scoring a touchdown off of the turnover. Those are things good teams do."
The game gave South Floridians their first chance to check out the $500 million renovation of the Dolphins' stadium, including a canopy and new video boards, as the project made its tight deadline.
"We had over 600 workers here, 24 hours a day, seven days a week for eight months," Dolphins president Tom Garfinkel said. "That's what it took to get it done."
Any attendance boost will have to wait, however. The crowd totaled perhaps 20,000, meaning the stadium was less than one-third full.
Quarterbacks Marcus Mariota and Ryan Tannehill didn't play. Most of the Dolphins' starters were held out, and coaches on both teams used the game to evaluate players trying to make the roster.
The Titans finished the exhibition season 3-1, and the Dolphins went 2-2. Both teams open the regular season Sept. 11, with Miami at Seattle, and Tennessee hosting Minnesota.
ROOKIE WATCH
Dolphins: G Laremy Tunsil, their first-round pick and a likely starter, was nursing a minor foot injury and didn't play as a precaution. RB Kenyan Drake made his preseason debut and had a 33-yard reception.
Titans: Heisman Trophy winner Henry carried seven times for 62 yards, including a 26-yard run.
"He has done a great job since he has stepped in, whether it's pass protection or running the ball," Mariota said. "We're happy to have him."
Undrafted DE Mehdi Abdesmad had a tackle for a loss and a sack.
POSITION BATTLES
Miami: Ajayi had three carries for 13 yards and dropped a pass to go along with his fumble.
"I was a little disappointed he put the ball on the ground," coach Adam Gase said. "I know it's the fourth preseason game, and everybody kind of looks at this game and shrugs their shoulders. But any time you walk on that field, it's important. To have that happen, I expect better from him."
Ajayi may lose the starting job to Arian Foster, who didn't play. CB Tony Lippett, battling rookie Xavien Howard for a starting job, had a first-quarter interception. Howard made his preseason debut and had three tackles.
Tennessee: RB Bishop Sankey, a 2014 second-round pick fighting for a roster spot, didn't get a carry until the second half and finished with 25 yards in eight carries. S Kevin Byard, a third-round pick making a bid for playing time, had an interception in the end zone. Alex Tanney, trying to make the team as the third QB, went 17 for 20 for 168 yards with two interceptions. Third-string running back Antonio Andrews scored on two short runs.
INJURY UPDATE
Dolphins: Reserve LB Mike Hull left the game in the first half with a hip injury.
Titans: Mularkey said his team had no injuries.
QUOTABLE
Dolphins: DE Julius Warmsley, battling for a roster spot, said it will nerve-wracking awaiting the coaches' decision. "It's always a grind for people like me in my position," he said. "You always have to be the hardest-working person out there, because if you're not, Joe Schmoe will come in and sweep your spot."
Titans: "I just wanted to come out there and show them I could play," Andrews said. "I got my wind up and just rocked with it."
WEATHERING THE STORM
Mariota said his family was OK while bracing for the second of two tropical storms this week in his native Hawaii.
"A crazy deal with those two hurricanes," he said. "Hopes and prayers out to them."
---
---