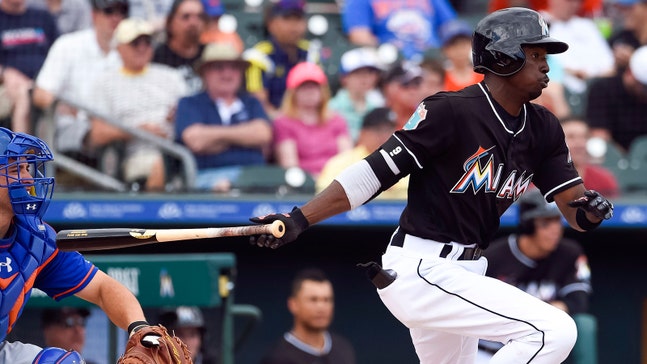 Dee Gordon smacks 3 hits, scores 2 as Marlins come up short vs. Mets
Published
Mar. 15, 2016 8:39 p.m. ET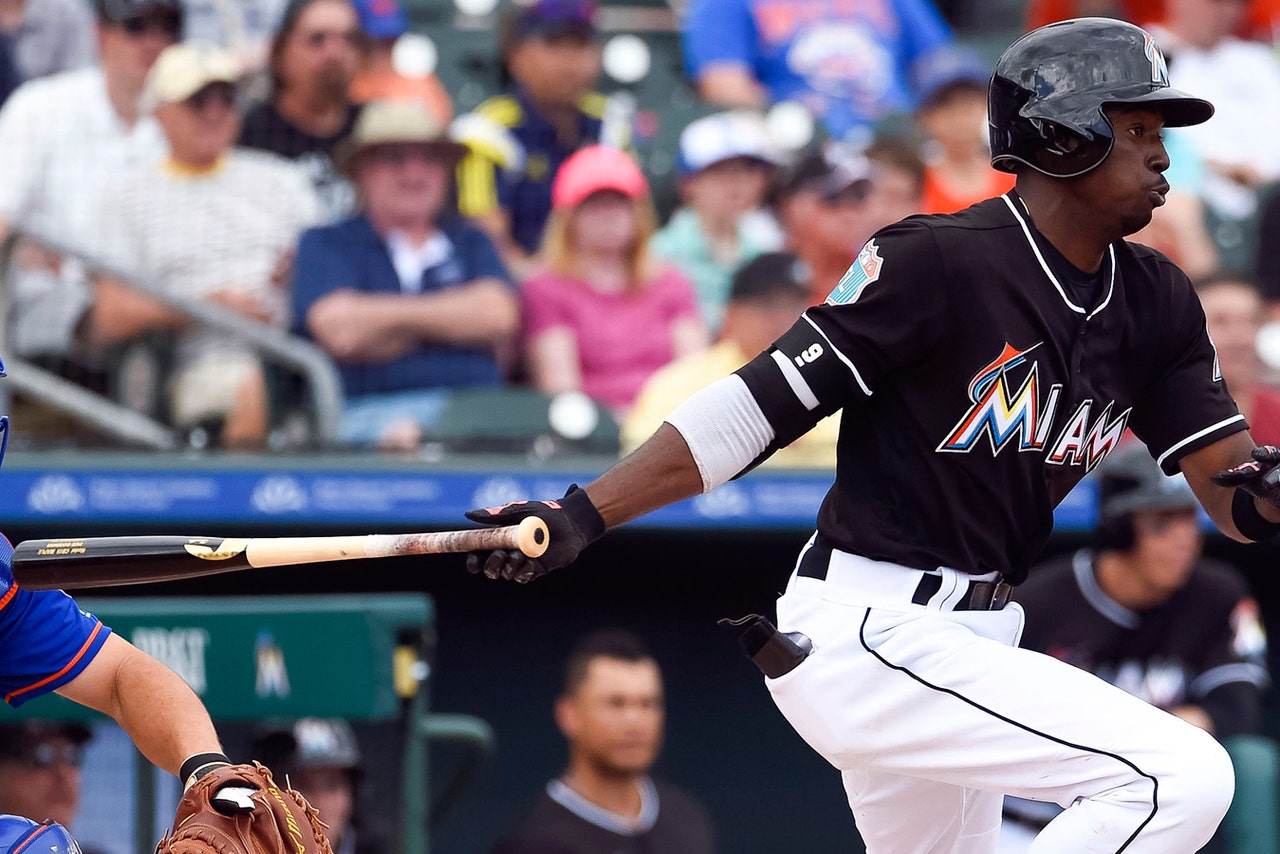 JUPITER, Fla. (AP) -- Dee Gordon went 3 for 3 with a triple and scored twice for the Miami Marlins in their 8-6 loss to the New York Mets on Tuesday.
Mets right-hander Noah Syndergaard made his second start of the spring and gave up five hits in 3 2-3 innings. He struck out three, including Giancarlo Stanton, and was charged with two runs -- one earned.
Travis d'Arnaud hit a three-run double to right-center for New York off Jose Urena.
Gordon entered with three hits all spring and doubled that total in one afternoon. The All-Star second baseman flashed his speed more than once, stealing a base for the first time in Grapefruit League play and legging out an infield single.
"It's been a while, so to be able to get out there and run a little bit was pretty cool," said Gordon, who led the National League in batting average (.333), hits (205) and steals (58) last season.
After getting an infield hit off Syndergaard in the third, Gordon launched a drive against Antonio Bastardo that one-hopped the center-field wall leading off the fifth.
The triple sparked a three-run inning for the Marlins that included consecutive doubles by Marcel Ozuna and Christian Yelich.
L.J. Mazzilli scored the decisive run for the Mets on a wild pitch in the ninth. New York scored twice in the inning without a hit.
ON HIS WAY OUT?
Mets shortstop Ruben Tejada did not make the trip, and ESPN.com reported the club has placed him on waivers.
If no team claims Tejada, the Mets could cut him this week without having to pay a large portion of his $3 million salary.
"He was supposed to be on the trip. We decided not to bring him," manager Terry Collins said.
Just because of what was going on?
"Yeah," Collins said.
Tejada came to camp healthy after his right leg was broken on Chase Utley's late takeout slide in the NL playoffs last October. But this offseason the Mets signed free agent shortstop Asdrubal Cabrera, who is sidelined with a knee injury, and they also have Wilmer Flores at the position with depth behind them in the minors.
"He's played very well," Collins said about Tejada. "He came (into camp) in great shape and he's played very well. He swung the bat good. We'll just wait to see what's going on."
STARTING TIME
Mets: Syndergaard walked one and struck out Stanton, Ichiro Suzuki and Justin Bour. The second-year starter said a mechanical flaw made it difficult to control his off-speed pitches for the first three innings. "I made an adjustment and I was able to get some quality outs going forward," Syndergaard said.
Miami: A candidate for one of the final spots in the rotation, Justin Nicolino tossed four shutout innings. He allowed three hits and struck out two.
TRAINER'S ROOM
Mets: OF Yoenis Cespedes skipped the trip with a stiff hip. ... 3B David Wright is scheduled to play in a minor league game Thursday and if all goes well he is expected to make his Grapefruit League debut Friday against Washington, Collins said. Wright was diagnosed with spinal stenosis last season.
Marlins: The calf tightness experienced by closer A.J. Ramos is no longer an issue and manager Don Mattingly said the right-hander who saved 32 games for the team last year is close to appearing in his first Grapefruit League game. "He's not even on any kind of medical list anymore," Mattingly said. "He's just on a program moving forward making sure he's completely ready to compete." ... Corner infielder Chris Johnson flied out in the seventh, his first at-bat since missing several days with a sore back.
MAKING AN IMPRESSION
Adam Conley pitched against minor league players on a back field at Roger Dean Stadium on Monday, a day off for the Marlins. The 25-year-old lefty started 11 games for Miami last year and, like Nicolino, is making a bid to break camp as part of the starting rotation.
"He seems like he's just committed," Mattingly said. "He seems like he's on a little bit of a mission. He seems confident. He pitches that way."
UP NEXT
Mets: The team takes its lone day off this spring on Wednesday. The Mets return to Roger Dean Stadium to face the Marlins on Thursday.
Marlins: Miami plays the middle game of a three-game homestand when Washington comes to Jupiter on Wednesday.
---
---