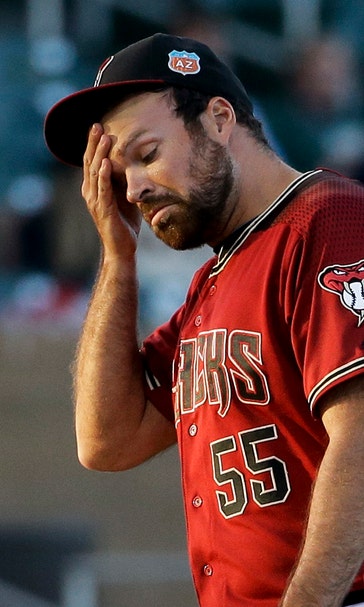 D-backs minor-league report: Collmenter struggles in rehab outing
May 9, 2016

Josh Collmenter's return from a shoulder injury suffered an apparent setback on Saturday at Class A Visalia, as the Diamondbacks' 2015 Opening Day starter failed to get out of the first inning against Lancaster. Collmenter gave up seven runs (five earned) and five hits while recording only two outs.
Collmenter had made one previous rehab start with the Rawhide, pitching three scoreless innings on May 2, giving up two hits and one walk while striking out three.
Collmenter has been on the disabled list since the end of spring training due to right shoulder inflammation.
In other news from Visalia, Rudy Flores, Henry Castillo and Victor Reyes each had four hits and a home run in Sunday's 19-2 rout of Lancaster.
Flores, a 25-year-old first baseman, leads the league in RBI with 32, is second with nine home runs and has a .342 batting average. He had a big year at Visalia in 2014 (28 home runs, 100 RBI) but has taken a step back this season after struggling last year at Class AA Mobile.
Castillo, a 21-year-old middle infielder, is matching Flores' .342 batting average, and he's already set a career high with four home runs. He hit .315 last season at Kane County and .306 at two stops in 2014.
AROUND THE BASES
Kane County: Cody Reed made his third consecutive brilliant start for Kane County in the Class A Midwest League on Thursday, striking out nine over 6 2/3 scoreless innings against Fort Wayne. He gave up four hits and did not walk a batter. In three starts this season, Reed has an astounding 31 strikeouts and no walks over 17 2/3 innings. He's given up 10 hits and one earned run for an 0.51 ERA. The 19-year-old left-hander out of Ardmore, Ala., was a second-round draft pick in 2014
Justin Donatella, the organization's minor-league pitcher of the month for April, had two more solid outings last week, giving up two earned runs over 12 2/3 innings. He's 4-0 with a 1.01 ERA over six starts.
Right-hander Taylor Clarke, a third-round pick out of College of Charleston last June, earned himself a promotion to Visalia, giving up one hit over 5 1/3 scoreless innings against Lake County. He walked two and struck out four before turning it over to the bullpen. Three relievers finished up the one-hitter.
Mobile: Cuban right-hander Yoan Lopez bounced back from two rough starts with a strong outing on Saturday night against Chattanooga. He pitched 6 1/3 scoreless innings, giving up six hits, walking one and striking out three.
Saturday's outing followed a two-start stretch in which Lopez gave up seven earned runs in 4 2/3 innings. For the season, Lopez is 3-2 with a 3.10 ERA but just a 17/11 strikeout-to-walk ratio over 29 innings.
Bay Bears outfielder Mitch Haniger, acquired two seasons ago from Milwaukee in the Gerardo Parra trade, is second in the Southern League with a .352 average.
Reno: 34-year-old outfielder Jason Bourgeois has five hits over his past two games for the Aces and is third in the PCL with a .380 average. Outfielder Peter O'Brien is up to nine home runs -- tied for the league lead -- while hitting .327. Socrates Brito, who began the year with the D-backs, it hitting just .191 in 16 games, but he's showed some signs of life with five hits over his past three games.
---
---