Stephen Curry
Stephen Curry
Curry comes alive to score 35, Warriors rout Rockets by 41, take 2-1 series lead
Published
May. 20, 2018 11:12 p.m. ET
OAKLAND, Calif. (AP) -- Stephen Curry got his groove back to score 35 points with five 3-pointers, shooting over James Harden and driving past the Houston star as the Golden State Warriors made a second-half statement to beat the Rockets 126-85 on Sunday night for a 2-1 lead in the Western Conference finals.

Kevin Durant added 25 points, six rebounds and six assists, while Draymond Green grabbed 17 rebounds to go with 10 points and six assists. The Warriors won an NBA-record 16th consecutive home postseason game, surpassing the Chicago Bulls' mark of 15 in a row from April 27, 1990-May 21, 1991.

The defending champions got defensive -- and maybe a little mad -- after a 127-105 Game 2 defeat Wednesday night at Houston, determined to make stops to ignite the transition game and open up 3-point shooters.

And they eventually got Curry going with 18 points on 7-for-7 shooting in the third quarter.

Harden had 20 points and nine assists, while Chris Paul added 13 points and 10 rebounds as they combined to shoot just 12 for 32.

Game 4 is Tuesday night at Oracle Arena.

Curry and Durant each scored five quick points as Golden State opened the third quarter with a 10-0 burst to go ahead 64-43.

Under pressure from Paul, Curry swished a 3 from way back with 5:06 left in the third. He struggled with his long-range shot again early but drove through the paint at every chance.

Curry hit a baseline 3-pointer at the 9:02 mark of the first but missed his next five 3s before going 4 for 5 in the second half. He is now 7 of 25 from long range -- he made one in each of the first two games.



The Warriors' five starters all scored in double figures, the first time they've done so this postseason.

Trevor Ariza and Green received a double-technical with 6:49 to play when Ariza shoved Green as they traded words.

Both potent offenses were slow getting rolling as the teams played strong defense.

Harden and Paul began 3 for 14 with Paul missing six shots before getting his first basket on goaltending against Andre Iguodala 2:39 before halftime.

Golden State began getting the looks it liked after halftime. The Warriors faced more stingy, in-the-face pressure from Houston, making it hard to get any early flow shooting. Durant hit his first 3 6:27 before halftime then missed from the deep the next time down.

A moment of silence was held before the national anthem for victims of the Houston school shooting.

TIP-INS

Rockets: The Rockets surrendered 10 fast-break points in the first period while getting none of their own. ... They were outrebounded 49-41 and shot 32 for 80 from the floor.

Warriors: Kevon Looney had two key blocks off the bench in the first. ... Durant notched his 20th straight postseason game with 20 or more points. ... Golden State is 36-5 at home in the playoffs since the 2015 postseason. ... Thompson (1,786) moved past Rick Barry (1,776) for second place on the Warriors' career postseason scoring list. ... Curry (712) moved past Barry (699) into sole possession for most postseason baskets in franchise history. ... The "Run TMC" trio of Tim Hardaway, Mitch Richmond and Chris Mullin were honored with a standing ovation during a first-quarter timeout. On Monday, Richmond will introduce Hardaway as he goes into the Bay Area Sports Hall of Fame of which Richmond and Mullin are already members.

PAUL'S HEALTH

Rockets coach Mike D'Antoni made the point once again about Paul being healthy: "There's nothing wrong at all."

"We're not going to win without him," D'Antoni said. "So if he's got to limp and drag his leg to the finish line, so be it. And he's ready to do that."

ORACLE AURA

That deafening, bright yellow sellout crowd was imposing once again.

"Somebody asked me, `Is Oracle tough to play?' Yeah, because the Warriors play here," D'Antoni said. "There's a certain energy that their fans will give them and moments they hit two or three 3s you can get a buzz going that helps the home team. You just have to try to keep that crowd out as much as you can."
---
---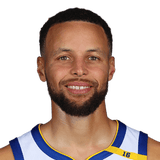 Get more from Stephen Curry
Follow your favorites to get information about games, news and more
---