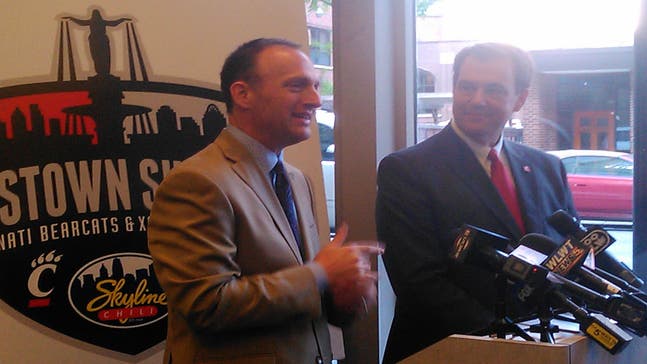 Crosstown Shootout will return home
Published
May. 12, 2014 8:15 p.m. ET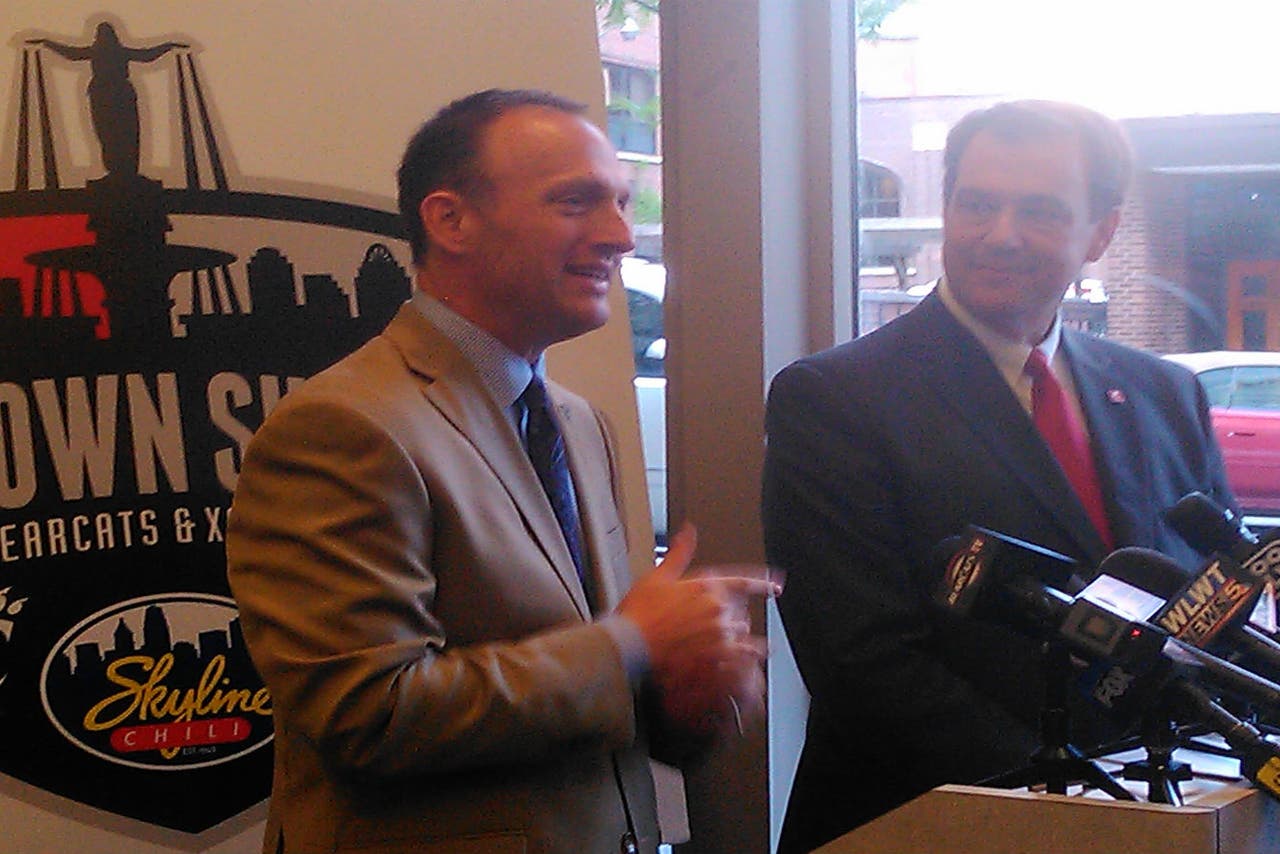 CINCINNATI -- Xavier and the University of Cincinnati have taken themselves off of double-secret probation.
The two rivals announced Monday afternoon at a joint press conference that they will return to playing their annual men's basketball game on-campus, ditching the moniker of Classic in the process and returning the series to its previous name of the Skyline Crosstown Shootout. Athletic directors Mike Bohn of UC and Greg Christopher of Xavier, neither of whom were in their current positions when a brawl at the end of Xavier'€™s 76-53 win on Dec. 10, 2011 at the Cintas Center precipitated a two-year home court hiatus, worked out the final details late last week.
"€œThis is great college rivalry and we'€™re thrilled to have it coming back to campus and thrilled that we could come together and work on this,"€ said Christopher. "College athletics is so much about us using as a platform for the university to grow and to expand, to expand the vision of the university and ultimately help our universities grow. That'€™s the macro level. The micro level is that we're both responsible for several hundred student-athletes, their development, their growth, so if we can do things in a positive light like this it's simply helps both of us on so many levels."
The game was played at the downtown U.S. Bank Arena the last two seasons. The change of locale will begin this upcoming season. It will be played on Feb. 18 at UC's Fifth Third Arena. The agreement for the alternating home-and-home series is for 10 years.
UC leads the overall series 49-32, although Xavier has won six of the last 10 meetings. Both teams reached the NCAA tournament last season. They both lost their opening games; Xavier fell to North Carolina State in the First Four, while UC was beaten by Harvard in its first game.
The schools briefly contemplated suspending the series after the brawl. They instead reached a compromise to play the game at the neutral site downtown. The teams split the two games at U.S. Bank Arena; UC won 60-45 in the 2012-13 season while Xavier won 64-47 this past December.
Following that game, UC head coach Mick Cronin said he would never return to play at Cintas. That will obviously change in the 2015-16 season when the teams play on the Xavier campus on Dec. 12, 2015. Cronin has maintained his preference for playing the game at a neutral site but Bohn said he didn't have to do any arm-wringing to sway his coach.
"Mick is a professional," said Bohn. "€œHe understands that if we enhance and grow our own brand and his ability to recruit and compete at the highest level and build his program to the aspirations that he has is shared by our administration at the highest of levels on campus. He senses that and understands that, so I believe that Mick is actually excited about it."
Neither Cronin nor Xavier head coach Chris Mack attended the press conference due to previous commitments.
Bohn and Christopher set the dates themselves with the specific idea of ensuring that students are on campus when the game is played. They each said that in returning the game to the campus sites they would again be able to offer the game as part of their respective season ticket packages.
Christopher was hired on March 26, 2013, to replace Mike Bobinski, who left to take the same position at Georgia Tech. He and former UC AD Whit Babcock began discussing the future of the series last year before Babcock took the AD job at Virginia Tech this past January. Bohn was hired on Feb. 6 and quickly resumed the talks with Christopher.
Christopher and Bohn have a coaching connection in their personal backgrounds; Bohn attended Boulder (Col.) High School were his head coach was Tim Rose in the late 1970s. Rose was the head coach at Miami University when Christopher played one season for the RedHawks in the mid-1980s.
"We both have great respect for Tim so we had that ability to immediately be like he would be: focused, committed and upright with great integrity,"€ said Bohn.
U.S. Bank Arena has a listed capacity of 17,556 seats. The game two seasons ago had an attendance of 14,528. Last season's game had an announced attendance of 10,250. Fifth Third Arena has a capacity of 13,176 while Cintas Center holds 10,250.
Christopher previously worked at Purdue as an assistant athletic director and was the athletic director at Bowling Green State University before being hired at Xavier. Bohn was previously the athletic director at Colorado. Both spoke to their past experience with rivalries -- Christopher referenced Purdue vs. Indiana and Bowling Green vs. Toledo, while Bohn's experiences at Colorado included an annual football game between the Buffalos and Colorado State that has been played in Denver at the neutral site of Sports Authority Field at Mile High.
"€œThat campus atmosphere, even when you watch it on TV, there's just a different buzz when you watching that game on campus versus some sort of neutral site," said Christopher.
"€œIn the end, it comes down to an environment for your student-athletes, for your students, your fans, your donors, the community," said Bohn. "€œEven the media. Do you guys want to cover an event that doesn'€™t have an empty seat, that is ripe with anticipation and excitement and fanfare versus playing somewhere where maybe it isn't full? I think in the end that'€™s the experience we want our student-athletes, our fans, our media, our collective constituents want to be a part of."
---