Coyotes cap wild week with 2 trades to fill 3 voids
BY John Marshall • June 23, 2017
GLENDALE, Ariz. -- Big changes were expected when Andrew Barroway became sole owner of the Arizona Coyotes earlier this month.

The Coyotes didn't waste any time.

The coach, the No. 1 goalie and the captain are gone.

A top-line center, a potential new No. 1 goalie and a steady defenseman are headed to the desert.

In less than a week, Barroway and the Coyotes have changed the complexion and, they hope, the direction of a franchise that has missed the playoffs five straight seasons.

"It's a big picture, building an organization," Coyotes GM John Chayka said before the NHL draft in Chicago on Friday. "It ebbs and flows. Sometimes you hit, sometimes you miss. We took a big step today."

Barroway became Arizona's sole owner when he bought out the minority stakeholders on June 12.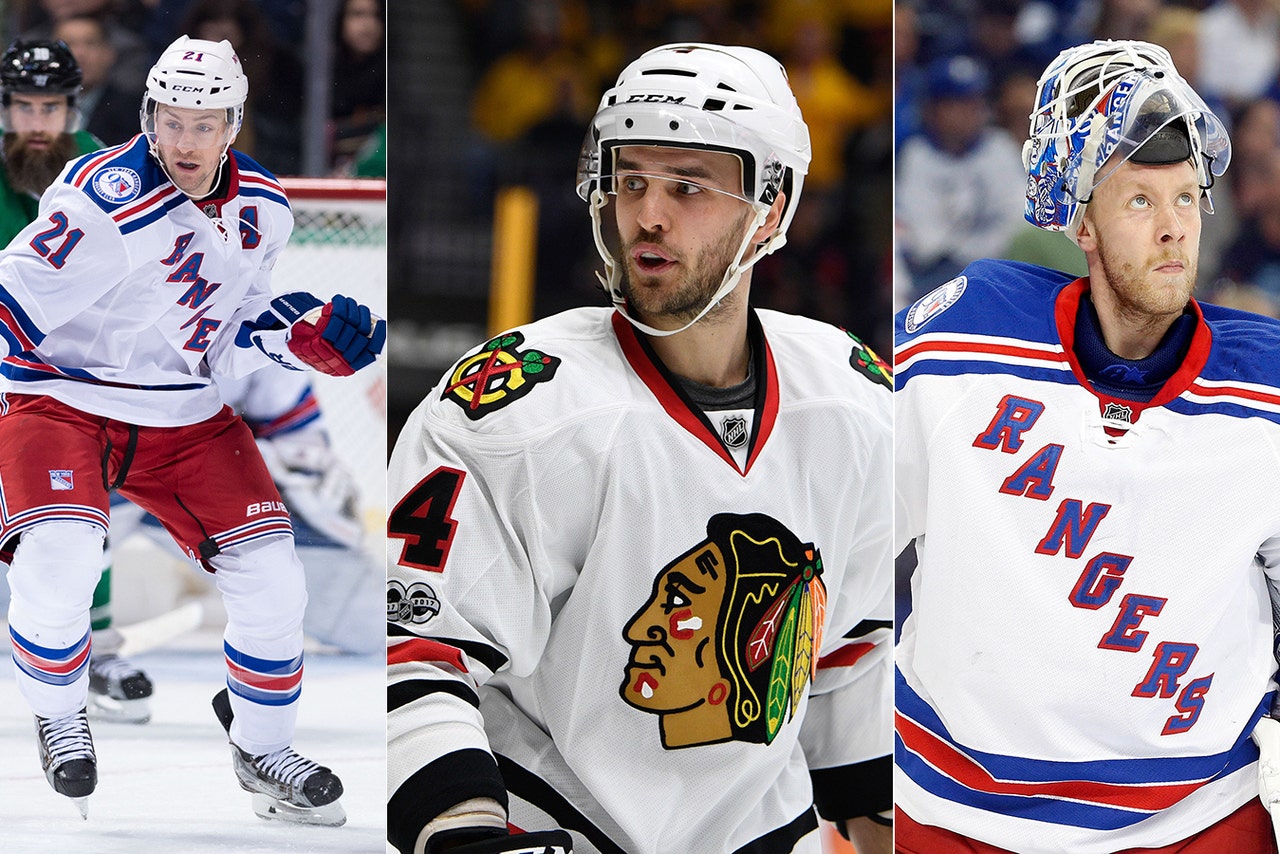 Derek Stepan (from left), Niklas Hjalmarsson and Antti Raanta. (USA TODAY Sports photos)

The Coyotes made a big move last Saturday by trading Mike Smith to Calgary, leaving them without a No. 1 goalie. Two days later, they announced that a contract for next season would not be offered to captain Shane Doan, who has spent his entire 21-year career with the organization.

On Thursday, the team and coach Dave Tippett agreed to part ways, ending an eight-year run that included a run to the 2012 Western Conference Finals and plenty of ups and downs.

With the fan base reeling a bit and the future looking uncertain -- on the ice as well as where they'll play -- the Coyotes made a pair of eye-opening moves before the draft got started.

The first landed them a dependable defenseman in Niklas Hjalmarsson through a trade with Chicago. The Coyotes lost young defenseman Connor Murphy and forward Laurent Dauphin in the deal, but Hjalmarsson gives them a veteran presence who won the Stanley Cup three times with the Blackhawks.

He's also someone who can pair with Oliver Ekman-Larsson, one of the league's best offensive defensemen.

"We think Hjalmarsson is a perfect partner for OEL, who struggled last season," Chayka said. "That was the genesis of that move. Oliver, what makes him special, is his play with the puck, his offensive side of the game, the way he makes plays. And Hjalmarsson is an elite defender, one of the best, and he will free Oliver up to do his thing."

The Coyotes weren't done.

They followed by acquiring center Derek Stepan and goalie Antti Raanta from the New York Rangers for defenseman Anthony DeAngelo and the seventh overall pick in this year's draft.

One of the biggest goals for Arizona for years has been to find an elite, top-line center and Stepan could be the player to fill that role.

He had 17 goals and 38 assists in 81 games with the Rangers last season and has scored 53 or more points in each of his last four seasons.

"This organization has been looking for a No. 1 center man for a decade and he's a guy that can fill that hole," Chayka said. "I had a chance to make that move and I wasn't going to miss it."

The Coyotes' other big hole, now that Smith is gone, was at goalie.

They hope Raanta can be the No. 1 they need. He's been a backup his entire career, which includes a stop in Chicago, but has been steady.

Raanta went 16-8-2 with four shutouts and a 2.26 goals-against average in 30 games as Henrik Lundqvist's backup last season and has a career goals-against average of 2.33.

"I feel like my game is headed in the right direction," Raanta said. "I feel like I'm ready to take one more step."

The additions have the Coyotes feeling like they're ready to take a big step. After five seasons of missing the playoffs, it's time to move forward.
---
---