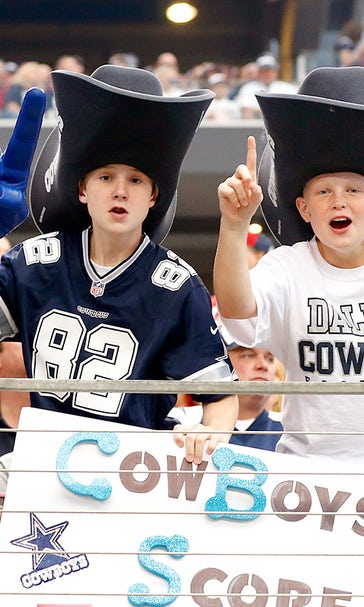 Cowboys' success has ripples throughout the NFL kingdom
BY foxsports • October 29, 2014
TEMPE, Ariz. -- The Cowboys' Monday night loss to the Redskins might have taken a little bit of luster of this Sunday's game with the Cardinals at AT&T Stadium in Dallas, but not much.
Dallas is still atop the NFC East at 6-2, the Cardinals are still atop the NFC West at 6-1, and the winner of this game will still own the NFC's best record. Any time that bragging right is on the line, the game has marquee meaning, but when the Cowboys are involved, it means much more.
"They're already America's team. Everybody knows that," said Cardinals linebacker Alex Okafor, who grew up in Dallas and played at the University of Texas. "When the Cowboys are good, it's good for Dallas, it's good for Texas and it's good for the NFL."
It's also good for television. When NBC's Sunday Night Football schedule was released, the Cowboys were scheduled for a maximum three dates before the Week 17 flex despite coming off three consecutive 8-8 non-playoff seasons. No other non-playoff team earned such treatment. 
The gamble was worth it. 
In their first appearance on SNF, the Cowboys (vs. Saints) attracted 23.1 million viewers for a Dallas rout. It ranks third in viewership after eight SNF games this season. Only the season opener between the Indianapolis Colts and the Denver Broncos (23.7 million) and Peyton Manning's record-setting performance for career TDs against the 49ers (23.8) have drawn more viewers.
The Cowboys-Saints game came in Week 4 when Dallas was just 2-1, and no one could have predicted it was in the midst of a six-game winning streak. Imagine what the ratings will look like if the Cowboys keep this up. Then imagine the state of hysteria that is Texas.
Cardinals running back Stepfan Taylor grew up in Arlington, home of AT&T Stadium. He was born in 1991, a year before the Cowboys started their run of three Super Bowl titles in four years with Troy Aikman at quarterback, Emmitt Smith at running back, Michael Irvin at receiver and a cast of other stars.
He's seeing the same sort of buzz around the team now.
"I see a lot of it on my Facebook timeline; my Twitter timeline: 'Go Cowboys' and all that," he said. "It's definitely a mood swing because last year it wasn't like that; it was the opposite. This year they're definitely on board."
Because he grew up in Dallas and played at Texas, Cardinals linebacker Sam Acho admits he put too much stock in his first meeting with the Cowboys as a rookie in 2011.
"I made the game bigger than it was, and I didn't play too great of a game," he said. "This week, I'm not going to make it any bigger than it is. I'm not looking at the Cowboys saying 'This is my team. I've got to go beat them.' I'm just looking at the Cowboys like they're the next opponent."
Okafor acknowledges the importance of not getting too high for this game, but that doesn't change how he feels.
"I was a fan back in the day, but I play for the Cardinals now," he said. "It would be much sweeter to put a lickin' on 'em." 
Okafor said he pities the Cowboys for having to live under the microscope 24/7.
"There's too much attention down there," he said. "They can't do anything without every inch of them being observed."
Cowboys quarterback Tony Romo might be the only player unaware of how unusually intense that scrutiny is -- at least he's not admitting it.
"I've never experienced anything other than being a part of the Dallas Cowboys, so I wouldn't know what a difference would be," he said. "For me, it's just part of playing football in the National Football League. I think everyone in each city goes through that."
Not really. And if the Cowboys keep winning, they may build their national following back to the point where they can lay solid claim to the title America's Team once again. Before the Cardinals arrived in Arizona in 1988, this was Cowboy country, and there still are a great many Dallas fans here.
When asked to reminisce about his playing days with the Cowboys from 1993-99, Garrett acknowledged seeing many Cowboys fans at Sun Devil Stadium. But he didn't find the scene particularly remarkable over other cities.
"We have a pretty good following really nationwide," he said. "There are a lot of places we'll go to where there will be Cowboys fans in the stands."
Follow Craig Morgan on Twitter
---
---