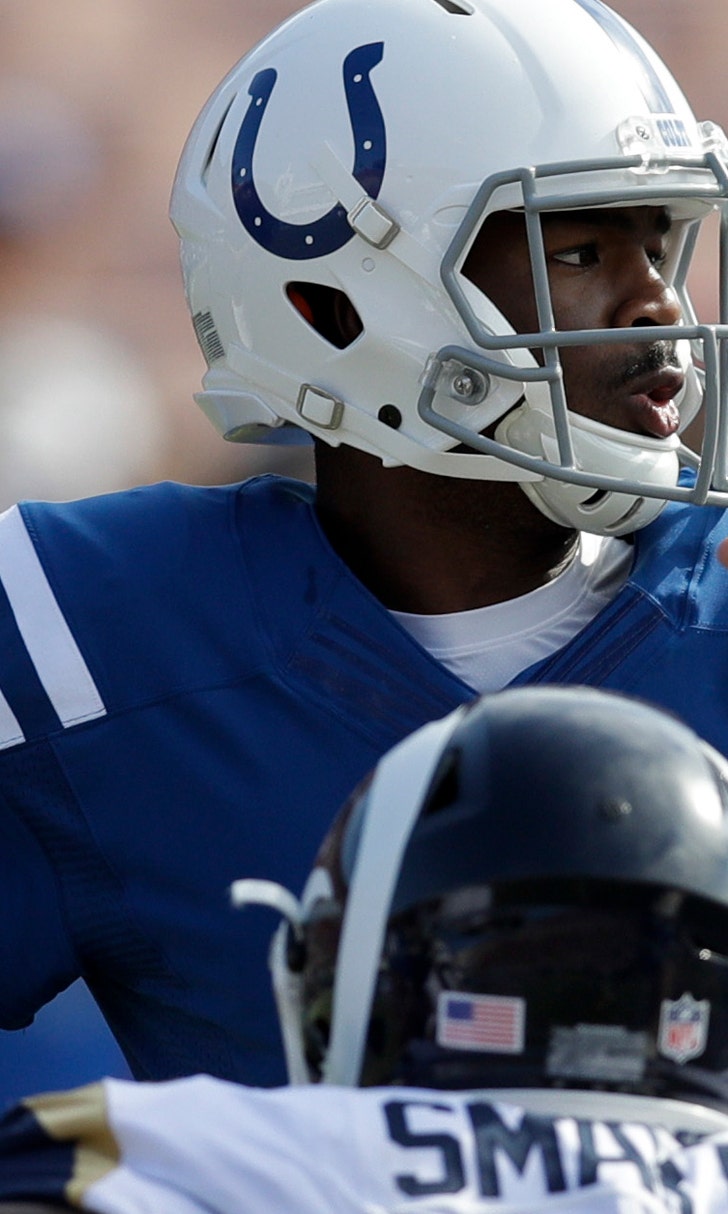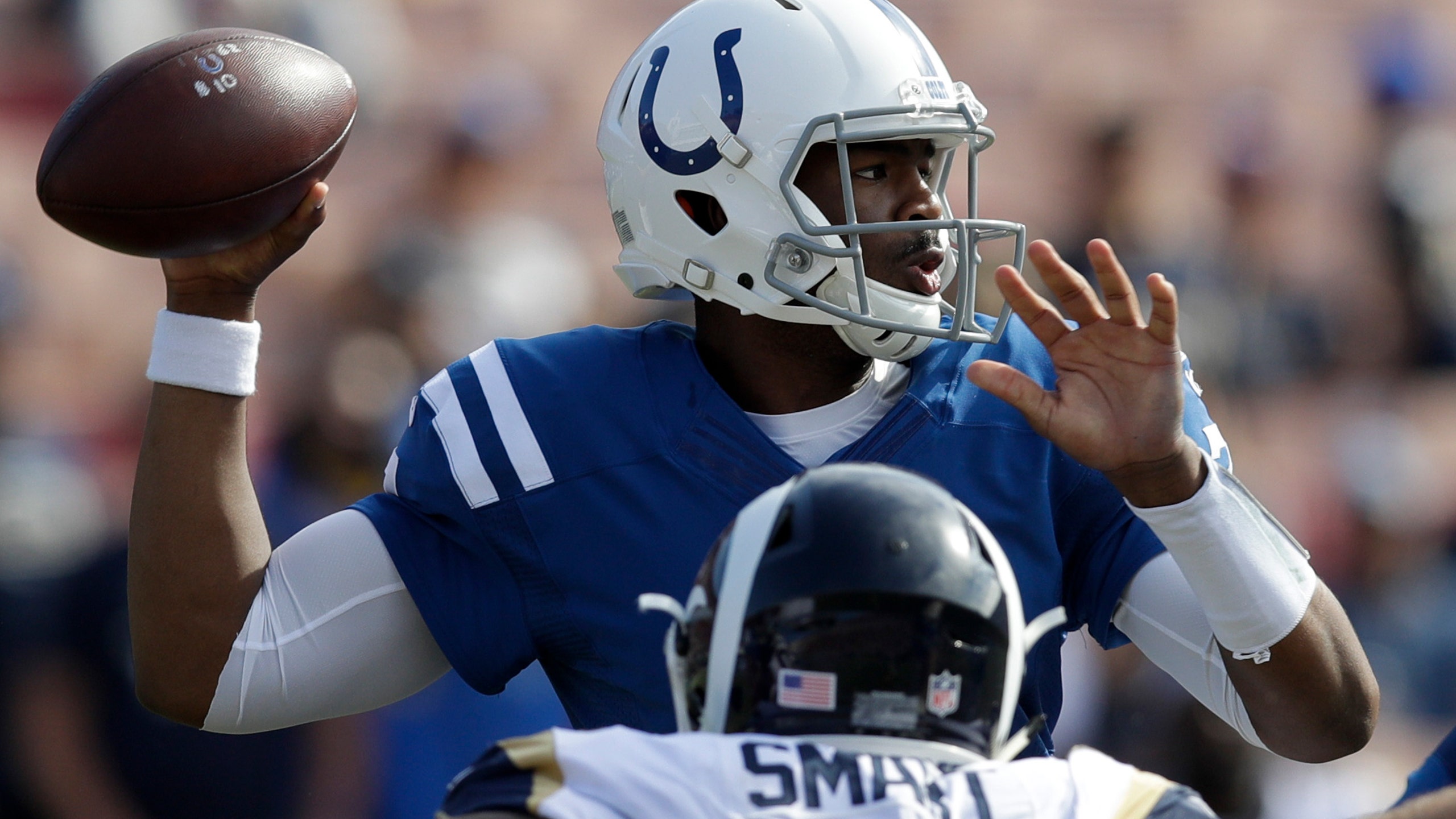 Colts QB Brissett shows some spark after relieving Tolzien from rough start
September 11, 2017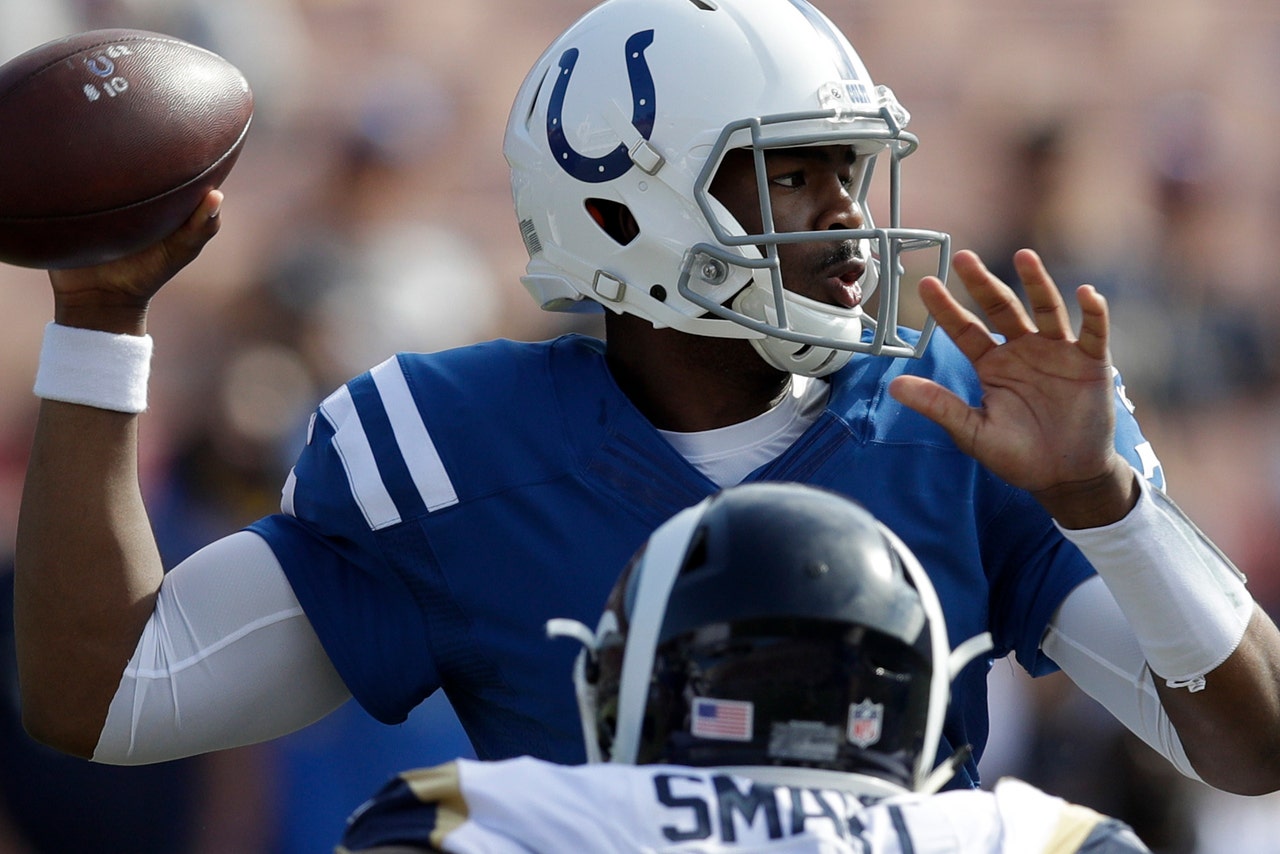 LOS ANGELES -- The Indianapolis Colts are Andrew Luck's team.

With an uncertain timeline for when their star quarterback might return from shoulder surgery, however, there were signs in a dismal 46-9 season-opening loss to the Los Angeles Rams that the job could soon pass to newly acquired Jacoby Brissett on an interim basis.

Brissett replaced Scott Tolzien in the fourth quarter, and the former New England third-stringer was on the field for three series.

Brissett led the Colts to their only touchdown on his first drive, recovered running back Marlon Mack's fumble in the end zone for a safety on the next and ended the afternoon with a three-and-out.

Despite his limited knowledge of the playbook after barely one week with the Colts, Brissett wouldn't use that as an excuse.

"I'm not going to sit here and make any excuses for me. I'm in the NFL and you got to go out there and you got prepare like a starter," said Brissett, who was 2 of 3 for 51 yards.

"When your opportunity comes, you got to take advantage of it."

But Brissett showed more than Tolzien on a 50-yard completion to Donte Moncrief. Moncrief was able to cut under defensive back Blake Countess and make the reception, setting up a 3-yard touchdown run by Mack.

Tolzien struggled to make throws outside the numbers, starting with his first pass intended for T.Y. Hilton.

Trumaine Johnson easily stepped in front of a deep out that spent too long in the air and returned it 39 yards for the Rams' opening touchdown.

LaMarcus Joyner added a nearly identical touchdown on a 29-yard interception return in the third quarter, again on a pass that lacked velocity.

Tolzien said his arm was healthy and that the second pick-six was not compounded by his earlier mistake.

"I wouldn't say I felt like things snowballed on my end," Tolzien said. "Now, obviously, if you're a fan watching at home, probably looked that way."

Tolzien finished the game 9 of 18 for 128 yards, falling to 0-3-1 as a starter.

Colts coach Chuck Pagano defended the decision to sign Tolzien to a two-year contract in March over other options, most notably former San Francisco 49ers quarterback Colin Kaepernick, despite the uncertain timetable for Luck.

"Never," Pagano said. "I'll never second-guess that. We made the right call."



Pagano wouldn't say who would start at quarterback next Sunday in Indy's home opener against the Arizona Cardinals. "We'll take a look at it," he said.

"We got to look at everything," Pagano said after the Colts finished with 225 yards of offense and lost a fumble.

When the Colts might turn to Brissett, who was acquired from the Patriots in a trade for wide receiver and former first-round pick Phillip Dorsett, will likely depend on how quickly he can familiarize himself with the offense.

"For the amount of time he has been in the building, his menu is small, to say the least," Pagano said. "We're going to keep learning, keep teaching and keep bringing him up to speed best we can. Then we'll see where we are at."

Brissett said he knew enough to get into the game, but wouldn't put a percentage on his overall understanding of the system.

"Enough to know that I couldn't answer that question 'cause I don't know how much it is," Brissett said. "It's a work in progress, and I'm still learning, still attacking it and trying to get better each day."
---
---