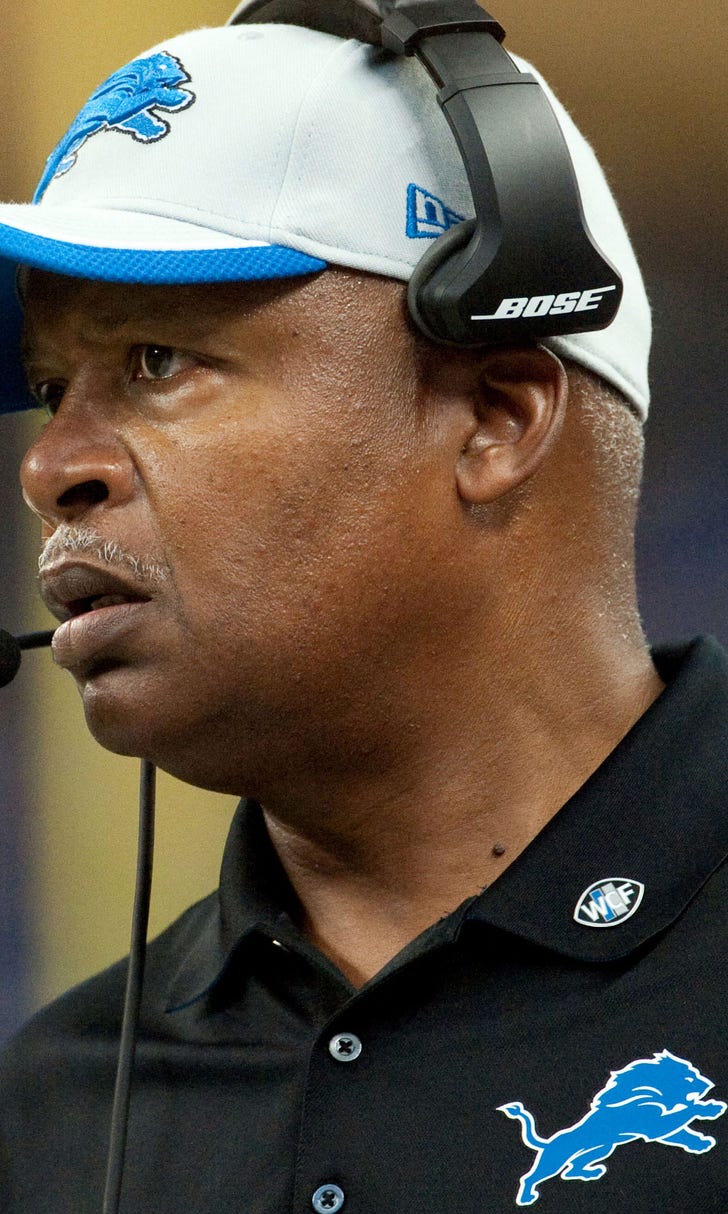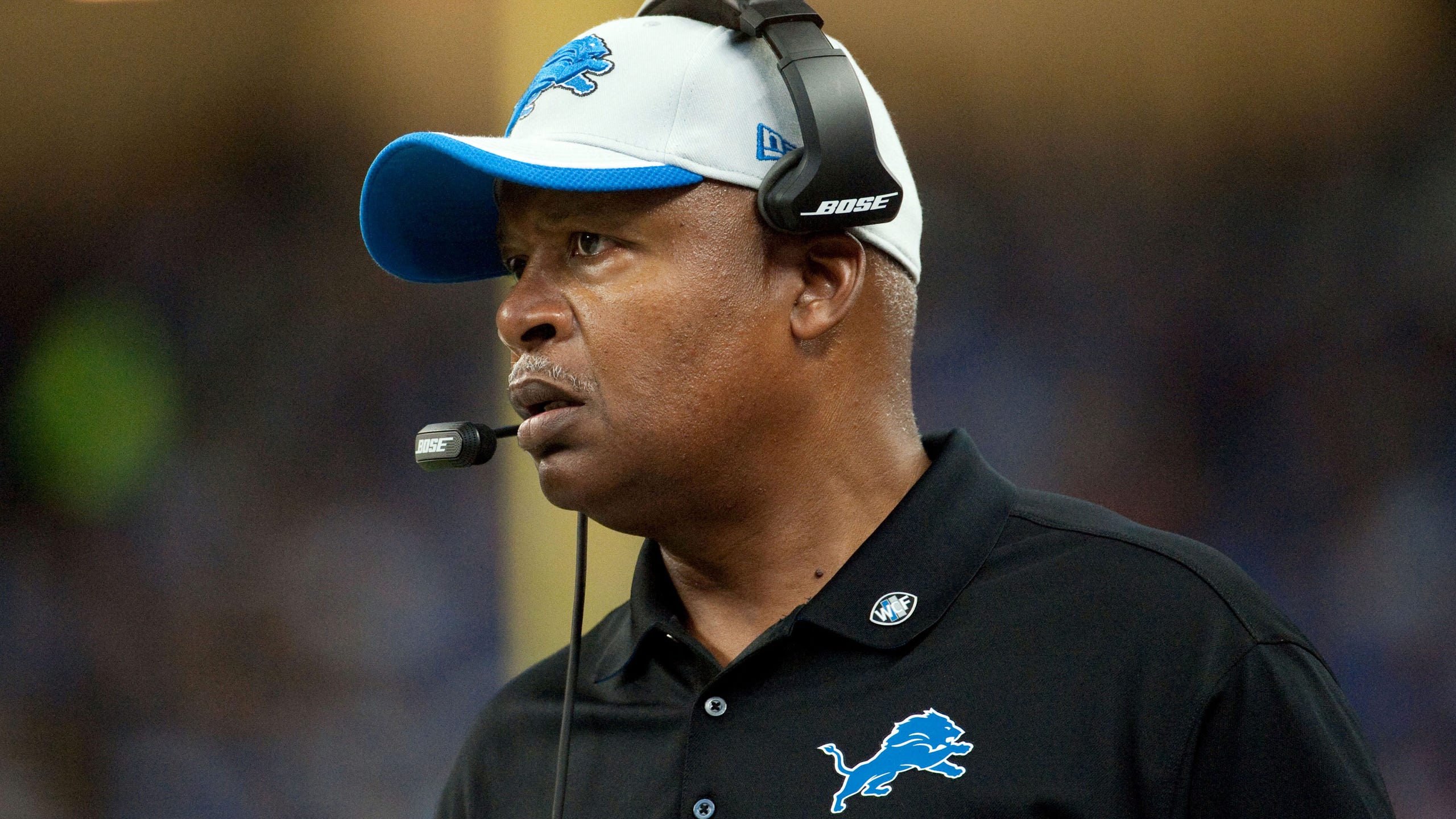 Caldwell deserves a lot of credit for Lions' turnaround
BY foxsports • October 29, 2014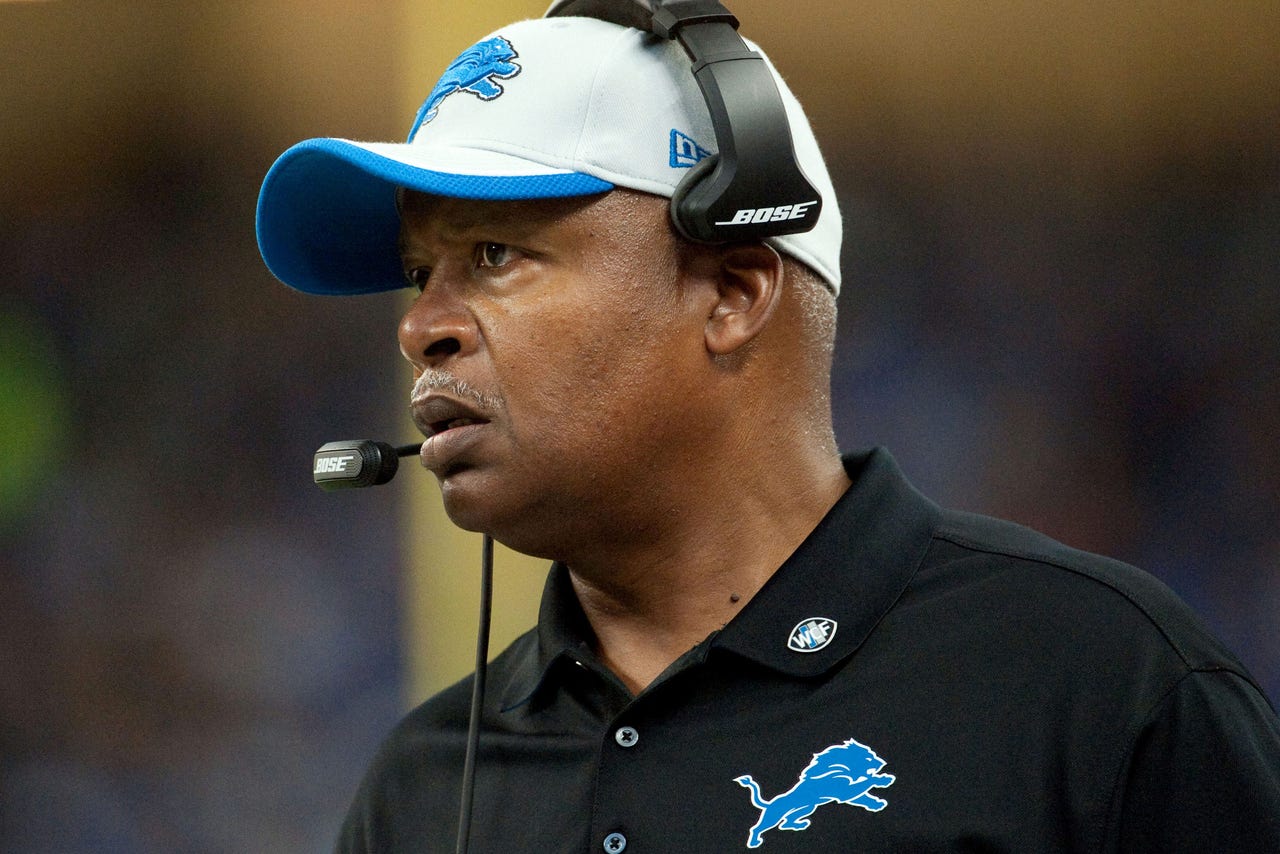 If nothing else, coach Jim Caldwell brought some much-needed good karma to an organization that many believe has been cursed for decades.
The Detroit Lions have won back-to-back one-point games in improbable fashion, rallying from a 13-point deficit in the final four minutes against New Orleans and following that up with another dramatic comeback from a 21-point halftime deficit against Atlanta, to move into sole possession of first place in the NFC North with a 6-2 record.
It's led some to wonder whether this could be one of those so-called "teams of destiny" in the making.
"I believe in providence, I don't necessarily believe in team of destiny," Caldwell said. "But after you look back on some seasons, you see that there was some signature sort of events that occurred. Some of them are inexplicable. The thing about our game is there is such random occurrences that you cannot predict, so what we do is we practice hard to try to control the things that we can."
Caldwell has been around some miraculous-type moments in the NFL, none bigger than a playoff victory two years ago in Denver when he was the Baltimore Ravens' offensive coordinator. That game went to overtime only because of a 70-yard Hail Mary from Joe Flacco to Jacoby Jones with 31 seconds remaining, thanks to a brutal play by Broncos free safety Rahim Moore.
Often times it's not about who makes the winning play in these situations, but whose mistake loses it. The Ravens went on to advance in double overtime and kept on rolling to a Super Bowl championship.
"Things like that occur that ordinarily you would think, 'Hey, the game is over, there's no chance,'" Caldwell said.
He's learned that as long as there's still time, there's a chance, and his players in Detroit have bought in.
Caldwell has helped create an aura during the first half of the season in which the Lions have overcome adversity while continuing to grind and search endlessly for ways to win.
For once, the intangibles seem to be working in their favor instead of against them.
The coach certainly deserves a lot of credit for this turnaround. His calm demeanor appears to be rubbing off on a team previously known for finding ways to lose.
Caldwell might not even be here if Ken Whisenhunt hadn't decided to take the Tennessee Titans' coaching job. The Lions have denied that Whisenhunt was their first choice, but it certainly seemed that way at the time.
Whisenhunt and the Titans are floundering at 2-6 while Caldwell has emerged as a Coach of the Year candidate at the halfway point in the season.
Arizona's Bruce Arians is the favorite after leading the Cardinals to a 6-1 start, but Caldwell is in the conversation.
Arians got most of the support in a poll among NFL.com analysts, but Caldwell got two votes, from Michael Silver and Bucky Brooks.
"What was that about him riding the coattails of Tony Dungy and Peyton Manning again?" Silver wrote. "Dude can coach."
Added Brooks: "Caldwell has quickly taught the Lions how to play winning football despite dealing with a host of injuries on offense."
Questions concerning Caldwell's game management popped up again following this latest victory. It was the knock against him when he got fired by the Indianapolis Colts following the 2011 season.
Trailing 21-19 in Sunday's game, the Lions, with no timeouts, called a running play on third-and-9 with 25 seconds remaining. If not for a rare defensive holding call, the Lions would have had to scramble to try to line up for the winning field goal.
Caldwell insisted that they practice this "bonsai" fast-field-goal play all the time and would have gotten the kick off, but replays indicated that it would have been difficult to get lined up in time.
Caldwell's explanation was that the Lions didn't want to leave any time on the clock to have to kick to Atlanta's standout return specialist Devin Hester, nor did he want to risk a tipped ball, offensive pass interference or holding penalty on a pass play.
Fortunately for him and the Lions, Atlanta coach Mike Smith and the Falcons had their own game-management issues. An offensive holding penalty and dropped screen pass stopped the clock twice and gave the Lions more than an extra minute to get into field-goal range after starting at their 7-yard line with 1:38 left. Smith also called an unusual timeout before Detroit's third-down play with 25 seconds remaining.
"There are several different ways to handle it," Caldwell said of the widely questioned third-down run. "Everybody's going to have their own opinion, but what I'm most interested in is victory, plain and simple. You can talk about anything else you want after that, but I'm interested in the win."
He got that, which quieted the critics, for the most part.
And even if he's gotten a little lucky along the way, there's no denying during this first half of the season that Caldwell has taken significant steps in changing the culture with this team. To be where they are despite injuries to Calvin Johnson and so many other key players, along with a disastrous kicking game, really is quite impressive.
In a relatively short period of time, he's built an invaluable bond with his players.
"We know that whatever he preaches, he backs up," veteran cornerback Rashean Mathis said. "He's not going to throw us under the bus, and he's always got our backs. We believe in him, and he makes us believe in this team."
Quaterback Matthew Stafford added: "There's a different culture and I think we're better for it."
How that will translate in the second half of the season is hard to say, but there seems to be a different feeling around this team.
A little good karma can do that to you.
EXTRA POINT
Receiver Calvin Johnson, who has missed the last three games because of an ankle injury, told reporters Tuesday night at a banquet that he expects to be able to play in the Lions' next game on November 9 against Miami.
The Lions have a bye this week. Johnson, who practiced on a limited basis last week, will have had more than a month of rest and rehab between game appearances.
---
---