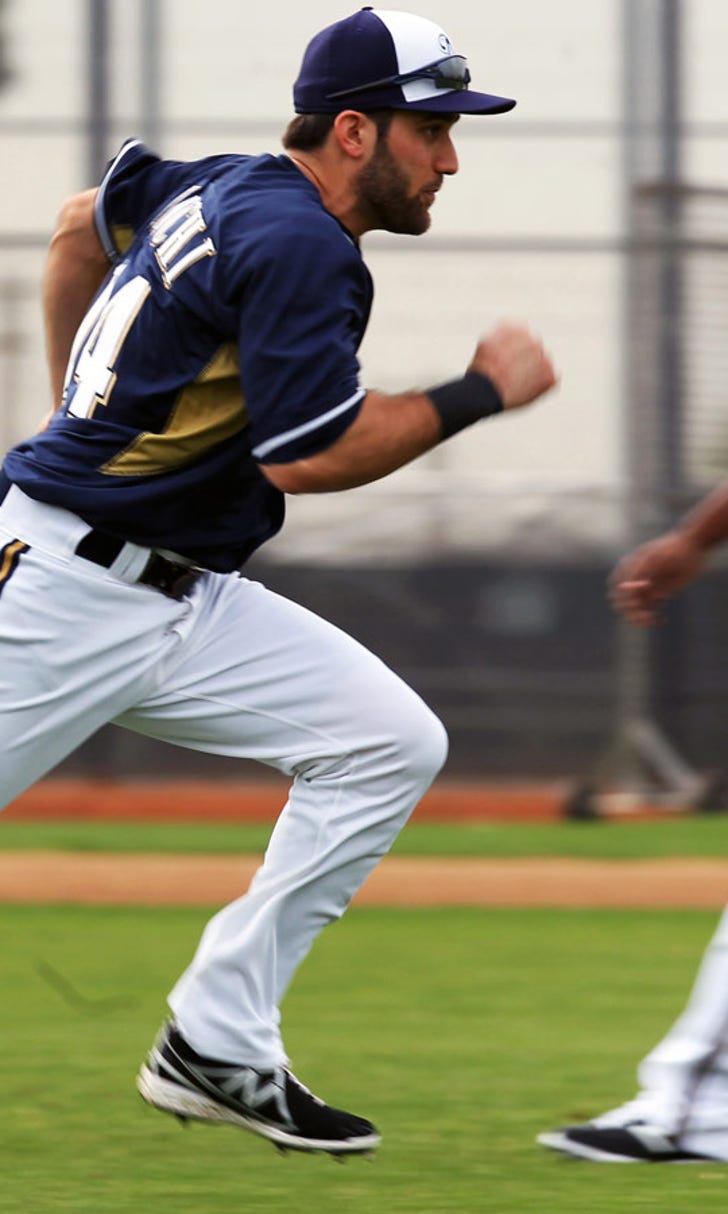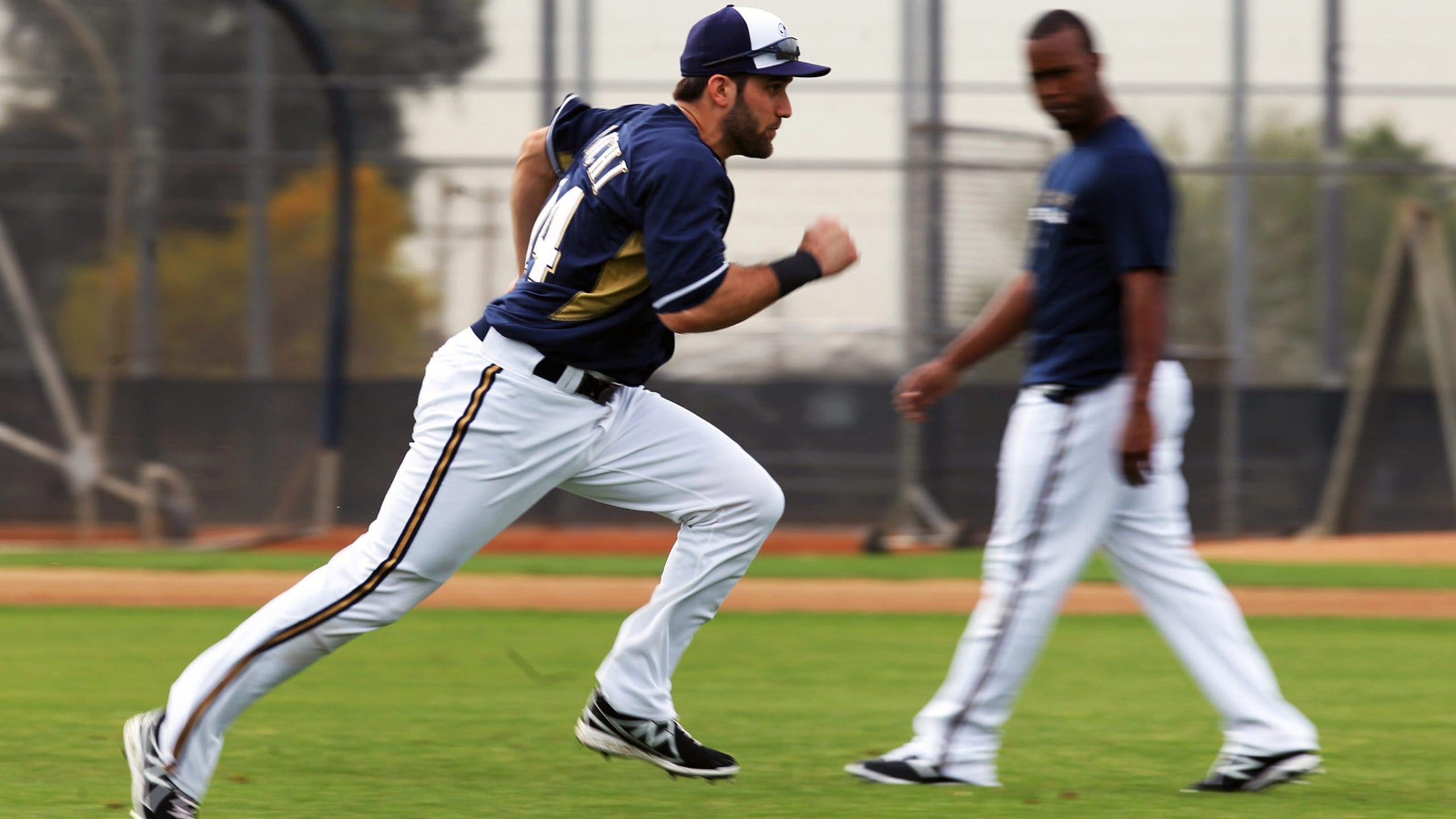 Brewers notebook: Milwaukee begins approaching the bench
BY foxsports • February 26, 2014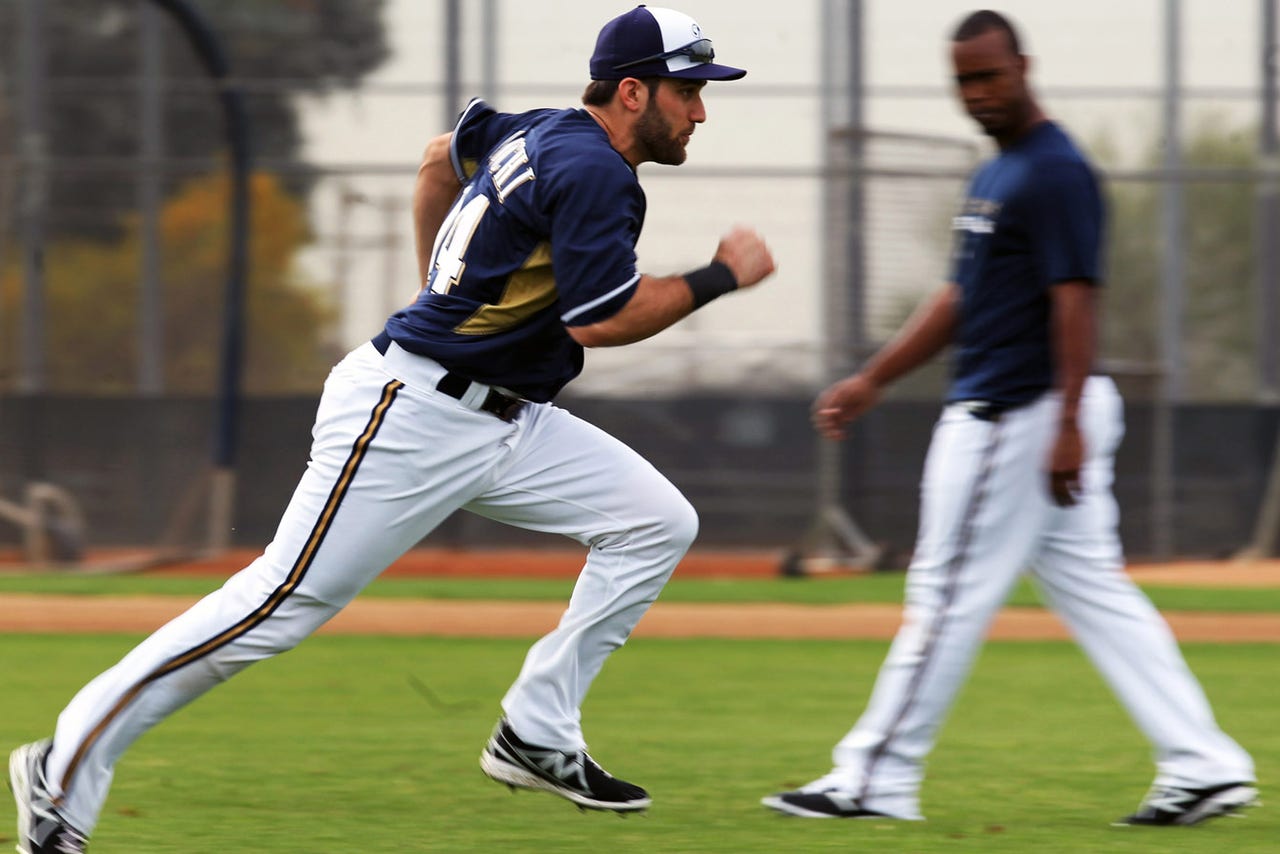 PHOENIX -- While there are a few battles to watch as Cactus League play begins Thursday for the Milwaukee Brewers, the battle to make the bench may not be all that exciting.
The reason isn't because there's a lack of candidates, but the current makeup of the Brewers roster will require a certain kind of player in the utility spot.
If a 12-man pitching staff is kept, the Brewers will have five bench spots. Barring any trades or injuries, backup catcher Martin Maldonado and outfielder Logan Schafer are locks, while either Scooter Gennett or Rickie Weeks will fill a bench spot on a nightly basis.
The same can be said at first base, as two of Mark Reynolds, Juan Francisco and Lyle Overbay will make the team. One will start and the other will bring the bench total up to four. That leaves just one utility spot for Jeff Bianchi, Elian Herrera, Eugenio Velez and Irving Falu to compete for.
However, the makeup of the rest of the bench requires that player to be the backup shortstop.
"He has to be able to play shortstop," Brewers manager Ron Roenicke said. "So that limits some of the guys that shortstop isn't really their position. It's not always who is your best player, it's how the fit is with your team.
"Now if you have two spots, that changes it completely. It opens up other needs and allows a guy more specific in what he does (to make it). Then you can take an offensive guy as a bench player."
That makes Bianchi the frontrunner for the utility spot. Not only is he the most experienced shortstop of the group, but Roenicke is more comfortable with the 27-year-old than the rest of the players in the mix.
Bianchi hit .237 in 100 games for the Brewers last season, starting 26 games at third base, 17 games as shortstop and 11 games at second base.
While there may be better offensive options, Bianchi is the best defensive shortstop of the bunch.
"We know he can go out there and play," Roenicke said of Bianchi. "We hope 'Seggy' can play 150 or more, but you need a guy that can play shortstop."
Claimed off waivers from the Dodgers in November and on the 40-man roster, Herrera hit .282 with seven home runs and 43 RBI in 108 Triple-A games last season. He's a .251 hitter in 71 career games with Los Angeles, but has played shortstop in just two big-league games.
Just 67 of Herrera's 693 minor-league games have come at shortstop, leaving him very inexperienced at the position.
Velez is in the same boat as Herrera, having never played shortstop in a major-league game. He hit .377 in 38 games for Nashville last season and has a history of tearing up Triple-A pitching, but went 0-for-37 in his last stint in the big leagues.
One of the last players cut in Royals camp last year, Falu is a natural shortstop. He hit .341 in 24 games with Kansas City in 2012, spending most of last season with Triple-A Omaha.
"We were happy with what Bianchi did last year," Roenicke said. "Falu has been a guy that we've heard really (good) things about. Velez is a guy offensively you have to look at."
Ready to go: The Brewers open up their slate of Cactus League games Thursday against the Oakland Athletics at Phoenix Municipal Stadium.
Right-hander Marco Estrada will get the start for Milwaukee with Wily Peralta, Zach Duke, Will Smith, Rob Wooten and Donovan Hand also scheduled to pitch. Lefty Tommy Milone is slated to start for the Athletics.
"It's quick this year, so it's not like in the past where you have eight full days with your squad and you're looking to get it going," Roenicke said. "We're trying to make sure that we're getting everything in before we start these games."
Roenicke expects right fielder Ryan Braun to start Thursday, his first game action since July 21. The skipper also said free-agent addition Matt Garza will make his Brewers debut Sunday against Colorado at Salt River Fields.
The Brewers face San Francisco at Scottsdale Stadium on Friday before having a split squad Saturday. Milwaukee plays its first game at Maryvale Baseball Park against the Dodgers, while the other half of the team travels to Salt River Fields to face the Diamondbacks.
Third baseman Aramis Ramirez will not play in at least the first couple of exhibition games while still recovering from surgery to remove a polyp from his colon. He's been taking part in full-squad workouts, and Roenicke said the veteran is doing "really well."
Follow Andrew Gruman on Twitter
---