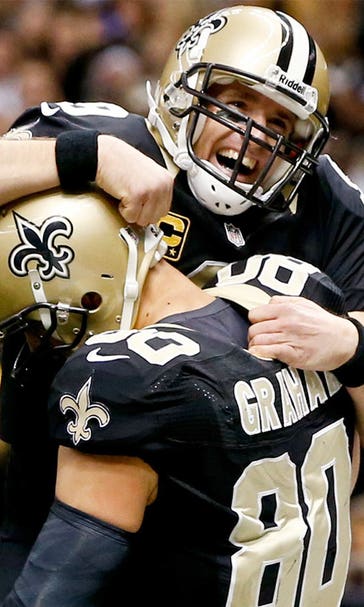 Brees really wants Graham back with Saints
February 1, 2014

Drew Brees continues to be one of the best quarterbacks in the league no matter who he is throwing to, but with a tight end like Jimmy Graham in the Saints lineup, it certainly makes things easier.
Which is exactly why Brees is becoming the Saints biggest advocate to keep Graham on the roster no matter what the cost may be.
On Friday's edition of The Dan Patrick Show, there was no holding back Brees with his campaign of the Saints holding on to his favorite on-field target.
"I want Jimmy back!" Brees said. "I want Jimmy Graham back!"
As of right now, the Saints only issue standing in the way of locking up Graham is whether he should be qualified as tight end or as a receiver, which would be far more lucrative, as the team looks to apply a franchise tag.
"It doesn't really matter what I say," Brees said. "That has no bearing on the rules of how he's designated."
The current labor deal in place contains a basic formula on what position players are classified as depending on where he took the most snaps in the previous season. The Saints argue that the modern tight end includes having players line up tight to the tackle at times and in the slot like a receiver often as well.
This case will go to an arbitrator to resolve, barring a deal is reached by the Saints and Graham before that time or if another team offers him a long-term deal that the Saints choose not to match.
But one thing is for certain, Brees wants Graham back.
Follow Shawn Ramsey on Twitter: @ShawnPRamsey
---
---