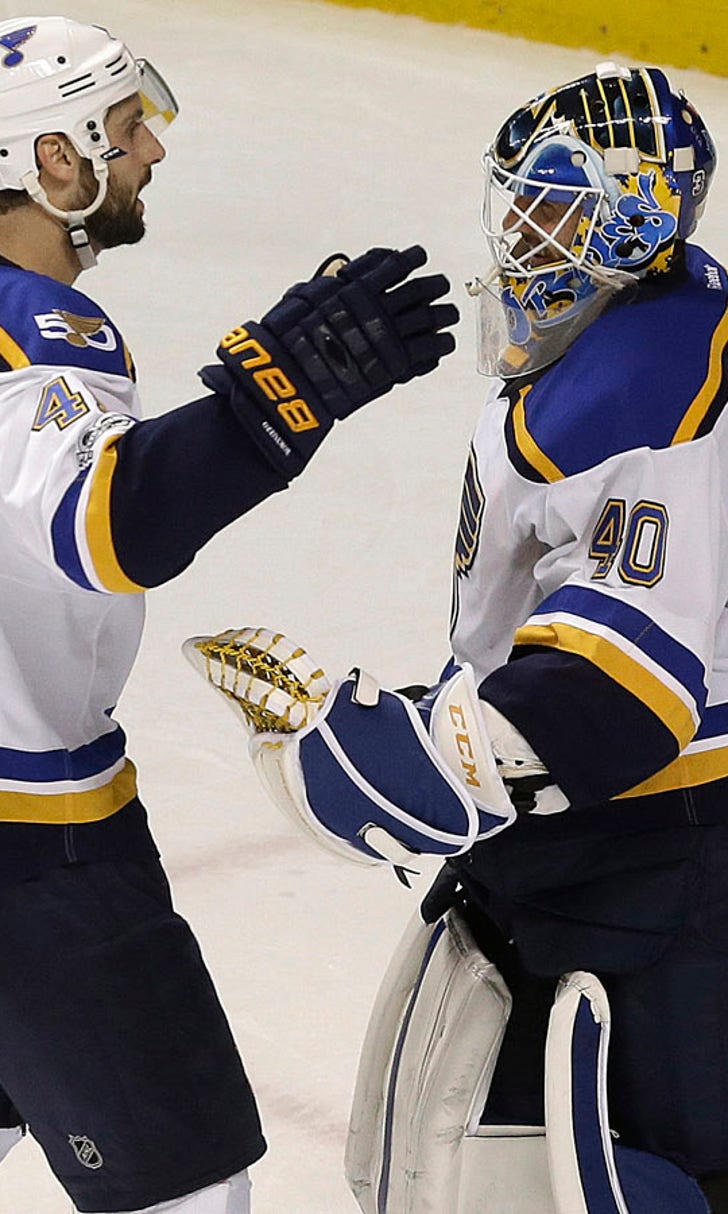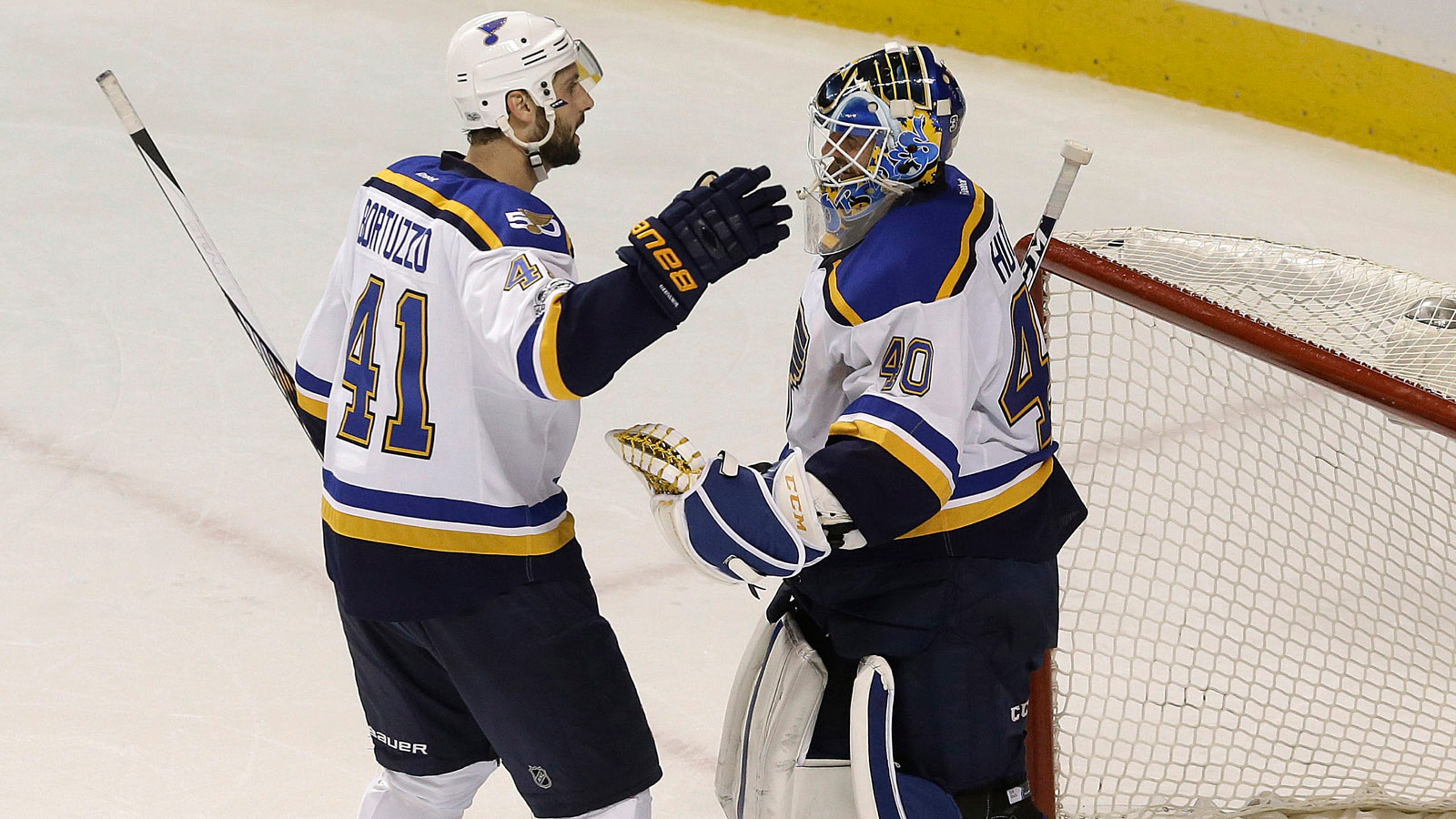 Blues snap losing streak with 4-0 shutout of Sharks
January 15, 2017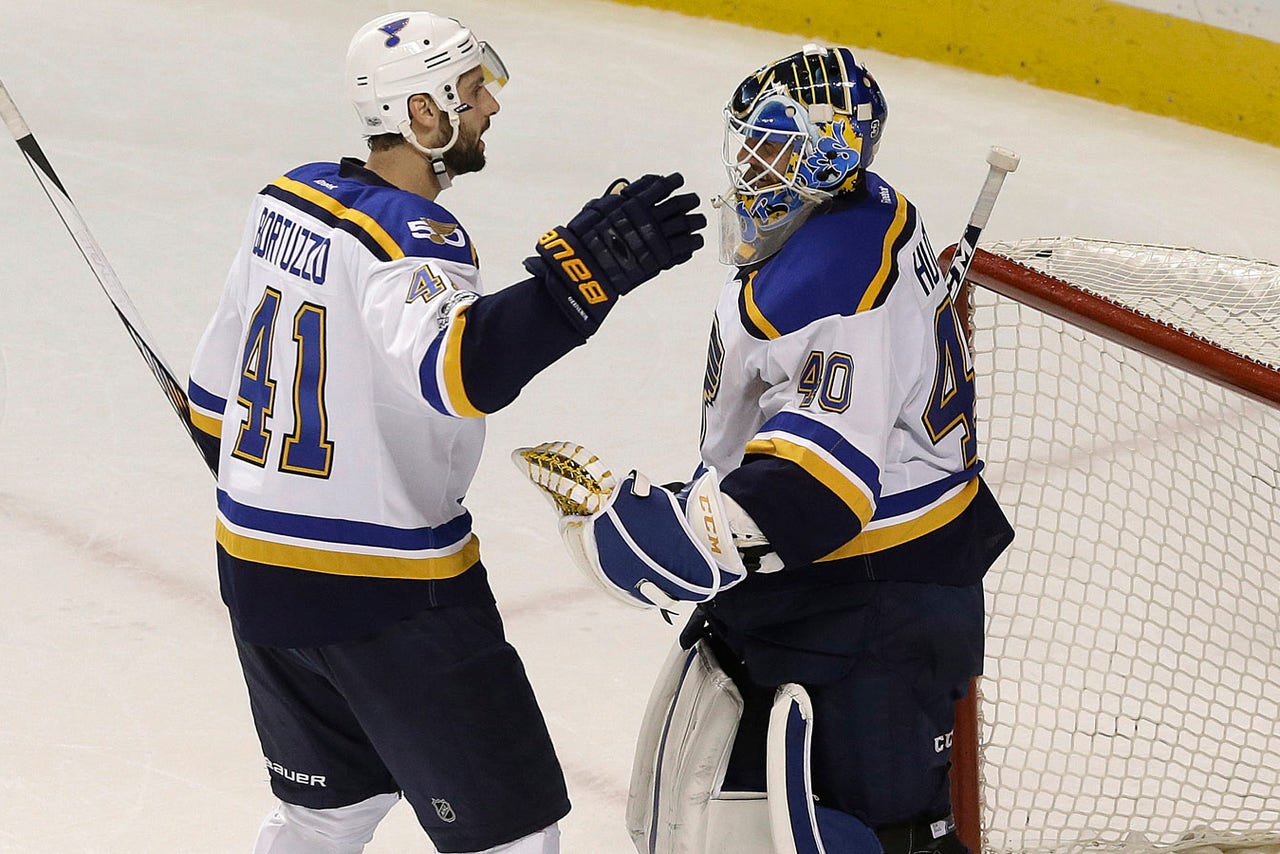 SAN JOSE, Calif. -- As a farmhand for the Sharks back in 2010-11, Carter Hutton never got a chance to play an NHL game in San Jose. Since leaving the organization, the Shark Tank has felt just like home.

Hutton made 23 saves to earn his second shutout in as many career starts in San Jose and the St. Louis Blues beat the Sharks 4-0 on Saturday night.

"It's a good rink to play in for me," said Hutton, who also had a shutout in San Jose in 2014 for Nashville. "I never got to play for them. I just kind of watched a bunch of games. I know some guys. It's kind of fun."

Colton Parayko had a power-play goal and assisted on David Perron's score in the second period to help the Blues bounce back from lopsided losses to Boston and Los Angeles earlier this week. Jori Lehtera also scored and Alexander Steen had an empty-net goal for St. Louis.

"We really were together on a lot of part of our game," coach Ken Hitchcock said. "We were together on our exits, we were together on our entries, we were on the same page as far as movement goes. We looked fast. We looked quick because we were on the same page for the whole night."

Martin Jones made 22 saves for San Jose and Joe Thornton got ejected for a spearing penalty in the second period as the Sharks dropped their second straight to fall four points behind first-place Anaheim in the Pacific Division.

After a scoreless first period with only a handful of good scoring chances, including Chris Tierney hitting a post early for San Jose, the game opened up in the second.

The Sharks got the first opportunity when Steen and Alex Pietrangelo were called for slashes 11 seconds apart. San Jose couldn't cash in the two-man advantage with Joe Pavelski missing an open net and then committing an interference penalty.

That eventually gave the Blues their first power-play chance, and they took advantage when Parayko's point shot deflected off defenseman Marc-Edouard Vlasic and into the net for a 1-0 lead. The Sharks challenged the goal, claiming it came following an offside entry, but the replay was inconclusive and the call stood.

"A lot of the momentum shifted when we couldn't get a goal on 5-on-3 and I miss an open net," Pavelski said. "We take a penalty and they get a quick one. That's where a lot of the momentum shifted. We should have been up 1-0."

St. Louis added to the lead when Parayko's point shot hit defenseman Brenden Dillon's skate and Perron got to the loose puck and jammed it in between Jones' left skate and the post for a 2-0 lead.

The frustration for the Sharks boiled over with Thornton getting a game misconduct for a major spearing penalty against Paul Stastny.

"You're surprised when anyone does it," Stastny said. "Part of the game sometimes. It happens. Emotions get high. Just happy that we won. Take him out of the game and it makes that team a little less dangerous than they are normally."

The Blues could not capitalize on the five-minute penalty as they got called for two minors, negating much of their power-play time.

Lehtera added a goal midway through the third on a deflection of Pietrangelo's shot and the Sharks never threatened after that.

"I don't think we were very good from the start of the game," San Jose forward Logan Couture said. "We had some chances -- we get a 5-on-3 -- we didn't generate anything. We got out of the first tied and we had those power plays in the second, but we couldn't capitalize."




NOTES: Thornton's last game misconduct also came against the Blues when he was called for an illegal hit to the head of Perron on Nov. 4, 2010. ... The Sharks had their top six defensemen healthy with David Schlemko returning after missing five games with an upper-body injury and Paul Martin back after missing one game with a lower-body injury. ... Blues F Dmitrij Jaskin replaced Scottie Upshall in the lineup after being a healthy scratch for the past three games.

UP NEXT

Blues: Visit Anaheim on Sunday.

Sharks: Host Winnipeg on Monday.
---
---